Timberland has always been one of my favorite shoe brands.
And as a Timb enthusiast, knowing where these precious boots are made of, considers being a natural query.
Now coming to the main question, Where are Timberland Boots Made?
Timberland Boots are made in China, the USA, Vietnam, and the Dominican Republic. Even though Timberland is an American company. Its sub headquarters exist in many countries. That is why different editions of the boots are sealed with the imported tag.
Want more details? Then keep on reading to dig in further.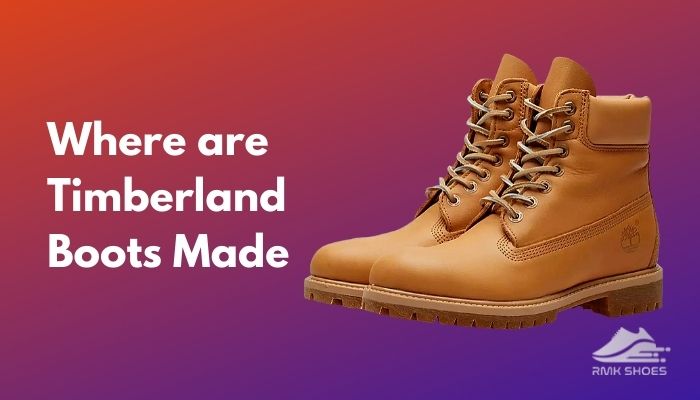 Follow our guide on How To Uncrease Timberland Boots
Are Timberland boots made in the USA?
Even though timberland LLC is based in Boston, the United States, most of its products are manufactured in different countries.
The official headquarters stands proudly in the USA.
However, America isn't their last limit. They extended their boundaries even further. They have contracts to produce timberland boots with multiple countries.
Also, follow our separate guide on How To Fix Scratched Timberland Boots
Timberland generally chooses countries which have good production capability.
What is the reason behind that?
As the production house in the USA cannot handle the overall demand, they have no other option but to choose partners to fulfill the overall order.
China, Vietnam, Dominican Republic have been the partners ever since for their mass production proficiency.
Choosing foreign countries is also a slick way to promote their products.
In a hurry? Check out my new post on How Much Do Timberland Boots Weigh
When were Timberland Boots Made?
Timberland Boots were first made in 1973. The first "yellow" boot was produced back in that period. That boot turned into the signature of Timberland.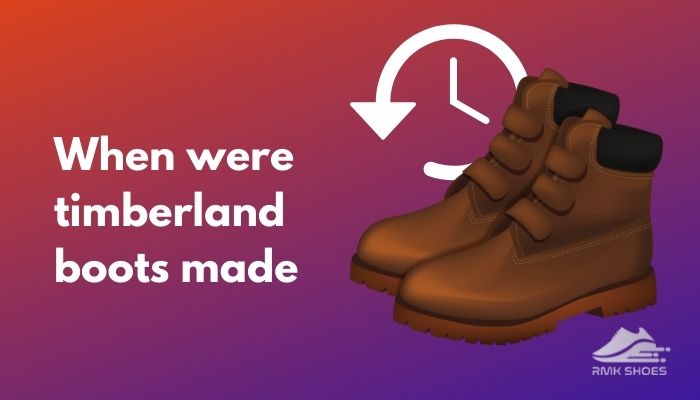 Timberland began its journey way back in 1952.  The name wasn't "Timberland". It was called Abington Shoe Company.
It was until they produced their first yellow boot, 'Timberland' in 1973.
This boot was no ordinary boot. It's waterproof feature blew everyone's mind.
With so much popularity and high admiration, they finally decided to change the company's name from "Abington" to "Timberland".
But before that, you check out how Can You Resole Timberland Boots
Changing the entire company's name based on a popular shoe may seem weird.
Well, it wasn't because Timberland gained a lot of popularity. But the waterproof feature did play an important role in taking that decision.
It might not be a big surprise to us though. However, back then, waterproof boots were only a dream. And the only shoe company that gave life to these special features was Abington Shoe Company.
Since Timberland was the first-ever waterproofed high-quality boots, they wanted to continue with the legacy.
They wanted each of their products to have the same feature Timberland has. This is why they gave their company the same name.
Also, check out my post to know Do Timberland Boots Make You Taller
Where are Original Timberland Boots Made?
The original Timberland boots are made in countries like the United States, Dominican Republic, and China/Vietnam.
It all started with the USA. But as the company kept growing drastically, they extended their empire as well.
They signed contracts with China, Vietnam, and the Dominican Republic.
Since the Dominican Republic produces a mass number of timbs, they have a healthy lead over other countries Then comes China, Vietnam, and of course the USA.
Each of these countries is carefully chosen. But the primary condition is that the country has to have mass production capacity.
Follow our guide on How To Clean Timberland Boots With Household Items
With mass orders coming up every day, it's hard to produce them alone.
That's when Timberland decided to join hands with countries like China and the Dominican Republic for handling mass orders.
However, these countries don't do brain work. The designs and the material selection are passed from the official headquarters in the USA.
The headquarters only focus on the research for the upcoming launch, marketing strategies, and careful selection of materials.
Also, check out our separate guide on How To Protect Timberland Boots
Whereas the sub headquarters in other countries, only focus on following the design and produce the products in bulks.
However, many of us confuse mass-produced products as "fake".
Well, surely there is an existence of fake timbs. And you can find them anywhere. Even in the USA itself.
This doesn't mean products produced in other countries have to be fake. It's because most American companies rely on specialized countries for bulk production for their cheap labour cost and ability to produce faster.
But before that, you check out why Do Timberland Boots Hurt Your Ankle
Are Timberland boots made in China?
Yes, Timberland Boots are made in China. However, it's not just in China. There are other countries like the Dominican Republic, Vietnam, and the USA itself, which produce Timberland Boots as well.
As mentioned above, Timberland has its offices in several countries. Which includes China as well.
In the case of who designed the boots, it's always the headquarters in the USA that does the job.
It's not just the design. But other roles like price selection, marketing strategies, regulation of all offices, material selection are all done in the USA.
The role that is left for China and other countries is to produce the specific design in massive numbers.
Now you might ask why don't they mass produce themselves? Why leave this role to other countries?
The answer is simple. These countries, like China, Vietnam, and the Dominican Republic are specialized in producing any product in bulk. And also at a faster rate.
On the other hand, the reality in the USA is very different.
They have limited labor and industries to handle such massive orders.  This is why they chose the Dominican Republic, China, and Vietnam to mass-produce their designs.
Also, check out our separate post on Timberland Vs Caterpillar Boots
Who Owns Timberland Boots?
Timberland is owned by VF Corporation. In 2011, VF bought the biggest share of the Timberland Company.
VF Corp is definitely the current owner of Timberland boots. But they weren't the owner from the start of Timberland's journey.
The owner was a man named Nathan Swartz. In 1952, he bought a small company named Abington Shoe Company.
With a lot of effort and dedication, he shined the name of the company. The invention of the renowned yellow boot called the Timberland brought popularity and fame to his company.
Nathan Swartz wasn't alone in this successful journey. His own brother and his son helped him throughout his career.
Check out our separate post on Levis vs Timberlands Boots
In 1998, his grandson, Jeffrey Swartz became the new chief executive officer.
And finally, in June 2011, VF corp bought the largest share in these companies.
Not just that, in 2012, the clothing company owned by Timberland, Howies was also bought by VF.
Since then till now, VF has continued to hold the legacy of Timberland. In fact, with time and effort, they modified and improved the quality even more.
They now focus on producing more greener products. Focusing on producing high-quality timbs from trashes.
That's not all. They keep their ears wide open to customer reviews. Only so they can make boots with improved performance.
Follow our guide on how To Clean Timberland Boots
Know to grow
Knowing where the Timberland boots are made is crucial.
Not only to get a better idea and gain the trust of the company. But also, to clear some misconceptions about fake products as well.
Usually, most people think if the products are produced somewhere else, then they must be fake. But that's a completely wrong idea.
Fake products can be produced anywhere, even in the USA as well.  Identifying the real ones among the fake ones is a completely different skill.
Simply assuming that China or Vietnamese produced Timb as "fake" is not right at all.
Loved my article? More to add-in? Do let me know in the comments below.