I understand your curiosity to stand out when Timberland boots are your daily footwear.
Good news! Your curiosity ends here. As I researched thoroughly, to enlighten you about whether Timberland boots can truly make you taller.
So, do Timberland boots make you taller?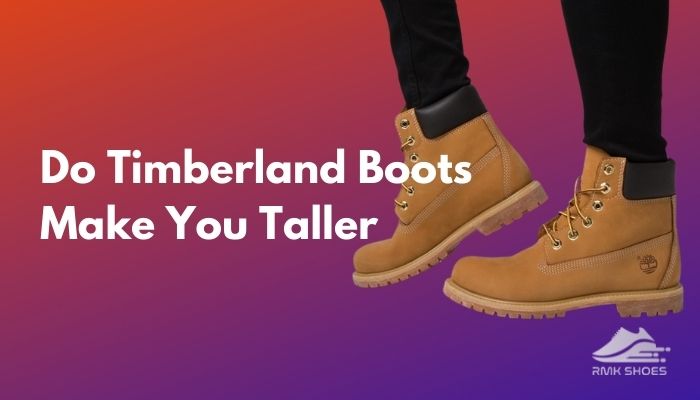 Yes, Timberland makes you taller. On average, Timberland boots can make you 1.25 to a maximum of 2 inches and 3.175 to 5.08 cm taller. The height varies not only due to varying sizes and constructions. You would also experience slight changes as the soles start to compress with time.
Continue reading if you want to dig deep into factors that affect Timberland boots height.
How tall are Timberland boots? 
Here are some of the Timberland boots along with their height information.
| Model | Height increases to |
| --- | --- |
| Timberland Men's White Ledge Mid Waterproof Ankle Boot | 1.25 inches or 3.175cm |
| Timberland Men's 6-inch Premium Waterproof Boot | 1.25 inches or 3.175cm |
| Timberland PRO Men's Pit Boss 6 Inch Soft Toe Work Boot | 1.25 inches or 3.175cm |
| Timberland Men's Chocorua Trail Mid Waterproof Boot | 1 inch or 2.54cm |
| Timberland PRO Men's Direct Attach 6 Inch Steel Safety Toe Waterproof Insulated Work Boot | 1.75 inches or 4.445cm |
| Timberland Men's Mt. Maddsen Mid Leather Wp Hiking Boot | 1.5 inches or 3.81cm |
Every Timberland boots have a slight bit of height variation. So based on whichever you have or you think of buying, the above table tells you how tall they are.
So, if you want to get the tallest one, Timberland Pro Workboot can do the job for you. Its usual height is 1.75 inches.
Also note that, with varying size, their height varies as well. For instance, the tallest Timberland Pro work boot may have a slight increase in height if you take the largest size available.
However, none of the boot's sizes exceed 2 inches or 5.08 cm. Even with the largest size out there, 2 inches is the max height of all Timberland boots.
Also, check out our separate post to know Are Timberland Boots Waterproof.
How Much Taller Do Timberland Boots Make You?
In general, Timberland boots can make you 1.25 to a maximum of 2 inches and 3.175 to 5.08 cm taller. But with regular usage, the heel height would decrease with time. Hence making you look less tall. It's all due to sole compressing as you put your body weight on it.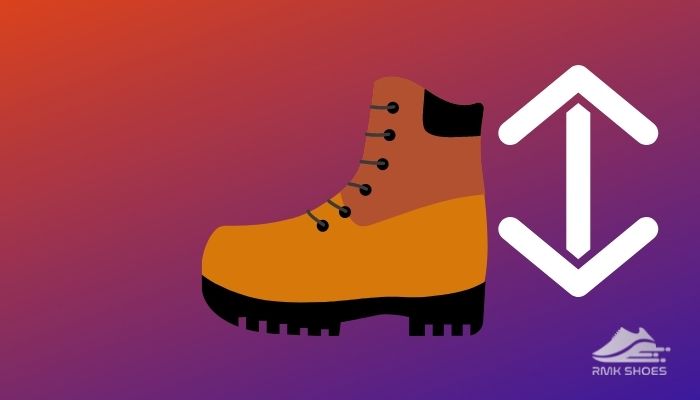 Timberland boots are trendy and cool at the same time. But they weren't designed keeping fashion in mind. This is why they never focused on heel heights.
These boots look thick, tough, and insulated and each feature serves the kind of workers they intended to make for.
However, it doesn't imply that they have no heels at all. It does have heels and it can make you a maximum of 2 inches or 5.08cm taller.
I have also mentioned before that sizes impact the height slightly. The larger size you buy, you would notice a slight increase in height. But that's almost considered negligible.
One drawback about these heel heights is the compression.
Soles tend to compress as you keep on using them. The rigidness of a sole varies on what type of boot you are wearing.
If you are wearing work boots then soles tend to be extra rigid. So less compression, less decrease of heel height.
On the other hand, if you choose hiking boots. Then the soles are seen to be more flexible and less rigid than work boots. It's because the flexibility of the toes is important while climbing or hiking rough areas.
Now going back to flexibility.
Because it is flexible and less rigid, they tend to compress with time. This means if it's 1.5 inches now, it doesn't mean it would stay 1.5 inches all the time. The height would decrease, the more often you wear them.
Also, check out our separate post to know Do Timberland Boots Stretch.
Do Timberlands Look Good on Short People?
Height isn't what makes Timberlands make people look good. It's the outlook that matters.
I do agree, looks is a relative term here. The definition of "looking good" varies from person to person.
Some people believe the taller you are, the better you look. Whereas, some people believe it's the outfits that define how you look.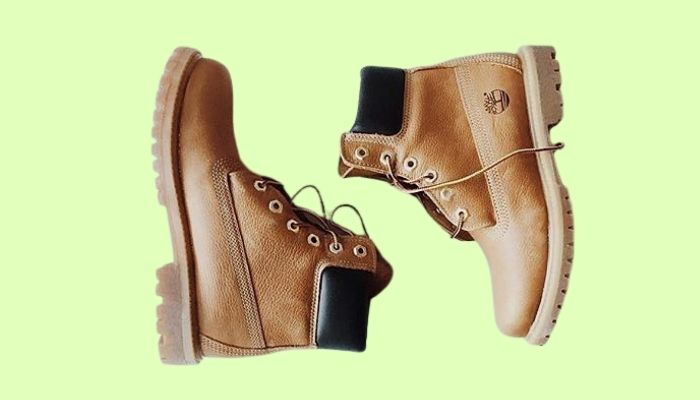 Personally, I believe Timberland boots are cool enough to outstand both outfits and heights completely.
To me, no matter what you wear or how short you are, wearing Timberlands would make you look great and stunning!
Besides, look at Ariyana Grande, Cardi B, Billie Eilish, and the list goes on. They are short, yet wearing 1 or 2 inches of boots. And they don't just look good, they look awesome.
So why won't you look good?
No, not just good. You would look tough, stylish, and stunning. You already do. So believe in yourself and wear them if you are into Timberland boots.
But if you are looking for Timberland boots that can make you look taller (like almost 3 to 4 inches tall), then Timberland may not be your best option.
Check out my epic guide: Are Timberland Boots Good for Motorcycle Riding.
DIY tips to look taller with Timbs
By now, you might have realized Timberland is not specialized to make you look taller. Unless all you want is to be 1 to 2 inches tall.
If you are looking for tips that can make you look extra tall, here are some DIY tips that work magically.
Wear thick socks
Use tissues or newspapers to make an extra layer under your feet
You can try adding extra thick insoles
Always try keeping them in dry and cool areas as wet areas may compress your soles faster.
Use extra heel pads to raise your heels higher than usual.
Combine the tips above together to look even taller.
Also, check out my post to know Can You Wear Timberland Boots in the Summer.
You look tall already!
Just the moment you wear the Timberland boots, you are a minimum of 1 to a maximum of 2 inches tall.
A piece of great news, isn't it?
My DIY tips and all the in-depth analysis may help you look tall. But if you are aiming to look extra tall. Especially above 4 inches high, then I would recommend you choose Boots that have high heels and not Timberlands.
Found my article useful? Do let me know in the comments below, how tall you ended up being after wearing Timberland boots.