Are you confused about whether to wear Timberland boots in summer? Is it because people say Nubuck is highly sensitive to heat?
Then worry not. Your confusion ends here. I have had the experience by myself, gone through reviews, and finally been able to sort out the answer for you
So, can you wear Timberland boots in the summer?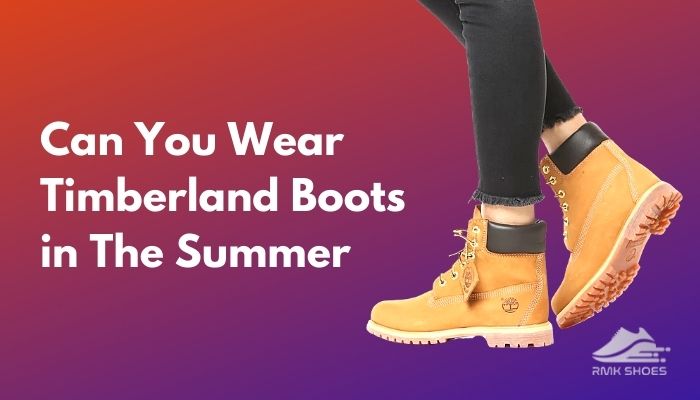 Yes, you can wear Timberland boots in the summer and all other seasons as well. It is thick-skinned and waterproofed which would protect your feet from heat. However, it is advised to take extra care to protect the upper skin from the scorching heat in summer. 
To know more about special maintenance during summer, keep on reading.
Are Timberland Boots Good for Summer?
Yes and a no. Yes, if you know the right way to take care of your boots. And no, because experts usually discourage wearing sensitive leather out in the heat. So, wearing them while cleaning and taking care perfectly can make your boots sustain longer.
To understand the true features of any boot, it's best to know the intentions behind its making.
Timberland started launching their boots for construction workers in England, A country where it rains for most of the time.
Note the words "rain" and "construction".
Check out my new post on What Makes Timberland Boots Worth The Money.
Yes, these keywords are what they mostly focused on. That's when they came up with their first yellow boot called Timberland in 1973.
The boot has gore-tex technology that waterproofs your boots all day long. And the upper is thick and insulated to trap heat for warmth and comfort since it's always raining and cold.
Because it was cold most of the time, it didn't affect the nubuck leather much. Until Kanye West and some popular hip-hop artists turned these work boots into fashion icons. Maybe that's why you and I know about Timberland that well.
Anyways back to our topic.
Now that people all over the world crave Timberland boots, this small feature of nubuck leather became a huge concern.
I mean, people back then also knew how sensitive nubuck leather was, but no one cared much. Since it rained or snowed mostly.
Although there are people who mentioned workers wearing them in all seasons and nothing happened. But they never mentioned what was the normal situation out there versus what is in the USA and many other hot countries.
Their summer is sometimes considered winter in some countries or in different states in the USA.
But before that, you check out how Should You Wax Timberland Boots.
So, even mentioning all seasons is relative. The intensity of heat in summer matters here.
It's absolutely perfect to wear if it is not scorching heat. Else, most experts would recommend you to not take them out. Because the upper skin would start losing its firmness and degrade sooner. So better wear other shoes or sandals instead.
Now don't be disheartened. If you are so eager to bring them out, all you need to do is keep some tricks and tips in mind. Then you are good to go. Wear them in any season, any time and in any place you like. You would face no problem.
To know what those awesome tips are, you can directly jump to the Tips segment down below.
Also, check out our separate post on Timberland vs Carolina.
Is it Weird to Wear Timberlands in the Summer?
No, it's not weird to wear Timberlands in the summer. Almost all people choose to wear them in any season they like. Starting from celebrities like Kanye West to random people on the streets wear them when it goes well with their outfits. After all, it's a popular trend followed all seasons.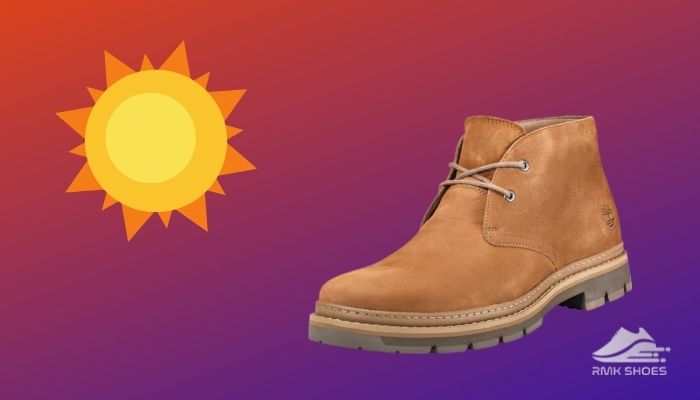 Since the day Timberland boots turned into a fashion icon, people from all around the world started wearing them.
They wore them in summer, spring, and of course in winter. After all, Kanye West wore them in summer so why can't you?
Now I do understand why you asked in the first place.
It's not just because most people find it normal or not. It's because of its looks. They are thick, insulated, and heavy. Perfect to be worn in winter.
So how would it look if you wear such heavy winter-looking boots with shorts or dresses? Might look weird, won't it?
Well absolutely no. In fact, most people find wearing boots with summer clothes very stylish and fashionable. In fact, fashionistas around the world would always approve of a boot with shorts combination.
And not just shorts, but long and loose dresses, short skirts and many more. The boots go well with every summer dress in summer.
Also, follow our separate guide on How To Fix Scratched Timberland Boots.
What Season Should You Wear Timberlands?
You can wear Timberlands in all seasons. Although, experts mostly recommend wearing them in winter and avoid taking them out in high heated summer. It's because the leather is sensitive to high heat. The upper skin sometimes cracks or may start coming off soon and many more.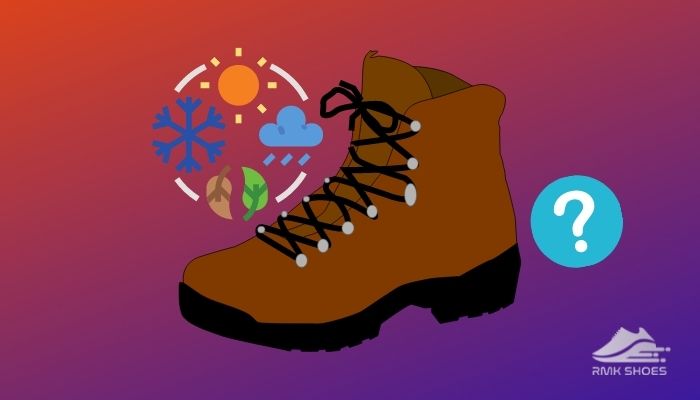 Timberland boots are known to be great winter boots. As I have mentioned above, they had cold areas in mind while launching their signature collection.
So each of the features ticks the requirements in winter.
Now for summer, despite how it looks, people prefer wearing light, dry and air-flowing shoes, sandals, or boots mostly.
So when you wear such heavy, insulated, and tough-looking boots, your feet may feel heated up, sweating mostly. Also, the glue in the soles may melt and the sensitive nubuck leather may start losing its firmness and fibers would start coming off. And hence it would degrade faster.
However, if you are intrigued to wear Timbs in summer, which you can and most people do. You need to take extra care of your boots for them to last long. And if you know how, then you are all set for any seasons to come and go.
Tips to care Timberland boots in summer(Expert recommended)
If you are in this segment, you might know how often I talked about tips and tricks.
After all, if you want to save your boots in summer and wear them at the same time, knowing proper care tips is key to all your problems.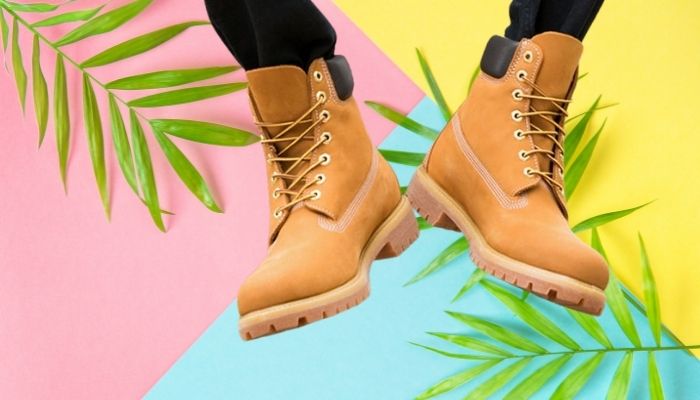 But before that, you check out how Can You Resole Timberland Boots.
Here are some Expert tips that can save your boots from the heat in summer:
Use waterproofing and UV protection sprays before going out. These sprays will create an extra layer from UV rays from the sun.
Clean them gently on a weekly basis.
Dry clean them using a rug before going to sleep.
Store them in a cool and dry place.
Avoid soaking your nubuck in running water.
Use a Nubuck cleaning kit and suede brushes to keep them clean
Do not brush them too hard, the fibers may come off.
You can use a hairdryer to dry them fast, but avoid using too much heat.
Have a great summer!
Timberland Boots are surely cool enough to be worn any time with any outfit. But knowing what's best for your boots to last long is even cooler and wiser.
If you apply the tips mentioned above, you can wear Timberland boots in summer and of course in winter.
However, if I were you, I may have worn them as well but also give my boots a long break before reusing them in summer. Just to make sure, they have enough time to breathe and fight in the heat once again.
Anyways, in the end, it's all up to you. I have explained ways to protect them if you wear them and also mentioned what experts recommended to ensure a longer life span.
Do let me know in the comments below, whether or not you are wearing Timberlands and also with which outfit you wore them with?
Stay cool and happy summer!