Timberland boots are stylish yet functional, and you can wear them to work and go to a party afterward. Thus, you certainly don't want your Timberland to fade away, right?
But Timberland boots are usually made for heavy-duty work and are bound to get stained and dirty. You can't avoid it.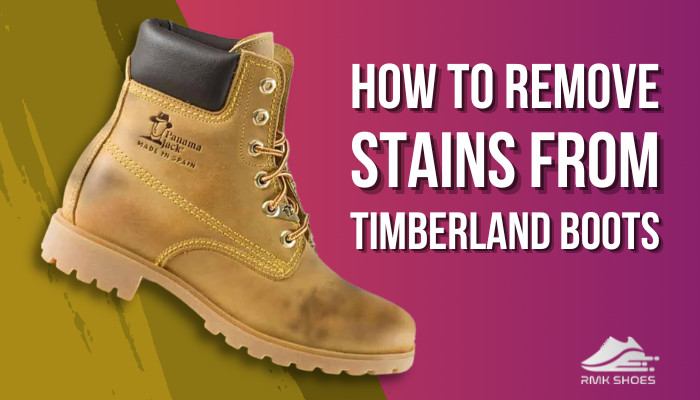 So, what you can do is clean it properly to remove stains and make your shoes dirt free.
In this article, I'll show you the easiest and most effective methods to clean your Timberland boots at home.
How to Get Rid of Stains on Timberlands Boots
Timberland boots come in different leather types. Nubuck leather is used to make the most traditional Timberland work boots. Suede and leather are also used, but nubuck is the most common. Work boots made with such materials get dirty easily, and there is no prevention without cleaning.
However, the cleaning process for each type of leather is not much different. You just need to be careful as you should while cleaning any leather boots.
So, clean your Timberland as soon as possible, if you find any dirt or muck in your boots. Luckily, you can find a lot of household chores that help to clean your Timberland boot completely.
Whatever type of leather is used, you should clean your boots regularly to retain their shine and prevent them from getting useless.
3 Methods to Remove Regular Dirt & Stains from Timberland Boots
Your boots are bound to get dirty and catch up stains as you encounter the outdoors daily!
It's unavoidable not to get any marks on your iconic yellow Timberland. So the thing you can do is clean them regularly to remove stains way before they get permanent.
Here, I've prepared an easy-to-do-at-home guide on how to clean your Timberland boots.
You don't need special items to clean the regular dirt. You'll get along with this method quickly with the things that almost every household has.
The things you'll need are:
Pencil eraser
White vinegar
Used toothbrush
Cotton rag
Dish detergent
Lemon juice
Baby wipes
Dryer sheets
Baking soda
It's not necessary that you require all of these items in one method. I'll show you 3 different methods by using available household items to clean your boot.
Let's get deep into the guide on how you can remove stains:
Method 1- Remove Stains Using a Brush, Eraser & White Vinegar
Vinegar and brush are the most effective equipment when we want to remove stains from suede and nubuck boots. You just need to clean out the excess dirt by following each step properly.
Here is the cleaning process by using a brush, eraser & vinegar:
Step 1: Remove dirt with a soft brush
First, you must clean all the regular dirt from your boots when it's dry. You can do this easily with a brush. Regular cleaning is the best procedure to protect your Timberland boots, it also enlarges the lifespan.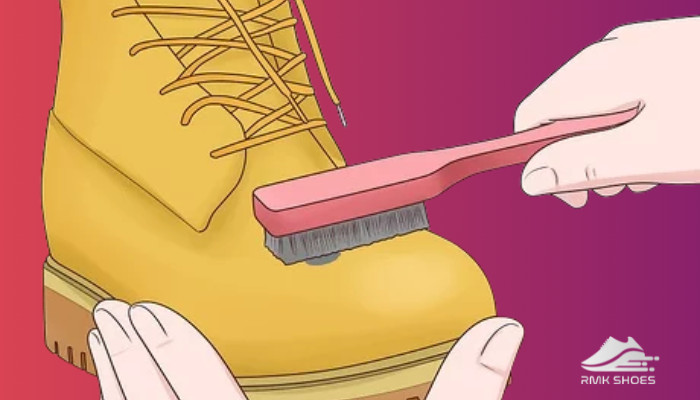 Make sure you remove all the extra mud from your boots. And use a soft brush. Otherwise, the hard brushing may damage the surface of the shoes.
Step 2: Use a pencil eraser to remove minor scuff marks
After getting rid of the general dirt, you need to focus on removing the minor scuff and scratches marks.
You can easily do that with a pencil eraser. Moreover, try a suede eraser for removing the scratch marks of your suede timberland boots.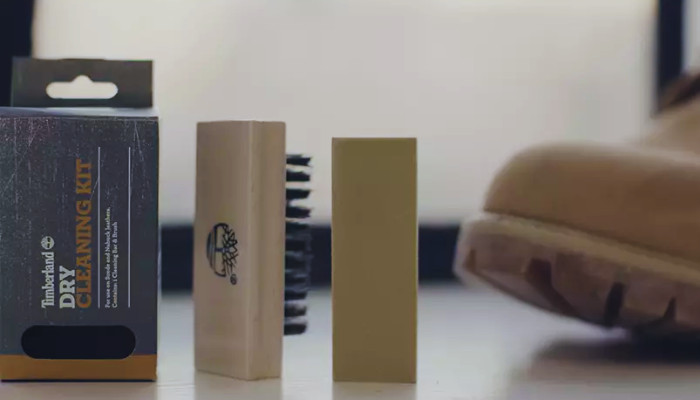 Gently rub the eraser over the scuff marks until they're gone. Just like the unwanted writings on the paper!
Step 3: Brush up your Timberland with dish detergent
Mix a tablespoon of dish detergent with lukewarm water and dip a clean white cloth. Then wipe the boots evenly to clean the dirt deeply. After cleaning the leather surface, let it dry and move to the next step.
Step 4: Use the white vinegar to remove stains
Now that the leather is a little softer and cleaner, you're ready to remove the stains by using white vinegar. Take some cotton rag and wet it down with white vinegar. Then carefully dab the area where the stains are to remove them thoroughly. The use of white vinegar will make the marks go away.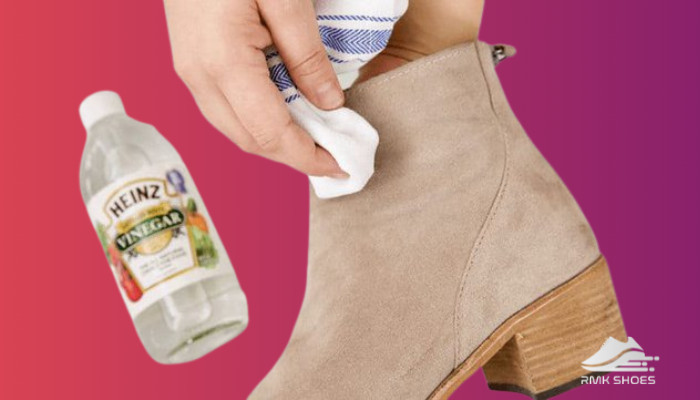 Step 5: Wipe clean the leather using baby wipes
After removing stains, you need to wipe the boot surface again. This time, use a baby wipe to clean the leather with a soft touch.
Step 6: Let them dry
And finally, let your Timberland boots rest overnight to get the best result.
Remember to remove the shoelaces from your boots before starting the cleaning process.
Method 2- Use Lemon for Cleaning Leather Boots
When your Timberland pair is made of pure leather, it needs to be dealt with some care. You shouldn't apply the vinegar to the boot surface.
Instead, use an acidic substance and some quality moisturizer soap to remove stains.
Follow this method for your leather boots:
Step 1: Wipe the Leather Surface with detergent
Likewise, in the previous method, make a mixture of dish detergent with warm water and wipe the leather surface with a clean cloth. Gently clean the boots with the mixture. Make sure you wipe each part around the stains.
Step 2: Use tartar cream and lemon juice
Now, mix 1 tablespoon of lemon juice with tartar cream and make a paste. Put the paste on the leather surface with the help of a clean cotton cloth. Then let it rest for a couple of hours and wipe the solution away with a dry cloth.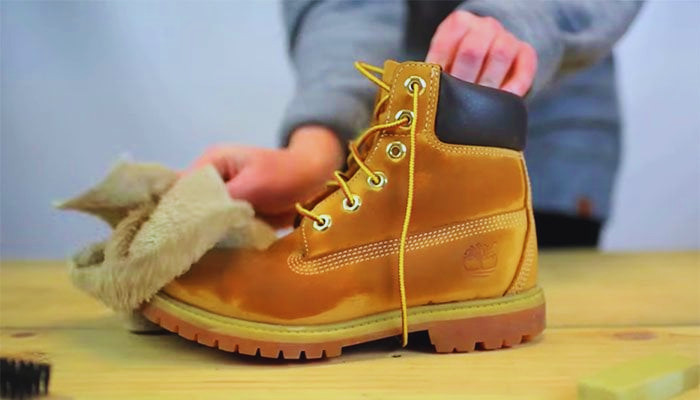 The acidic element of the mixture will make stains go away, and the grainy texture will save the leather from damage.
Step 3: Moisturize the leather with the Moisturizer soap
Hold a moisturizing soap bar under running water until it becomes foamy. Then take a clean cotton cloth and wet it with the liquid.
Now, wipe down the boots in a circular motion. It will condition your leather and make them shine as well.
Step 4: Wipe clean the leather using baby wipes
After moisturizing the leather, make a final cleanup with baby wipes.
Step 6: Let them dry
And lastly, let the boots dry themselves naturally.
Using lemon paste and moisturizing soap will make your Timberland stain-free and soften the leather that will shine. You also can try the wax on your timberland to shine them up.
On top of that, regular cleaning and waxing reduce the propensity of creasing your pricey boots. With a minimal procedure of maintenance, you can, however, uncrease your Timberland in no time!
This way, you can retain the leather quality of your boots even if they get older.
Method 3- Baking Soda to Remove Stains
Baking soda is another ingredient that you can find easily in your kitchen. And it's cheap and simpler to use.
Let's see how baking soda plays its part in removing stains:
Sprinkle some baking soda over the affected area and let it be for a while.
After the element settles down on the leather and does its job removing the stains, cleanse the upper with a clean cloth.
That's it. Using baking soda to remove stains is a very easy method.
But if the marks are not raw and you make delay in cleaning them out, baking soda may not work well. In that case, try other methods from this guide.
Deep Cleaning the Grease Stains from Timberland Boots
Generally, Timberland work boots are meant to be for heavy work. As time passes, people become conscious about their fashion, even at work.
Keeping this in mind, Timberland started making all-purpose boots that you can wear to work and maintain fashion. However, it's inevitable to get some grease stains from work. And such stains are horrible looking and degrade the leather quality over time.
So, cleaning the grease stains from your Timberland boots is really a dire necessity.
But don't worry, you can clean such crappy stains easily at home using some cheap household items.
Methods 1: Use talcum Powder to Clean up the Grease Stains
Using talcum powder is one of the easy yet effective ways to remove nasty grease stains.
To draw out such unwanted stains, you'll need the following items:
Paper towel
Talcum powder
Used toothbrush
The step-by-step guide to removing grease stains with talc powder:
Cover the grease stains with a paper towel and soak up the grease as much as possible. Don't use the same paper towel for soaking. Replace with a new one until you are satisfied with the cleaning.
Now, spread the talcum powder all over the stains. Don't leave any affected area untouched. And let the powder overnight on the boot surface.
The following day, bring a toothbrush to brush away the powder from the boots.
Use the brush a little longer to cleanse the grease stains gently.
This should help you get rid of such unwanted grease stains.
Make sure you apply this method to clean up your Timberland right after noticing the grease stains. Treating early can help remove the grease stains without going through the hurdle.
The longer you keep the stains, the more complex the task will be to remove them.
And if you've somehow made such a delay, I recommend using the deep cleaning method, which I'll cover next.
Methods 2: Deep Cleaning your Timberland Boots
Grease stains can be pretty stubborn sometimes that you can't get rid of by using simple talcum powder.
And as I said earlier, the cleaning procedure will be harder if you leave the grease stains longer. But don't worry. I'll guide you through the entire process. Hope it'll become easier for you.
However, to deep clean your Timberland boots, you need to gather around some items and buy some special treatment.
Make sure you have the following items for deep cleaning:
Nubuck cleaning and sealing products
Brush
Clean water
Dish soap
Sandpaper
The step-by-step guide to deep cleaning your Timberland:
Buy a good nubuck cleaning product that will match your boots' color.
Remove the shoelaces and separately clean them with dish soap. You can also wash them in the washing machine, but ensure you separate them from your regular clothes.
Now use the brush to remove the loose dirt from the boots. Ensure you properly brush up the sole to remove all the debris from the shoes.
Keep your hand inside the boots to keep opposite pressure on the boots as you scrub to clean the dirt.
Precisely scrub the boot sole with a brush and soap.
Now, mix the nubuck cleaning with warm water and use the brush to scrub on the boot upper. Keep scrubbing the cleaner in one direction to intact the boot shape.
If the stains are still there after doing all of these procedures, you have nothing to do but use sandpaper. This is a delicate and risky way to remove stubborn stains.
Carefully use the 400-grit sandpaper on your stains and gently scrub in one direction. Stop sanding immediately after the stains go away.
Protecting & Preventing Your Timberlands From Getting Ruined
Timberland boots are a good investment for all-purpose work boots. But you need to protect your investment with constant care, right?
Likewise, you should take reasonable precautions to retain the quality of your Timberland boots.
Follow these preventive measures to keep your boots as new always:
Clean your boots regularly. Don't let any debris hold the sole for a long time.
Once you spot any stains, immediately take measures. Follow any of the above steps to clean the boots.
Invest some bucks in Timberland's recommended restorer brush and their Product Care Kit.
Overall, clean your Timberland regularly to keep it shining year after year.
Parting Thoughts
Timberland boots were originally made for heavy-duty work, it was inevitable that stains would be a regular headache.
But, Timberland's build quality turns that headache into an easy day-to-day activity. Thus, cleaning and removing stains from your Timberland shoes is straightforward.
However, I tried to illustrate the process to make your life even easier. The company itself recommends those methods to remove stains from the Timberland boots.
So, try them now and let me know which one works for you the best. For further queries, shoot a comment in the below box.