Timberland is a trustworthy name for all shoe enthusiasts for its splendid features.
However, nothing is more unfortunate than the propensity for color fading in your premium Timberland boots. And if the nightmare occurs, you need to look into the process of bringing them back to their natural hue. Right?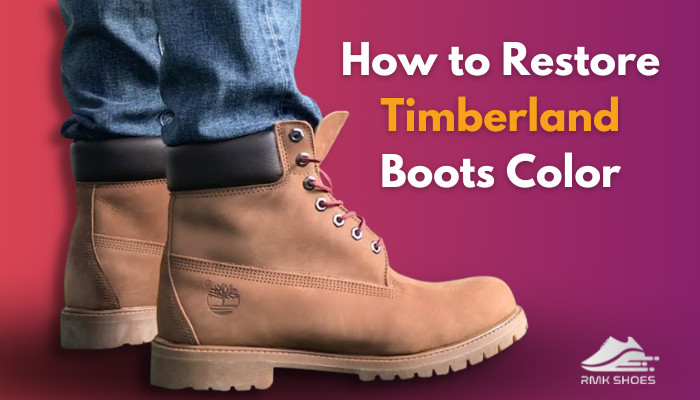 In this article, I'll reveal to you the best ways for regaining the colors, which I individually tested on a pair of my favorite Timberland boots.
Read each step precisely and apply them in a sequential manner.
How to Restore Timberland Boots' Original Color?
Timberland always satisfies their customers by giving top-notch features like comfort, safety, and style. The youngsters continue to favor the boot because of its fashionable appeal.
However, despite all of their beautiful features, these boots run the risk of losing their unique colors.
While we realize that our beloved timberland is fading its original color after a specific time of constant use, some of us thought they no longer support us.
But fortunately, it's just similar to a relationship that requires more tenderness and care. Therefore, you may enhance their durability and original color by giving them a little care and affection.
To restore the color that has been adrift, carefully follow the instructions sequentially.
The steps for restoring Timberland boots' color are listed below:
Step 1. Deep Cleaning
You must thoroughly clean your Timberland pair each time you use it.  Cleaning your boots is probably the only method of retaining the color duration.
Additionally, thorough cleaning is the first step in returning your faded boots' color. Clean your pricey timberland precisely to achieve the finest results.
You just need to follow specific steps for proper cleaning:
Remove dirt – Use a gentle brush to get rid of tiny debris. Any type of boot cleaning method starts with brushing. Start at the top of the ankle, and wipe the entire boot's surface in a back-and-forth motion.
Timberland launched some cleaning kits for their delicate boots, where you can find some suede brushes.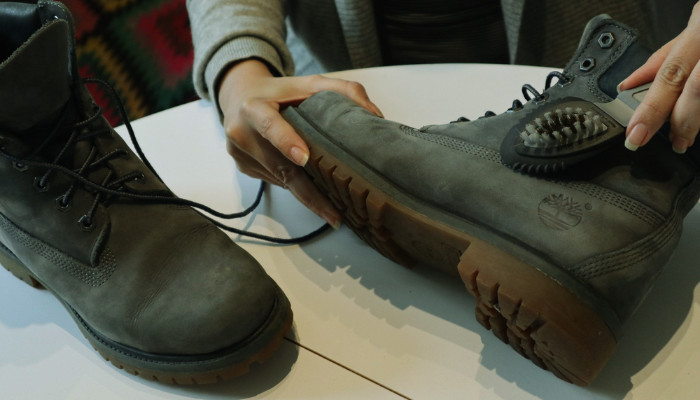 Remove scuff marks – Gently use an eraser to remove the unwanted scuff marks. You can use a random pencil eraser or a suede eraser. Thoroughly rub the spot with the eraser until it disappears.
But for an instant result, you must use the timberland cleaning bar.
Reapply Brushing – Brush your boots again to remove the eraser debris after erasing.
Clean up your beloved Timberland pair at least once every week. Regular maintenance extends the life of the boots and keeps the colors vibrant. However, you can clean your timberland boot by using some accessible material easily found in the household.
Step 2. Condition The Timberland Boots
After cleaning your boot properly, apply some conditioner to condition your timberland pair. For leather boots, use the timberland leather conditioner that the brand designs.
Use a few amounts of conditioner and apply them over the surface precisely.
After applying the conditioner, wait at least 15 minutes to ensure that the leather has had enough time to absorb it. Then use a soft cloth to remove the extra material.
Conditioning the boots will polish up the leather and help the color to be intact. On top of that, it is possible to wax your cherished Timberland boot using the particular product. This will enhance the boots' lifespan.
Step 3. Apply Shoe Polish
Now, it's time to add some color to revive the shades again. Spread a decent amount of shoe cream. Apply the polish evenly to the outer surface of your shoes in a hue that is close to the original.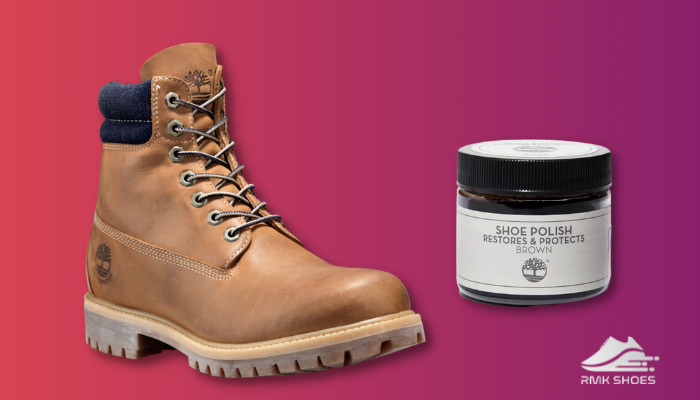 Try to rub the polish into the boots' seams and nooks for optimal coverage.
Furthermore, the Timberland shoe polish does a fantastic job of minimizing the leather creasing.
Step 4. Dry The Boots Properly
Before jumping to the next step, dry the cream perfectly.
The pair needs to be left alone for at least 24 hours to dry at room temperature. Anyway, I don't like to use any dryer to dry my Timberland boots, but if you're short on time, you can apply a blower after the cream has dried.
Avoid using excessive heat when drying because it could dissolve the adhesive and shorten the life of your leather Timberland boot.
Step 5. Buff The Boots
Once the shoe polish dries properly, buff the boots until the previous shine is back. Use a squishy cloth to buff and rub the surface all over in a circular motion.
Repeat the procedure until you achieve the desired outcome, and the shiny color is restored.
And these are the simple steps to regain the original color of your timberland pair. Jazz up with your Timberland boots for many more years to come!
Why are My Timberland Boots Lost Their Shades?
Timberland is the type of shoe that can be worn with any outfit and cover all your requirements.
If you take good care of them, they can support you for over three years. Timberland offers a remarkable lifespan, so never think so much while rocking on these beasts. But after all their splendid features, there is a fair chance of losing the original shades of timberland boots.
Timberlands do, however, lose their color over time, much like other leather goods do. But do you understand why most leather boots lose their color over time?
Okay, after using multiple pairs of leather boots, I've compiled the best explanations for why they tend to lose color.
The causes of color-fading tendencies are as follows:
Direct exposure to the sun and other environmental factors. Due to the UV rays, the leather lost moisture and eventually faded.
After wearing your Timberland shoes, do not clean them; instead, keep and reuse them with all the filth.
Inappropriate cleaning products or methods can decrease the color duration.
Your previous pair must begin to lose color as a result of aging.
After being exposed to snow, allowing water to dry on them can create a matte, dull upper and taint your leather goods.
The natural oil and moisture your shoes grasp all day due to perspiring also fade the hue after a particular time.
Note: Timberland shoes must eventually lose some of their colors after being worn frequently, thus doing so in cycles.
How Can You Restore Your Timberland by Using Household Items?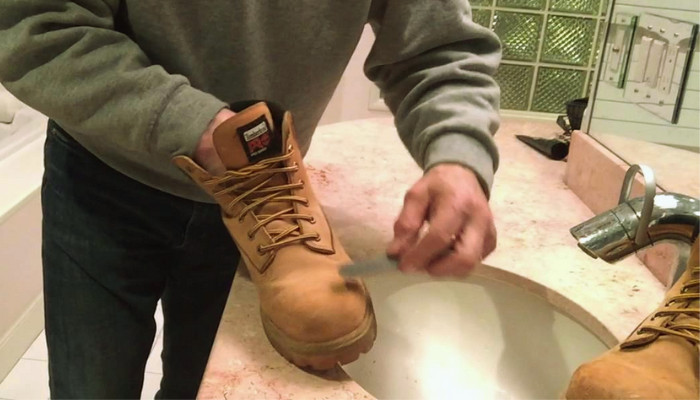 Luckily, you don't need any special materials to modify the color of your boots. If you don't have their shoe cream or cleaning equipment, there's no need to worry because using a few home chores will restore the color just fine.
Make it accessible and straightforward for them because some of us go through difficult times in life.
You may have first heard of folks cleaning with baking soda and toothbrushes. And in my experience, it performs admirably. It's the safest method for both cleaner and boots; you can use them as often as you want.
Apart from that, the baking powder is not suitable for your suede timberland boots, and you just use the process in your leather ones.
Home goods are constantly accessible and secured.
Nonetheless, do your homework before utilizing them to understand how they will react because even a little ignorance might ruin your most precious Timberland.
After cleaning, your shoe must be properly dried in a moderately hot environment. Remember to mention if you use any additional equipment for restoration.
Wrap Up
Actually boot restoring is not a complicated procedure. You just need to clean precisely after every use of your darling Timberland. Now that you are aware of how restoration works and what causes fading so if you want, you can prevent them too.
You can achieve success by carefully following the suggested instructions.
If you have any additional questions timberland just leaves a comment below.