As we spend a hell of a lot of money behind Timberland boots, we want to use them for years, right?
But do timberland boots give you this indefinite period of service?
Worry not! Your money will not go down the drain.  As I'm about to reveal everything  I found about Timberlands durability and how to deal with it.
So, how long do Timberland boots last?
Timberland boots last around 7-8 months if you wear them daily. Not only that, Timberlands' longevity depends on various factors such as leather quality, material, stitching, and so on. However, you can increase longevity by up to 4 years with proper maintenance.
Continue reading to grasp the idea of Timberlands' durability and how to extend that duration.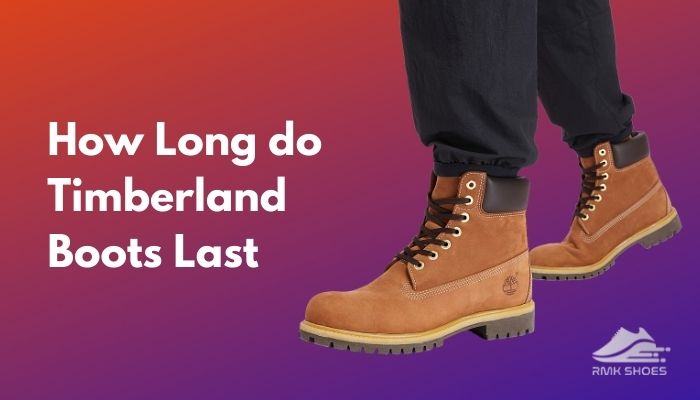 Follow our guide on how to Break In Timberland Boots
How Long Should Timberland Boots Last?
Timberland boots should last around 3-4 years straight. And if you are willing to extend the duration to a couple of more years, all you have to do is know and implement the right dos and donts that experts recommend. Also, make sure you carefully buy the original boots and not the fake ones.
The most renowned Timberland surely has a collection of tough and yet fashionable boots so far. They were intended for construction workers but now, they attract all sections of fans globally.
I am a huge fan of Timberland. Felt crazy the first time I bought the yellow boots.
As my excitement kept building up, I did wonder, how long should my precious boots last?
I know the company provides a 1-year warranty, which means it will last for a year for sure. Surprisingly, as I grabbed my laptop and scrolled through reviews, most people testified their boots lasted around 3-4 years straight.
Check out my new post on What Makes Timberland Boots Worth The Money
As I continued researching, I kept on smiling harder. Especially, when I came across expert-recommended care tips that can make your boots last even longer.
It clearly stated that "with the following step-by-step methods, your Timb boots should last even longer."
So, after digging deeper and a bit of calculation, I realized my yellow boots should last for at least 6 years or more.
Everyones' may be very different from mine, especially if you are a regular user. Since nubuck leather is highly sensitive. The more you wear it, the more it gets exposed for deterioration. Basically, reducing the life span from around 6 years to 3 or 4 years.
In general, for all cases, most Timberland boots should last for a minimum of 3-4 years.
Follow our guide to know Do Timberlands Stretch
Are Timberland Boots Worth the Money?
Yes, Timberland boots are surely worth the money. Their consistent hard work and focus on enhancing the quality of the materials, the boot's durability, comfort, overall construction, and customer reviews are what make it last longer than expected.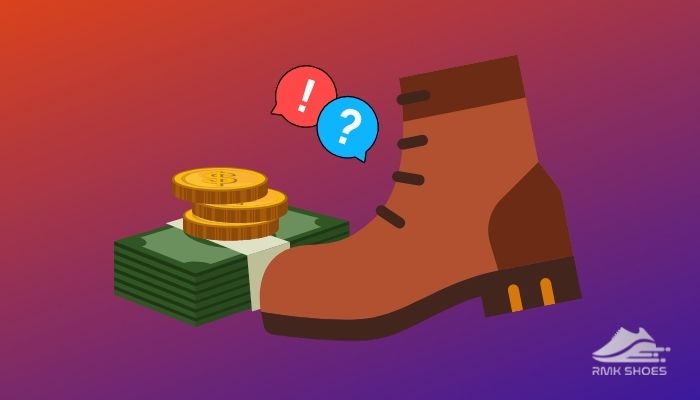 If you look back to how they started, surprisingly their concern of wet shoes is what won people's hearts.
A company like Timberland keeps people's concerns as their top priority.  Their boots show that beautiful reflection.
Yes, that's their motto.
But before that, you check out how Should You Wax Timberland Boots
They find success when people find their money worth it. That's when they find peace.
You might wonder what they think your boots are worth? How tier business strategy is worth knowing and how it's even related to your question?
Well, you won't believe it. But it does! It matters.
Because of keeping people's issues as their top concern, they focus on a few factors.
First thing first, the quality of the materials.
They make sure to collect the best, authentic suede skin, synthetic sole materials, etc. So, they can last longer and don't get affected easily.
Also, check out our separate post on Timberland vs Carolina
Then Timberland does extensive research for innovation on better construction.
They hired the best and smartest people who research people's top concerns. And finally coming up with the best designs to tackle the issues like waterproofing problems, excessive internal odor, and many more. The yellow boots, aka, the original Timberland was their first waterproof boot.
And last but not the least, they do the final testing before releasing it on market.
Follow our guide on How To Uncrease Timberland Boots
No matter how great materials they use, or how awesome their innovation is, they believe nothing is perfect until the product proves what they claim.
So, they go through multiple stages of testing. Considering various cases like oil stains, water tests, and many more. And once they find the test results coming out positive, they decide to launch the boots.
So you see, because of their mindset, their verification process is much fairer and trustworthy.
So is it worth your money? Yes! It sure is worth it. A boot that not only consists of high-quality materials, effective construction but is tested multiple times is definitely worth every penny.
Also, follow our separate guide on How To Fix Scratched Timberland Boots
How Long Do Timberland Pro Boots Last?
Timberland pro boots also last around 3-4 years long. Although their steel toe construction and other features are slightly improved than the usual Timb boots, but that doesn't affect the duration much. But with proper implementation of cleaning methods, the boots would surely last longer.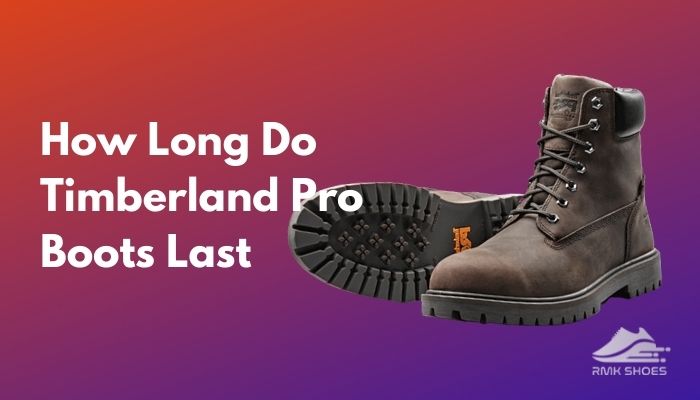 Timberland pro boots have a slightly tougher look and thicker construction for heavy work mostly. Heavy work may include hiking, construction work, and many more.
Just as I mentioned above, these boots go through the same verification process as all other boots. Making them worthy enough to last a minimum of 8 months to 1 year smoothly.
In a hurry? Check out my new post on How Much Do Timberland Boots Weigh
Now you might ask, why not a decade long?
Well, it sure is possible to make them last that long. By taking proper care, cleaning effectively, avoiding excessive sunlight, and many more effective methods to keep your boots alive and healthy.
However, there are a few unavoidable factors that affect the lifespan of the recent Timberland boots.
One of them is the constant change of environment.
You might often hear from people of our grandfather's age, that Timberland boots are like Nokia phones. Which never gets affected by any situation. Allowing it to last for more than a decade.
But now, it has been reduced to a maximum of around 3-4 years only. It's not because Timberland doesn't pay attention anymore. It's mostly due to the rapid change in the environment.
But before that, you check out how Can You Resole Timberland Boots
Back then, global warming wasn't that extensive like it is now. And you know how sensitive suede is. Now the suede materials get to face more heat, dust than before. That eats away the quality of the leather faster.
Another factor is the renewable plastic used. It sure is great to see how Timberland is not only making such a great product but also trying to save the environment at the same time.
However, back then they used complete raw materials, and not a few renewable materials were used. Which allowed the boots to sustain longer than usual. Whereas now, all Timberland boots including the pro ones have a large number of recyclable products used in them.
This product surely replaced the complete fiber portion that produces the soles, strings, and more. But compared to fibers or soles used beforehand, they are still in the trial phase. That requires a bit more touch-up to reach that level.
And a few other factors include, whether you are buying the fake one or not, whether they are from the original store or not, and also due to larger production.
Also, check out my post to know Do Timberland Boots Make You Taller
You would see many reviews claiming the soles coming off within weeks, or the insoles aren't that comfortable, etc.
It's true, there can be a few exceptions happening if you buy from the original store. And that may include the sole coming off. In that case, you can always exchange with a newer version.
But in most cases, they either buy the fake ones or from other stores instead of the original ones. That makes their boots harder to last long and eventually their reviews might make you question Timberland's work.
At last, I do appreciate their mass production capability. Due to high demand, Timberland now has China, Vietnam to produce their boots in a larger quantity.
Follow our guide on How To Clean Timberland Boots With Household Items
So, when such a delicate construction is done on a larger scale, there remains a higher chance of errors.
Workers may put more glue on one boot and less on the other or stitch some very tightly and some slightly loose. Since there are so many boots made in a day, some hundreds of boots pass away with those errors.
But back in the early 90s, the industry was small. So they could give more attention to each boot. Hence less chance of errors. So longer lasting than usual.
Also, check out our separate guide on How To Protect Timberland Boots
Tips to Make Timberland Boots Last Long(Works Super Fast!)
If you finally made it all the way here, you should know how important expert-recommended tips are. They are the key to your Timberland boots lasting longer.
So what are those magical tips that work like crazy?
Always try avoiding excessive heat, as Nubuck or suede leather is sensitive to high heating places.
Make sure to use waterproofing sprays every 3 to 7 days.
Always keep dry-cleaning them using a rug after wearing them the whole day.
Keep them in a cool place.
Make sure you avoid soaking them in water.
Use suede brush and high-quality cleaning products to clean them on a weekly basis or when it's too dirty.
But before that, you check out why Do Timberland Boots Hurt Your Ankle
What do you think?
As per reviews and from my personal experience, most Timberland boots last around 3-4 years max.
However, the good news is, you can make them last longer with proper care as I explained some of the best ones above.
In this article, I also explained why there is a drop of the last longing feature from a decade to a maximum of 3-4 years and also whether the boots are worth your money or not.
So, what do you think? Will your Timberland boot last this long? Do let me know in the comments below. And don't forget to share.