For tropical cold weather or outdoor work, you can wear Timberland boots with your eyes closed. But are these settled yellow leather boots as good for walking as they are comfortable?
From this context, you will get the exact answer to this question.
So, keep reading to know the details of whether you can walk wearing Timberlands and how effective they are.
Are Timberlands Good For Walking All Day?
No, Timberland boots are not good for walking all day. Because of the weight of these comfy boots, they are perfect for short walks rather than longer ones. As TM shoe's leather is quite stiff and rigid, long-term wearing can cause swelling as well as blisters.
Timberland boots are comfortable without any doubt, but the way these boots are manufactured makes them working boots for harsh weather, including rainy days.
Among construction and outdoor workers, this brand is extremely popular as they can stand all day wearing their TM shoes.
Along with comfort, timberland boots are waterproof, so you can wear them to your work even if it rains. That will result in staining your boots, so make sure you know how to remove stains from your TMs.
Why Timberlands Are Not Ideal Walking Shoes?
There are so many valid reasons that make these good work boots not suitable for walking. You need to know each of these causes to make sure you are making a good decision while purchasing your first Timberland shoes.
5 reasons to avoid Timberlands for walking:
Weight
One of the main disadvantages of Timberland boots is the weight. Because of the construction process and materials, these shoes carry quite an amount of mass that makes them a no-go for walking.
If you want to go for short walks, you can. But trying them for long periods is not a good idea.
I have the Men's Redwood Falls Chelsea Boots, and I made the mistake to wear them to a party before breaking them properly. My ankle started to hurt badly, and the swelling took the whole night to reduce. The weight was the greatest no-no.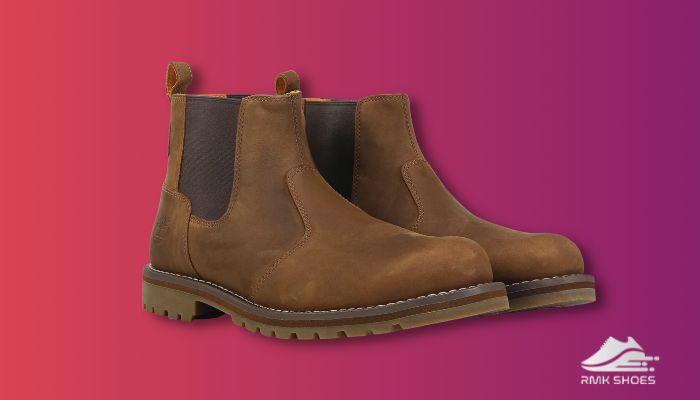 Traction
A good walking shoe must have proper traction. But this is where Timberland is lagging.
Where you have to walk through rough surfaces, your boot's outsole must have that amount of grip to take your body weight along with moving forward to such a surface. And you won't get this facility from your TM shoes.
Though the manufacturers claim these boots are good to use all year around, for summer use, do you think they are ideal?
And make sure you know their cleaning process in case you get them dirty during your hot summer days.
Flexibility
Flexibility is one of the must-have features of good walking boots. But as I mentioned before, Timberland is rigid and stiff. Though, after the break-in period, it becomes easy.
Yet they are suitable for heavy-duty work where you don't have to walk all day long.
My Redwood Falls Chelsea Boot is quite supple, but not enough. I still find them not suitable for long-distance walks. I rock parties in them and the comfort is undeniable.
Likewise, I have plans to wear my TM boots to ride my uncle's motorcycle. I am curious to see how well that experience will go.
Steel Toe
Steel toe is an extra layer of protection that keeps your toes from any falling object. For walking and outdoor activities like hiking, this feature is advantageous.
However, most Timberland boots come with steel toes. And for comfortable movements, wearing it works as a disadvantage.
My brother owns Men's Gritstone 6" Steel Toe Work Boots and let me tell you, despite all the cons, he loves his pair. He said all that is needed is to know how to protect your Timberland boots, and you are all good to go.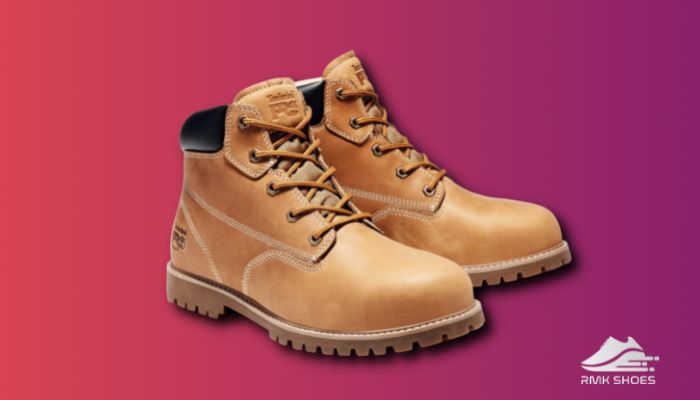 Gets Dirty
Who wants to clean their boots after their regular use? At least not me. This is another flaw of Timberland boots as they get dirty very quickly, and because of the nubuck leather, TMs catch dirt frequently.
And it's a challenge to clean these stiff boots frequently. This is another reason Timberlands are not ideal as walking shoes.
Another fact, always read reviews and ratings like me to see, if buying Timberland boots is worth your money.
Are Timberland Boots Good For Hiking?
Yes, Timberland boots are good for hiking, and they have specific models for a pleasant hiking experience. These boots have Gor tex technology along with being lightweight.
The features Timberland hiking boots have, are suitable for walking on any challenging surface, not to mention the Dual-Density Dynamic Anti-Fatigue Technology these shoes come with.
One of my college teachers is a hiking lover, I have seen her wearing Women's White Ledge Mid Waterproof Hiking Boots.
According to her, these pairs are quite comfy, and the waterproof feature is an added bonus for those rough rainy days during hiking.
Are Timberland Boots Comfortable For Walking?
Yes, Timberland boots are highly comfortable for short walks. This is one of the features, these boots are well known, and after the break-in period, the comfort level rises, and you can't complain about it.
However, as most of the models of these boots are heavy, despite being comfy, Timberland is not an ideal walking pair when you wanna cover long distances.
If you are getting them for your workplace or hiking trips, Timberland Pro Pit Boss is very hyped.
Is Timberland A Good Running Choice?
For running, Timberland boots are not an ideal choice. Long story short, these boots are super comfy and last longer, but the leather is stiff, and the steel toe makes them a bad choice for long walks.
So it won't be anywhere good for running.
If you want to buy them for long walks and running, I suggest you try something else in place of TM boots. In case you have bought them, make sure you know how to break- in your Timberlands for ultimate comfort.
FAQs
Are Timberlands Good For Your Feet?
Yes, Timberland boots are good for your feet due to the cushioning, arch, and heel support. Even these are helpful for plantar fasciitis, including heel spurs.
Are Timberland Boots Good For Snow?
Yes, Timberland shoes have a built-in waterproof feature, so for snow, these are also good, and you don't have to worry about them getting wet.
Parting Thought
You go to work and even short hikes wearing your stylish Timberland yellow leather boots. But for long walking, you can't count on them as they will start to hurt your feet, though they are super comfy.
All the necessary information is provided here for you to decide whether you can wear your TM boots for walking.
For additional queries, comment below.