A lustrous pair of Timberland boots matched with a blazer and dark denim itself makes a fashion statement.
But you can enjoy a pair of Timberland boots only when they are cleaned.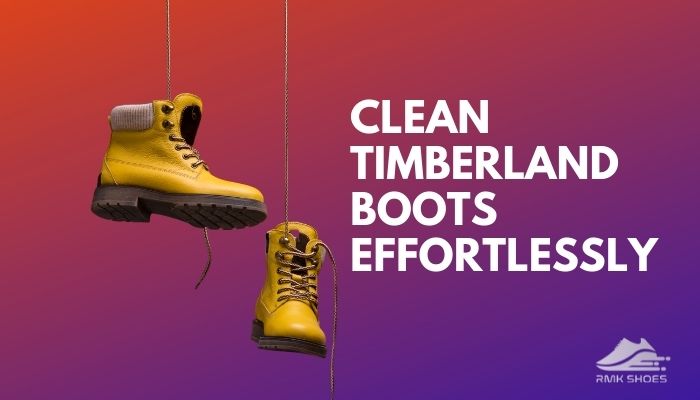 And achieving a pair of dirt-free Timberland boots can be a pain in the back. But why worry when you have all the solutions to your problem just a click away.
Yes, in this article, you will find all the incredible cleaning hacks that will help you to clean timberland boots and that too in your budget.
So why wait? Let's jump into the writing.
How To Clean Timberland Boots?
Timberland boots are comfortable yet trendy for their classic mustard yellow color. Their elegant appearance has made them the most favored everyday shoes.
But to maintain the boot's outlook and have an increased lifespan, cleaning them is a must. Moreover, cleaning timberland boots is not a big deal at all. With some simple yet useful tips and tricks, you can easily make your timberland boots dirt-free.
Here are the methods that you can follow to clean Timberland boots:
If your boots are lightly stained, you can follow method-1, and if your shoes are heavily stained and need a deep cleansing, you can follow method-2.
Also, check out our separate post to know Are Timberland Boots Waterproof.
Method 1: Clean With Toothbrush/Suede Eraser
Just like brushing cleans your teeth, same it does for cleaning Timberland boots. All you need is an old toothbrush and the magic will happen itself. If you want a professional level cleaning, you can invest in a suede eraser.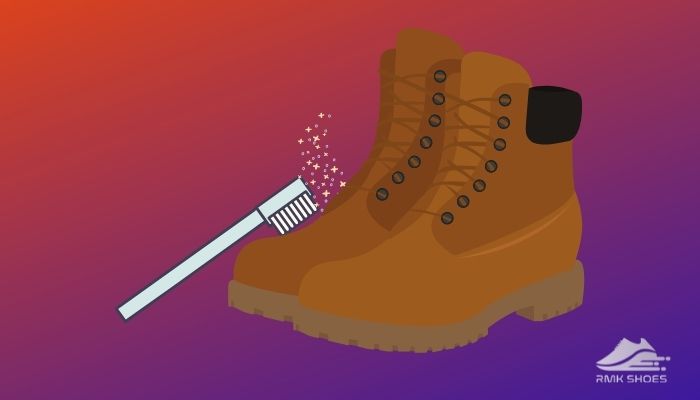 Here are the steps following which you can clean Timberland boots:
Remove the dirt
Brush the dirt off the boots. Take a soft-bristled toothbrush, brush it in a circular motion from the top of the ankle to the boot's back.
This light brushing will remove small debris from the boots. But if the dirt is heavy and embedded, brush the boot heavy-handedly and remove as much filth as possible.
Keep in mind, if the dirt is fresh and wet, don't start the cleaning process. Let the boot sit overnight; this will dry out the soil and make the cleaning procedure easy.
For a professional result, you can use a suede brush instead of a regular toothbrush. A suede brush is mainly made for cleaning this type of boots, so obviously, you will get better results. You can easily find a suede brush in any shoe store.
Check out my new post: Do Timberland Boots Run Big.
Usage of eraser/suede eraser
Remove any sort of scratches on the boots with an eraser.
Light-handedly rub the eraser over the marks, rub it until the scuff marks start to disappear. You can also buy and use a suede eraser, but why invest in it when you already have a pencil eraser in your younger sibling's pencil box.
This technique will work only for light stains or everyday scuffs. Heavy or embedded dirt removal needs a bit more work.
Method 2: Deep Cleaning Of Timberland Boots
Timberland boots need to undergo an in-depth cleaning process once in one-two months. Deep cleaning will make your shoes look new and increase their lifespan.
Buy a nubuck cleaning product. Typically Timberland boots are made of nubuck as well as suede. Buying nubuck cleaner will also work for suede cleaning.
Also, check out our separate post to know Do Timberland Boots Stretch.
Here are the steps to clean the Timberland boots:
Remove the shoelaces. Wash the laces separately with washing powder and warm water. After it is clean, let it sit for drying.
To remove grimes, take a soft-bristled brush, as a stiff-bristled brush will damage the texture of the boots. Brush all over the shoes in a circular motion. Brush the boots gently to avoid any kind of scoring on the exterior of the shoes. Brushing the dirt as much as possible will make your work more comfortable later on.
Brush the bottom laboriously as the sole of the boots picks the most dirt. We always focus on the surface of the shoes while cleaning, but the base also needs cleaning.
After removing the soil, place a shoe tree inside the boot, or simply you can insert your hand inside the boot to keep its shape intact. Otherwise, the shoes will keep on crumbling while scrubbing it.
Push up the lines and wrinkles on the boots with your hand while cleaning; this will help to reshape the places where it is more creased.
Mix mild dish soap and water and make soapy water. Using a brush, rub the soles of your Timberland boots with soapy water and brush any built-in soil.
Wash the soapy water from the boots with warm water.
The next step is using the nubuck cleaner. Mix the cleanser with warm water and brush it with a toothbrush. Softly brush the top of the boots. Always stroke it one route; this will keep the boot's surface in its shape. Before applying any cleaner in your boots, always check the manufacturer's instructions if there is any.
Scrub with the cleaner until you notice the stains are vanishing.
If the stains are still noticeable, try to use sandpaper. Buff it very light-handedly over the colors.
After all the cleaning process, rinse the boot with a small amount of water, which will wash off any remaining dirt and the cleaner from the shoes.
Here you go, an in-depth cleaning process is done.
How To Clean Timberland Boots With Household Items?
Sometimes our daily use items can be solutions to our problem. You heard right, using your everyday things like facial wipes, nail filers you can make your Timberland boots spotless.
Start by cleaning the excess dirt with a cloth.
Rub the places of the boots with a nail filer where there is dirt, which will lift the texture of the shoes and remove the debris.
You can use facial/baby wipes to make your shoe dirt-free.
If there are oil stains on the boots, dust some cornmeal on the colors, and it will absorb the oil.
Remember, these are quick fixes, do not try to use these methods daily; otherwise, you will damage your boots.
Check out my epic guide: Are Timberland Boots Good for Motorcycle Riding.
How To Protect And Maintain Timberland Boots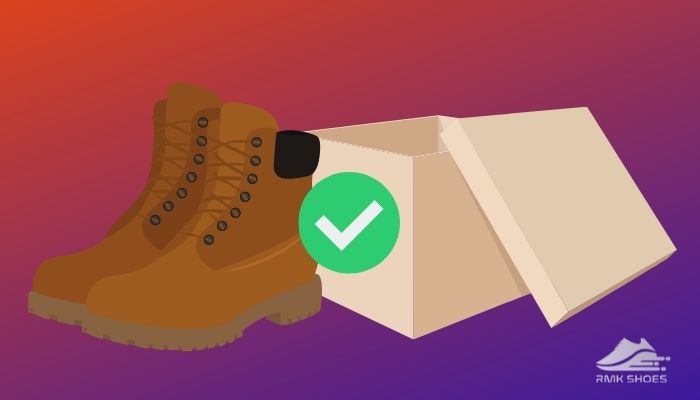 Intact your boots' shape by placing newspapers inside them; this prevents your shoes' crumbling.
Keep the boots dry, preventing any stains or watermarks.
Brush your boots thoroughly once in a week if you wear Timberland boots regularly. Weekly cleaning will make your shoes look new, increase their longevity, and prevent any dirt buildup.
Apply a leather conditioner, water-repellent spray. These products will ensure the boots are not too dried out nor too moisturized.
Use the Timberland cleaning kit to make your boots dirt-free. The timberland cleaning kit contains all the materials that you will need for cleaning. Using a specialty cleaning kit will make your boots last for a more extended period.
Precautions While Rinsing Timberland Boots
While using the suede brush, toothbrushes; do not brush it too harshly. Harsh brushing will scratch the leather.
Do not use a heavy-bristled brush, again this will scratch the leather.
Cleaning boots using household items is only a quick fix, do not follow this procedure regularly. Otherwise, you will end up damaging your boots.
Timberland boots are mainly known for their appealing yellow color, try to invest a fair amount in a quality full nubuck cleaner or water-proofing spray. These will ensure to keep the boot's color intact.
Frequently Asked Questions
Question: How to get rid of the smell from the Timberland boots?
Answer: By using baking soda you can magically vanish the foul odor from the Timberland boots. Sprinkle some baking soda inside your boots, let them sit overnight. Before putting the boots on, shake them to get the residue out.
You can also use vinegar to remove the bad smell. Take equal portions of vinegar and water, mix it and spray it all over your boots and let it air-dry for at least 30 minutes or overnight.
Question: Can you wash Timberland boots in the washing machine?
Answer: Yes, you can wash them in the washing machine. But make sure you do not wash clothes with dirty, filthy boots after washing air-dry them.
Question: Are Timberland boots waterproof?
Answer: Not every Timberland pair of boots is waterproof. Before purchasing, check the website of your desired brand. They will mention if the boot is waterproof or not.
Question: How long do Timberland boots last?
Answer: Timberland boots are tough-wearing, whatever the season is summer, rainy, snow, or soil. With proper maintenance, a pair of Timberland boots will last for years. And that's because of its durable sealed seam and robust rubber soles.
Conclusion
I can assure you if you follow all the instructions mentioned above, it will definitely get you the best results. Just invest some of your time and energy and make your Timberland boots look new again.
Feel free to share your experience in the comment section, which you used to clean your boots and work astonishingly.