I understand your need for Timberland boots to stretch when it's too tight to handle. I have been there too.
This is why I am about to present all that I found after some extensive research on Timberland boots stretching.
So, the question is,
Do Timberland boots stretch?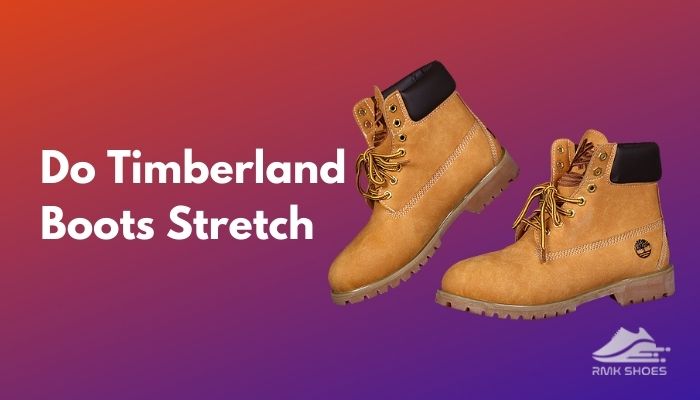 Yes, Timberland boots stretch with time. Since it's made of leather, the texture allows stretching as you wear it a couple of times. However, there are other methods to stretch Timb boots pretty easily. And methods that allow you to control from further stretching.
To know more about the methods and how stretching actually works, keep on reading till the end.
 Are Timberlands Tight at First?
Yes, Timberlands are usually tight at first. Especially if you buy a size smaller. You would find the boot exerting slight pressure from all sides. It happens due to a lack of internal push from the boots. So your feet end up being the first object to provide that push to stretch further.
Most Timberland Users find their boots tight at first.  As the boot seems to have a narrower width, for the first one or two days you will feel troubled wearing them.
It actually doesn't matter, if you order a wider size in case. You would still find them tight and compressed at first.
But in most cases, after a few times of wear, the boots stretch enough to fit. It doesn't get loose or bigger in length. It only stretches to fit smoothly. That doesn't cause much pain or swell in different areas of your foot.
This is what Timberland claims after testing themselves.
However, the reality is surely slightly different. At least, that's what I realize after going through most reviews about tightness.
Even though we do know, leather does stretch in general. But sometimes, due to the boots being stranded for a long period of time in factories or stores, they get too hard, rough, and tight.
So when you end up buying that boot, you may need to wait for weeks for them to stretch. That's exactly what most reviews claimed.
And that is the very reason, you would come across more DIY ways to stretch at home. Instead of people advising to wait till they stretch themselves.
Speaking of stretching methods, I collected a couple of best and effective methods to stretch as well. Do check them out down below.
Now back to our tight at first sight problem.
It's absolutely normal to find Timberland boots tight at first. Not just Timberland, any shoe or boots you buy would end up being slightly tight before they break in.
And as per Timberland, you can wait and see if they stretch or not.
In case, you still find them tight after a long time of wear, you surely can exchange them for a larger size or try our stretching methods.
Follow our epic guide to know Are Timberlands Good Work Boots.
Do Timberland boots Stretch Out or Break-in?
Yes, Timberland boots stretch out pretty easily. As Timberland boots are all leather goods, they stretch after a period of time. The soft texture, also named suede or nubuck, is responsible for the boots to break in. Although, the time to break in depends on how waterproofed they are as well.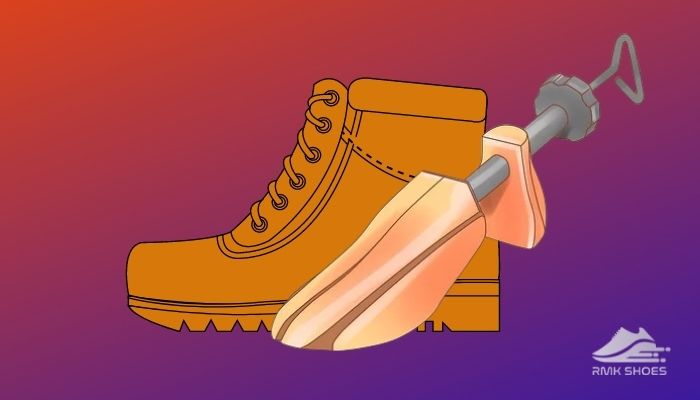 A lot of the time, we see our boots or shoes tight. Then we wonder if these will ever stretch or not.
Based on people's advice we end up waiting for our shoes to stretch out themselves.
Sometimes it works and sometimes it doesn't.
The reason it doesn't work is because of the texture or quality of the boots. And sometimes, it's simply because of not wearing them for a couple of days.
The texture as mentioned above has a few categories. They include leather type, synthetic type, wooden, plastic, and many more. Each of these categories behaves differently when it's about stretching.
The leather type has 2 categories. They are:-
Suede
Smooth Synthetic Leather
Both these leather types stretch way better than any other category. But also shrinks faster, if not worn on a regular basis.
It's because the texture of leather is a lot like rubber bands. The further you pull the rubber, the further it stretches. So, the more you push your feet through the leather boot, the more it contracts or breaks in.
This is why Timberland boots stretch out. All their boots are made of leather. So after a few times of wear, they usually start breaking in.
But if it doesn't, then it's usually due to the oiling or waterproofing being done by the industries.
These methods make the texture harder and hence restrict itself from stretching out. And also we can't deny that the boots are unused or touched for a pretty long time in the stores or factories.
However, it's not that they won't stretch at all. It only means it takes particularly a longer period of time to break in.
Usually, people don't have the patience to wait for it to naturally stretch out. Since the tightness causes pain and swells patches on our feet.
This is why they end up using kits or methods to stretch or shrink to fit their boots perfectly.
Check out my epic guide: Are Timberland Boots Good for Motorcycle Riding.
Should Timberlands be Tight or Loose?
Timberland boots, as mentioned above, are usually tight at first and then stretched eventually.
However, this case is only valid, if the size is half smaller than your right size. Since you know, Timberland boots usually run big.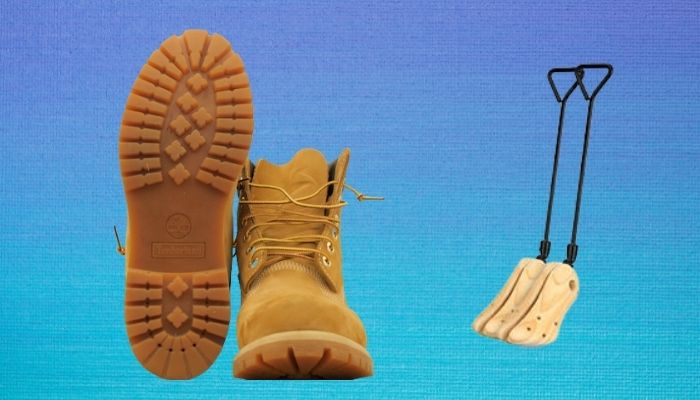 Timberland boots can be both tight or loose. It's mostly based on the size you ordered.
To know more about Timberland boots running big, you can check my article solely dealing with Timberland boot size.
About being tight or loose, it's mostly related to the size you ordered. If you order a size smaller, higher chance you would find them tight.
Whereas, if you order your size from the chart, or a size larger, it would be loose.
However, Timberland claims your size to perfectly fit you when you will use them for some time.
So, it's absolutely normal to find Timberland boots tight or loose. What's not normal is to keep up with this situation. If it's tight, try out methods to stretch it. Or exchange for a larger size if possible.
Else, if it's loose, there are stuffing methods to fit in. For example, wearing thick socks, or stuffing the empty space with tissues or old newspapers, and many more.
Follow our guide on how to Break In Timberland Boots.
Can You Stretch Timberland Boots?
Yes, of course, you can stretch Timberland. As a matter of fact, it's highly recommended to stretch boots when it's too tight or suffocating. As tightness leads to foot pain, scratches, and sometimes severe leg injuries. So applying any DIY stretching method would relieve you from such pain.
Stretching Timberland isn't just limited to shoe experts. Anyone, including you, in your busy time schedule, can stretch boots like an expert.
But you might ask, why do I need to stretch in the first place? Isn't buying the right size enough?
Well, unfortunately, the answer is a no. It's because of a few reasons.
I did mention above, regarding the size issue and the treatment on the upper texture, that makes Timberland Boots tight.
Not just tight, these boots also take a bit of time to stretch and fit in.
We, busy people, don't have unlimited time to wait and let them stretch naturally. Also, you wouldn't want your feet to get bruised every day because of the tightness.
So that's why I tested and selected the best methods for you to stretch your boots faster and very effectively. That works every time for everyone who tries it.
Check out my new post on What Makes Timberland Boots Worth The Money.
How can I stretch my Timberland boots at home?
Stretching boots is easy if you know the right step-by-step methods.
I understand how important stretching boots is when our boots are too tight to handle.
This is why I researched and came across the 5 best methods that work every time.
Here are the 5 best stretching methods to stretch your tight boots.
Method 1: Use a hairdryer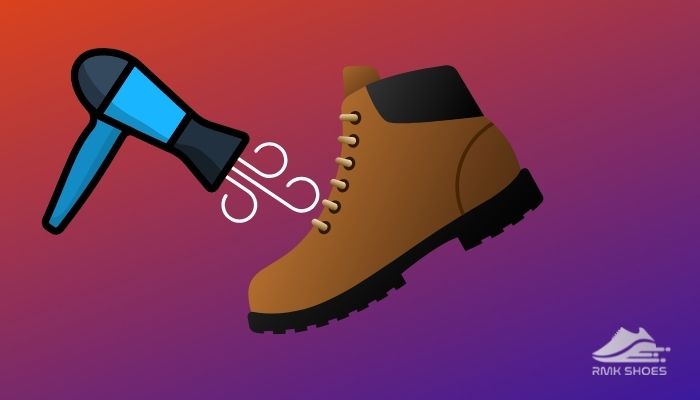 Once in a while, if you use your hairdryer in and out, the boot responds to it faster. And by respond I mean, it breaks in easily.
It's due to the heat that softens the texture and allows it to contract further. However, applying too much heat is not recommended. You can try keeping the hairdryer a little further away so that the sensitive leather doesn't get affected by the extreme heat.
Method 2: Stretch with a shoe stretcher
Shoe stretchers are very effective kits. Many users find it a shortcut to stretching boots.
To use it wisely, all you have to do is insert the kit in your boot and leave it for 7-8 hours.
Method 3: Using your hands or spoon
Yes! You saw it right. Your hands or simply a spoon is enough to stretch them. Just put your hands or the spoon in the boots and apply pressure outwards.
After trying this method a couple of times a week, you would be surprised to witness the power of your hands or that spoon in the kitchen.
Also, check out our separate post on Timberland vs Carolina.
Method 4: Wearing your boots indoor
Practicing to wear thicker socks and wearing boots at home, also does the trick to stretching.
In case you find the boots too tight to endure the pain, you can try other methods. After all, there is no reason to be harsh on yourself, just to stretch a boot.
Method 5: Apply leather conditioners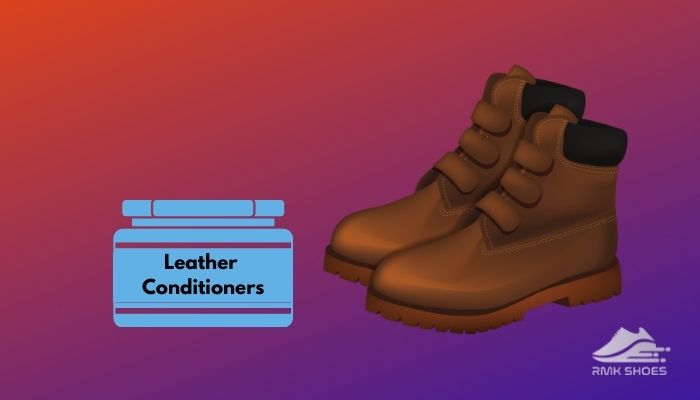 One of the major features of leather conditioners is softening your boot's upper.
The more you apply leather conditioners, the more it will soften. Which would eventually allow your tight boots to stretch easily.
Conclusion
Timberland Boots do stretch with time. As all Timberland Boots are made of leather.
The kind of leather that allows stretching and fitting in eventually.
However, due to boot size issues and the hardness of the leather causes pain and bruises. Even if it stretches, enduring the pain is really tough.
So I not only explained the in-depth reasons but also provided the 5 best methods for stretching your tight boots faster.
Enjoyed reading my article? Do let me know in the comments below, what you think about Timberland Boots stretching out.