Timberland and Carolina are two of the most well-known boot companies in the world.
Because they are both the best, picking one is a difficult task.
But why worry when your boot expert is here?
Based on my extensive research and reading people's evaluations, I've outlined the features and specialties of Timberland and Carolina boots separately so you can make the best purchasing decision for yourself.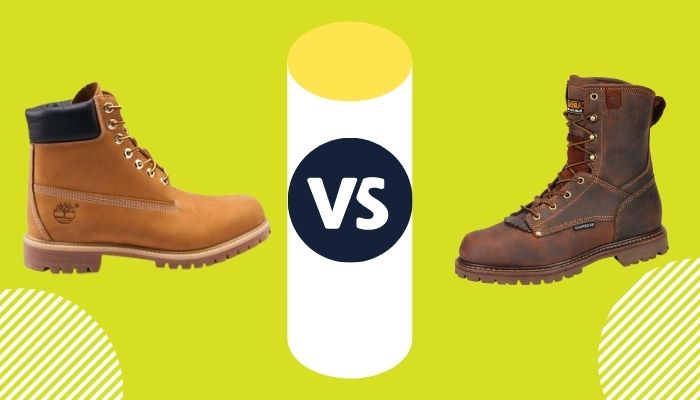 So without further ado, let's hop into the writing.
Follow our guide on how to Break In Timberland Boots
Timberland vs Carolina Boots: In-Depth Analysis
How do you define a pair of boots to be the best?
To me, it's definitely their qualities and features. A brand should have some specialties in its boots that makes them unique from others.
Similarly, Timberland and Carolina boots have similarities and differences, making it easy to distinguish and choose the best one.
Timberland and Carolina boots are used for different purposes. So make sure you check through the features and functions and pick the proper boots for your job.
Check out my new post on What Makes Timberland Boots Worth The Money
Features of Timberland Boots
Outlook: Timberland boots are more casual shoes, and their fashionable style makes them more appealing to wear as fashion shoes.
However, Timberlands are also functional, which is why many people use them for work purposes.
Despite the fact that Timberland offers a wide range of work and safety boots, they are most popular as fashionable boots thanks to their modern look.
Comfort: You can wear Timberland boots all day long without tiring your feet; how?
All thanks to their padded footbed, which provides a cushioned sensation to the feet, and to the suspension technology, which decreases foot strain.
Furthermore, the Dry-Lex nylon lining provides optimal airflow within the boots, allowing your feet to breathe and not sweat.
Not to add that Timberland boots provide excellent arch support. Overall, the Timberland boots will keep your feet safe and comfy without aching or chaffing.
Follow our guide to know Do Timberlands Stretch
Sole Quality: The sole is constructed of injection-molded rubber, which offers solid traction on slippery and dry surfaces.
The sole is durable enough to endure the hardness of the terrain and does not wear out quickly.
Furthermore, the rubber sole is waterproof, so there is no risk of water getting inside the boots.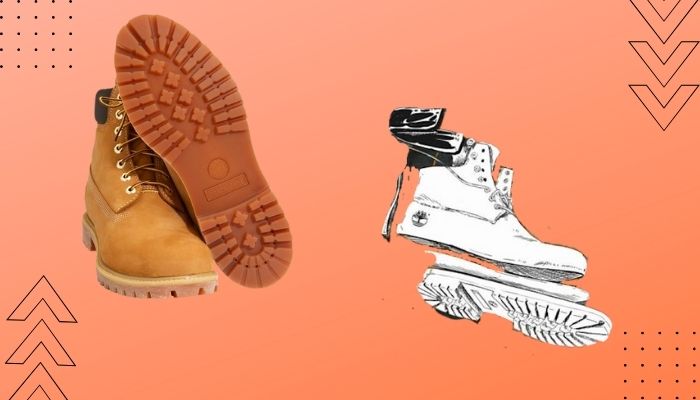 Waterproofness: Timberland boots are an excellent option to wear on wet days. All thanks to their Gore-Tex or TimberDry membrane, which works as a barrier to keep water out of the boots.
Timberland's boots also have a sealed construction, ensuring that water does not enter through openings or joints.
Timberland boots will undoubtedly keep your feet dry in rainy conditions. But what about deep puddles? Are Timberland boots still waterproof in these conditions?
No, it isn't. Even though your Timberland boots are waterproof, if you wear them in deep puddles for an extended period of time, the leather will soak up the water and wet your feet.
As a result, you should avoid wearing them in excessively wet weather.
But before that, you check out how Should You Wax Timberland Boots
Durability: Timberland boots are extremely long-lasting due to their high-quality leather top, hard-wearing rubber sole, and durable stitching.
The upper and outsole are the parts of the boot that are most likely to wear out, which is why Timberland employs the highest quality full-grain leather for the upper and a durable rubber outsole.
If you wear Timberland boots every day, they will last you around 7-8 months, but they may last up to 3-4 years with appropriate care.
Safety: Timberland manufactures not only stylish boots but also an extensive line of safety boots.
Their safety boots include a composite toe with a rubber toe bumper, which protects the feet from heavy falling items and cuts caused by sharp objects.
If you want to wear Timberland boots for construction sites, choose from their safety boots section because fashion boots from Timberland are not strong enough to withstand the hurdles.
Follow our guide on How To Uncrease Timberland Boots
Features of Carolina Boots
Comfort: Carolina boots provide an impressive level of comfort to the feet. Wearing Carolina boots to work will keep fatigued at bay since their footbeds are highly cushioned and include memory foam.
This innovative footbed not only keeps your feet comfortable and untiring but also ensures that you may stand on the boots for an extended period.
Even though Carolina boots are more of a work boot, they are feathery light, so you won't feel extra heaviness on your feet, allowing you to work more efficiently.
Sole Quality: Whatever the ground is like, whether it's oily, greasy, or wet, Carolina boots' sole gives a stable footing, so there's no fear of slipping.
The Aerotrek sole has a clog-free construction that ensures no dirt or mud gets into the tread, improving the traction on the terrain.
Also, follow our separate guide on How To Fix Scratched Timberland Boots
The outsole is extremely durable and does not quickly wear out, even when worn for extended periods of time.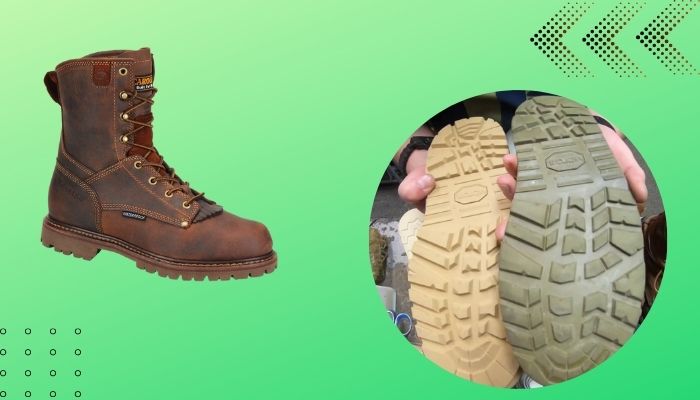 Waterproofness: Carolina uses all the possible technologies in their boots to make them water-friendly; this includes waterproof Scubaliner and Gore-Tex.
These are waterproof liners that stop the entry of water into the boots, as well as let the feet breathe.
So, no matter how long you stay on a wet surface, your feet will remain dry, crisp, and sweat-free.
Safety: Carolina boots are a perfect example of safety boots since they include many safety features, which is why they're so popular on construction sites.
The majority of Carolina safety boots are ANSI and CSA certified, which means they can be worn in potentially hazardous environments.
Carolina boots are puncture-resistant, heat-resistant, electrically insulated, and have many other safety characteristics. All of these aspects are sufficient to provide your feet with excellent protection.
In a hurry? Check out my new post on How Much Do Timberland Boots Weigh
Toe Box: Carolina boots come in four different types of toe boxes.
The commonly used toe is the steel toe; they are heavier than other toes but do an excellent job protecting the foot from injuries.
The aluminum toe is lightweight yet meets the ASTM standard; it provides ample protection.
To keep your feet safe from falling heavy objects.
Last but not least, carbon composite fiber toes are non-metallic with little weight but provide ample safety to the feet.
Durability: The durability of Carolina boots is commendable. Carolina uses Cordura fabric with high tensile strength and double durability as any nylon or polyester fabric.
But before that, you check out how Can You Resole Timberland Boots
Timberland vs Carolina Boots Comparison
Quality: The quality of boots is defined by the type of material used to make the boots and their durability level.
Timberland and Carolina both receive full points for quality, as they are crafted with the highest-quality leather and employ the most advanced manufacturing techniques.
Comfort: Timberland and Carolina both use cushioned and shock-absorbing footbeds to keep the feet comfy for a lengthy time. In terms of comfortability, Carolina and Timberland boots go head to head.
Follow our guide on How To Clean Timberland Boots With Household Items
Style: Timberland boots are the obvious victor in terms of style. Timberland provides a wide choice of boots to pick from, whether you want a fashion boot or a safety boot.
On the other hand, Carolina's selection is confined to work boots and does not appear as enticing as Timberlands'.
Safety Features: Carolina boots are packed with safety features, and none can beat the Carolina boot's safety features. When you wear Carolina boots to work, you can ensure that your feet are in safe hands.
But I cannot say the same for Timberland boots. Timberland boots may be the most fashionable pair of boots, but their safety features are limited.
Also, check out my post to know Do Timberland Boots Make You Taller
Before You Leave
I hope you have settled on a brand at this time. Whether it is Timberland or Carolina, I can tell you that you will have a good experience with both.
That's all for now; I hope this article helped you make a decision. Please share this post with your friends, family, and colleagues to help them choose the perfect pair of boots.
Until then, goodbye!