Timberland boots are quite tough and sturdy, so if the fit is too tight, it's natural to question whether they stretch or not. I bet it's a question that a lot of people want the answer to.
And if you are one of them, then you are in the right place because I have done all the research (so you don't have to) about Timberlands, whether they stretch, and how they stretch.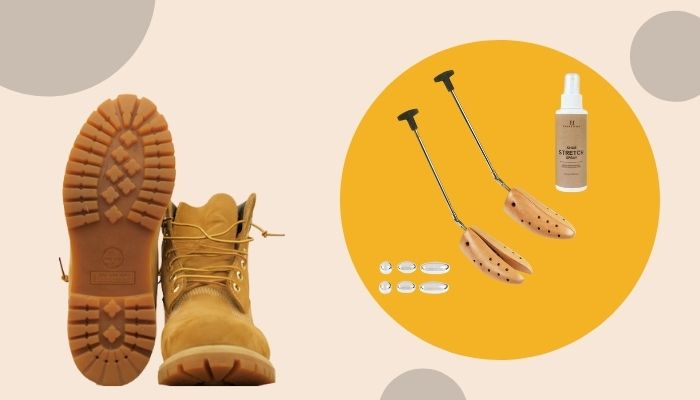 So, coming back to your question: Do Timberland boots stretch?
Yes, Timberland boots do stretch over time, even though they are quite tough. As you keep wearing them, the leather stretches gradually. But if your boots are too tight, then you can stretch them much faster using several different methods such as using heat, leather conditioner, etc.
Now that you know that Timberland boots do stretch, you can stretch them faster if needed – keep reading till the end to learn all the stretching tips and tricks.
Follow our guide on How Long Do Timberland Boots Last
Do Timberlands Boots Stretch?
When you buy a pair of Timberland boots that are too tight, or even slightly uncomfortable, on your feet – it may feel like they just won't stretch despite wearing them a few times.
Well, there is no need for you to worry because your Timberland boots will stretch over time, just like most other leather boots.
However, if the size you bought is wrong, if it is a few sizes too small then it is unlikely that the boots will stretch to fit you eventually. So, in that case you might want to exchange them with boots that are your size instead.
If exchanging them is not an option, then you can resell them at a good price if they are barely worn or in good condition.
In a hurry? Check out my epic guide: Are Timberland Boots Good for Motorcycle Riding
How Should The Initial Fit Of Timberland Boots Be?
When you are purchasing a new pair of Timberland boots, you need to make sure that the fit is right and will be right for as long as it sustains.
A brand new pair of Timberland boots should fit snugly around your feet, without being so tight that it is uncomfortable. Since they are meant to have a snug fit, I would recommend sizing down half a size so that when they stretch over time, you can get the best fit in the long run.
Nonetheless, one thing you must know is that Timberland boots can feel a little tight at first, but they shouldn't feel so tight that it becomes uncomfortable.
I would strongly recommend you follow sizing guides to make sure that you are buying the right size.
If you have wider feet then you should definitely get the wider sizes available.
However, I must warn you that even then the initial fit of your Timberland boots would be a little tight and it will get more spacious as you break in the boots.
So, the bottom line is that even if you get the right size of Timberland boots, they will be a little tight at first just like most other boots. But eventually, as you break them in, they will stretch and fit snugly around your feet.
Also, check out my post to know Can You Wear Timberland Boots in the Summer
What To Do When Timberland Boots Are Not Breaking In?
In most cases, once you buy a new pair of Timberland boots, they will stretch over time as you break them in by walking around in them.
However, in some cases, these boots may seem too rigid and unbreakable. What should you do in that case?
If you bought the right size and the boots are difficult to break in it may be due to the boots being left in storage for too long, resulting in the leather hardening over time.
This may cause the break in period to be somewhat painful even.
In such cases, you have to stretch them or break in the boots manually using different methods that will cause the leather to stretch and create more space inside the boots for a better fit, without having to wait for too long or enduring too much pain.
Follow our guide on how to Break In Timberland Boots
How To Stretch Timberland Boots?
If your Timberland boots are not breaking in easily, if the break in period seems a little tough or painful for you then there is nothing for you to stress about.
Did you order the correct size of Timberland boots for yourself?
If yes, there are a few methods that you can use to stretch your Timberland boots so that they give you an amazing fit.
There are many methods that you can carry out all by yourself in the comfort of your home, without the help of any shoe experts, and stretch your Timberlands.
So, what are the methods? I have included all the easy and effective methods to break in your Timberland boots below.
Check out my new post on What Makes Timberland Boots Worth The Money
Here are the ways to stretch your Timberland boots:
Wear Your Timberlands Indoor
One of the most effective ways of breaking in your Timberland boots is wearing them!
Yes, if you can just bear with it and wear them, walk around in them, they will eventually break in and stretch to fit your feet perfectly.
To speed up the break in process and make it less uncomfortable, you can wear your boots with additional layers of socks.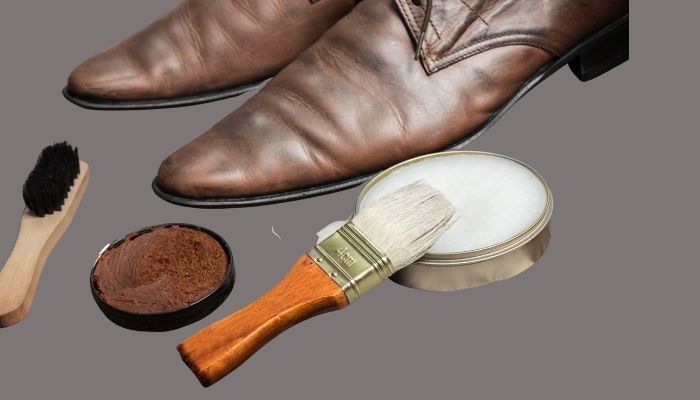 Wear a thick pair of socks, or double up on socks if they are comparatively thin.
But if this process is too painful for you, no need to worry because there are other methods that you can try.
But before that, you check out how Should You Wax Timberland Boots
Use Leather Conditioner
Leather conditioner is an amazing balm to help in breaking in or stretching your boots.
In this method, all you have to do is apply an even layer of leather conditioner on your boots, let the leather absorb the conditioner and then wear the boots with a pair of thick socks to facilitate the stretching.
If some parts of your feet are a little tighter than others you can apply conditioner to that specific part before wearing the boots.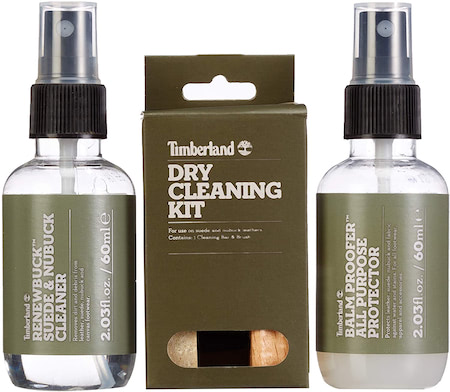 The leather conditioner, when absorbed into the leather, causes it to soften. And while the leather is soft and supple, it's much easier to break in as compared to without any leather conditioner.
Also, check out our separate post on Timberland vs Carolina
Apply Heat
For this technique you will need a hairdryer.
Use a hairdryer to apply heat on the insides and outsides of your Timberland boots.
If they are tighter at a specific region as compared to others then apply heat on that area, and wear your Timberlands.
The heat will cause the leather to soften, increasing its stretchability. So, if you wear them after gently heating the tight areas, they will eventually stretch out and break in more easily.
However, you must make sure not to apply heat by direct flames; keep your boots away from direct heat.
Also, ensure that you do not heat them too much, for too long, or too frequently, as that might damage the leather, ruining the boots completely.
Since leather is sensitive to heat, the best way is to go slow and go gentle on the heat part while stretching your boots.
Follow our guide on How To Uncrease Timberland Boots
Use A Boot Stretcher
This method is as simple as it sounds. All you will need is a boot stretcher, which you can buy online if you don't have one, and a little bit of patience.
All you have to do is insert the boot stretcher inside your boots, stretch them in the desired setting, and leave the boot with the boot stretcher overnight (or for eight hours at least).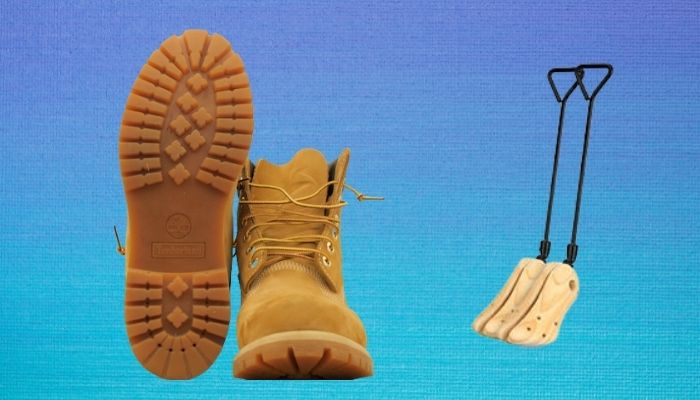 As the Timberland boots sit with the stretcher inside them, the leather will stretch over time.
Try them on after the allocated time and see how they fit. Repeat the process if needed.
Check out to know Are Timberland Boots Good For Winter, Are Timberland Boots Waterproof, Are Timberlands Good Work Boots
Conclusion
Timberland boots may feel a bit tight or hard at first, but as you wear them, they will stretch and give you the fit that you desire.
Hopefully, if you try out the methods that I have mentioned, at least one of them is bound to work for you in stretching your Timberland boots.
If you know any other effective methods to stretch your Timberland boots, please share them with us.
If you have any feedback or queries, feel free to leave them in the comments below.