Do your Air Force One sneaker hurt like hell and pinch, especially at the forefoot?
You're not alone who is struggling with this terrible issue. And it's really disappointing when you get aches from an expensive and iconic shoe.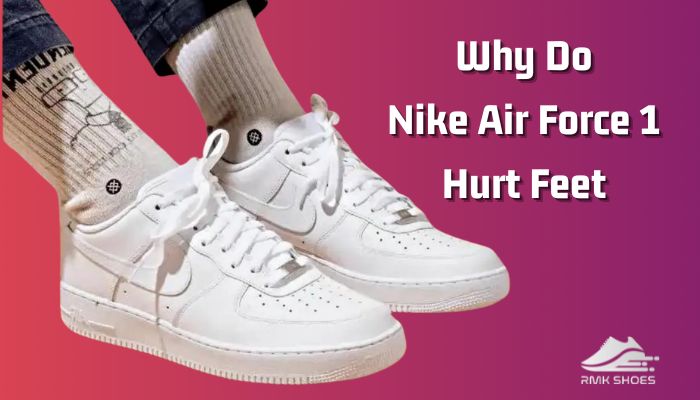 Let's know what could be the reason behind the foot-hurting tendency of AF-1 and try to eradicate them.
So, read on!
6 Reasons Why Nike AF-1 Hurt Feet
Whether you look for a fashion staple or basketball gear, Air Force 1 is among your top-notch picks. More than 2000 versions of this historical trainer have evolved to meet the demands of every age group.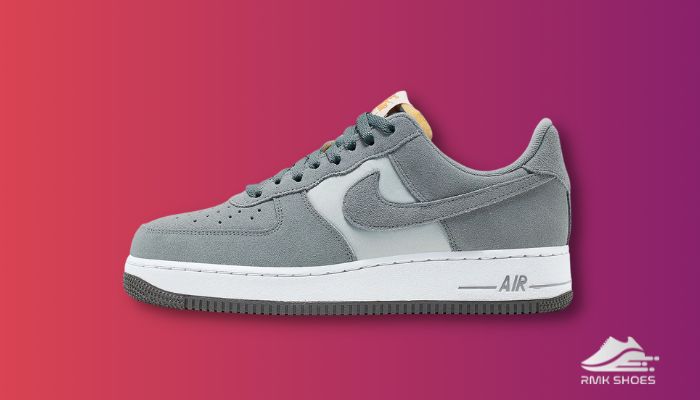 However, the number of complaints about foot pain resulting from these sneakers is not less. People are often asking on various forums why AF 1 rudely behaves on their feet.
So, let's unfold why Air Force One leaves foot pain to individuals:
1. Perhaps You've Bought the Wrong Size
When did you measure your shoe size for the last time? If you did it 1 year ago or more and recently ordered that same size of AF1, hurting your feet is obvious.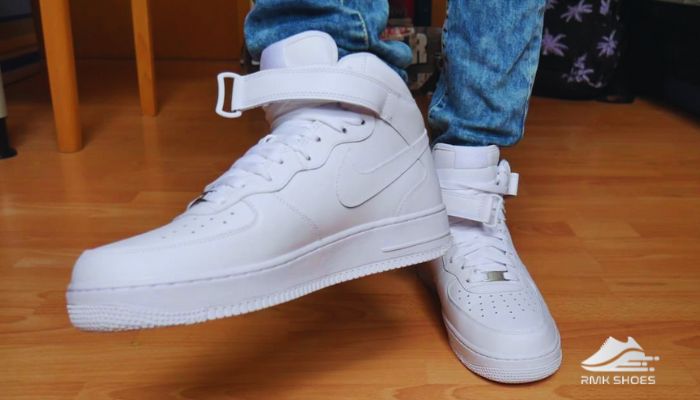 Because foot size naturally elongates over time. Extra fat and weight gain during pregnancy cause the foot to increase in width.
Both men and women face frequent changes in foot shape on account of diabetes and arthritis.
Moreover, Nike Air Force 1's sizing varies as per the style (mid and high top is more snug than low)
So, consider the shoe's fit and figure out your foot size before you go shopping for Air Force 1 or any other footwear. Make sure to do this task at the end of the day when your foot is in its standard shape.
2. Foot Issues
You must've heard about foot problems such as calluses, corns, bunions, hammertoes, ingrown nails, etc. Individuals with these diseases need somewhat loose shoes because particular sides of their feet are swollen.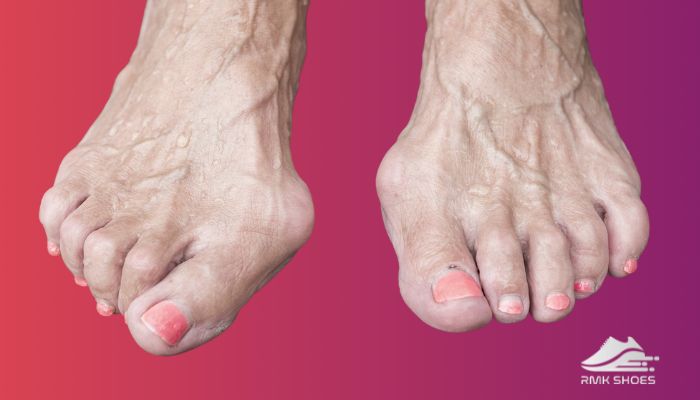 Furthermore, pliable shoe material is necessary to ensure more softness to their feet. Otherwise, they may confront further wounds.
In the first stages, Nike Air Force 1 is stiff like most other leather shoes. It takes time to conform to the feet. Consequently, the rigidness causes soreness and discomfort to specific users.
3. Wearing the Shoes for Unsuitable Purposes
If you wanna go for a short-distance walk, Air Force 1 is a pretty good option. It has a sufficient amount of Air cushioning and a breathable upper to cover your feet with comfort.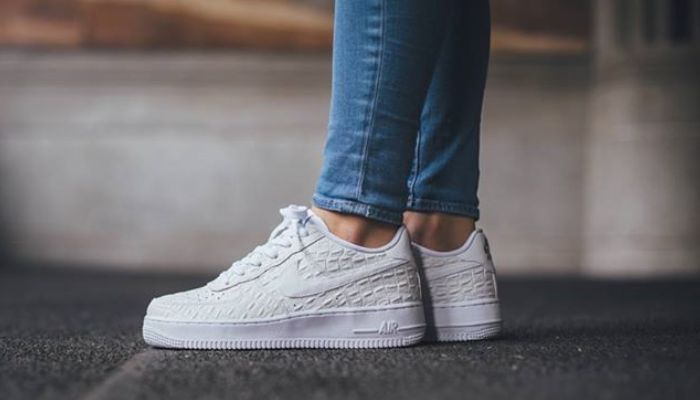 But don't opt for AF1 when it comes to running. Although they are equipped with an Air Unit for minimal weight, yet far behind the lightweight running shoes.
Indeed, they're 4 to 10 ounces heavier than advanced running gears. Additionally, not so supportive due to a lack of new tech and orthopedic characteristics.
So, if you're sticking with Air Force One for this kind of performance, you will suffer from soreness.
4. Doesn't Suit Wide Feet
For wide and extra wide feet, Air Force 1 is unsuitable because its toe box is considered narrow like most other Nikes.
However, it's not a major concern for ideal feet owners. Because apart from some particular designs, Nike is true to size and fits well to normal feet.
But the problem arises when users have wide feet, especially in the case of high-top and mid-top AF1. People can't freely wiggle their toes inside the tight toe room. And suffer from nasty blisters due to toe pinching at the end of shoes.
5. When You Leave Socks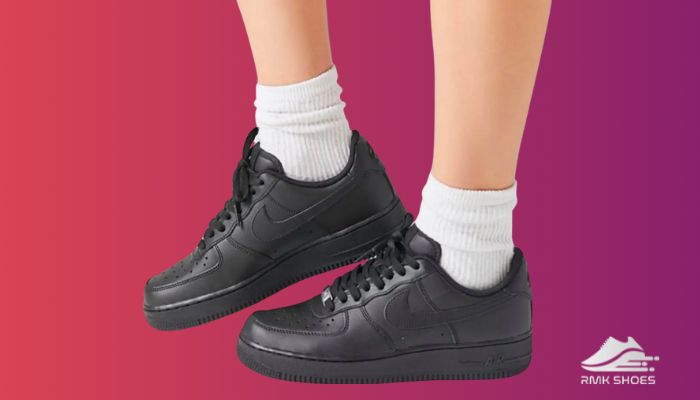 Wearing socks with Air Force 1 is not weird. So why do you skip comfy socks and get your feet hurt?
A pair of socks not only protect your feet from the trembling cold but also keep you away from bleb and pain. Try to buy blister-free socks. If you want, you can go with the same socks that you wear with Air Jordans.
6. Overuse of AF1
If you regularly wear only one pair of sneakers for 3-4 years, they will definitely get damaged. The outsole may be ruined, shoe laces are torn apart, and soles are totally cracked.
Obviously, you will receive discomfort and unpleasant walking experience with this kind of oldies. And Nike Air Force 1 is not an exception to this situation.
Do You Need to Break in Air Force 1s?
Yes, being made of leather and canvas you need to break in AF1 to make them comfy. Users often complain about Air force 1s hurting their feet. Even though they've purchased the right size. But soon after breaking into the sneakers, they get relief from the irritation and aches.
The break-in procedure is quite easy like any other leather shoe break-in.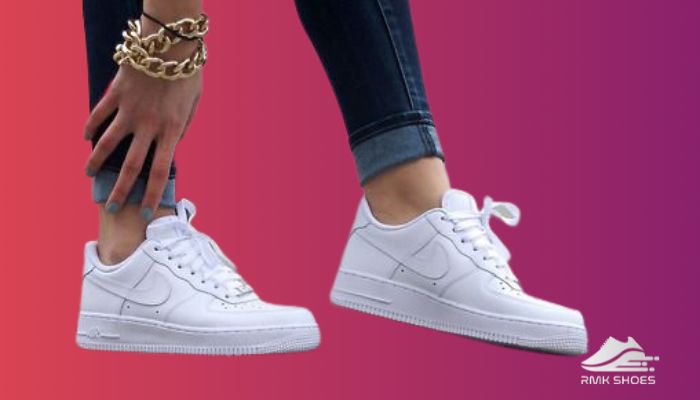 Using a shoe stretcher, walking with socks, inserting a bunch of socks, and heating them with a hairdryer – all these tricks work nicely to break in Nike AF1.
However, the time span differs as per the methods. It is extended from 72 hours to 28 days depending on which method you choose.
How Do I Stop My AF1 from Hurting?
There's no one who prefers getting hurt from their favorite shoes. And when it's about Air Force 1, stylish folks are only eager to relish the benefits of its versatile design.
Thus, I'm gonna share some tips to stop AF1s from hurting. Well, that doesn't mean that the tips are applicable only to this specific sneaker. Rather, they are relevant for almost all leather shoes.
Here are the points to hinder Air Force 1's hurting:
Know about the shoe's available style, size, and fit before you invest money in them. This will help you to get the perfect-sized shoe.
Wear breathable socks to prevent blisters and sweat.
Patiently break into the sneakers and attain supreme comfort from them.
In case of a tight fit, stretch your Air Force 1.
Decently tie the laces and use sore-preventing equipment like shoe filler, heel cup, heel pad, moleskin tape, etc.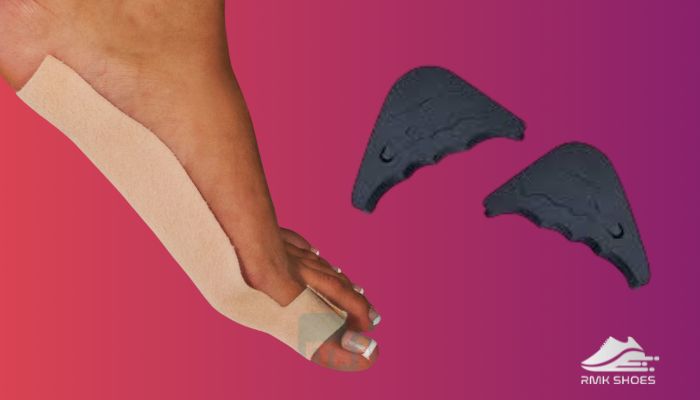 Repair your sneaker if it is damaged or gets old.
If your foot shape is different from regular due to issues like hammertoes and bunions, buy customized pairs.
That's all to enjoy a smooth on-foot experience with the mighty Nike's AF1.
Before You Go
People just crave Nike's most popular item, that's nothing but the iconic Air Force One. But when it gives them severe pain, they despair. It happens for several reasons such as skipping socks, purchasing ill-fitting shoes, and so on.
But it's not your concern for now because you're aware of the solutions to AF1's hurting your feet.
For any further queries, drop your comments below!