To make a statement with iconic sneakers like Jordans, you must find a perfect pair of socks– from classic white crew socks to bold and colorful patterns, the options are endless.
But with so many choices, how do you know which socks will complement your kicks?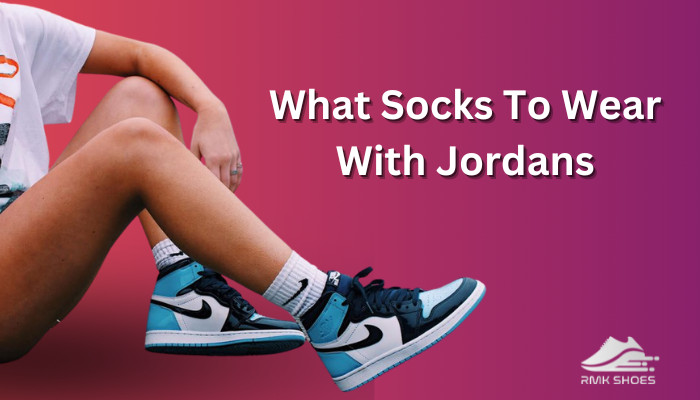 Don't be troubled! This article will help you find out the best socks to wear with Jordans.
So, just keep reading to make your next sneaker outfit a showstopper!
What Socks To Wear With Nike Jordans?
What socks to wear with jordans highly depends on the look you want and the style of your Jordan. From white midcalf socks to low-cut socks, each pair looks great with Jordans. But, you must find the right pair that goes with your styling while giving the comfort needed.
You need to find the perfect socks that will give you the comfort needed while boosting your outfit.
However, a mismatched pair of socks with your favorite sneakers can ruin your final look.
So, it's a must to wear socks that go perfectly with your Jordans.
Moreover, choosing the right color and style of socks depends on a couple of things and they are-
Shoe Height
You should make effort to match the socks with the heights of your Jordans.
Thereby, go for ankle or no-show socks with low or mid-top sneakers.
On the other hand, calf-length classic crew socks will do great with high-top sneakers giving a douchy look.
For example, you can pair Nike or Coovans low-cut socks with Air Jordan low or Jordan Delta Nitro low-top shoes.
Calf Size
You need to give some thought before wearing high socks if you got very thick calves. In that case, calf-length socks may make your legs look shorter and chunkier.
Ankle socks or mid-cut socks with any colorway of Nike Jordan will do the work better for you then.
Design and Color of the Shoes
When it comes to pairing socks with Jordan's the most important thing to consider is the color combination. With the general saying, match the socks with the dominating color on the sneakers for a creative look.
For example, black socks will look good with black and white Jordans.
If you are going with white shoes, white socks are the ultimate choice.
But, you can still go with white socks made with crazy patterns if you like fun designs.
You can also maintain the retro sneaker-sock color combination, for example, mocha socks go perfectly with Air Jordan 4 Dessert Moss.
For sneakers with a lot of designs and colors on them, go for socks that match the color combination or the design.
While wearing socks from other athletic brands, try to wear them in a way that hides the logo. As other brands' logos can steal the attention of your special Jordans.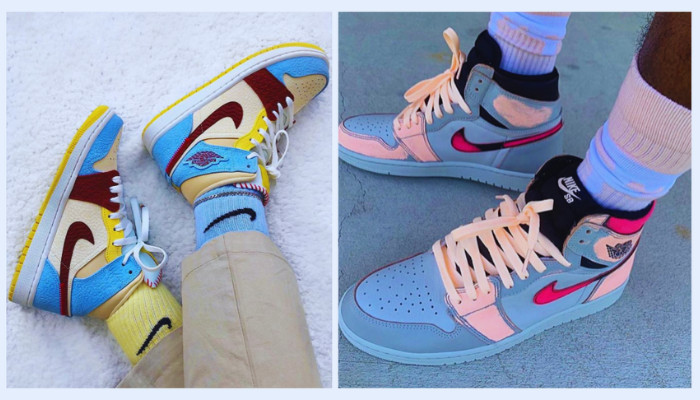 Your Outfit and Activity
What type of outfit you are going to wear or which activity you are doing highly influences your choice of socks.
If you are wearing your Jordans for playing on the court, or for a vigorous athletic activity like skating with Jordan 1s, you must choose a padded pair of socks.
That's because you need some comfort and protection while playing or running. And for a casual walk or outing, you can go with simple socks as you like.
Note: Don't wear hidden socks or low-cut socks if you haven't broken into your sneakers yet, as the sturdy ankle collars may hurt your feet. 
Low-cut, ankle socks are great with jeans, jog pants, or any calf-length pants. But, for shorts, while playing or simply in the summer, wear high-length or knee socks.
Neutral colors like white, black, or grey can be worn with most outfits while giving you a classic look.
For creating a fashion statement, you can go with bold colors with funky designs, but keep in mind they complement your outfits too.
5 Best Socks For Jordans
A lot of sneaker brands are now releasing socks as well. For Nike Jordans, you can just choose any of them as you prefer.
When choosing socks to wear with Nike Jordans, you need to consider the fit, material, and style. Socks with Dri-fit technology, cushioning, and arch support can be more comfortable.
To help you with this, here's a list of 5 best options for socks to wear with your Nike Jordans:
1. Nike Elite Basketball Crew Socks
Nike Elite socks are an excellent choice to get extra support and comfort on the basketball court. They feature a dynamic arch design for a secure fit, and sweat-wicking fabric to keep your feet dry.
To match up with your Jordans, Nike Elite offers a wide range of colors and designs.
From classic white crew Nike socks to multicolored socks with fun patterns, you can choose a pair that complements your style and Jordans as well.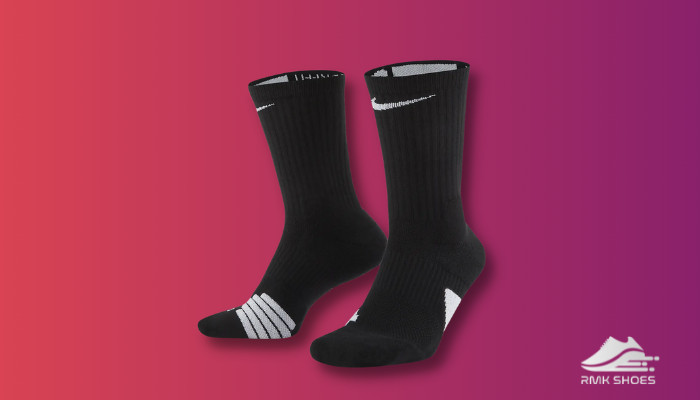 2. Jordan Jumpman Elite low-cut socks
What's better than wearing sneakers with socks of the same brand?
Likewise, when you are looking for socks for your Jordan shoes, Jordan Jumpman Elite socks come in handy.
These low-cut socks offer a snug fit and cushioned footbed for extra comfort. They also feature a Jumpman logo on the side, making them a stylish pair to wear with Jordans.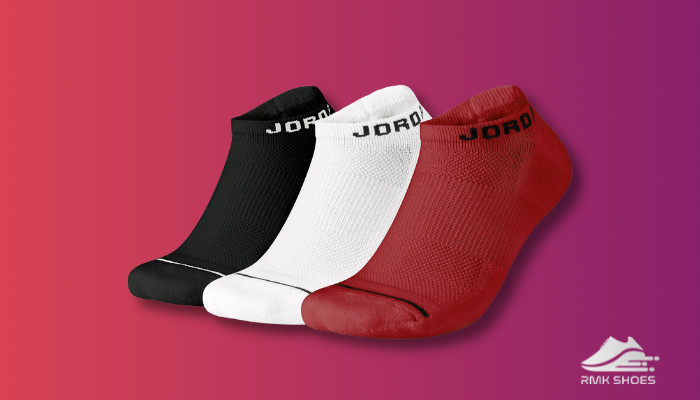 3. Wernies no-show socks
If you wanna get away from standard high-cut socks and highlight your cool Jordans only, no-show socks are for you.
In the world of no-show socks, Wernies offer durable combed cotton with silicon grips on the heels.
With a snug fit, these soft and comfortable socks stay on your feet all day while being out of sight.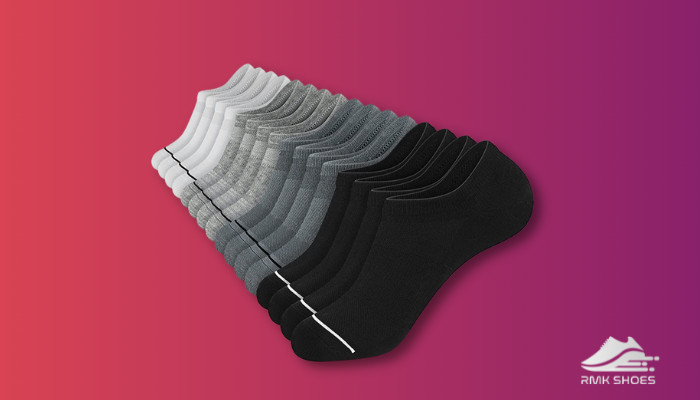 4. Merrel Performance Socks
These acrylic-wool-based socks are in great demand and go perfectly with high-top Air Jordans. And knowing the difference between Jordan 1 and Air Force 1 can help you in this conquest if you don't have any clear idea about them.
Furthermore, with arch support and fortified heels, Merrel performance socks are durable and good for activities like, running or simply playing basketball. Also, if you are into hiking, these socks can give you some extra comfort.
Moreover, they also come in crew and lowcut styles, that you can easily match up with low-top Nike Jordans.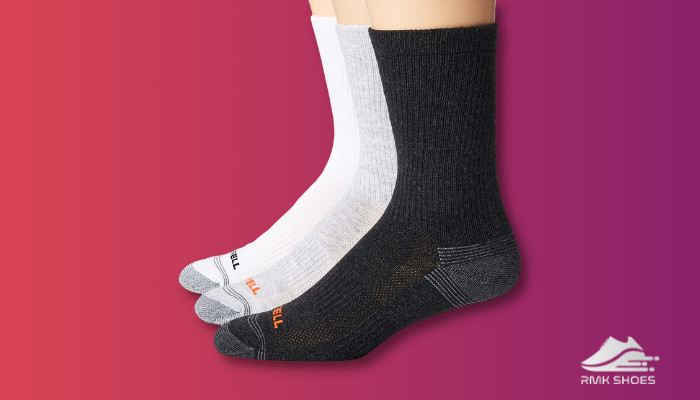 5. Celer Sport Ankle Athletic Running Socks
These high-quality socks are constructed with a blend of cotton, polyester, and spandex, making them breathable and comfortable to wear with Jordans.
Celer-Sport socks are available in neutral colors like black, white, and gray, hence they can be easily paired with Jordans of any color or design.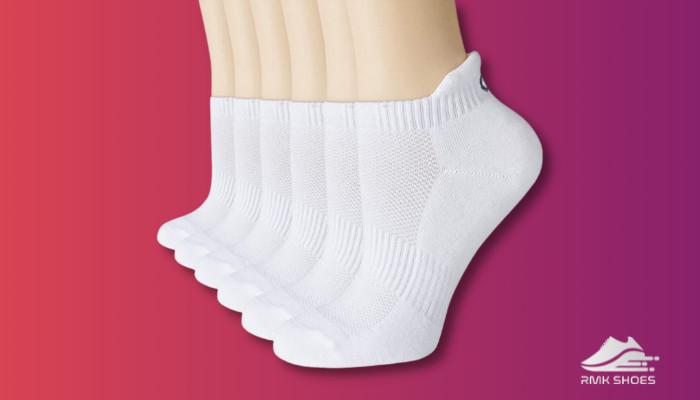 What Socks Not To Wear With Jordans?
Now you know what socks to wear with Jordans, but you should avoid some stuff too. Socks of a certain type or style may fail to fulfill their purposes while being worn with Jordans.
However, to stop you from ruining your chance to rock with Jordans, I'm giving you a list of socks you should avoid.
Cotton Tube Socks: These types of socks are often too long and can bunch up inside your Jordan shoes, leading to discomfort and even blisters. They also fail to provide the snug fit needed for your Jordans.
Dress Socks: Dress socks are a bad choice to wear with any sneakers, not only Jordans. These socks provide a smooth finish which can give you discomfort as they will slide around inside the shoes.
Besides, they lack all the features you will look for to wear with athletic shoes.
Worn Out Athletic Socks: The purpose of wearing socks with Jordans is to make a fashion statement while executing their function also. Old, worn-out athletic socks will fail in both.
Old socks become thin with time, along with losing their ability to wick away sweat and absorb the shock.
While choosing socks to wear with Jordan, look for the one offering a snug fit, cushioning in the key areas, and is made with breathable fabric to keep your feet comfy and dry.
Final Words
For every sneakerhead, Nike Jordans are a way to make a fashion statement. No one wanna ruin their chance to look cool and def with these iconic sneakers.
However, when choosing the socks to wear with Jordans can be a worrying process, I hope this article will help you to figure out the perfect pair.
And to know more about sock ideas with athletic shoes, leave a comment below.