Socks are essential for your everyday life to keep your feet protected and hydrated.
Ideally, Hikers prefers thick socks that prevent blisters and rubbing and absorb the sweat properly.
A pair of Hiking socks are a crucial component of your luggage when you wish for any hiking journey. I always select a minimum of 50% woolen socks for my desired campaign.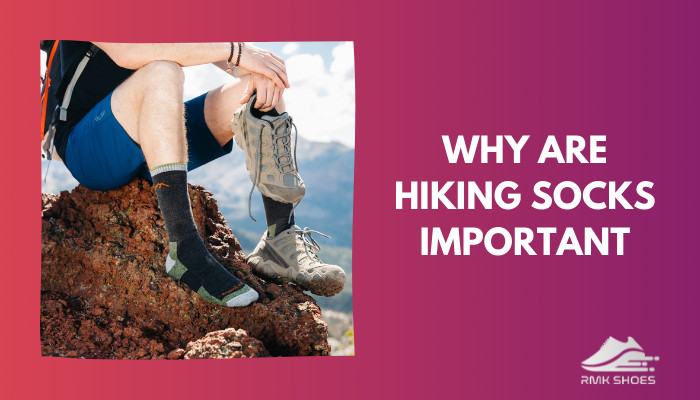 The article is essential if you are an adventure lover like me.
I'll explain hiking socks and their offerings in detail and try to answer all your questions according to my experiences.
Continue reading till the end to learn the essential facts about hiking socks.
Why Are Hiking Socks Important?
If you never pay attention to your socks, you think this is the boring thing in your stuff during hiking.
Then you better know whether a hike can be successful or not because of a pair of socks.
When selecting hiking socks, it's vital to take your time and think about which would actually suit the nature of your walk and any expected weather.
Perfect pair of socks are the second most important component of any hiking journey. The ideal hiking socks will be designed using naturally humid, durable, protective fabric.
You will undoubtedly benefit from wearing socks that are made specifically for hiking. They are more of a convenience or valuable asset to your stuff. Your feet appreciate the added cushioning and padding.
Hiking socks, as compared to traditional cotton socks, will keep your feet dry, less moist, and cushioned, preventing painful blisters.
Dry feet are healthy feet. Contrary, A soggy foot is an unpleasant foot. It's essential to wear hiking socks to avoid blisters. A hiking sock offers great protection against rubbing that your boot could create.
There are various benefits to using hiking socks, but now I'm summarizing the benefits in a short brief.
Check out our separate post to know Why Are Darn Tough Socks So Expensive.
Here are the major benefits of wearing hiking socks :
Blister Avoidance
Blisters can be very uncomfortable and cause major injuries. If you feel uneasy while crossing a trail with blisters, then it gathers all unwanted miserable experiences.
So you should work on preventing blisters away to complete your campaign.
Socks are the second essential component to make your hiking memorable. The first is the hiking boots that keep your feet safe and sound from any miserable environment.
Durability
The best part is that with sufficient care, most high-quality hiking socks do survive for ages.
Wool fabric, which is a more durable, thicker fiber, is generally used to make camping and traveling socks.
After crossing a long trail, you may find a hole in your socks, and your feet must directly meet the hard hiking boot. This would result in rigorous hiking and unpleasant blisters.
Lastly, you can see the difference between using hiking socks and regular ones.
Warmth & Dry
Sweaty feet are ground for germs that may lead to skin infections, foot smell, or other problems.
You must keep your feet warm when you desire a winter campaign in the woods. Wool socks are naturally better than cotton or nylon ones. They are thicker and help to keep your feet heated.
The feet stay warmer because of this thickness.
A damp foot is a miserable foot. Never go trekking in cotton socks. Cotton soaks up moisture and takes a very long time to dry.
High-grade Merino wool is used to make excellent hiking socks.
Woolen socks are ideal for hiking; Wool's particular nature makes it evaporate moisture.
Comfy & Cozy
Hiker socks are made for long days of trekking, they typically have some comfort in the bottom. Socks of excellent comfort will keep you and your feet pleased while you travel new terrain.
This comfort can preserve your foot during lengthy downhill trekking. An additional benefit of this softness is that it increases the socks' durability during the hiking journey.
The following advantage is essential when you find suitable hiking socks for your desired campaign.
You may also like to read: Does Wearing Two Pair of Socks Make You Taller?
What Are Hiking Socks?
Many of us think there is no need to pick hiking socks for a campaign. But now I'll try to explain their importance in the hiker's wardrobe.  To achieve the most comfortable hike possible, you must wear hiking socks.
Hiking socks are not essential, but they will offer more comfort and protection from blisters than regular socks.
The fabrics used to make hiking socks are sturdy and designed to withstand the outdoors. Cotton absorbs the heat from your body when it gets soaked.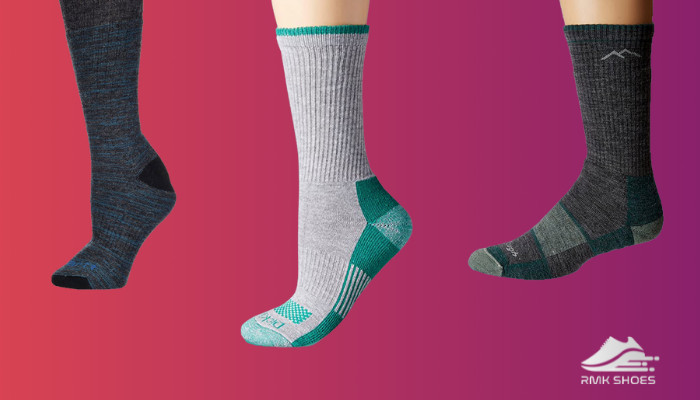 However, wool can keep you warm even when wet.
Sticky feet are another hiking misery, especially in warm weather, which is avoided by wearing a specific hiking sock.
The hiking socks are typically constructed of a combination of woolen, nylon, and synthetic fibers.
Merino wool is a well-known natural fiber that is famous for keeping moisture out of your skin. Extremely Durable socks are the greatest, providing a comfortable seamless design.
Before purchasing, you may think, do Merino wool only prefer the winter hike? Merino wool can be a great option for summer socks.
100% merino wool socks have excellent moisture management capabilities and are soft and pleasant. You can pair them with any type of hard hiking boot that supports you in your hiking journey.
Check out our separate post: Are Merino Wool Socks Good For Your Feet?
Do Hiking Socks Make A Difference?
Every hiker knows that hiking might lead to sweaty feet. Sweat offers a home for germs, starting from any fungal infection along with bad odor. Sweat is a problem that anti-blister feature socks help solve by wicking it away.
The majority of ordinary socks are typically crafted from a cotton-elastic combination for stretch.
The construction and ingredients of hiking socks give benefits over ordinary socks. These socks will probably be made of a combination of wool and synthetic fibers, which provide all the benefits of wool socks.
They keep your feet dry to avoid blisters and remove moisture from your skin where other cotton socks soak it.
They are built with a lot of cushioning underfoot, and in other hilly areas, trekking socks appear to be thicker. Many socks are designed with an extra padding system under the foot because there is some sensitive area like the heel, ankle and metatarsal bones.
In general, they are stronger than traditional cotton socks and can survive the challenges of the terrain.
Traveling and hiking can be made more enjoyable by wearing hiking socks.
Follow our epic guide to know Are Timberland Boots Good for Hiking.
Can You Wear Hiking Socks Every Day?
Merino wool socks are one of the best hiking socks, which is a surefire component of your all-challenging trekking journey. It keeps your feet warm in chilly weather. However, it wicks the sweat from the skin in summer.
But the question is, are these socks comfortable for everyday use?
Yes, they are suitable for every purpose of your daily life. The hiking socks are specially designed for considering your foot betterment.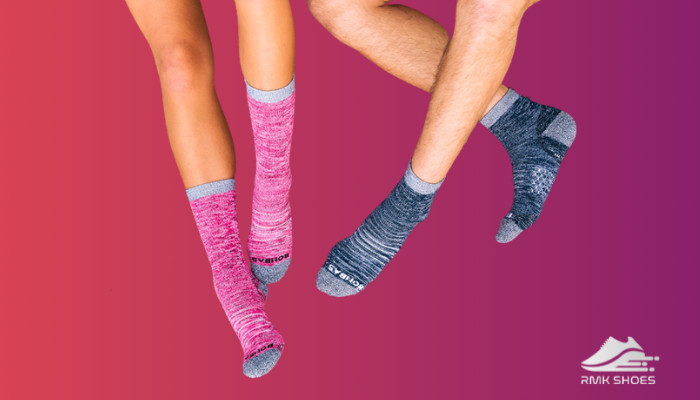 There is one drawback is that it's quite expensive than the other traditional socks. But according to my suggestions, these items are worth it.
These socks are lightweight with their high-quality fabric and durable features. They also provide an ultra cushioning footbed ideal for your day-long work life.
Its special integrated feature is longevity, so while you move out, you don't take any extra pair of socks in your backpack.
The hiker socks also prevent moisture from your feet and feel dry and cozy. By quick drying procedure, the socks reduce the bad odor from your feet.
Last but not least, the hiking socks are true to size and do not stretch out, so they keep their sizing for a long duration. You can use them daily in any weather without zero confusion.
Related content you should read: Are Work Boots Good For Hiking?
Wrapping It Up
Hopefully, now you have an accurate knowledge of hiking socks and their importance in your hiker life.
I suggest you quickly purchase a brand-new pair of hiking socks. I know their charge is a little hefty, but trust me, it'll keep your side like a true partner.
For any further queries and any extensions about socks or shoes, let me know in the comment section, and I'll cover the topic as soon as possible.