Does the stability and sturdiness of work boots make you wonder about wearing them for hiking?
But you aren't sure whether work boots will keep up with you on the trails?
Chill!
After a thorough investigation, I have sorted all the queries related to work boots and hiking.
So answering the main question, are work boots suitable for hiking?
You can wear work boots for hiking. But work boots are too weighty for hiking, resulting in aching, blistered, and calloused feet. Also, work boots are not good enough against slick terrain. Luckily, some special work boots meet all of the criteria for your hiking requirements.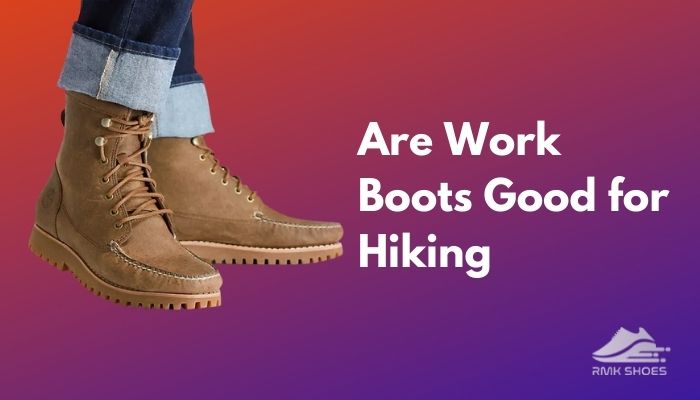 Why wait then? Let's plunge into the writing and clear all your confusion.
Are Work Boots Good for Hiking?
Hiking is all about footwork. And a decent pair of hiking footwear is a real blessing to relieve the pressure on your foot while also allowing you to meet the demands of the terrain.
So, do the work boots meet the requirement of suitable hiking footwear?
Unfortunately, NO!
Hiking entails putting on your boots for long hours and walking significant distances. And you can enjoy this journey only in comfy boots.
Work boots are undeniably tough and long-lasting. However, these are not the best hiking boots, and most importantly, they are not comfortable.
As work boots are weighty, hiking in them causes several feet problems and, in some cases, injuries.
Additionally, if you hike in a rainy climate, then work boots are a big no-no. Work boots don't perform great on slippery trails, so avoid wearing them.
You can prefer wearing work boots if you go for light and short hikes. But, it's best to invest in a nice pair of hiking shoes or boots if your hiking is long and strenuous.
Luckily, some special work boots fulfill all your hiking needs and work great in challenging terrain.
But why even wear work boots for hiking when there are tons of different hiking shoes and boots out in the market.
Choose hiking boots based on your trails and weather, and you are ready to go.
Follow our guide to know Are Timberlands Good Work Boots.
What is the Difference Between Hiking Boots And Work Boots?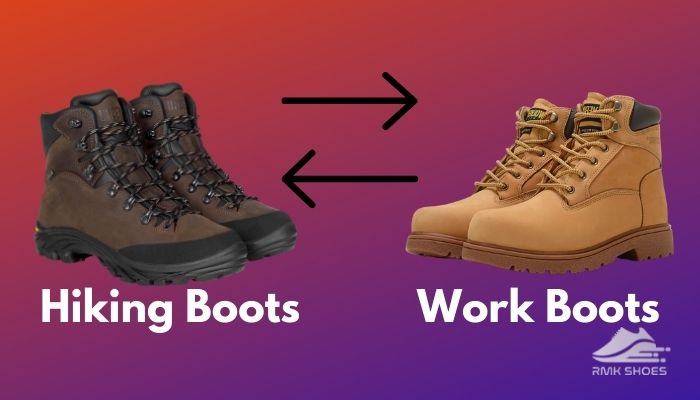 Just as the name implies, hiking boots are used for hiking and work boots for work.
Is there any difference between them?
Of course. Hiking boots and work boots are different in terms of design, durability, weight, comfort, and a variety of other factors.
Also, follow our guide on How Long Do Work Boots Last.
Let's see what are the difference between hiking boots and work boots:
Outsole and Traction
Both hiking and work boots feature lug soles. However, the pattern and construction are different from each other.
Hiking boots have a deeper aggressive lug, while the work boots have lugs that balance aggressiveness with a larger flatter region.
The deeper aggressive lugs of hiking boots are utilized on natural grounds like mud, rocks, or grass, offering fantastic traction.
Work boots with a flatter broader tread, on the other hand, are better for hard surfaces like concrete.
Hiking boots have more random patterns on the sole than work boots which renders excellent grip on slippery surfaces.
Check out our separate post: What Work Boots Are Made In The USA.
Durability
The quality of the boots determines their durability. Both hiking and work boots are built to handle rigorous terrain, but a cheap quality of either boot will not survive long.
Work boots are made for worksites and hiking boots for walking. As a result, their durabilities are not at the same level.
Work boots are composed of thicker leather, a heavy outsole that makes the boots extraordinarily sturdy and long-lasting.
Hiking boots are likewise very durable but not to the same extent as work boots.
Follow our epic guide on How Much Do Work Boots Weigh.
Weight
One of the significant differences between hiking and work boots is their weight.
Hiking boots are typically lighter than work boots.
The toe cap of hiking boots is made of lighter material like rubber. In comparison, the steel toe cap is often used in work boots which is way heavier.
The extra weight of the work boots makes it very difficult for the hiker to walk miles after miles.
On the other hand, these hefty work boots are a plus point to people working in a hazardous environment as they keep their feet protected.
Flexibility and Comfort
With tremendous flexibility comes comfort.
And the battle between hiking and work boots in terms of flexibility and comfort, the hiking boots come out on top.
The explanation for it is pretty simple!
Heavy-duty materials are used to construct work boots, including beefier leather, heavy-duty outsole and steel toe cap. As a result, the boots become very stiff.
Thick and rigid boots may protect your feet from injuries, but they indeed are not flexible and comfy.
Hiking boots, on the other hand, are far more comfortable. They are incorporated with an EVA foam insole that is lightweight and flexible.
As you wear the boots, the EVA foam gradually molds to the contour of your feet, making them more comfortable.
Waterproofing and Breathability
Hiking includes crossing streams and trekking in the rain, which entails the use of waterproof boots.
Fortunately, most of the hiking boots are waterproof. The Gore-Tex technology is utilized in the boots that prevent water from seeping in and allow the feet to breathe.
In addition to that, work boots are not waterproof but water-resistant.
The waterproofing of work boots is not as excellent as hiking boots. And in a wilderness-like rainy climate, the work boots won't perform well.
Ankle Support
Ankle support is another most important factor when hiking, especially if you are carrying a big rucksack.
Ankle support is no longer critical, and some ultralight backpacking boots don't even offer ankle support. However, you will see that your ankle is more supported with hiking boots. And if you need this type of support, buy a pair of boots primarily built for hiking.
Follow our epic guide to know Can You Wash Work Boots.
Steel vs. Rubber Toe
A construction site has a relatively increased chance of risk, so, for this reason, most of the work boots include steel toe, which makes the boots heavier.
You can also encounter dangers like an abrasion on the hiking trails. To protect your feet from this, hiking shoes incorporate a toe cap or bumpers in them.
Steel toes are not needed for hiking boots because they are designed with lighter materials like rubber rather than steel.
Versatility
Is it possible to wear your drab work boots to any occasion? Not at all, right!
But I am sure pairing your hiking boots with your favorite jeans will never let you down.
Hiking boots are lightweight, waterproof, and comfortable so that you can pull them anytime and anywhere you like. At the same time, the work boots are useless outside your work site since they are heavy and not at all stylish.
Conclusion
In conclusion, answering the main question, are work boots suitable for hiking? Work boots are appropriate for shorter hikes, but certainly, they are not the best option for a day-long hike.
Hiking should be adventurous and comfortable, so why let the added weight of work boots ruin the experience?
Invest in a good pair of hiking boots and make the most of your journey.
Have you found this article helpful? Then, feel free to express your thoughts in the comment section.
Have a great hike!