It's a legit struggle to track down a genuine pair of American-made work boots amidst such countless phony brands.
But hey, why worry when this article has every one of the solutions to your problem.
With my extensive research, I am here to enlighten you about the best ten works boots made in America.
So let's dive into the writing to know further about American work boots.
Follow our guide to know Can Work Boots Be Resoled
What Brand of Work Boots Are Made in the USA?
 What can be a preferred choice other than the USA-made work boots?
None!
Because American work boots are the 'BEST' of all, their sturdiness, material, quality is unbeatable.
And finding the best American work boots can be difficult at times, as the competition between brands is neck to neck.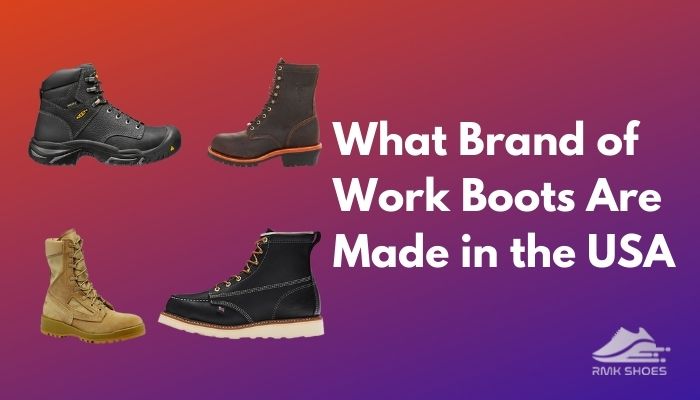 So below is a guide on the best work boots made in the USA that will assist you in getting your ideal boots:
L.L. Bean Boots
The origination of the legendary L.L. Bean boots was in Maine in 1912. Out of the varieties collection of boots, L.L. Bean work boots are trendy exciting makes robust
The work boots from L.L. Bean are a total package. They offer mind-boggling durability as they are made with the highest-grade full-grain leather.
Due to the use of premium leather, the boots provide superb comfort to the feet. Additionally, the boots are designed with a rubber bottom and steel shank that renders excellent waterproof protection and optimum support to the feet.
I bet you will thank the L.L. Bean work boots as they will keep your feet tireless despite long, hard hours of work.
Also, check out our separate post: Are Work Boots Considered PPE
Danner
Danner was produced in Portland, Oregon, in 1932. Danner work boots are built to last. They are partially made for adventure, exploration, and hard work.
The burnish-able nubuck leather upper of Danner work boots not only makes them strong but also makes the boot very fashionable.
The boots highlight removable ortholite footbeds made of open-cell polyurethane that permits your feet to breathe and disperse the heat.
These high-performance boots have a rugged outsole that provides fantastic traction on challenging terrain. Likewise, they are slip and oil-resistant.
Danner has a variety of work boots. You can choose boots according to your job.
Follow our guide to know Why Do Ironworkers Wear Wedge Boots
Carhartt
The origin of Carhartt is in Dearborn, Michigan, and was established in 1889. The work boots from Carhartt are very sturdy which shields your feet from wounds.
They have a nice oil-tanned leather upper. Most Carhartt work boots are manufactured with a waterproof breathable membrane that keeps your feet dry and fresh for quite a while.
Many boots are incorporated with composite toes that resist compression and impact hazards.
The most exciting feature that makes Carhartt strong is that some of their work boots are electrically insulated. They can give protection against electric flow up to 18000 volts in dry conditions.
Also, follow our guide on How Much Do Steel Toe Work Boots Weigh
Thorogood
Thorogood started fabricating footwear in Wisconsin in 1892. Thorogood work boots are highly robust since they are made with premium full-grain leather.
The X-steam waterproof feature, fiberglass shank, makes the Thorogood work boots high-performance boots.
If your workplace tends to be slippery, Thorogood boots can be a good option because they have a slip-resistant outsole that supplies enormous footing.
Furthermore, their work boots have a memory foam footbed which reduces the pressure from the balls and heels of the feet. As a result, your feet will be less achy.
The memory foam footbed also molds to the shape of your feet, which improves comfort.
Check out our separate post: Does Waterproof Shoe Spray Work
Keen
Keen originated in Portland, Oregon, in 2003.
Unlike other work boots, Keen work boots are built for light construction. In addition to that, these boots will keep on relaxing your feet the whole day. And all this credit goes to the KEEN.ReGEN midsole.
Your dry feet will thank you as the boots are built with waterproof leather upper.
The slip-resistant outsole gives an exceptional foothold no matter how slippery the ground is. In addition, the TPU shank and aluminum toes make sure your feet are safe.
Follow our epic guide: Do Shoe Stretchers Work And Learn How To Use Them
Carolina
Carolina was set up in 1963 in Martinsburg, PA. Carolina produces one of the best work boots using the highest-grade materials.
Carolina work boots feature an excellent polyurethane outsole which gives maximum traction on slippery grounds.
The leather uppers add rigidness to the boots. While the steel toe caps protect the foot from falling objects and compressions.
Carolina work boots provide unbelievable comfort to the feet, which is a direct result of the polyurethane footbed.
Not to mention, the steel shank and welt construction give extra protection to your feet with the goal that you don't confront any difficulty in your work.
Check out our guide on how to Dry Wet Work Boots
Chippewa
Chippewa started in Chippewa Falls, Wisconsin, in 1901.
Chippewa work boots are completely worked with modern tech. They are made with Chip-A-Tex waterproof innovation and Ruby Dri-Lex lining, ensuring water doesn't seep into the boots. Consequently, your feet remain dry and crisp throughout the work.
Additionally, the Vibram outsole helps you with a solid hold on a slick surface.
While the steel shank protects your feet from injuries, steel shanks are very lightweight, so they don't add extra bulk to your feet.
Despite long, hard hours of work, your feet will stay relaxed, and that too because of the rubber midsole and ortholite.
But before that, check out what is a Steel Shank In A Work Boot
Timberland
Timberland, mostly known as Timbs, was founded in Boston, Massachusetts, in 1952.
Timberland is widely famous for fashion boots. But their collection of work boots are also to die for. Timbs is designed with the best material by talented craftsmanship, so I suppose you can see how quality-full the boots are.
Timberland work boots are a complete package. From waterproof technology to Vibram outsoles, everything is included in their boots.
So gone are those days when you had to work in drenched and smelly work boots because Timberland is here to the rescue.
Follow our guide to know Are Timberlands Good Work Boots
Wolverine
Wolverine started their journey in Rockford, Michigan, in 1883. All the boots of Wolverine are handcrafted with perfection.
Wolverine work boots are said to be one of the most rigid boots of all. The premium leather upper and the classic leather outsole is what makes the boots sturdy as hell.
The Goodyear welt construction is what makes the boots last for a long time.
Wolverine boot's quality is so top-notch that they have expanded their business all around the world.
Wolverine is a bit on the pricier side, but they are worth every penny.
Also, follow our guide on How Long Do Work Boots Last
Red Wing
Another high-end brand of work boots is the Red Wing. Red Wing is based in Red Wing, Minnesota, and was founded in 1905.
Red Wing is all about premium quality. Every detailing of the boots is done with perfection.
Red wing boots are made with full-grain oiled leather that only gets stronger with time. They are made with Goodyear welt construction which adds extra years of durability.
The Nitrile cork outsole renders solid footing on slippery surfaces. Thanks to the double leather roomy toe that makes the boot extremely comfortable.
Also, the boots include a steel shank that offers strong underfoot protection and acts as a load-bearing element.
Also, check out our guide to know Are Work Boots Good For Hiking
Wrap Up 
Being a boot enthusiast, I always suggest that if you want to invest in a good pair of work boots, then without a doubt, go for boots that are made in America.
When you pay a handsome amount on American work boots, you are paying for the premium quality, high-end materials, and dedicated craftsmanship.
Among the top 10 American work boots, you can choose any of them according to the nature of your lifestyle.
So, did you find my article helpful?
Do let me know in the comment section below which work boots you selected and share your experience.
Happy walking!