What would you have done if you knew that the place you'll work in would be filled with potential physical danger? Wouldn't you have armed yourself with the right protective gear? Ironworkers also do the same!
But why do ironworkers wear wedge boots? Is it for the protection alone?
Well, yes, they put them on for protection. But we're quite sure you're not here for that one-word answer. Don't worry; you'll be walking out of here with a detailed answer on why wedge sole work boots have been on the top of the priority list of ironworkers for years. Let's get started then?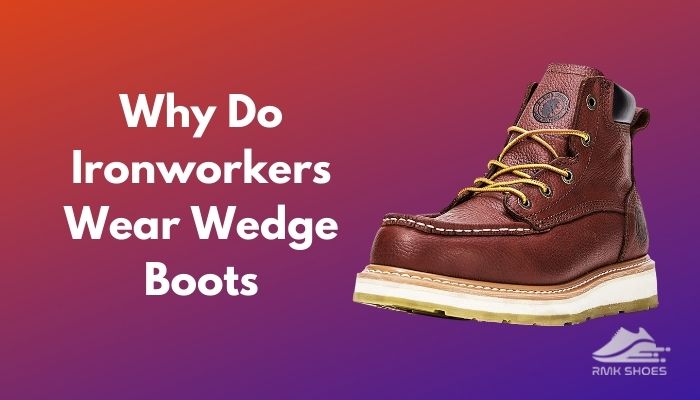 Check out our separate post to know Are Military Boots Good for Work
What Wedge Boots Are?
If you're still scratching your heads while thinking about what wedge boots are, then here's your answer. Wedge boots are a kind of protective boots that come with wedge-shaped cushioning which do not only keep the feet protected but also give the heel some extra elevation.
They're considered to be the finest pairs of shoes when it comes to workplaces with hard surfaces and potential hazards.
Besides, the kind of toe protection workers need, they can pull that off like a piece of cake as often the boots come with a steel toe or something equally strong.
Also, check out our separate post to know Are Work Boots Tax-Deductible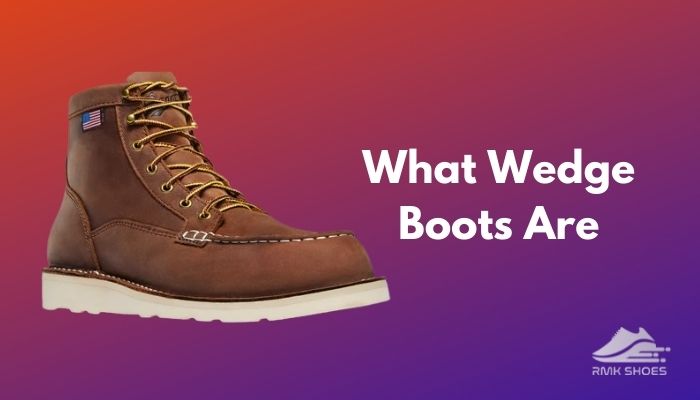 And comfort? That stays on the peak as well with great cushioning, without compromising the stability of course.
One of the best things about these boots is due to having Goodyear welt construction, the durability just doesn't fade away any sooner. Plus, they're perfectly oil-resistant too and the same goes for slipping or tripping.
Like a cherry on the top, they also come with fiberglass shanks that can deliver all the arch support the workers need in every scenario.
In a hurry? Check out my new post: What is A Soft-Toe Work Boot
Why Ironworkers Use Wedge Boot: The Reasons
Risky jobs always ask for nothing but maximum protection and that's what wedge boots are all about. But why are they at the top of popularity among ironworkers? Well, there's a whole bunch of reasons like –
Better Traction and Slip Resistance
One of the very first reasons why ironworkers wear boots like this as their favorite footwear is the superb traction that makes them slip-resistant. Thanks to the non-slip material the wedge sole work boot got on the outsole part.
After all, the kind of working atmosphere they deal with at times comes in contact with water where even slipping can lead them to major injuries.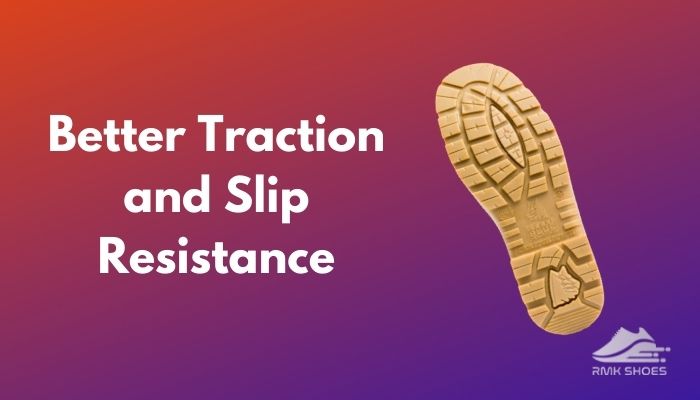 With these anti-slip boots in feet, no one will have to take a headache about tripping while roaming on rough terrains or slippery surfaces.
But before that, check out Is WorkBoots.Com A Legit Website
EH Rated Outsoles
While getting safety boots, what makes the iron workers worried a ton is the potential electric hazard in construction sites or other relevant workplaces.
Thankfully, the wedge boots come with EH rating which indicates the level of electrical hazard protection. This means they won't conduct electricity no matter how powerful the wire a worker is stepping on.
Toe Protection
What would you call a pair of work boots without safety toes? Useless, we guess. Well, the wedge one won't let you down on that part as often they come in the form of steel toe boot.
The best thing about these steel toe boots is they'll keep the toe harmless even if there's a rolling of heavier items in a workplace.
And yes, the safety toe caps the wedge sole work boots come with can tolerate the impacts to a higher extent where even major impact can't reach the feet if there's any fall of heavier objects.
Also, follow our guide to know Are Work Boots Business Casual
Ankle Protection
Guess what? Toe is not one only body part these boots deliver protection to. They're designed in a way where even the ankle stays protected from external elements.
The construction of these wedge sole boots is so tough that it can stop the ankles from getting twisted or sprained.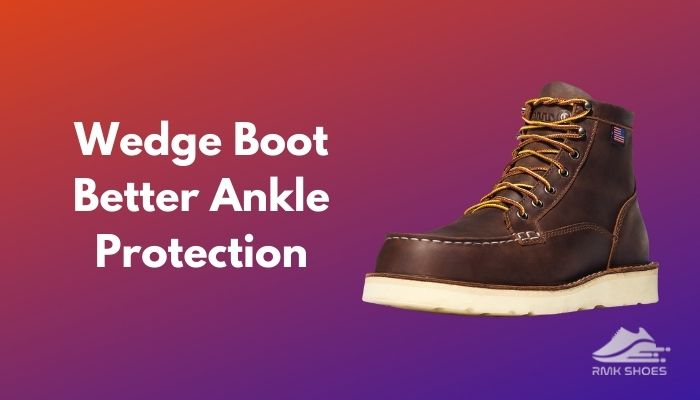 Check out our epic guide: Can I Wear Work Boots to Ride Motorcycles
Protection from Burning and Cutting
There's no way to deny that all the wedge sole boots come out of high-quality materials. These materials are so tough that even if the workers come in contact with any sharper object in the workplace, there's no chance of it reaching their skin and giving them a cut.
Besides, ironwork involves lots of welding too. So, clearly, there's a chance of burning your skin. Thankfully, these boots can protect from that as well.
Fiberglass Shank for Arch Support
To keep the pain out of the game, the right kind of arch support is more than important.In order to ensure superior protection, lots of the makers use fiberglass shank in the work boots rather than steel shank. This also gives better support to the feet. And yes, it doesn't add any extra weight to the boot either.
The best thing about having this shank is it gets rid of foot fatigue even if the workers are staying on their feet for a longer period of time.
The best thing about having this shank is it gets rid of foot fatigue even if the workers are staying on their feet for a longer period of time.
Follow our guide to know Can Work Boots Be Resoled
Reducing Pressure Points
There are tons of reasons that motivate ironworkers to wear wedge boots and another one of them is how perfectly they help to reduce pressure points.
You already know that these boots come with wedge soles. But did you know that they make direct contact with the floor in order to ensure even pressure to all parts of the feet?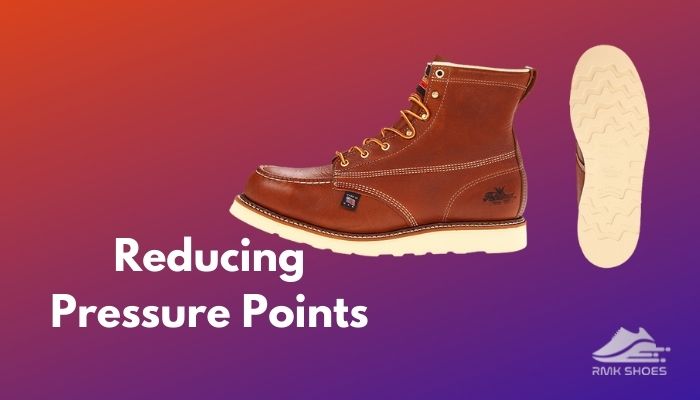 What happens this way is that none of the areas of the worker's feet remains too connected to the ground while other parts are doing the opposite.
Clearly, the whole motive of the outsole here is to ensure an even distribution of the weight so that foot fatigue can be relieved of pain. After all, it's the pain that usually the workers suffer from as a result of standing for the whole day.
Also, check out our separate post: Are Work Boots Considered PPE
Shock-Absorbency
Well, nobody said that the iron workers are going to do jumping-jack all day. But they do need to put their feet over the iron beams for long hours which often invites foot pain for them.
But when they're using a pair of good boots like wedge boots, the shock-absorbing inserts within the boots take care of the shocks or pressure from the steel beams and allow them to stay away from that pain.
Moisture Wicking Linings
Moisture within the boots might sound like no major issue for a short period of time. But when it comes to day-long work, that same moisture can lead to serious issues like fungus and all.
The good news is wedge boots got cotton linings to deal with that and keep the feet dry as long as the iron workers want.
Also, follow our guide on How Much Do Steel Toe Work Boots Weigh
Durable
No matter what kind of boots you're putting on, durability is something that you can never keep away from your wish list. Thankfully, wedge boots don't compromise with that, like ever.
The reason is clear as day. They're made for tougher atmospheres where them being vulnerable is not an option.
So, the makers usually make them with full-grain leather, fiberglass/composite shanks, and polyurethane, so that the workers don't get bothered about investing in new boots any sooner.
Tracking Less Amount of Dirt
Tracking less dirt is another reason why ironworkers wear wedge boots in their workplace. The durable outsoles are designed in a way where they don't collect dirt and debris while walking on a floor or terrain. Otherwise, the boots could've had compromised traction.
Check out our separate post: Does Waterproof Shoe Spray Work
Comfortable and Proper Fitting
Isn't it what everyone asks for in their next pair of shoes? Well, work boots are nothing different on that part as well.
The wedge boot makers don't ignore that either and fill the boots with cushioned insole in order to maximize the comfort level.
Besides, the extra cushioning always gives an additional boost to the supportive fit.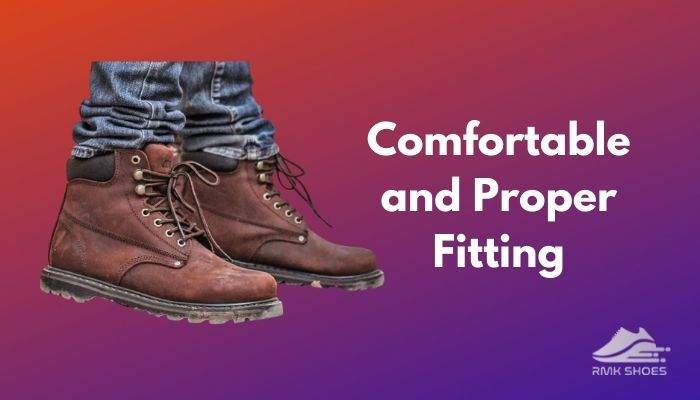 Follow our epic guide: Do Shoe Stretchers Work And Learn How To Use Them
Final Words
If you've reached this point, we bet you now know everything about why do ironworkers wear wedge boots so often. And to be honest, we don't think any boot could do a better job than those non-slip boots.
If you too are lately thinking about grabbing a pair for yourself, we bet you're going to have a ton of added protection and tons of comfort. Good luck with that!