I have recently invested a handsome amount of money in a leather trainer for my regular morning walk. But before wearing the shoes, I wanted them to be fully waterproofed from showery weather. Therefore I ordered a few well-known waterproof sprays and used them on my trainers.
Now you can ask me, does the waterproof spray work on my shoes?
Yes, the waterproof shoe spray works. However, the outcome totally depends on the shoe material. Waterproof sprays don't give a permanent result, so you have to use them frequently to protect your shoes from water.
I wrote this article to let you know my experience on how well the waterproof shoe spray worked on the different shoe materials. Go through the entire article and grab a piece of knowledge about waterproof shoe sprays.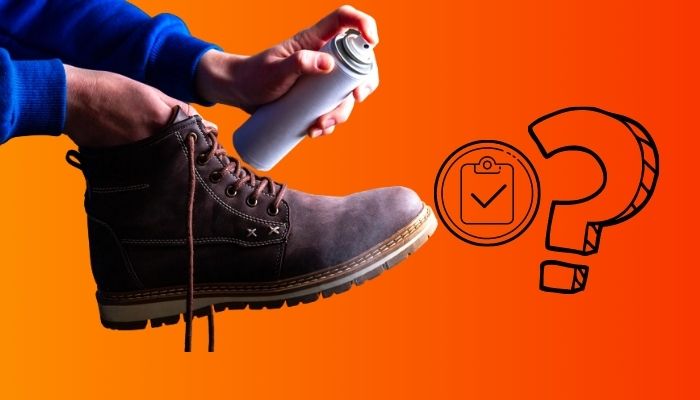 Does Waterproof Spray Works On Shoe?
Some shoes are built with a waterproof membrane which protects the shoes against water. But few shoes are non-waterproof; for them, waterproof shoe spray is the ultimate savior.
But there is a dilemma among people that does the waterproofing spray really works on the shoes or not. Let us look into the bigger picture; waterproof shoe spray only creates a layer that prevents the outer material from absorbing water.
Then comes the stitching; if the shoe has loose and bad stitches, waterproof shoe spray will not make any difference to your shoes because water will penetrate through the stitches.
However, if your shoes are made with good-quality leather, the waterproof spray will definitely work on your shoes. But then again, if you walk for hours on the wet ground, there are high chances your shoes will get wet as well as your feet.
The outcome of waterproof shoe spray also depends on how accurately you are doing the process and what product you choose. For instance, if you select a suede waterproof spray to waterproof your leather shoes, then the end result will not be good. So make sure to buy the correct spray and follow the proper method of waterproofing.
You may also like Are Work Boots Tax-Deductible.
How Long Does Waterproof Spray Last?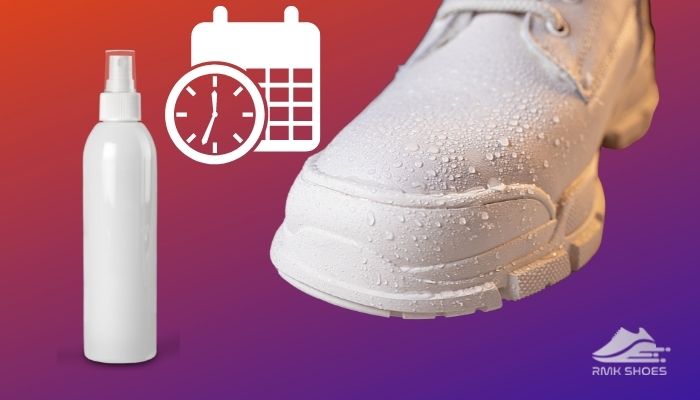 Firstly, get this in mind, waterproof shoe spray doesn't give a permanent result. No matter how branded your waterproof spray is, you need to re-apply after every 15-20 days. However, this time alternates, depending on how frequently you wear the shoes.
Do you know that weather also affects the working of waterproof shoe sprays, i.e., if you wear shoes in chilly weather regularly, then the life of the shield that waterproof spray creates decreases rapidly. As a result, your shoes don't render sufficient protection against water.
A good-quality waterproof spray will last up to 4 weeks on your shoes only if you do not wear them regularly. Usually, in summer, you should re-apply the waterproof spray after every 4-8 wears and 2-4 wears in winter.
Read more on What is A Soft-Toe Work Boot.
How to Waterproof Shoes With Spray?
Just buying a branded waterproof shoe spray will not do wonders; you also need to know how to utilize them. And to get the best result of waterproof sprays, you need to know the correct method of using them on the shoes. And only then you will be able to rock in your favorite pair of shoes amidst the wet weather.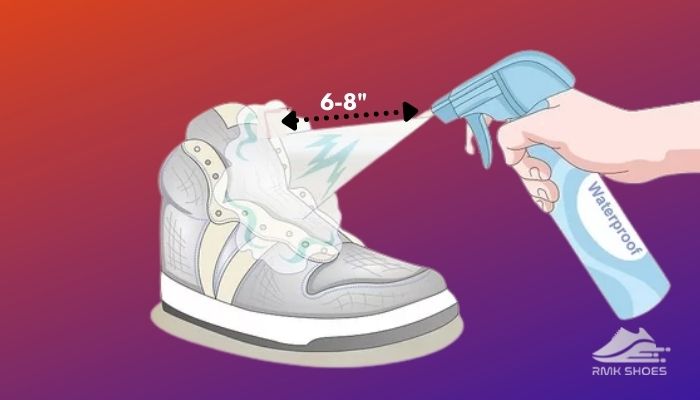 But before that, check out Is WorkBoots.Com A Legit Website.
So here are the easy steps of waterproofing shoes with a waterproof spray:
Buy a high-quality waterproof shoe spray according to your shoe fabric; you can readily get them in shoe stores.
Before you start the spraying process, make sure your shoes are fully dirt-free.
Hold the waterproof spray about 6-8 inches away from the shoes and spray the shoe's entire outer part. Don't leave the corners and the seam of the shoes or else water will seep through this place. Do not hold the spray too close to the shoes, and don't spray in one place for a long time. Also, always waterproof your shoes in an open, well-ventilated area.
With a clean cloth or microfiber towel, lightly dab and wipe off the shoes' excess product. Make sure to remove the extra spray from the zippers, eyelets, and shoe laces.
Now keep your shoes in an airy place for 24-48 hours so that shoes absorb all the goodness of the spray. You will notice that the shoes will get dry within an hour, but it is better to wait for a day or two. Do not dry the shoes in direct sunlight.
You can apply a second coat of waterproof spray for long-lasting waterproofing.
Also, follow our guide to know Are Work Boots Business Casual.
What Are The Best Waterproofing Sprays?
Not just one or two, there are tons of various types of waterproof shoe spray available in the market. You can also choose the spray according to your shoe fabric.
Below I have stated the best ten waterproof shoe spray of different brands:
Kiwi Rain and Stain Protector– Provides excellent protection against rain and also other liquids.
Scotchgard Fabric and Upholstery Protector– A good option for snicker and canvas shoes.
Crep Protect Ultimate Rain and Stain Spray– Works well on suede, canvas, and nubuck material.
Rust-Oleum NeverWet Boot and Shoe Spray– Best to use on natural and synthetic materials.
Kiwi Boot Protector– Specially made for leather and suede fabric.
Scotchgard Suede and Nubuck Protector– Best to use on suede and unfinished leather. Along with waterproofing, it also makes the shoe stain-repellent.
Bickmore Gard-More Water and Stain Repellent– Works well on full-grain leather, suede, and nubuck material.
Nikwax Nubuck and Suede Proof Spray– Good for nubuck and suede shoes.
Saphir Medaille d'Or Super Invulner Waterproof Spray– Works fantastic on high-end leather and suede shoes.
Tarrago Hightech Nano Protector Spray– Can be used on leather shoes.
Check out our epic guide: Can I Wear Work Boots to Ride Motorcycles.
Conclusion
Not all shoes are waterproof, but does that mean you cannot wear them on wet grounds. Obviously not; just use an excellent waterproof spray on your shoes, and you are good to rock the ground. Waterproof shoe sprays don't alter the appearance of the shoes so there is no harm in using them.
I hope this article answered all your questions. Still, if you have any questions regarding waterproof shoe spray and its uses, do give your valuable remarks in the comment section.