As a hardcore motorcyclist, various questions come to my mind when I need to wear my work boots, instead of my riding boots! If you're someone just like me, then you've come to the right place.
I knew I needed answers (immediately). Therefore, I went through a period of intense research and testing that lasted for days. And finally, I'm ready to share my experience and answer your questions through this article.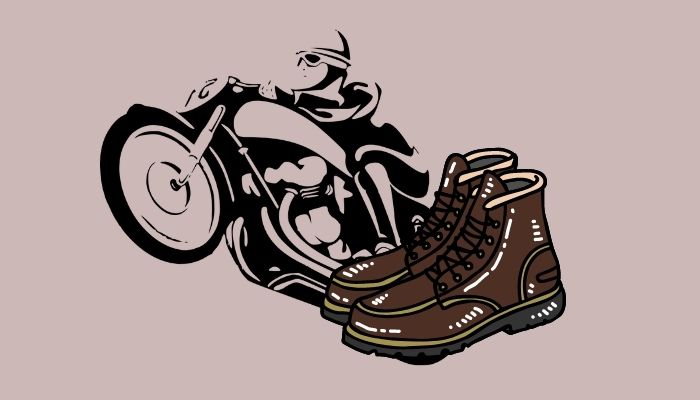 Let's get to the point, shall we? Can you wear work boots to ride motorcycles?
Yes, you can use work boots to ride a motorcycle. But, the work boots need to meet the correct safety standards. Proper padding, reinforced toe box, low heels, steel shank, and slip-resistant soles are some of the features work boots need to have to make them eligible for riding.
When you're riding a motorcycle, safety should be your top priority. Otherwise, the consequences can be fatal.
Don't worry! I've listed down everything. Read everything till the end and you'll be all good to go.
What Are Work Boots?
First of all, you need to understand what's a workboot. If you do, only then you can differentiate between them, easily. 
The boots you wear at your workplace are called work boots, kindergarten stuff, right? No! there's more to it.
For a boot to be called "work boot" it has to meet specific criteria. Compared to normal boots, they're equipped with additional features; meant to protect you from certain dangers at your workplace.
According to Occupational Safety and Health Administration (OSHA),  footwear can only be considered a work boot that passes the compression standards and impact resistance and is certified ASTM.
They also need to have metatarsal protection as well as static dissipation. Also, they need to be puncture-resistant.
And last but not the least, they need to protect the wearer from heat and electrical hazards. Work boots are all about safety. 
Check out our guide on how to Dry Wet Work Boots.
Can You Wear Work Boots To Ride a Motorcycle? Answered
Once a wise man said; We wear for the slides, not the rides! That's right, we wear safety gear to protect ourselves from unwanted dangers, not the aesthetics. Although a biker getup is super cool, and some like to wear them anyway.
Of all the accessories out there, the boot has to be the most important one of them. Compared to cars, motorcycle accidents are more fatal; as the impact falls directly upon the body.
While ridings boots should be the main priority, we can't always get them at our nearest local store. So, that leaves us looking for alternatives. And, one of the most popular alternatives is work boots.
So, you've chosen a pair of work boots for riding. But, are they up for the job? Will they offer you the same protection as motorcycle boots? Let's have a look.
Motorcycle boots come with lots of protective features, that make them eligible for the job. They mainly come with a protective toebox, shin protection, steel shank, slip-resistant outsoles, strong materials, and soles.
They are also designed to be abrasion-resistant.  Does your workboot come with these features? If yes, then you can go and ride your favorite motorcycle. If not, then don't!
The rule of thumb here is; if your work boots come with features similar to that of riding boots, then it would be perfectly cool. Otherwise, no! Don't go motorcycling in them.
You should not use everyday working boots for riding motorcycles.
Follow our guide to know Are Timberlands Good Work Boots.
Work Boots vs. Motorcycle Boots? Key Differences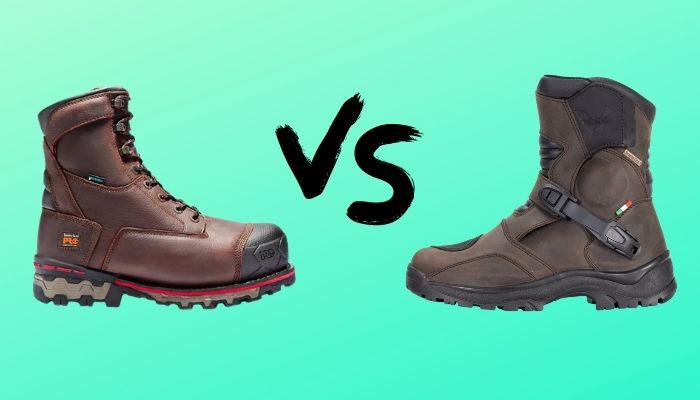 So, both of them are boots and both are meant for different jobs (obviously!). However, they do have a few similar features. But, that's not the point of our discussion. I will discuss (in detail) exactly how work boots and motorcycling boots differ.
Here are the points in which they differ:

| Work Boots | Motorcycle Boots |
| --- | --- |
| Provides more ankle support | Provides less ankle movement support as they're designed to fit under the motorcycle's shifter |
| Does not have stiffer torsos | Have stiffer torsos |
| Lower degree of abrasion resistance | Higher degree of abrasion resistance |
| Almost all of them have shoe laces | Barely have shoe laces; mainly have velcros and buckles |
| High heels | Low heels |
These are the fundamental differences between a workboot and motorcycle boot. Keep them in mind when you go shopping for either of them.
Also, follow our guide on How Long Do Work Boots Last.
How Can You Choose The Right Work Boots For Riding?
You want to buy work that you can use for both; riding a motorbike and doing a specific job. In short, you want to hit 2 birds with one stone!
For this, you'll need to keep certain aspects in mind. So what are they?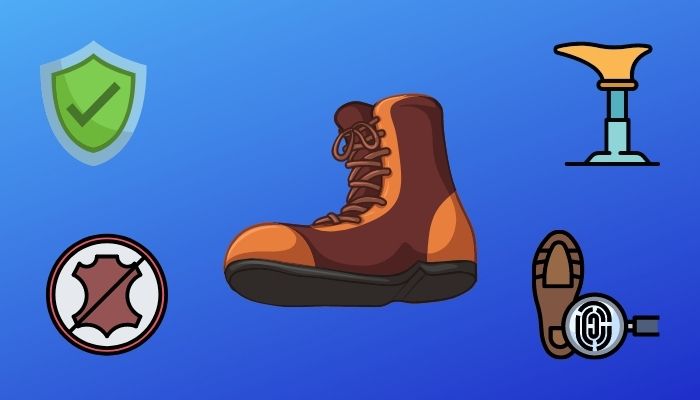 Let's have a look:  
Safety
Has to be the most important aspect! Go for boots that have armors (if possible) and an ample amount of padding on the toe and ankle areas. A safety toe and steel shank won't be shabby either.
Material
The fundamental of any footwear. When you're looking for a good pair of workboots for both tasks; make sure the material is strong, sturdy, and lasts long. Rigid material absorbs the impact in case you have any accident. It ensures your feet are unharmed(as much as possible).
Construction
Look for boots that are equipped with double or triple stitchings and a sewn-on sole. This makes the boot more durable compared to others. It makes the boots more long-lasting.
Also, check out our guide to know Are Work Boots Good For Hiking.
Closure
Laces are widely used in boots, as they give you a custom fit. But, this has a downside when it comes to motorcycling! You never know when the laces can get undone and lead to catastrophe. Hence, look for boots with velcros or buckles. These closures stay on even after a high-impact crash.
Sole
Soft sole provides high slip resistance but does not last long. On the other hand, hard soles provide less traction but last long. So, what's the middle ground? Look for soles that are relatively strong and provide good slip resistance, especially on slippery surfaces.
Fit
Make sure your boots have a tight and snug fitting as boots that are hard to take off won't come of easily. Especially, in the event of an accident or any other case.
To make things more interesting, I've made a list of work boots that can be used as riding boots.
Here they are: 
Ariat Rambler Western Boots 
This is one of my all-time favorite boots. Its versatility is unmatched! You can do what ever you want with them, including riding your motorcycle. They come with safety toes and a whole bunch of safety features. In short, they have the potential to be the perfect allrounder.
Carhartt Men's Ruggedflex Safety Toe Work Boot
Carhartt boots need no introduction! They have a cult of their own and rightly so. Not only are these boots stylish, but also they're super safe. They come with all sorts of safety features and loads of paddings in crucial areas. Perfect for city riding and small to medium tours.
Timberland PRO 6IN Direct Attach Men's Steel Toe Boots
If I were you, I'd just buy them based on their appearance. I mean, they are stunning. And don't get me started on the safety features of these bad boys. They're ASTM certified. And, they have all the safety features; starting from steel toe to F2413-18 M/ I/ C EH compliant. They have it all.
What Are The Characteristics of Motorcycle Boots?
This is arguably the most important segment of this post. Yes, you can use work boots for riding a motorcycle. But, you can't always do with them; there'll come a time when you'll be needing proper riding boots.
Let's say, you've decided to invest in a good pair of motorcycle boots. What are the features should you look for in them?
Don't worry! As usual, I'm here. For your convenience, I've listed them down.
Here are the main features you should look for in motorcycle boots:
Thick (high-quality) material
Sufficient wiggle room
Protective toe box
Steel shank
Abrasion resistance
Protection against shock and vibration
Low heels
Anti-slip soles
Shin protection
String sole
Short laces or buckles or velcro
Adequate padding around the heel, ankles, and toes.
Proper durability
Ankle support
If you can ensure at least 80% of the following features, then you can say you have a safe pair of motorcycle riding boots.
Motor Cycle Boots VS Motorcycle Shoes| Key Differences
That's right! Motorcycle shoes do exit, they combine comfort and safety. Motorcycle shoes are mainly used for city riding and small tours.
While they're built for the same purpose, but they have their fair share of differences. Knowing them (differences) will help you to make purchases depending on your needs. Plus, it's good to know, isn't it?
Here are the key differences between motorcycle boots and shoes:
| Motorcycle Boots | Motorcycle Shoes |
| --- | --- |
| Offers more protection | Offers less protection |
| Shin Protection | No shin protection |
| Very strong toe box | Relatively weak toe box |
| Can be used for long distance touring | Mainly used for city riding |
It's quite simple actually, if you want to ride your motorbike in the city then go for riding shoes. And, if you're aim is long distance touring then you're better off with a pair of riding boots.
Also, Check out our post: Why Do Work Boots Have Heels.
What Are The Main Type of Riding Boots?
I don't know if you're aware of it or not, but there are different types of footwear for motorcycling. Each has its own purpose. If you know, then great! If you don't, then no worries. I've written them down for you.
Here are the main types of riding boots:
Cruising Boots
Crusing boots are the epitome of safety. They come with heavy paddings, and protect your legs from hazardous elements. They have flexible soles and are slip-resistant. They also come with a steel shank, anti-torsion soles, and heel cups.
Touring Boots
Used by motorcyclists who love a long tour (just like me). They're suitable for any weather condition. And, do I even need to explain about the safety? These are one of the safest riding boots.
Commuter Boots
These boots are made for commuter bikes. They come with slip-resistant soles, tough material, strong toe-box, and ankle support. They make an excellent investment for city dwellers on motorcycles.
Off-Roading Boots
I think the name says it all! They're for people who love going off-road for an extra thrill. As off-roaders ride on rough and harsh terrains, these boots are made with extra safety features that covers all parts from the toes to the knee. Need I to say more?
Racing Boots
These boots are specially designed for racing in tracks with plenty of protection in the ankle, foot, and leg protection. Mainly used by professional racers.
What are the Features in a Motorcycle Boots You Can Do Without?
While motorcycle boots have plenty of features to make your riding safe, they also have some properties that you could certainly do without. I've made a list of the features which I think is unnecessary in motorcycle boots.
Here are my picks of the features you could do without in a motorcycle boot:
Odd toe cap design- Disrupts the toes' natural movement, giving you a cramped feeling.
Side zippers- While they're meant to make it easy for you to slide in and out of them easily, you could sure do without them.
Decorative plates- They're just for the aesthetics, nothing else. At times the extra weight can be a big issue.
Speed hooks- They are meant to do the same job as side zippers, but they aren't as effective as people think.
Riding Away
Workboots can be used to ride a motorcycle. But, they need to have certain protective  features. Regular workboots won't cut it; it's that simple. If you're looking for versatility, invest in a good pair of workboots that does both jobs well. Otherwise, don't! It's for your safety.
Do You know what I'd say? If you have some money to spare, invest it in a good pair of riding boots (if you're a hardcore biker, that is). Now, you know it all (hopefully). Do let me know if I've missed anything important. Stay safe and ride safe.