Picking between AF1 and AJ1 can be a struggle as they both are iconic sneakers in their own distinctive way. And it's pretty hard to compare these with one another.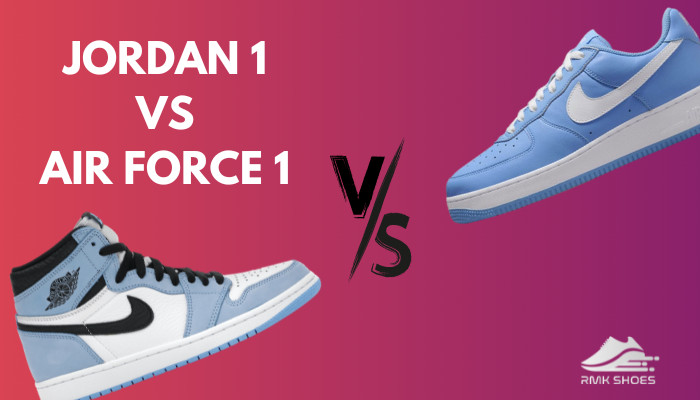 However, once you know their individual features and scan through some compiled reviews, it'll get easier to decide!
And to make your life easier, I'm gonna give an overview of Jordan 1 vs Air Force 1 and a side-by-side comparison.
Stay tuned.
Nike Air Force 1 Vs Jordan 1: A Quick Review
Nike is like a treasure hunt, where they've hidden so many jewels. And among them, Jordan 1 and Air Force 1 are the most valuable gems you can find.
But while picking the best one, you must know about them in detail. And now, that's exactly what I am going to help you with.
So, get ready to be amazed.
Nike Air Force 1
AF 1 has been in the market for a long time, so you got it right! They are here for a valid reason.
And the reason is this model is, in a word, outstanding!
This sneaker is the reason behind the turning point of the sneaker industry as well as the basketball arena.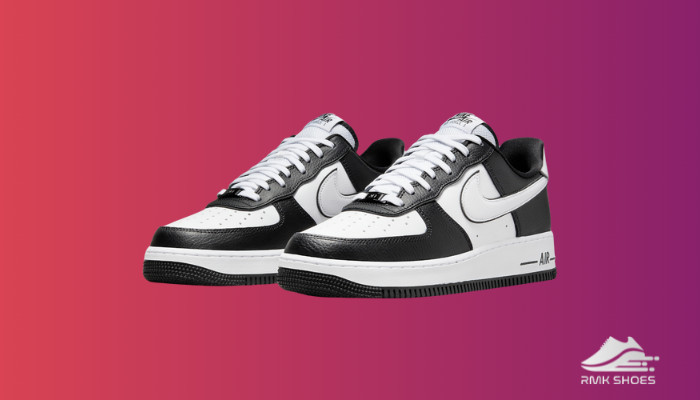 These sneakers have the ironic Air Technology. With the blend of butter-smooth leather and canvas, this shoe was an instant hit and still is.
Another major reason behind the popularity is the comfort and how light they feel.
Though you get fewer color options, AF1 are timeless designs no matter what. There you'll find a wide variety of designs, including high-top and low-top Air Force 1!
Nike Jordan 1
With the name of MJ, collabs, numerous styles and color options, Jordan 1 is the dream sneaker for many.
Except for Air Force 1, this particular model from Nike is the best seller with never-ending popularity. People have literally died for Jordans. Let's explore more, shall we?
Along with comfort, this sneaker has the proper amount of features to provide your foot every facility as a basketball shoe. Yes, this is another reason Jordan 1 is so hyped.
You will also get canvas and leather upper, high and low ankle features along the way.
Wanna know what the turning point for me was? I can match them with most of my outfits, and I couldn't ask more.
Follow our guide to know does Nike make steel toe shoes.
Nike Jordan 1 Vs Air Force 1: Key Differences
Even though these trainers from Nike are over the top on their own, they still are very different from each other. From their looks to use to preferences are due to the variations.
Let's take a quick tour of the differences of Jordan 1 and Air Force 1:
Design
At first, the design of these two sneakers was simple, with high tops for Basketball to add ankle support.
Gradually their design evolved. Let me elaborate.
By evolving, Jordan 1 came in black and red Chicago bulls colors, but Air force 1 kept its white and gray classic look. Both shoes have low-top versions.
But Air force 1 got more popularity than Jordan 1 in terms of design.
Well, I can't blame them. These specific moderations do look better in Air force 1.  As a lifestyle freak like me, I can't say no to these good-looking sneakers. They are practical too.
Hey, I'm not saying that Air Jordan's designs are bad. AF1s are just way too good!
Fit
Now here's the thing about fitting, if you need a bit of room around your toe area, AFs are the pick you can rely on.
This model is going to ensure your shoes are not slipping out and you have a snug-fitted sneakers. And say goodbye to blisters.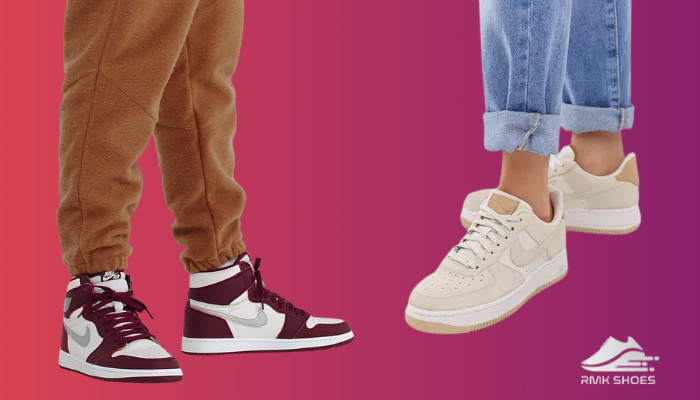 An added benefit for the Air force is they have a bit more space than Jordan 1. AJs are a little compact in terms of leaving room around your toe area.
However, the only negative side of Air force 1 is these are less breathable than AJ 1.
Your feet will start sweating, which has never been the case for Jordan 1.
AF1 would be the best choice to wrap up the fitting if you want some space. But Jordan 1 would be for you when you're into an activity that tends to make you sweat!
Check out our separate post: Nike Court Vision Vs Air Force 1.
Price
Another sector where you need to choose according to your preference. These shoes will cost you more than 80$.
The price range of the retro-inspired Jordan 1 is higher than Air Force 1.
For Jordan 1, the price range varies according to style, color, and design. What's more, they can go up to 500$. On the other hand, Air Force 1 is cheaper than Jordan 1.
But, if you want to customize the classic black and white sneakers, you have the option, dear. You only have to pay a few extra bucks. Fair enough.
Size
The sizing is also different for Air Force 1 and Jordan 1 as their shape varies.
Let's see what that is all about!
Nike Air Jordan 1 is known for its narrower size than Air Force 1. But the new versions are wider than previous models with the exact same feelings. You can go half a size big for more comfort.
However, AF1 has more room to offer, which might feel a bit loose on the feet. For me, it did. And to get a more snug fit, you can go half a size down as I did.
Loose-fitted sneakers are not my style. You can check the size chart to be more clear.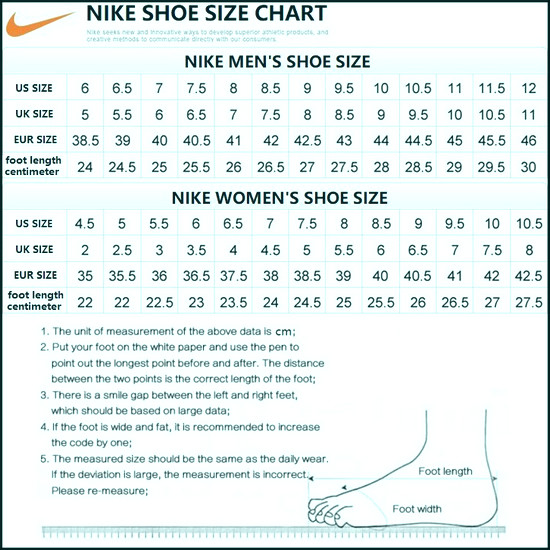 Comfort
Comfort is one of the key factors that determine the demand of any footwear. In sneakers, that's no different.
And when it comes to Nike's Air sneakers, the special Air unit technology made any of the sneakers super comfy! Nike AJ1 and AF1 both have that signature unit to ensure coziness.
However, AJ1 is narrow and has less room, so they can be uncomfortable if you have wide feet. For someone with narrow feet, you're good to go.
Though Nike started producing some wider versions of Air Jordans, those are not that comfy yet.
However, Jordans will start to feel better after the break-in period.
Now let's move toward Air Force 1. You wanna know about these too!
These sneakers have a round toe box to provide more comfort, but they can make your feet look a bit bigger. If you are uncomfortable with such a look, sizing down can help.
Overall, both AJ1 and AF1 can bring enough comfort if worn in the proper size and fit!
Performance
When you pay a hefty price, you must know how your shoe is going to perform.
Jordan 1 is the best option for an athlete, as it was made for basketball in the first place. It provides great traction, a circle pattern, and flexibility that helps you move and flex better. Moreover, Jordan 1 gives your extra ankle protection.
All of those functionalities were crafted to make this iconic sneaker the best to wear on the court!
On the other hand, Air Force 1 is more enjoyable as a casual sneaker. For daily walks, errands and other daily work, you can rock these bad boys 6 hours a row.
The cushioning gives your feet a soft and comfy bed to rest on. For quicker movement-related sports, you can pass them.
But for basketball kind of activity, AJ would be the better choice than AF1!
Go through our epic guide to know are Nike Air Force 1 waterproof.
Similar Features Of Air Force 1 And Jordan 1
As both of these sneakers originated from the same mother brand, you can say with your eyes closed that they will have similarities that Nike's staple!
Here are such similarities of Jordan 1 and Air Force 1:
Air Unit
The key feature of the Air Force 1 model is the ironic Air Technology. This is the main reason these shoes are so comfy. And is a safe surface for your feet to rest on.
In Jordan 1, you will also find this feature as a pickle with your sandwich.
When Jordan was released, they didn't have the Air Units. But eventually, it became a necessity. Thus, the maximum sneakers of Nike have it now, including the mighty Jordans!
Upper
In both Jordan 1 and Air Force 1, you will see the harmonious blend of canvas and leather.
This mixture of different materials makes these sneakers unique and more acceptable. When I got mine, I thought of leather and canvas; how would that work?
But it works and is also very easy to maintain, and you are getting the look as an extra bonus.
Materials
As it originated from the same brand, it's obvious that there will be the use of the same material.
In my sneakers, I found the Air Units and the uppers are also constructed with the same type of materials – smooth leather and canvas.
One advantage while buying Nike sneakers is that you don't need to worry about different materials and how they would be helpful for you.
You may also like to read is Nike suing StockX.
Pros And Cons Of Jordan 1 And Air Force 1
You can't expect any footwear without a drawback. Even your most favorite and comfy sneakers are not out of that list.
Hey, you still need to buy one, right? So, knowing the ups and downs is essential to picking what's best for you.
Nike Air Jordan 1:
Pros
»

Style Variations

»

Color Variations

»

Best athletic wears

»

Good for traction
Cons
»

Pricier

»

Narrow Fit

»

Struggling Break-in
Nike Air Force 1:
Pros
»

Reasonable price range

»

Classic style

»

Customizable

»

Wider fit

»

Comfortable
Cons
»

Tends to sweat

»

Fewer color options
Related content you should read: are Nike Air Max good for running.
Which Is The Better Pick – Air Force 1 Or Jordan 1?
When it comes down to choosing one shoe over another, several factors matter; the first one is your preference.
Don't you agree? Come on! I have both pairs. So, I can tell you precisely.
I didn't purchase them at the same time. But couldn't just let go.
So, there's no guilt. I used them both and loved them. They have their own benefits, and I enjoy those to the fullest. You too can do the same if your pocket allows you to!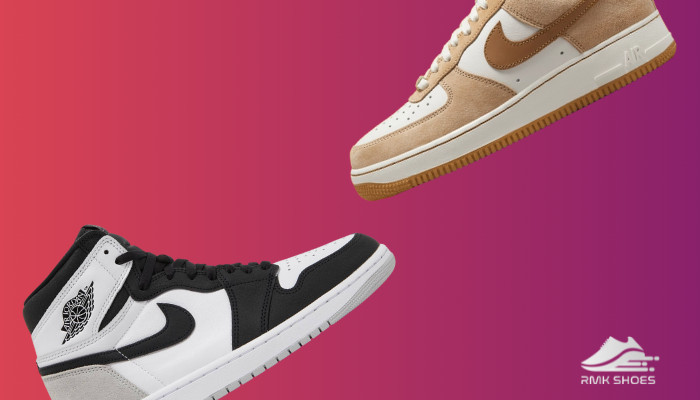 However, if you are into sports and lifestyle and wanna invest in a pair that will kill two birds at the same time, go for Jordan 1. This shoe will serve both purposes.
In case you are more into casual footwear but want to be comfortable wearing your sneakers for daily use, Air Force 1 is your pick.
Read more to know are Nike Air Force 1 good for walking.
FAQ
Why is Air Force 1 So Popular?
The main reason behind the sky-rocking popularity of  Air Force 1 is the stylish casual outlook, comfort, and availability. This model goes well with most of your outfits and gives you a posh look.
Are Jordan 1 and Air Force 1 the Same Size?
Honestly, Jordan 1 and Air Force 1 are not the same sizes. Air Force 1 relatively has more room for your feet to rest in, but in Jordan 1, the fit is preferable for narrow feet.
Do Air Force 1 Make You Taller?
Yes, these shoes make you look taller than normal sneakers. Air Force 1 adds 3 cm extra ( 1.18 inch) height, which can elevate your height game.
Final Thoughts
Air Force 1 and Jordan 1 have their special touch in the sneakers arena.
You can use them as your regular shoe and as sports footwear at the same time. Their versatility got them worldwide fame.
Both of these sneakers will provide you with style and comfort. And their various design and color options are added points for investing in such priced sneakers.
I think you got the core details to find the gem in the treasure hunt, right?