Nike Dunk and Blazer are the versatile pairs in the entire sneaker vault. Choosing one pair of these illustrious shoes is the most tricky challenge for all SB lovers.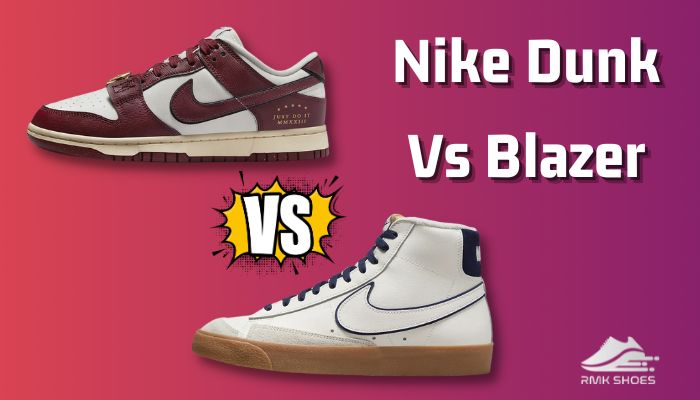 Now you want a detailed guide to their differences and similarities to help you make decisions.
Fortunately, in this article, you'll find all the information about these two beasts which I prepared after repeatedly wearing them.
So, Tag along!
Comparison Between Nike Dunk & Blazer
Nike blazer and dunk, both shoes, reign their winning flags for more than four decades in the sports field. These two are the oldest model that still holds their craze and are being made in Nike production houses.
Both shoes have some differences along with similarities because they belong to the identical SB (skateboarding) sub-brand of renowned Nike.
Now, I'm describing the detailed comparison guide of these two giants in one segment. Before making any decision, knowing the aspects that they offer is essential.
Let's check out the comparison between the Nike Blazer and Dunk:
Design
You will find many similarities between blazer and dunk visually, yet you also see more or less the same amount of mismatches.
For easy comparison, take white-colored low pairs in both models.
The Nike dunk and blazer have the same shade of white with multicolored inner lines.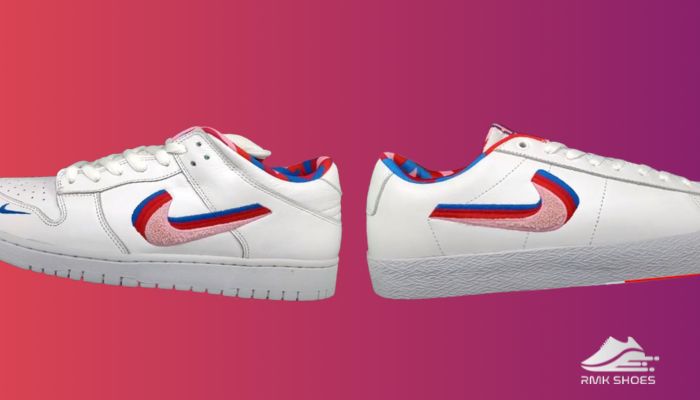 You will find the same contrasted swoosh on their shoe side. On top of that, the tongue label of both pairs also looks the same.
But you only find an extra little blue-colored swoosh in the toe box of the dunks model. You also find the perforation on the toe box in the Nike dunks that ensure maximum breathability, whereas Blazers miss the part.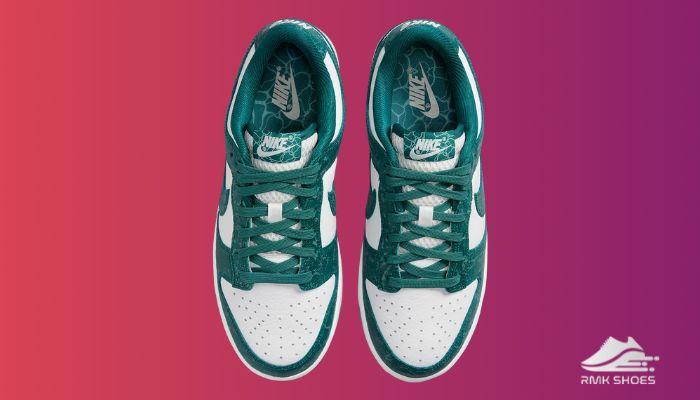 Additionally, Nike Blazers do not offer friends and family editions for their customers, but dunks do.
Visually, the dunk shoe provides a smooth and fluffy tongue that is comfier than the blazer.
Price
Nike dunk and blazer prices are like the North Pole and the South Pole. Because after all these similarities, their prices are so different from each other.
The Nike blazer low charges only $85, whereas the Dunk sets a $120 asking price for every low pair. Now, you can see the considerable mismatch in both shoe pricing.
Actually, The main reason for Nike dunk's high price is its limited number of manufacturing pieces. Moreover, the shoe is only available in some selected stores, which is also a reason for being dunk expensive.
Size
After price, size is the next sector where I found more differences than similarities. The Nike blazer and Dunk shoes claim true-to-size, but I gathered mixed experiences when I put them on.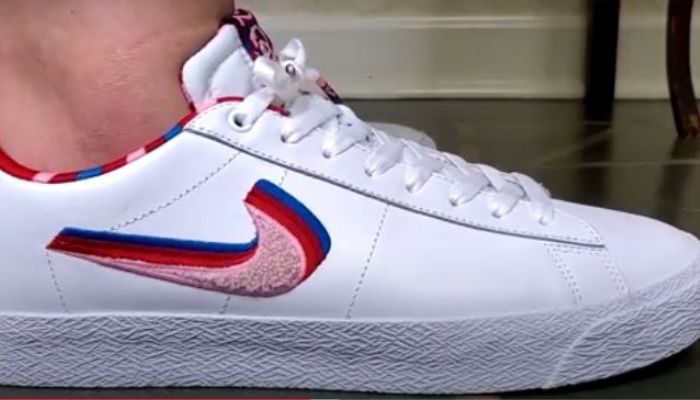 I found Nike blazers true-to-size, but the dunks pair fit snugly when I wear both 11-size shoes. You should buy at least a half-size bigger if you want to go with dunk shoes.
If you compare the size visibly, you may find the same length in size. But the inner part of the dunk shoe makes it smaller than the blazer.
Surprisingly, you may think the blazer comes a little narrower at a glance, but they do not feel the same.
Materials
Both Nike shoes belong to the same SB sub-brand, which is why they use quite similar products for manufacturing their shoes. And the leather part of Nike dunks is exactly the same as the Nike blazer.
However, in the interior of both shoes are little variations from each other. The Nike blazer's inner sole is silkier and provides a polyester feel, which is absent in the Dunk pair.
Contrary, the brand includes more cushioning tongue in dunks pair compared to blazers.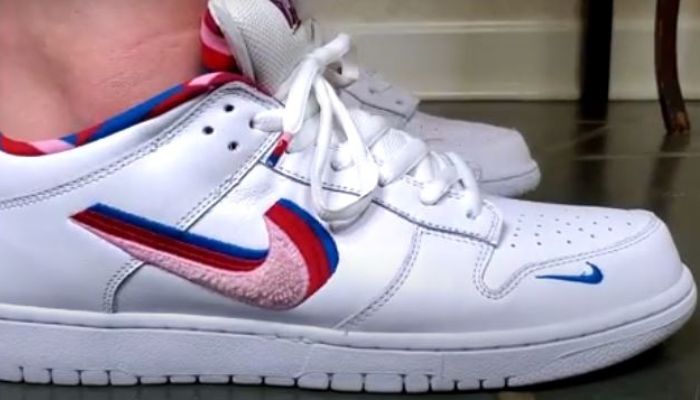 I also noticed differences in their outsole, design, material, and grip texture, which are pretty diversified in both giants. These are all variations that I observe in my time.
Pros and Cons of Nike Blazer & Dunk
Both shoes, the Nike blazer and Nike dunk have fantastic features with their sparkling outlooks.
However, after all those high points, both have some limitations too. And now, I will explain their pros and cons using simple words.
Nike Dunk
Pros
»

Comfortable and soft inner sole with body-hugging feel.

»

A vast amount of color variations.

»

Extra laces facility.

»

Full grain top-rated leather upper.

»

Remarkable breathability.

»

Best for a casual and retro look.
Cons
»

So much pricy.

»

Inappropriate for a formal look.

»

Snugly fitted.
Nike Blazer
Pros
»

Budget-friendly compared to other Nike shoes.

»

Top-rated A-grade leather upper.

»

Fit true-to-size.

»

Best for casual and party looks.

»

Soft and silky insole.
Cons
»

Fixed amount of color shades.

»

Offer minimum breathability.
Which One Should You Get Between Dunk & Blazer?
If your budget doesn't bother you and want to get the best shoes with eye-catchy attributes, then just go with Nike dunk. On the other hand, the Nike blazer is like a trump card for those who want the best quality product at a minimum price.
I don't find more quality divergent between the two of them. Moreover, if you have wide feet, then Blazer is the suitable one.
Conversely, they are the best option when you lead a trendy lifestyle, and you can pick any shades that match your outfit. Trust me, this dunk pair blends with every attire and offer a funky yet bold appearance.
So, you can pick any of them; both are outstanding in their own place. If you have enough budget, I suggest buying both of them and enhancing your experience with Nike.
Choosing one pair from these two is difficult for everyone who adores shoes. But after knowing their offerings now, you have the proper knowledge, and easy to decide which one to complete your requirements correctly.
FAQs
Which Nike Dunk is most popular?
The most popular version of Nike dunk is the dunk low, and there is no doubt about that. After 40 years, they are still in the hype, and you must notice their presence in every sector.
What is Nike Blazers used for?
Initially, Nike blazers are specially designed as basketball shoes. But after becoming a part of the SB range now, they are most used in the skate field.
Are Nike Blazers still cool?
After five decades and many ups and downs, they are still considered the sensational model. If you look on US streets, you will find that individuals are using them.
Look Before You Go
As I have mentioned, dunks and blazers, both shoes, are notable models of the Nike brand.
After reading this informative writing piece, I hope you have already chosen your desired pair, so grab them instantly without any hesitation. And share your experience with your new pair in the comment section.
Thus far, enjoy each step!