Nike Blazers are one of Nike's trending lines that has been getting a huge shoutout since its beginning.
While there's no question about their functionality, you might wonder whether or not they're true to size.
When it comes to footwear, size matters! Thus, ill-fitting shoes can damage your feet and make your life miserable. So it's necessary to understand the shoe sizing properly.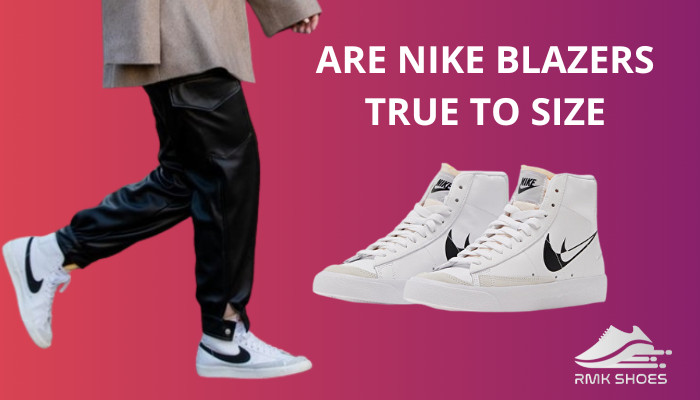 That's why I prepared this content to help you with the sizing matter, focusing on the Nike Blazers!
So, let's go on with it and make ourselves more knowledgeable.
Do Nike Blazers Fit True to Size?
Yes, they do fit true to size!
Nike Blazers usually fit true to size and fit smoothly for regular feet.
But if you have wider feet, you may want to get half a size up from your actual size. The reason is the design of Blazers is pretty compact.
To maintain the retro vibes and keep the sneakers comfortable enough, designers had to build them close-fitting. But they don't run that small for a sneaker.
You'll find it very comfortable and well-fit in your feet most of the time. Moreover, these shoes are flexible and easier to get in and out of. It's just we all have different types of shapes and types.
Thus the shoe fitting varies as per the feet type!
However, Nike Blazers fit true to size for most people, and you should stay with your usual size when trying a new pair of Blazers!
Also, check out our separate post to know does AJIO sell original Nike products.
Do Nike Blazers Run Small or Big?
Nike's Blazer line-up has become the popular choice of sneakers over the last few years. And the variation in different colors and classy yet durable design made them one of the desired pairs in the sneaker marker!
However, there was a slight concern regarding its sizing and fitting, which I tried to resolve with my content.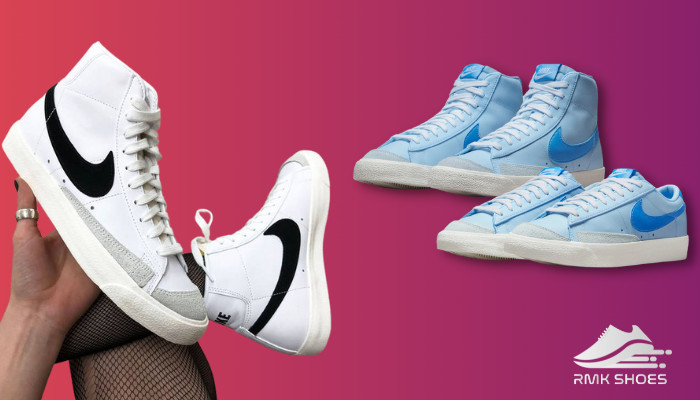 There's a common misconception among buyers that Nike Blazers run small.
But I didn't go with that notion immediately and bought a pair of Nike Blazer Mid '77 Jumbo last week.
After spending a week on this shoe, I've concluded that these sneakers are neither run small nor big. They're just designed compact, which shouldn't cause any issues for regular feet!
But if you have wider feet or you're someone who likes to leave space inside, then these shoes may run small for you.
In terms of build, Nike Blazers were made a little narrower to give you a retro look.
Thus, there isn't enough room to accommodate wider feet!
It's not that bulky-looking sneaker if you're up for something like that. Rather, it was designed to give you a hugging fit and look cool!
Follow our guide to know are Nike Air force1 slip resistant.
Should You Get Nike Blazers an Extra Size?
Choosing the size of your shoes mainly depends on the type of your physic.
And when it comes to fitting the Blazers, it fits true to size for most people. Thus, you can buy the regular size if you're a regular person!
But if you have wider feet, get half a size up than the regular. Otherwise, you may feel discomfort inside as the shoes will be close-fitting.
Nike made their Blazers line with a narrower touch. It has a thin toe box and doesn't have a chunkier look.
So, people with wider feet will have to face some difficulties.
And the toe box might feel tighter with the regular size that's why you should go a size up if that's your case.
However, grabbing an extra size for an extra room will make your life easier while getting your foot in and out. In some cases, the regular size will fit pretty well, even in the wider feet after breaking in. The sneakers like Blazers will stretch over time as you wear them.
Though I don't recommend going down to size, even if you have a regular size.
So, if you have time and patience, you can wait for it to fit you perfectly. Though you may face some troubles on the way, it'll all feel worth the hassle after breaking in!
You may also like to read: Nike lunarglide substitutes.
Do Nike Blazers Come in Half-Size?
Yes, Nike does manufacture the size half versions for their Blazers line. They have left a wide range of size variations for this line-up.
So, you can easily find your size, as some of you may need to go half a size up.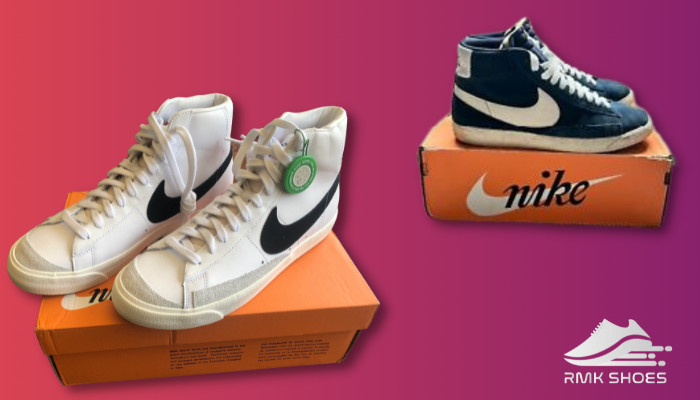 However, if you're someone with oversized feet, you'll no longer have the luxury of choosing the size precisely. Nike isn't offering half-size for sizes 13, 14 and 15.
From my experience, I recommend that you go a full size up since you have bigger feet!
But again, it's up to your toe type. The wider toe will fit packed within the regular size, while the regular feet will place smoothly.
Here's a complete guide on Nike Tanjun vs. Roshe.
Nike Blazer Men's to Women's size conversion
The sizing variation and fitting are pretty straightforward for the Nike Blazers.
However, you may face a common issue while measuring the size. That is the men's to women's size conversion in terms of US measurement.
Women's size goes one and a half inches up than the men's. That means the US men size 6 would say 7.5 for US women size.
And the women's EU size is just half a size smaller than the men's EU size.
To make yourself more acquainted with the Nike Blazers size, see the size chart below: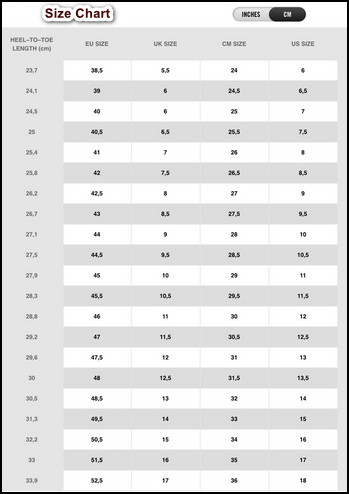 Are Nike Blazers Comfortable?
When it comes to functionality, it's impossible to beat any Nike shoes. And Blazers are one of their budget-friendly sneakers that provide the needed support.
But they're not a paradigm of comfort if you're looking for the same!
Nike Blazers were originally made for being used in the basketball court. But it wasn't a suitable option for the purpose.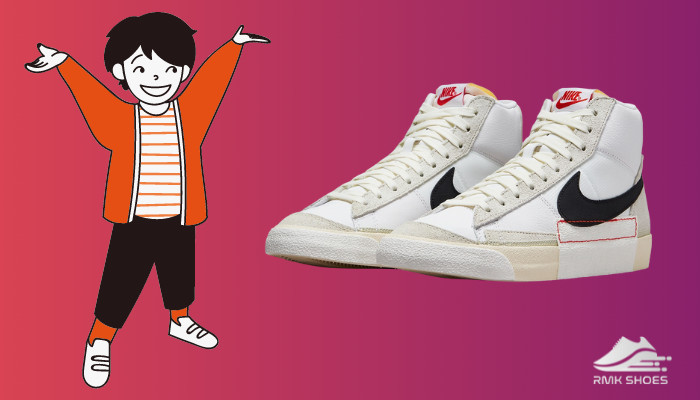 Blazers are not the athletic-friendly footwear of Nike. They're more casual and party-wear sneakers. Thus, you'll feel uncomfortable if you wear these to run or cross a long distance.
However, for casual use, these shoes are really good. You can find it super comfortable while hopping on it.
And if you can successfully pass the break-in period, then Blazers' sneakers will feel amazing on your feet!
But when you're looking for something comfortable rather than a fashion staple, there are better options available other than Nike Blazers!
The Bottom Line
Though Nike Blazers were built narrow, on most occasions, it's true to size. Except for those with wider feet, these shoes will fit smoothly with the regular size.
Moreover, once you can pass the break-in period, it'll feel smoother, even on wider feet!
So, either buy half a size bigger or wait patiently for Nike Blazers to stretch. The overall performance of these sneakers made them well capable of beating their competitors!