Nike is a serial winner in the sneaker game. Their sneakers come in a whole range of budgets.
Two of their pocket friendly sneakers are the Tanjun and the Roshe. As you know,  both have seen huge levels of success since their production.  But if you intend on buying any one of the two, I'm sure you're keen to know the differences.
So, What are the differences between Tanjum and Roshe?
The main difference between Nike Tanjun and Roshes are materials and appearance. Tanjun is mainly made of seamless fiber mesh whereas the Roshe features several stitched patterns. Also, Tanjuns are perfect for people with wide feet whereas it's a different scenario with the Roshe Run.
Now that I covered the basic differences, keep on reading to know the detailed analysis.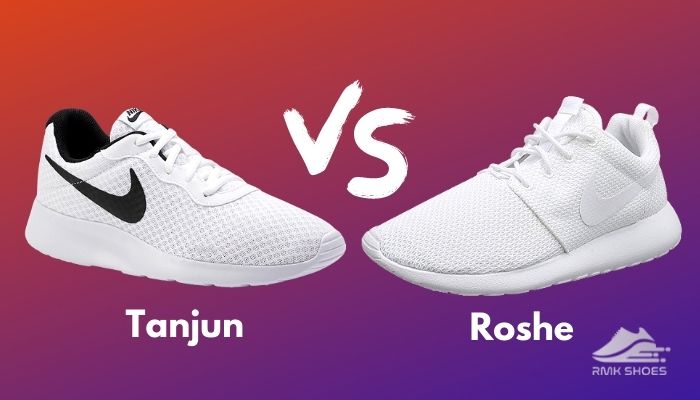 All You Need to Know About The Tanjun
Released in 2015, the Tanjun is a newer addition to Nike's list of premium shoes. Tanjun translates to "simplicity" in Japanese, which defines the sneaker brilliantly.
Consisting of a sharp aerodynamic design, the Tanjun aims to upgrade your casual look in your daily haul and provide unmatched comfort with all its properties in which Nike has done a brilliant job.
The Tanjun contains an ample amount of collar padding to cushion your ankles, which prevent you from worrying about uncomfortable landing or nasty blisters.
The removable insole not only provides shock absorption but allows you to replace them with your customized orthotics.
Thanks to the Injected Unit (IU) combination of the midsole and the sole, the Tanjun is much lighter in weight than many others in the market. The EVA foam construction adds another point to the cause as well.
Customers often chose to bypass this shoe because it couldn't offer the same unsophisticated feeling as Nike's other expensive options. This all changed in 2017 when its sale went over the charts and became one of Nike's best sellers.
Even though it didn't offer any of Nike's state of the art technology, the sale rate took everyone by surprise. I guess the breathable and durable upper layer and a shock-absorbing EVA sole did the trick.
Also related: Nike Lunarglide Substitutes
Everything About The Roshe
Released three years before the Tanjun, the Roshe is an affordable shoe with a minimalist design, capable of complementing nearly any casual outfit.
If you're a person who needs to stand or walks for hours, the footwear should suit you just fine. It comes with a fully padded collar that provides proper ankle support.
The shoe's lightweight nature will give you a floating experience but be careful, as the sole isn't durable enough for prolonged use.
The built-in insoles are quite comfortable. It also contains ridges that massage your feet when you're on your daily haul, and as a result, the insole's quite unique.
The upper layer consists of a seamless, breathable mesh that stretches to accommodate any type of foot. The plush sleeves wrap your feet from the inside.
Phylon's constructed from pellets of EVA foam, and the midsole's made from phylon cushion. The shoe's designed to mold to your foot's unique curve, making them responsive enough to absorb shocks from walking or jogging.
Nike Tanjun Vs. Roshe – Major Differences
There's no doubt there are differences between the two. They differ in quite a few ways. For your convenience, I've made a list of the aspects that really matter.
I'll compare the shoes in the following categories:
Body
Sizing
Style
Durability
Overall support
Running
Flexibility
Body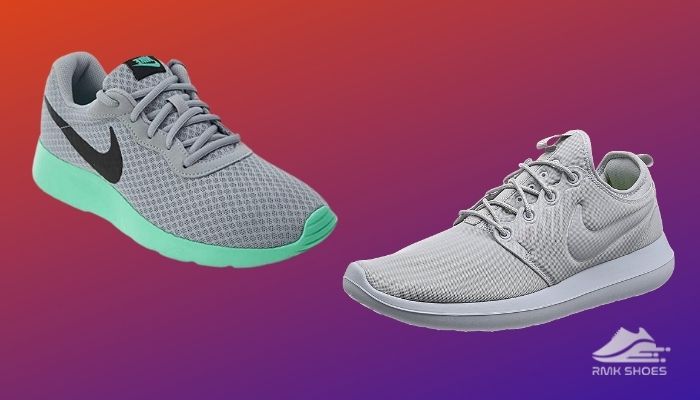 Roshe- Made for total comfort?
The Roshe offers a full Phylon foam midsole from the inside for adequate cushioning and proper support. Phylon consists of pellets from EVA foam.
The fully padded collar offers maximum support around the ankle and is quite protective.
The Roshe consists of several stitched patterns. The mesh is quite stretchy and characterizes a shoe that can be worn with or without socks.
The shoe's breathable properties enable you to wear them comfortably during hot months without your feet getting sweaty or smelly. Unfortunately, this breathability can be a weakness and not quite suitable in wet weather.
The Roshe doesn't feature a removable insole, but it does feature a proper supportive insert that provides adequate shock absorption.
Follow our guide to know Does AJIO Sell Original Nike Products
The Tanjun- Made for wide feet?
The Tanjun is tailor-made for everyday comfort. The upper layer consists of a seamless breathable mesh. The toe box consists of thin yet durable perforated layers, which makes it quite breathable.
The toe box also features a no-sew design, which makes it quite flexible and hugs your feet quite gently, allowing an enhanced range of motions. It has gained an excellent reputation among people with wide feet due to the toebox being wide and roomy.
The brilliant breathability of the sneaker makes it suitable for spring and summer. You can use them for running, you can also use them as casual wear and for work, which involves long hours of standing.
There's a lot of padding around the collar area for total comfort and excellent ankle support while maintaining the natural flex. The padding's felt through the shoe.
Sizing
In terms of size, there're mixed reviews among users between the shoes. The Roshe receives complaints from its users for not being true to its size. Although the sizing's correct, it may be better to get a half size smaller than your regular fitting.
However, the Tanjun is quite right to its size and does not receive any complaint whatsoever. It may be due to its flexible material that molds according to the shape of your feet.
Style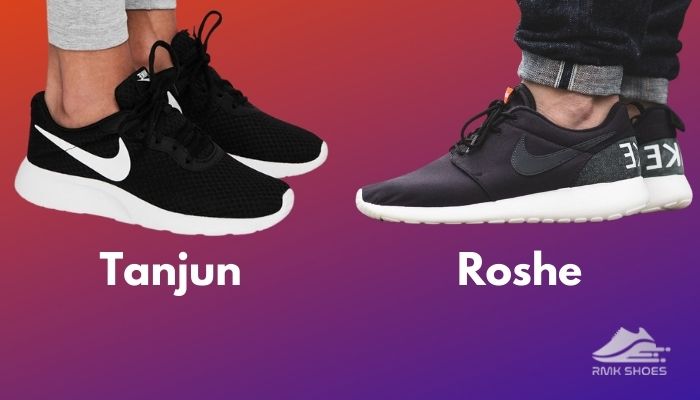 The main selling point of both shoes is their style. They sport an appealing yet minimalistic appearance.
Roshe- More suited to casual looks
The Roshe Run is more suited to fashion rather than athletics or sports. They come in numerous colors, so you have quite the options in your hand. You can choose a color that compliments your taste.
The cylindrical laces prevent it from being categorized as a full athletic shoe. It includes a low-top arch where the back runs a little higher and consists of a large pull strap. The shape of the shoe isn't ideal for sports activity.
The Tanjun- More suited in athletics?
The Tanjun's more of an athletic shoe, the aesthetic and streamlined design gives it a great appeal. There aren't any plastic pieces or fancy tags in the outer layer of the shoe. The Nike swoop blends in beautifully in almost all of its color options.
The stylish looks combined with the color options and the comfort-orientated features make the Tanjun an excellent choice for athleisure enthusiasts.
Durability
There Are slight differences in terms of durability between the two. The Roshe slightly edges the Tanjun in this category.
Nike has made a combination of the midsole and the outsole on the Tanjun that doesn't add much in durability. You can use the Tanjun for gym workouts, casual use, and indoor training. It may not last long if used for a prolonged period for outdoor activities.
Nike has prioritized lighter weight over sturdiness hence the low feedback on durability on the Tanjun.
Nike has labeled the Roshe as a lightweight option; as a result, the outsole has been affected. It's mainly used for casual wear. Although you can use it for light workouts, it's not ideal for running.
Overall Support
Both the shoes differ in this category, and the Roshe Run edges the Tanjun here as well.
The Roshe Run includes support in both the heel areas and side areas, which makes it quite attractive as a light athletic option and a fashion accessory.
The Tanjun doesn't feature a comfortable heel counter or a lace cage. It only offers to cushion, which doesn't help much in terms of overall support. If you're someone with flat feet or high arches, you'll need to replace the stock insole with a custom-made insole of your own.
Running
Both of the shoes aren't tailor-made for running if you ask me. The Roshe includes "Run" in its name but isn't built for running, it's designed to mimic a running shoe.
It's suitable for various activities, including the gym and walking but not outdoor running. Nonetheless, it's one of Nike's most attractive options.
The Tanjun isn't suitable for road running either. It doesn't offer the adequate shock absorption and durability that you require of a traditional running shoe. However, you can use them for activities like weight lifting, light work out, and treadmill running.
Flexibility
Finally, a rare similarity! Both the Tanjun and Roshe Run provide adequate flexibility due to the lightweight property they possess. They flex quite easily according to your movement.
The Tanjun consists mostly of an elastic mesh; thus, it edges the Roshe Run slightly. It also blends effortlessly with your feet as there's no rubber on the outsole. This feature allows the shoe to move with your feet as you walk or run.
Related content you should read Adidas vs. Nike Sizing
Frequently asked questions
Is Nike Roshe Run discounted?
According to the senior industry advisor of sports for the NPD Matt Powell, the shoe sales dropped substantially from 2017 to 2018. However, the Roshe Run does remain available on Nike's website.
Is Nike Tanjun right for standing all day?
Yes, Tanjun is very breathable and quite flexible as the upper consists of seamless breathable mesh. This makes all your activities quite easy to undertake while keeping your feet fresh all day long.
Is Nike Tanjun waterproof?
No, the Tanjun is not waterproof. It is water-resistant, however. The upper material  works well at keeping the water away while you go for a walk in the rain. However, if your inner child wakes up and you decide to jump at a puddle your feet shall not remain dry.
You can take a look at the Tanjun boot, however. The Tanjun High Rise is a sporty winter boot that comes with a waterproof upper and traction outsole.
What are Roshes good for?
Roshe Runs are visually appealing. You can wear them as everyday casual shoes if you want to make a fashion or style statement. Their aesthetic color combination and distinctive looks make them perfect for any stylish and casual outfit.
Conclusion
The Roshe Run's one of your best options if you're looking from an athletic point of view. It offers a bit more support which is essential while working out. However, it comes up slightly above the ankle. As a result, it may be uncomfortable to some but if you need an ample amount of ankle support, this shoe has definitely got your back.
The Tanjun is an excellent shoe with its fully breathable upper and flexible properties. It's perfect for your work endeavor.
The combination of visually appealing colors and streamlined design is tough to ignore for any sneaks lover. You can say the Tanjun is a revamped version of the Roshe Run.
I hope I could answer many of your questions with this Nike Tanjun vs Roshe comparison guide. If I have missed out on anything important do let me know in the comment section. I'd love to hear from you as well. Cheers!