Globally, the top two shoe brands Adidas and Nike, have made their place firmly in the footwear industry for over 50 years. From toddlers to adults, Adidas and Nike are the most favored shoe brands.
As a shoe enthusiast, I mostly pack my shoe-rack with Adidas and Nike shoes; you can say these are my go-to shoe brands because they are very durable and last long.
However, Adidas and Nike shoes gave me a tough time finding my perfect size because both the brands have different shoe sizing. But the following few guidelines helped me to get my exact shoe size.
If you are in the same situation that I had been, just go through this article, and you will thank me later because here I shared all the tips and tricks that will help you get your accurate Adidas and Nike shoes.
This article provides:
Sizing chart of Adidas and Nike shoes
Difference between their sizing
Size conversion from Nike to Adidas
Tips for perfect fitting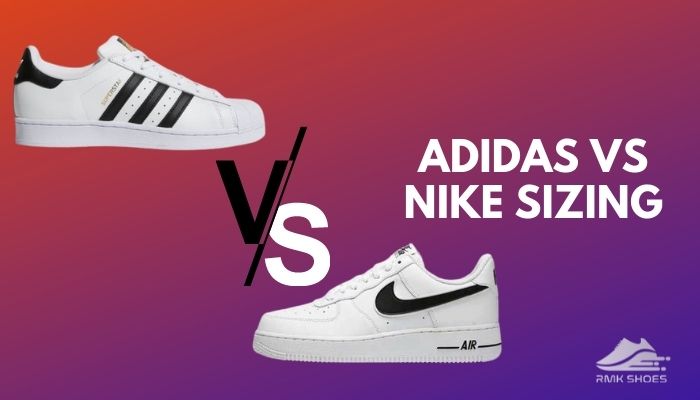 Size Chart Of Nike And Adidas
Nike and Adidas have a standard sizing for adults and kids. To find the sizing of the shoes, Adidas and Nike both offer a sizing chart. Both brands have a specific sizing chart. This chart is beneficial to those who prefer to buy shoes online. All you have to do is measure your feet and see the sizing chart which size matches your feet length.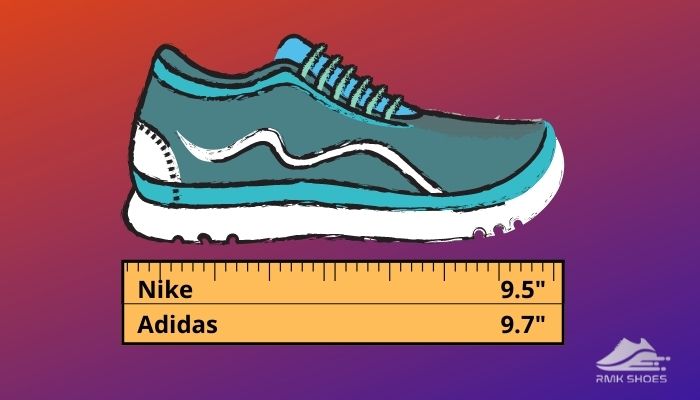 Check out our separate post on Ugg Boots Sizing Guide: Easiest Ways To Get Ideal Fit
5 Easy Steps To Measure Your Feet At Home
The same technique is used for both Adidas and Nike to measure feet size.
Just follow the simple steps and get your perfect feet length:
Step 1: Place a piece of paper on the floor against the wall, touching your heel slightly on the wall.
Step 2: Mark the area on the paper where the end of your longest toe is. You may ask your sibling or a friend to help you with this.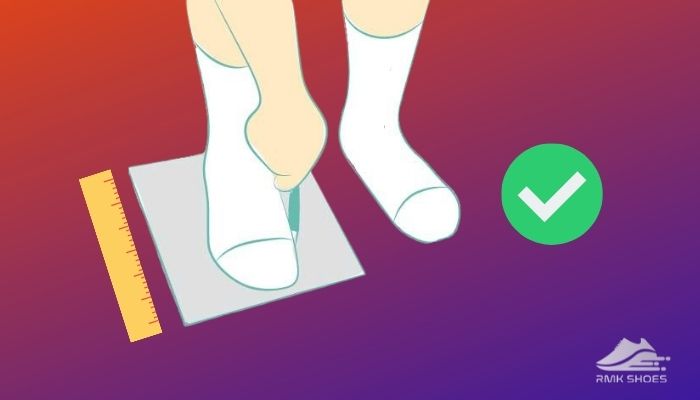 Also, read Adidas Pure Boost VS Ultra Boost
Step 3: Take an inch tape and measure the length from the marking to the wall.
Step 4: Repeat the same process with the other foot. There might be a slight difference between the lengths of the two feet.
Step 5: Using the conversion chart and the measurement you took, you can find the exact fit for your Adidas and Nike shoes.
Using the same measurement technique, you can measure your kid's feet size.
Nike and Adidas offer feet length in both inches and centimeters.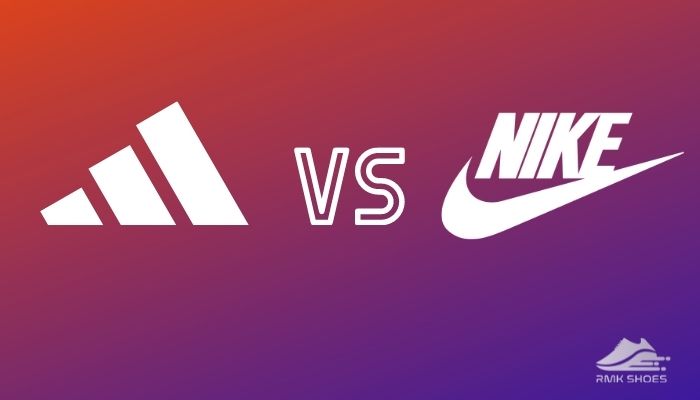 You may also like to read: Adidas Shoes Fitting Guide
Differences Between Adidas And Nike Sizing
Adidas shoes come in US, UK, EU, JP sizes, you can choose between the sizes whichever you are used to wearing. However, Nike comes only in US size.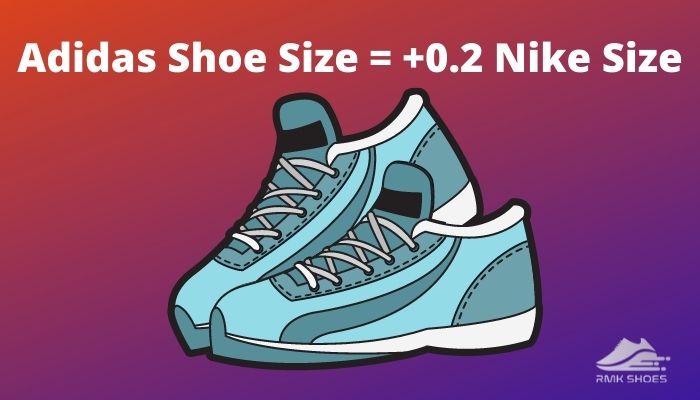 Let's come to the shoe size; up to 5 millimeters, Adidas runs larger than Nike. Like- for Adidas, if you are a women's size 8, your foot length 9.7-inches. The exact size on Nike counts up to 9.62 inches, which is about a millimeter smaller. So keep that in mind.
You may also like to read: Nike Tanjun vs. Roshe
Things To Remember To Get Perfect Fit Of Adidas Or Nike
Only taking the exact measurement of your feet may not give you a perfect fit. There are other pieces of stuff that you need to keep in mind.
Wear socks with your shoes. Wearing thick socks with your shoes ensures a proper fit. For example- if you feel your shoe is a bit loose, wearing socks will occupy the extra space giving you tight-fitting.
Insert insoles inside your shoes. Insoles hold the feet in the exact place in the boots, support the arches, reduces foot pain if you have any.
Due to walking, our feet swell up throughout the day, and at night, our feet are the largest. The best time to take foot measurement is in the afternoon. At that particular time, you get the correct size of your feet.
Every time you buy new shoes, take new measurements of your feet. Don't use the previous size because our feet' ligaments and tendons tend to loosen a bit over time, resulting longer and wider feet. Also, sickness or pregnancy changes our feet length.
Don't try to guess your feet size; always measure your feet length following the methods I have mentioned earlier. Assuming your feet size will end you up with the wrong size shoes. And returning them is a hassle, right?
Your heel should not slide out of the shoes or feel too tight. If that happens, you have got the wrong size. And wrong size shoes can make your feet swell up or increase the chance of falling.
If you are purchasing shoes in person, wear the shoes and run, walk or jump to check whether you are comfortable in it or not.
Also related: Nike Lunarglide Substitutes
Suggestions For Adidas Shoes fitting.
If you are in-between size, Adidas suggests going one size down if you want a tighter fit. And a size up, if you wish loose-fitting.
Most of the Adidas shoe runs true to size. But some of Adidas shoes like the Ultraboost 1.0 and 2.0 emphasize wider feet and Cloudfoam shoes run a size big in women's shoes. So bear that in mind.
Adidas provides adiFIT insole for children up to 7 years old. What it does is, the adiFIT will make sure whether or not you have selected the perfect fit shoes for your child.
You may also like Hunter Boots Sizing Guide
Suggestions For Nike Shoes Fitting
Nike has a mobile app that makes your work significantly more comfortable. All you have to do is take a picture of your feet, and the app will automatically compute your size for any style of shoes.
If you find it difficult to measure your feet in inches, you can calculate in centimeters also.
Follow our guide to know Does AJIO Sell Original Nike Products
Frequent Asking Questions
Question: Do Adidas shoes fit right to size?
Answer: The majority of people like to wear shoes that are too big, and it may appear comfortable to them, but it ends up being less satisfied, so it is always recommended by shoe experts to wear snug fit shoes. Mostly Adida's shoes fit true to size but in comparison to Nike, up to 5mm Adidas runs bigger. So you should get a half size large Nike shoes as it runs half-length smaller.
Question: Which is more comfortable Nike or Adidas?
Answer: If you want comfort over style, then you should purchase Nike. Whereas, Adidas is more stylish, trendy, and provides excellent support to the feet.
Question: Adidas vs. Nike, which is better?
Answer: Both shoe brands have a wide range of collections, from sporting shoes to casual shoes. It is ultimately your call; you can judge it better if you own both the brand shoes.
Conclusion
Proper sizing shoes not only give a perfect fitting or comfort but save you from injuries or any foot deformities. Now that you know all the tips and tricks for ideal sizing shoes, it is up to you which brand of shoes you will buy- Nike or Adidas.
We tried to add as much information in the article so that there is no stone left unturned to get your ideal shoe fit. We would love to hear your thoughts, how this article helped you.