Switching shoe brands often gives us a tough time as they mostly differ in size. Adidas and Nike are no exception.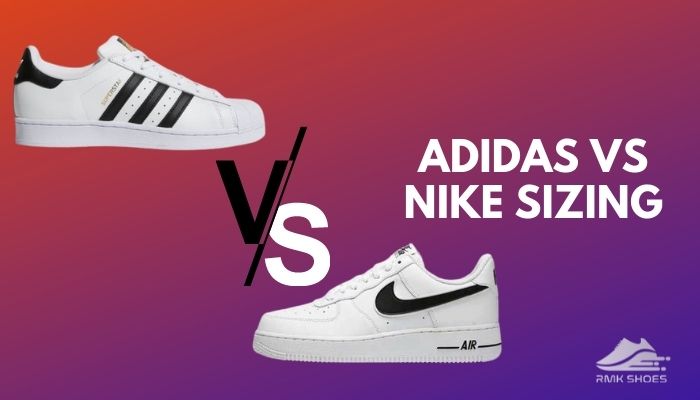 As one size doesn't fit all, following a few guidelines certainly helps you get your exact shoe size. And here I'm gonna show you just that by a side-by-side comparison between Nike vs Adidas sizing.
So tag along!
This article provides the following:
Difference Between Adidas and Nike Shoe Sizing
Guide on Measuring the feet at home
Sizing chart of Adidas and Nike shoes
Size conversion from Nike to Adidas
Tips for perfect fitting
Adidas vs Nike – Sizing Comparison
In terms of the size difference, Nike and Adidas sizes differ by only 5 millimeters. So, if you wear a 7 Nike US size, you have to go down half a size to get a perfect Adidas fitting.
The difference between Adidas and Nike sizing starts to get visible more vividly when it comes to half sizes. The 7.5 size Nike measures about 10 inches, the same length as the size 8 Adidas.
So if you're Nike size 9.5, go with the size 10 to fit your three stripes perfectly.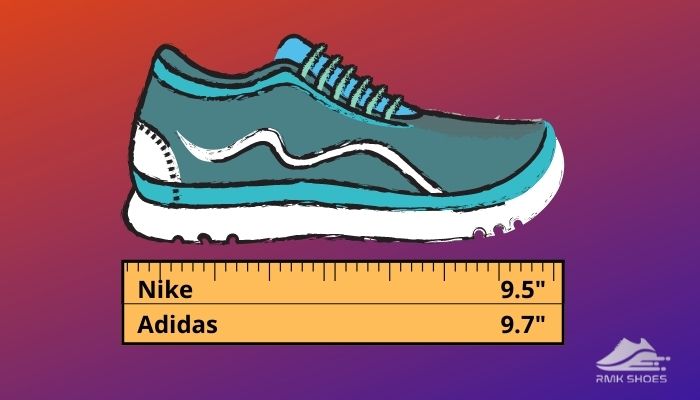 However, the size difference between the two shoe-giant is not significant. They're too subtle to make any impact on your regular wear. But if you're a professional athlete or runner, then such differences may play a huge role in your performance.
So, be careful while buying. I recommend not buying shoes online when you're shopping for any kind of high-intensity activity or special purpose.
Size Conversion Chart Of Nike And Adidas
Being a US-based company, Nike uses US-size unit, whereas the German giant Adidas come in US, UK, EU, and JP sizes.
They both have standard sizing for adults and kids. And to find the sizing of their shoes and sneakers, both brands offer a comprehensive sizing chart.
However, this chart is beneficial to those who prefer to buy shoes online. You can still look over the Adidas and Nike size chart to get an idea prior to your next shop!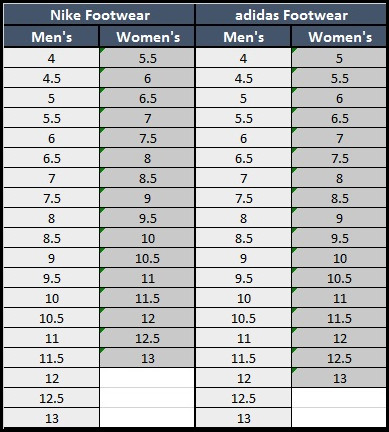 How To Measure Your Feet Easily At Home
Ill-fitting shoes can immensely harm our feet. So, it's important to wear the right size shoe.
In order to fit your branded footwear perfectly, all you need is to measure your feet and see the sizing chart to determine which shoe sizes match your feet.
Here is the step-by-step guide to perfectly take shoe size measurements at home:
Note: The same technique is used for both Adidas and Nike to measure shoe size.
Step 1: Place a piece of paper on the floor against the wall and touch your heel slightly on the wall.
Step 2: Mark the area on the paper where the end of your longest toe is. You may ask your sibling or a friend to help you with this.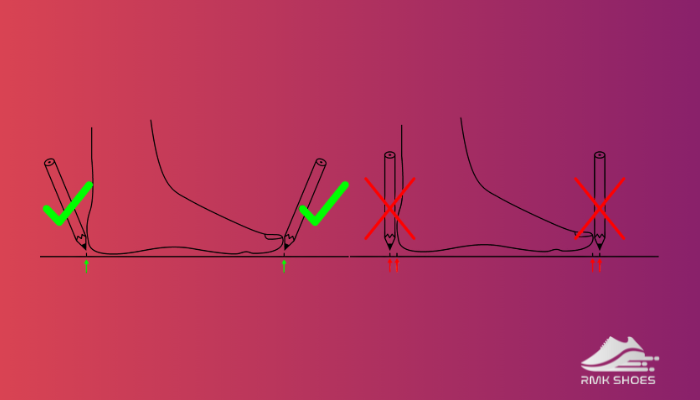 Step 3: Take a measuring tape and measure the length from the marking to the wall.
Step 4: Repeat the same process with the other foot. There might be a slight difference between the lengths of the two feet.
Step 5: Using the conversion chart and the measurement you took, you can find the exact fit for your Adidas and Nike shoes.
Using the same measurement technique, you can also measure your kid's feet size.
Both of the two brands offer feet length in both inches and centimeters.
Anyway, if you're into boots rather than sports kicks from the giant brands, then go through another article to know Dan Post Boots sizing guide.
Adidas vs Nike – How Do They Fit?
You may be a Nike user wanting to buy your first pair of Adidas NMDs or vice versa. In that case, you must know the sizing difference between Adidas and Nike to fit your pair perfectly.
Which One Fits True to Size?
Generally, both Nike and Adidas fit true to size, with some exceptions. And unlike Adidas, Nike shoes tend to run a little narrower in the toe area. But some models like Nike Tanjun, Pegasus, Air Monarch IV, Vomero and VaporMax run a bit wider than others.
Read our separate article to know the difference between Nike Tanjun vs. Roshe.
However, for Adidas shoes, most of their models are true to size. And rationally, some exceptions are also there, which run slightly bigger or smaller than the standard size.
Among their popular models, Ultraboost and Stan Smith fit perfectly true to size. On the other hand, Ground Court, Ultraboost 1.0 and 2.0 run smaller.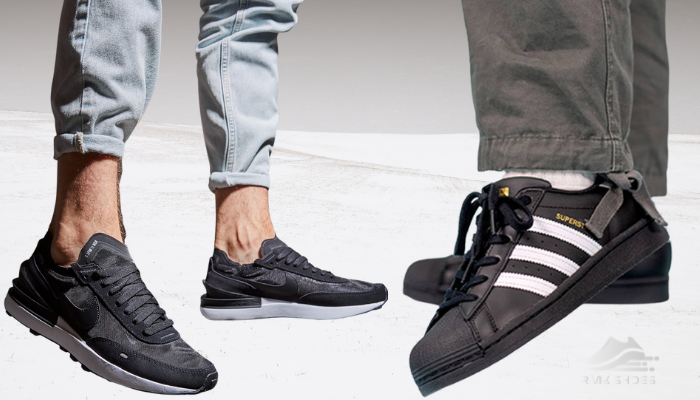 However, the majority of people like to wear shoes that are too big, and they may appear comfortable to them, but it ends up being less satisfying. Thus, shoe experts always recommend wearing snug-fit shoes.
Mostly Adidas's shoes fit true to size, but in comparison to Nike, up to 5mm Adidas runs bigger. So you should get a half-size large Nike shoe as it runs half-length smaller.
Nike or Adidas – Which Shoes Run Narrow?
Usually, Nike shoes run narrower than Adidas shoes. But there are exceptions that vary model-to-model.
Likewise, when comparing the two footwear brands in terms of sizing, I found that some of the models from both brands run narrower than others.
For example, among Nike models, Flyknit and Flywire sneakers are made narrower to ensure a feet-hugging fit. Moreover, Nike Free shoes are snug fitting to provide you with locked-in and more secure feelings while running on them.
Some of the Adidas Ultraboost models were made narrower to ensure maximum security while maintaining the lightweight.
Adidas vs Nike – Which One is Good for Wide Feet?
Adidas is considered a good option for wide feet out of the two. That's not only because of their half a size large fit from Nike but also because Adidas has a dedicated line for wide feet.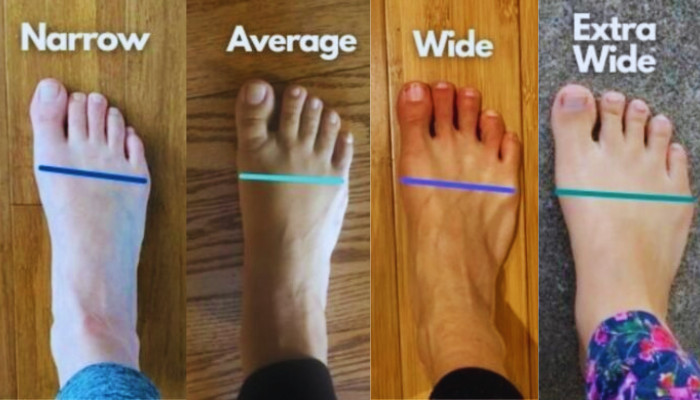 Out of Adidas running shoes, Adicross Retro, FortaRun, Ozelle, Solar Glide, and Superstars are made especially for wide feet. Sandals like Terrex Sumra are also perfect for large feet people.
However, Nike also has shoes for large feet. Nike Air Zoom Pegasus, Air Max, Air Monarch IV, and VaporMax are bigger than others.
Do Adidas Run Smaller Than Nike?
No, in terms of overall sizing, Adidas doesn't run smaller than Nike. they are up to 5 millimeters, and Adidas runs larger than Nike.
Like, for Adidas, if you are a women's size 8, your foot length is 9.7 inches. The exact size on Nike counts up to 9.62 inches, which is about a millimeter smaller. So keep that in mind.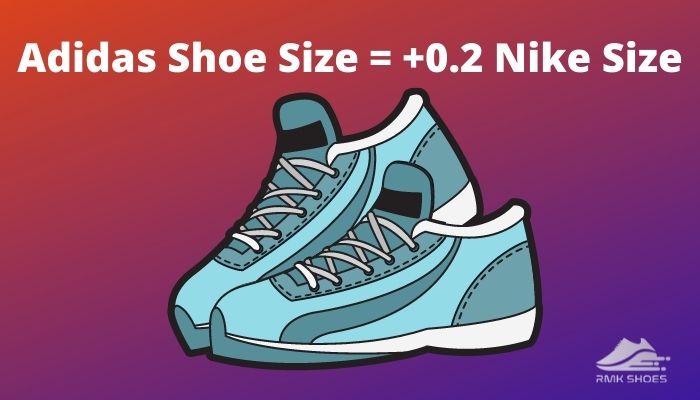 However, Nike offers size customization options with some of its models, including Air Pegasus and Nike Air Infinity. So if you can't find your perfect fit from the size chart, you can easily order shoes of your own size to get the right pair.
If you wanna know more about their sizing and if Adidas run big, small or true to size, then read our separate article written on this topic.
Pro Tips – To Perfectly Fit Adidas & Nike
Finding shoes according to your exact size is very crucial. The consequence of not wearing perfect-size shoes is very serious.
You may face severe pain in your feet or get a blister if you wear tighter shoes than your size.
Moreover, hyperkeratotic lesions and inflammation of the plantar fascia ligament can occur due to constantly wearing poorly fitting shoes.
So it's important that you ensure the right size for your shoes, whether from Nike or Adidas.
However, only taking the exact shoe size measurement may not give you a perfect fit. There are other pieces of stuff that you need to keep in mind.
Here are the things you should consider to get a perfect fit:
Wearing Socks: Wear socks with your sneakers. Wearing thick socks with shoes ensures a proper fit. For example, if you feel your shoe is a bit loose, wearing socks will occupy the extra space giving you snug fit.
Insert insoles: Inserting insoles in your shoes hold the feet in the exact place in the boots, supports the arches, and reduces foot pain if you have any.
Take Measurement in the Afternoon: Due to walking, our feet swell up throughout the day, and at night, they are at the largest. So, the best time to take foot measurement is in the afternoon. At that particular time, you get the correct size of your feet.
Update Your Measurement: Every time you buy new shoes, take new measurements of your feet. Don't use the previous size because our feet' ligaments and tendons tend to loosen a bit over time, resulting in longer and wider feet. Also, sickness or pregnancy changes our feet' length.
Stop Guessing: Don't try to guess your feet size. Always measure your feet by following the methods I mentioned earlier. Assuming your feet size will end you up with the wrong size shoes. And returning them is a hassle, right?
Don't Wear the Wrong Size: Your heel should not slide out of the shoes or feel too tight. If that happens, you have got the wrong size. And wrong size shoes can make your feet swell up or increase the chance of falling.
Trial Before You Buy: If you purchase shoes in person, wear them and run, walk or jump to check whether you are comfortable in them.
Suggestions For Adidas shoe fitting:
If you are in-between sizes, the shoe company suggests going one size down if you want a tighter fit. And a size up if you wish to have loose-fitting.
Most Adidas shoe runs true to size. But some shoes like the Ultraboost 1.0 and 2.0 emphasize wider feet and Cloudfoam shoes run a size big in women's shoes. So bear that in mind.
Adidas provides an adiFIT insole for children up to 7 years old. What it does is the adiFIT will make sure whether or not you have selected the perfect fit shoes for your child. A handy tool, isn't it? Don't forget to use it!
Read the Adidas shoes fitting guide to know more about Adidas sizing.
Suggestions For Nike Shoes Fitting:
Nike has a mobile app that makes your work significantly more comfortable. All you have to do is take a picture of your feet, and the app will automatically compute your size for any style of shoe.
If you find it difficult to measure your feet in inches, you can calculate in centimeters, also.
If you're into some specific model of Nike like Huaraches, then don't miss reading our separate article written on Nike Huaraches sizing.
FAQ
Do Adidas shoes fit right to size?
Yes, Adidas shoes fit true to size. However, some of their models can run a little smaller or bigger, and most of their footwear fit right to size.
Which is more comfortable, Nike or Adidas?
If you want comfort over style, then you should purchase Nike. Whereas Adidas is more stylish and trendy, providing excellent foot support.
Adidas vs. Nike, which is better?
Both shoe brands have a wide range of collections, from sporting shoes to casual shoes. It is ultimately your call; you can judge it better if you own both brands' shoes.
Conclusion
Proper sizing shoes give perfect fitting or comfort and save you from injuries or foot deformities.
And for the two giant footwear brands – Nike and Adidas, knowing their sizing difference will certainly help you adjust your perfect fitting.
I have given all the information, tips and tricks for differentiating the brands and identifying their ideal sizing. Now, it's up to you which brand of shoes you will buy – Nike or Adidas!
Comment below to let me know which one you prefer and how they fit your feet.