If you are looking for the ultimate Adidas Shoes fitting guide with a size chart then you have landed on the right page.
Branded shoes demand a branded look.
A pair of unfit Adidas shoes destroy the purpose of your reason to wear Adidas shoes.
To ace up the style with Adidas shoes, you need to know the perfect sizing.
And, that's where I come into the action. In this content, I will help you to get the perfect sized Adidas shoe for you.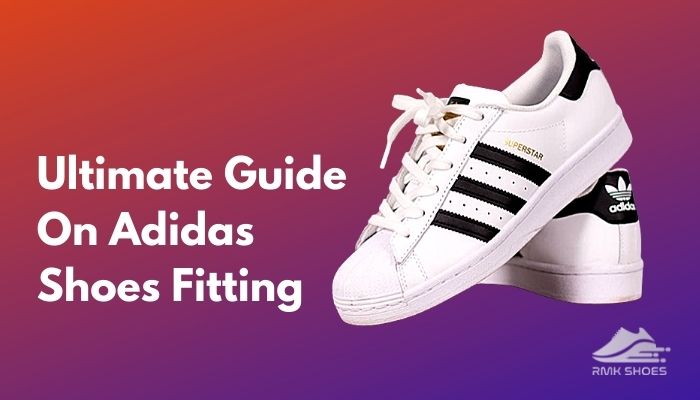 Adidas Shoe Size Chart
Adidas provides standard sizing for all footwear. Adidas offers a sizing chart on their website where, from kids to adults, men or women, you can see the exact measurement for your shoes.
This chart comes in the US, UK, EU, JP sizes. From wherever you are around the globe, you will be able to find your shoe size.
Here's the adidas shoe size chart for teenagers, toddlers and infants: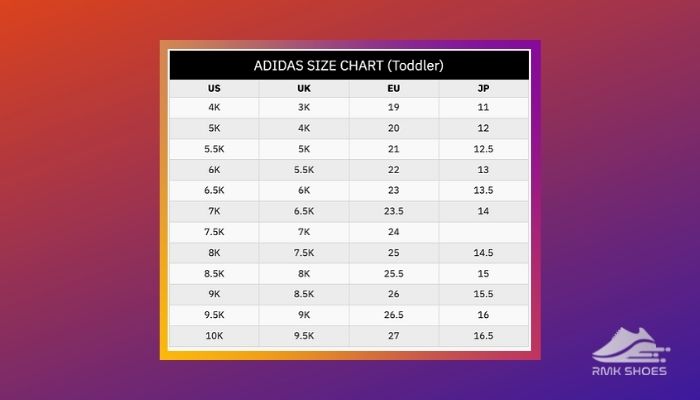 Also, read Adidas Pure Boost VS Ultra Boost.
Here's the Adidas shoe size chart for Adult male & female: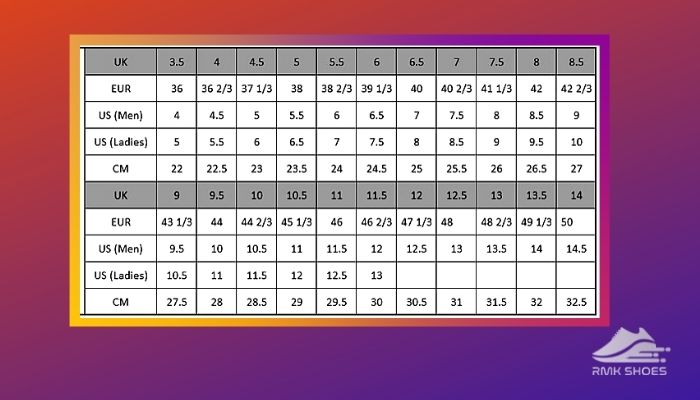 Related content you should read Adidas vs. Nike Sizing.
How To Measure Feet For Adidas Shoes?
If you are purchasing shoes from a physical store, you can take help from the salesman to get your ideal shoe size. However, if you are buying online, you need to follow specific stuff to get your perfect fit.
So, below are the steps that you can do at home all by yourself to measure foot size:
Step 1: Place a piece of paper on the floor against the wall, touching your heel slightly.
Step 2: Mark the area on the paper where the end of your longest toe is. You may ask your sibling to help you with this.
Step 3: Measure the length from the marking to the wall with an inch of tape.
Step 4: Repeat the same process with the other foot. There might be a slight difference between the lengths of the two feet.
Step 5: Using the conversion chart and the measurement you took, you can find your Adidas shoes' exact fit.
Accurate Fitting Guide For Adidas shoes
Shoes should neither be too tight nor too loose. But sometimes you make some silly mistake or don't follow the guideline which results in ill-fitted shoes.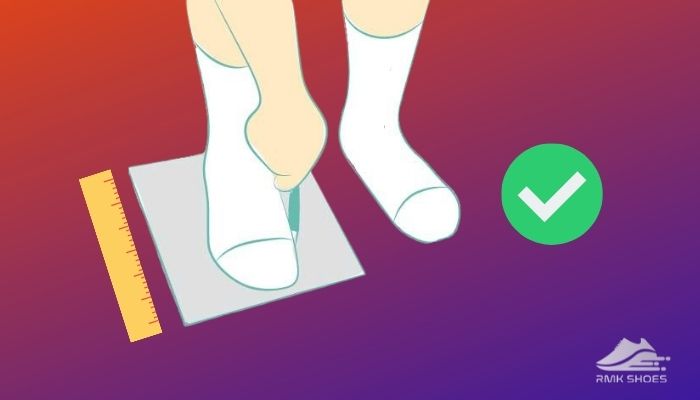 So, here are the guidelines that you should follow for accurate fitting of Adidas shoes:
When measuring your feet size, try to be as accurate as possible. Because if there is any up and down in the inches, you will get the wrong size shoes. So it's better to measure at least 2-3 times.
You should decide beforehand whether you will wear Adidas shoes with or without socks. Because if you prefer socks on, it will give you a tighter fit than without socks. So if you are wearing socks, consider a space needed for the socks.
Every time you purchase shoes, take new measurements of your feet. Don't use the previous size because our feet' ligaments and tendons tend to slack over time, resulting in longer and wider feet.
Try to measure your feet in the afternoon because our feet size changes slightly along with the daylight. Our feet tend to swell in the day, and in the evening or night, our feet size increases a bit. The best time is the afternoon to take a foot measurement.
If you buy a pair of shoes too large, that is, if your feet slip in and out often. Or if the footwear is too tight that you end up having blisters on your feet. Remember, these are bad fits. Always try to buy Adidas shoes that are snug fit.
Adidas shoes are one of the most liked shoes among athletes. If you are buying Adidas shoes for your sports, walk around in the shoes. If you feel any tightness or looseness, change it immediately.
One question that is very common about Adidas shoes is that it fits true to size? So what is true to size?
When you measure your feet length with a measuring tool known as the Brannock device, the number you get is the correct shoe size.
Well, maximum Adidas shoes run true to size. But some Adidas shoes like the Ultraboost 1.0 and 2.0 emphasize wider feet and Cloudfoam shoes run a size big in women's shoes. So keep that in mind.
Follow our guide to know how to Fit Cowboy Boots.
ADIFIT Insoles For Children
Adidas not only has shoes for adults but there is a variety of collections for toddlers and kids. You can buy your toddler's perfect Adidas shoe size by following the same foot measurement rules, as mentioned above, for adults.
Also, Adidas provides adiFIT insoles for children up to 7 years old. What it does is, the adiFIT will make sure whether or not you have selected the perfect fit shoes for your child.
Related post you should read: How To Make Big Shoes Fit.
Below are the instructions that you can follow on how to use adiFIT:
Place the adiFIT insoles on a flat surface and put your child's foot on the insole.
On the adiFIT insoles, there is a marked area towards the toes. If your child's foot passes the significant range, you have to buy a bigger size shoe. And if the foot doesn't meet the range, you have to buy one size smaller.
For a perfect fit, your child's foot should land within the marked area.
As I said earlier, the best size of feet measurement is towards the end of the day; the same goes for your child. For an ideal fit, measure your kid's feet in the afternoon.
Check out our separate post on how Are Work Boots Supposed To Fit.
Frequently Asked Questions
Question: How should Adidas shoes fit?
Answer: Adidas Nomad shoes fit about 0.5 or 1 full size large, while the Ultra Boosts fit about 0.5 sizes small. Most of the time, it is better to go according to your actual size unless you're getting informal leather shoes, which all tend to fit quite large.
Question: Do Nike and Adidas shoes fit the same?
Answer: No, a Nike and Adidas shoe doesn't fit the same. Up to 5 mm, Adidas runs bigger than Nike. The exact size on Nike counts up to 9.62 inches, about a millimeter smaller.
The difference is more noticeable with half measures. A woman size 6.5 converts to 9.12 inches on Nike and 9.2 inches on Adidas, which is absolutely a big difference.
Question: Do Adidas have half sizes?
Answer: According to buyer's reviews, when it comes to the shoe's fitting potential, Adidas shoe has a more than 80% rating point. Most people suggest one to a half size larger shoe if you have a bit wide feet. They also think that if your feet are a bit thinner, the wise thing to do is to purchase your regular size.
Conclusion
Buying the wrong size shoes and returning is actually a struggle. Instead, take some time, get your exact feet measurement. As most of the Adidas shoes are true to size, you can quickly get your desired shoes.
This article contains all the necessary pieces of information needed to keep in mind while buying Adidas shoes. I hope this writing will help you to get the perfect Adidas shoes. We would love to know your prospect on this topic in the comment section.