Adidas –  is considered The Athletes' Trust because of its consistently launching multisports shoes for decades.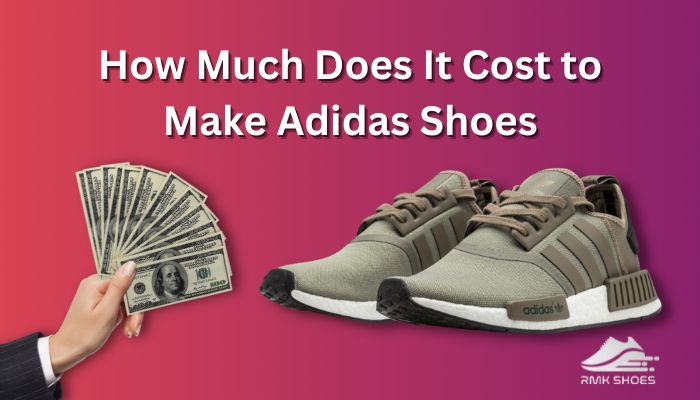 On average, these shoes come with hefty price tags. If you search on its official website, you'll notice a maximum of $450 shoes available. Seeing this price range, your curious mind must wanna inquire about Adidas' manufacturing costs.
Barring a delay, dive into this in-depth researched content and find out actually how much the making cost is!
How Much Does Adidas Shoes Cost to Make?
Generally, the manufacturing cost of a pair of Adidas is only 20 US dollars. But summing up other costs with it like shipping and customs fees the overall production value reaches around $25. And this kind of shoe retails for $100 i.e enormous profit!!
This cost isn't fixed for all shoes rather it's only an average estimation that varies according to the models and the manufacturing process.
For instance, Ultraboost costs $43 for the Primeknit upper and responsive BOOST technology.
After breaking away from the owner of PUMA, Adidas started making shoes independently in 1949. The manufacturing includes raw material collection, stitching, packaging, and similar stuff.
Moreover, labor costs and the factory's overhead costs are also included in this phase.
After the construction and packaging are complete, shoes need to be transferred to the worldwide marketplace.
Adidas shoes are mostly manufactured in the factories of Cambodia (the largest source), Indonesia, China, and Vietnam. Then the shoes are sent to the biggest marketplace in USA, Europe, and Asia.
Considering the landward transportation and sea freight fee, the overall shipping cost for a pair stands at 2-3 US dollars.
There's one more stair to go, and that is the custom fee. For each piece of footwear, Adidas gives $3 to the government.
So the average total cost = Manufacture Costs + Shipping + Custom fee.
= $20 + $2 + $3, which means $25 per pair.
You must be wondering why Adidas' manufacturing cost is only $20, then the shoe quality must be broken down. Actually, this is not true!
To realize this matter, let's talk a bit about Adidas shoe materials and the crafting process.
How Do Adidas Makes Shoes?
Adidas mostly depends on automation and innovative technology for preparing the shoes. In high-tech factories, shoes are manufactured by following the modern cold cement construction strategy. Besides, Powerplus and Formotion technology is also implemented.
The brand makes use of recycled polyester, sustainable cotton, and leather for footwear. Plant waste is also used to build vegan Adidas footwear.
After collecting the materials, the craftsmen simply continue the fabrication process with the help of advanced technology and machinery.
Reports show that the Indonesian factory employs more than 100,000 workers who turn 75,000 pairs of shoes each day. And this miracle become possible with the upgraded tech.
According to Adidas, all high-performance and modern athletic shoes including basketball, football, and running gear are built with the cold cement construction method.
In this approach, the manufacturers do not place the upper into the heated oven for attaching it to the sole. Rather, they use low-tempered PU cement for completing this task and hydraulic ram to fit the parts together.
Consequently, lightweight plastic, mesh, and foam can be used in shoe fabrication.
On the other hand, Powerplus and Formotion technology adds more cushion and support to the midsole. Therefore, enhances the overall features along with the energy-returning performance.
How Much Profit Does Adidas Make Per Shoe?
Adidas shoes whose manufacturing cost is $20 retail for a minimum of $100. So, the profit margin becomes 3-4 times. And a huge amount of this profit is spent on celebrity endorsement, sponsorship, collaboration, and developing construction technologies.
In 2015, Adidas sold above 15 million skating-friendly Superstars and grabbed tremendous returns.
Have you ever heard about Adidas NMD Friends and Family?
This three-stripe designed sneaker debuted in 2021 with only 100 pairs. The semi-transculent and mint blue colored pair is now selling for $5,184!
You must be thinking that Adidas is making intense financial gain from this pair. But the truth is, this is the reselling price, not the retail price. And this huge profit goes to the sneaker resellers' pocket, not into the Adidas cash stocks.
Considering the production cost and selling price, Adidas may seem expensive to you. But this price is justified!
Because the brand is regularly delivering top-notch products. Together with Infinited Fiber Company and Spinnova, the company is deriving textile fiber from wood waste, cellulose, and plant waste. At the same time, they are implementing advanced technology.
So, you get informed about Adidas shoe fabricating expenses, its income and have realized the costs are valid!
Final Thoughts
As a sneaker enthusiast, I'll recommend you not be concerned about the price too much. Because the quality and performance of the shoes are mind-blowing. All you have to do is to choose the perfect set for your particular activity.
So, if you can afford them, buy the shoes and step ahead with your preferred pair on.
Knock in the comment section for any further queries.