Older shoe brands like Adidas are a name of staple shoe collections. Ever since the vegan trend started to go madly viral, manufacturers have had to come up with vegan options that are animal cruelty-free.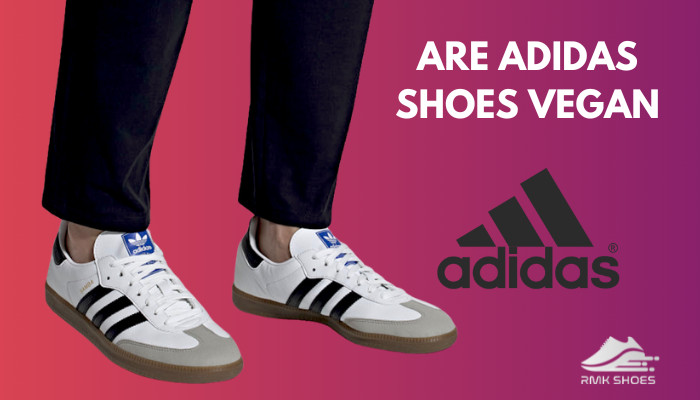 If you are an Adidas fan, you might wonder, are Adidas shoes vegan?
I understand your genuine concern as a vegan lover, as I faced similar situations when I decided to go vegan in the first place.
In this article, you'll learn every detail about Adidas' iconic shoes and their vegan options.
So, keep on reading till the very end to get all your answers with my personal experience.
Are Adidas Shoes Vegan?
Yes, Adidas shoes are vegan, but not all of them. Most of their new collections are vegan. There are still some old models that are yet to be merged into this category.
The manufacturers of Adidas are now using a wide range of vegan materials in their production.
And along with that, they have stopped using animal-based glues and animal testing, which they used to do before launching vegan shoes, according to their customer support.
Adidas is focusing more on animal-friendly materials and processes.
Most Adidas vegan shoes are manufactured with PU-coated recycled polyester, and the midsole is made from EVA foam originated from Algae.
Check out our separate post: Do Adidas Run Big, Small or True to Size?
Which Adidas Shoes Are Vegan?
As you know, not all Adidas shoes are vegan, but most recent all-new collections are vegan. Adidas is focusing on recycled ingredients and collaboration with ethical brands for a sustainable vegan collection.
The most popular shoe line is Adidas by Stella McCartney. This collection uses only eco-conscious materials and is 100% vegan.
The shoes of this collaboration are outstanding and stylish.
They also have vegan running shoes that they paired up with Parley to make high-performance trainers from recycled ocean plastic. Such an eco-friendly step to balance ocean garbage, don't you think?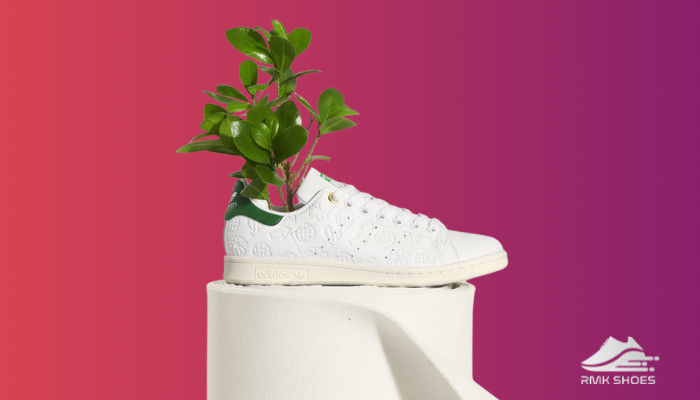 Adidas vegan running shoes are super lightweight and comfy as they use sustainable knit technology.
The most iconic leather styles, like Sumba and Superstar, are now available in vegan collections, providing the same qualities as the original ones before.
You may also like to read: Adidas vs. Nike Sizing.
What are the Top 7 Vegan Adidas Models?
Among so many vegan options, it's really tough to pick just one for yourself.
With each new launch, the percentage of vegan shoes is increasing. And newer models are getting the popularity they deserve.
Let's dive deep into the 7 most favorable vegan shoe collections:
Adidas Vegan Stan Smith
The ironic Stan Smith hit the top right after the launch with high-quality recycled materials.
These stylish women's shoes are sustainable, innovative, and you can pair these with your everyday casual outfit like I do. And I still receive several glares when I wear them. Feels good, you know.
Adidas Ultraboost 20 S
Another vegan favorite with varieties of colors. If you are into bright-colored running shoes, this one is for you.
The cool thing about these versions is they are made from Parley Ocean Plastic collected from beaches and coastal areas. Not to mention they are 100% vegan.
You can choose from bright royal, fresh lemon and intense green as per your preference. For me, it's the fresh lemon.
Adidas Vegan Superstar
It's a relief for vegan female lovers that the legendary Adidas Superstar is completely veganized. Instead of leather now, the upper is made with smooth synthetic materials.
You will find them in white and black color combinations.
Adidas Continental 80
This retro-inspired shoe is low-key and, at the same time, a stylish pick for everyday wear.
Continental 80 has a smooth synthetic upper made entirely without any animal products. So, you can just pick them up from your nearest store or order online.
Adidas Vegan Samba
This particular model is iconic and has its fanbase. For its versatile use and durability, this version made its way.
Now you can enjoy the vegan version with the same functionality. The incredible thing is that it uses vegan dyes too.
Adidas Ultraboost 20
This top-selling men's shoe is on another level. High-performance Ultraboost features a foot-hugging Primeknit upper, which is again made from recycled materials.
This model is one of the best running shoes for men by Adidas.
Adidas NMD _R1 V2
One of the latest models with the full advantage of vegan materials. This fashion-forward trainer is made for those who really appreciate high-end shoes.
My brother is a fan of this model. According to him, this one is versatile and stylish. He wears them almost every day though he is not a vegan fan.
Related content you should read: Adidas Shoes Fitting Guide.
Are Adidas Falcon Shoes Vegan?
Among Adida's most famous lines, Adidas Falcon shoes are scoring top due to their attractive looks and versatility. This model is well-known in the sports world too.
But, The Adidas Falcon shoes are still not vegan.
The looks of Falcon shoes are inspired by the K- pop fashion industry. The designs and structure are very sleek and get a lot of attention. From the Adidas website, I got that these fashion-forward shoes are still not made vegan.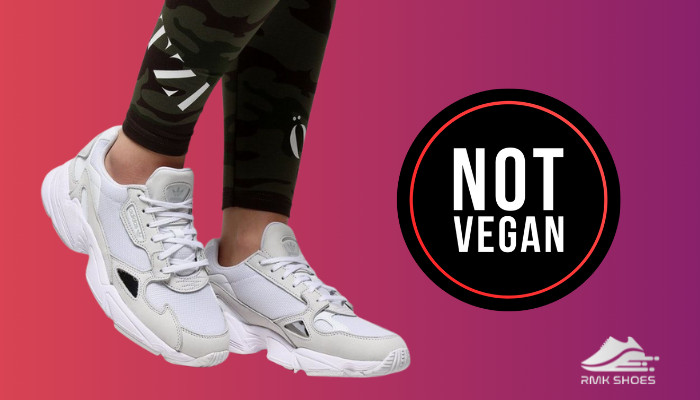 That is quite a drawback for vegan lover consumers who like this particular version.
Does Adidas Have Vegan Hiking Shoes?
Adidas has mastered almost all the sectors of shoes. And hiking is not an exception. With durable material and grip, the shoes of this brand are top-notch.
Adidas does have vegan hiking shoes. Good news huh!
The best-selling model is The Adidas Terrex Swift R2 Mid GTX, quite an exceptional name I must say.
For hiking you can count on this vegan shoe. For their outstanding performance, hikers and travelers have chosen this model again and again. It provides comfort and excellent grip for you to walk long and rough roads.
As these boots are vegan, you don't have to feel guilty and can take the full advantage of this Adidas beauty.
Are There Any Adidas Vegan Golf Shoes?
In the gaming sector you need a variety of shoes for different game purposes. If you are a golf and vegan lover, don't worry Adidas has it covered for you.
You will find the most ironic  Adidas golf shoes in the vegan version.
For example, take The Men's Tech Response Three Stripe Golf Shoes. These shoes are made from animal cruelty-free material and are sustainable for the environment too.
Another fact about vegan shoes is that these shoes are as functional and versatile as the original models.
There are also some models whose midsole is EVA, which is known to be made from Algae. And also other golf shoes are made from synthetic ingredients, which are not confirmed to be vegan.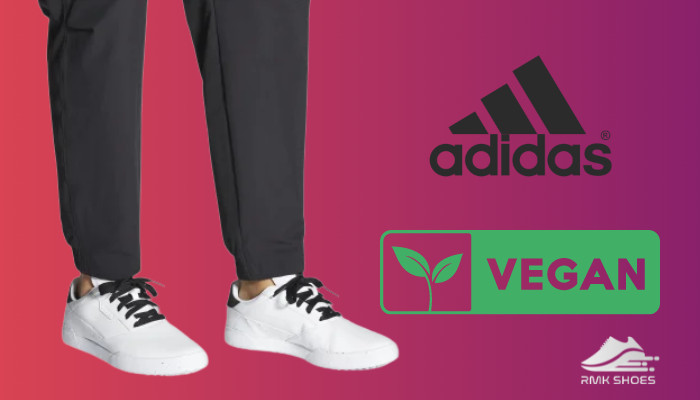 So, it is evident that not all golf shoes are vegan yet.
You can shop from Adidas's official online golf section to pick your preferred pair. But keep in mind all the shoes won't be vegan or cruelty-free.
Also, check out our separate post: Adidas Pure Boost VS Ultra Boost.
Final Words
There is no such pressure on you to be vegan. If you wanna be one, the choice is yours.
Over the years, Adidas came up with vegan versions of their most popular and famous shoes to honor customers' preferences and help the environment.
Their hard work paid off, and the vegan collections are a hit too.
I hope you got your desired answers and your confusion is gone along the way. If you still have any other queries, let me know in the comment section below.
I will get back to you for sure.