Adidas offers supreme quality, comfort and elegance in their shoes.
But before making a purchase of Adidas shoes, you should know if they are true to size. Or are they just big or small from the ideal size?
Because having the idea of shoe sizing is necessary to make a suitable buy.
To find out the answer to this query, I researched for a couple of hours and looked into several blogs, posts, articles and reviews.
And now, I'm here to answer the question with an easy explanation.
So, let's begin the journey of knowing the genuine facts regarding Adidas shoe sizing.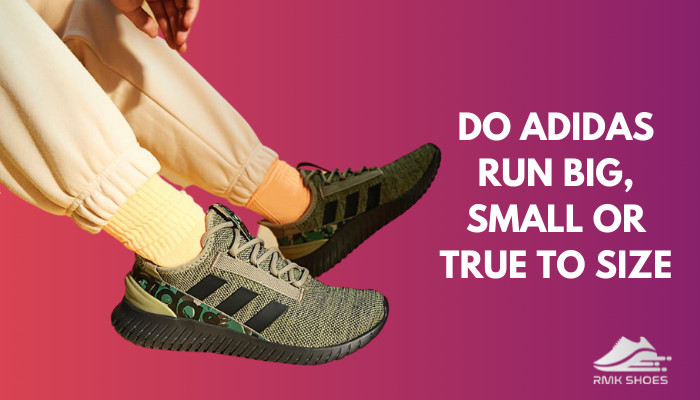 Do Adidas Run Big, Small or True to Size?
Adidas is one of the best brands in the sportswear industry.
They always work with the motivation of being the paramount and most sustainable sports brand worldwide.
The legendary brand Adidas is creating a wide range of shoes to meet the demand of its consumers.
Among the well-known varieties of Adidas shoes, Ultraboost, Superstar, Gazelles, Ozweego, Stan Smith and Ground Court are the most popular in the world of Adidas lovers.
This brand offers most of its footwear in perfect shape and true to size.
However, some varieties are somewhat larger and smaller than the standard size.
You must be thinking about how to find out which one is true to size and which are smaller or bigger.
No worries!
I will inform you about the famous additions of Adidas and its sizing.
You must be wondering why it's necessary to know about shoe sizing so precisely. Well, there exist some important facts behind it.
If you're not conscious enough regarding shoe sizing, you will face serious risks.
For example, when you wear a shoe that is slightly smaller than your perfect feet, it may lead to complications and severe pain in your feet.
Foot pain and instability can be raised as a consequence of imperfect shoe fitting.Hyperkeratotic lesions can be enhanced if you constantly wear shoes that aren't true to your foot size.
Moreover, inflammation of the plantar fascia ligament can occur with faulty shoe sizing.
Check out our separate post: Adidas vs. Nike Sizing
Which Models of Adidas Are True To Size?
As I mentioned earlier, most Adidas shoes are true to size and will offer you a perfect fitting.
Let's find out which Adidas models are true to size:
Stan Smith
With the soothing whitish color and elegant look, Stan Smith appeared in the marketplace in 1963.
This sneaker was specially launched for tennis players and was named after American tennis player Stan Smith.
The format of the Stan Smith is so iconic that many ordinary people wear it along with the tennis players. The design and premium leather coating at the upper layer give a bold look to the wearer.
It offers green foamy padding at the backend. This additional padding ensures protection of the Achilles tendon.
Stan Smith is true to size, not bigger or smaller.
So grab your original size!
Ultraboost
This lightweight running shoe was released in 2015 with top-notch comfort.
Ultraboost is the favorite among runners because of its lightweight feature. This shoe comes with a combination of extra padding and a stunning outlook. The upper of this shoe is stretchy.
The upper of Adidas Ultraboost is made from primeknit. The discrete heel cage is one of the identifying features of Ultraboost.
This shoe can be used for running, hiking, jogging and casual wear.
If you want to roam around the city with a comfort zone underneath your feet, Ultraboost is one of the best companions.
This footwear is unisex and true to size.
So, by following the sizing guide, you can purchase your demanding and suitable one.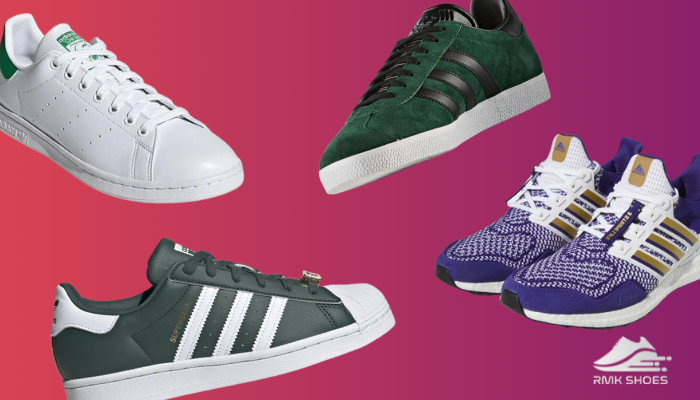 Superstar
One of the special features of this classic sneaker is its rubber-made rounded shell toe.
The upper wrapping of Superstars is quite sturdy and is usually made from high-quality leather. Three zigzag stripe designs will add an extra stylish look to your appearance.
Superstar original, Slip-On Superstar and High tops are three distinct styles of Adidas Superstar.
Superstar shoes generally run true to size.
So you don't have to worry about the fitting. Just measure the length and width of your leg, then buy the accurate size.
Gazelles
The Gazelles possess a unique vibe with its suede nubuck upper layer, genuine rubber outsole and three straps design.
It was first launched in 1966 as a trainer shoe for sportspersons.
Though it was made for use as a training shoe initially, it made huge fans as casual wear for its simple outlook.
They're true to size with moderate cushioning. Sizing doesn't differ for men and women. It possesses unisex sizing.
Gazelles are slightly narrower in the toe region because of their cushion.
So, your toe will not get enough room if you wear them with socks, which may lead to toe pain.
So, I'll suggest to buy a half size bigger if your feet are wider at the toe area or if you wanna use it with the thickest socks.
Which Models of Adidas Run Big?
Have you ever used any shoes bigger than your actual foot size?
If your reply is yes, then how does it feel wearing the bigger shoe?
I know it feels heavier and more troublesome. It seems like the shoe will be removed from your foot while walking.
But if the shoe is slightly bigger, then it's not a big deal. Sometimes, using a little bit larger shoe is comfortable in some cases.
Here, I'll focus on which models run big and what are the benefits of the slightly bigger shoes.
Here're the Adidas models that run big in size:
Ozweego
The lightweight running shoe came into the field of sportswear in 1996.
Ozweego is trendy and stylish. It is equipped with soft suede, mesh and TPU. The outsole is made from rubber hence it is shock absorbing. The midsole is prepared by following the splendid adiPRENE cushioning technology.
Generally, The Ozweego possesses a little bit of a wide structure.
So, it is good enough for professional runners. Because at the time of running, the ligaments become swollen.
And so, runners need enough space for their bloated ligaments. Adidas Ozweego comes with this advantage of extra space.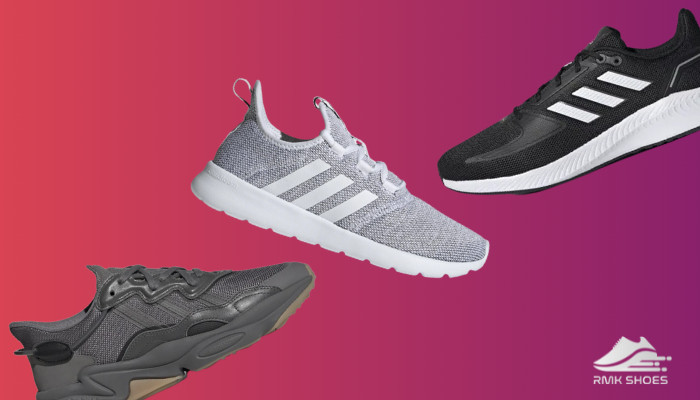 Superstar
Previously, I've said that a superstar is true to size. And now, I've tagged it as a big-size shoe.
So, you must be thinking about why I've included Superstar under the category of big shoe.
Let me clear your doubts!
Many people claimed that the Adidas superstar is nice to wear for people having wide feet. It's just because the shoe is a bit wider at the toe area.
So, you can choose the superstar if you need a little more space in the toe area.
Falcon
Adidas Falcon attracted people with its splendid design in 2018.
It is ideal wear for runners and suitable for a long walk. A wide range of enchanting color options is available for Adidas Falcon.
Mesh upper with a comfortable footbed makes the shoe lightweight. The arch support provided by Adidas falcon is great.
Therefore, it is easy to carry a long hike without any kind of disturbance.
Falcon offers a broad feet area.
So, it is nice to wear for people who are suffering from ligament inflammation and who prefer enough room for easy movement of the toes.
Cloudfoam
Cloudfoam sneakers were particularly designed for athletes.
This sneaker offers seamless comfort and ultra cushion with EVA materials at the midsole.
The upper layer of the Cloudfoam sneaker consists of Leather. The rubber outsole provides sound traction on the surface.
Adidas Cloudfoam is slightly bigger than the typical size.
So, if you're passionate about Adidas Cloudfoam and want a little bit bigger fit, you can make the shoe on your own without any doubt.
Which Models of Adidas Run Small?
Why is it necessary to learn which models run small?
So that you can make a perfect buy for yourself.
If you wear a smaller shoe than your exact fitting it will lead to toe pain, foot ache, plantar fasciitis, toe deformities, Bunions, Hammer toes etc.
Let's focus on the models of Adidas that run small:
Ground Court
The outer design of this sneaker will easily attract you. Most of the people expressed that Adidas Ground Court runs smaller than actual fit.
So, if you wear this one with your actual size, your toe will not get sufficient space, and it will bend inside the tight shoe.
Moreover, pressure on your toe may result in toenail clubbing.
it will lead to discomfort and pain in your foot.
So, the only solution is to choose a half size bigger fit if you like Ground Court shoes.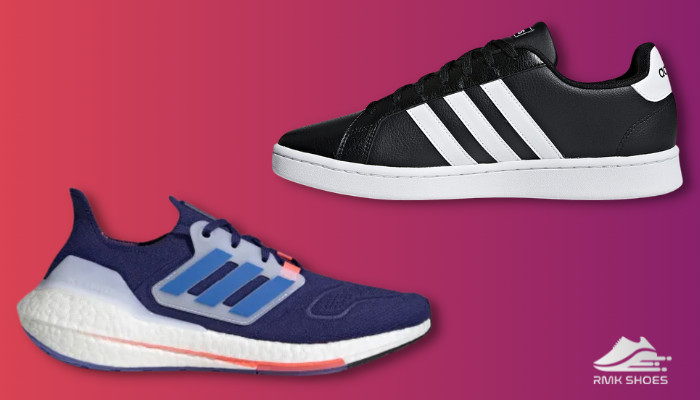 Ultraboost
Ultraboost are true to size. But you will find some Ultraboost versions a little bit smaller.
Ultraboost 1.0 and 2.0 are made a little bit smaller than the original size.
That's why, if you buy exactly the same foot size, You might feel interrupted and discomfort at the time of walking.
You should pick a half size bigger while buying Ultraboost 1.0 and 2.0 shoes.
Do Adidas Run Smaller Than Nike?
Nike, the American sportswear brand, started its journey in 1964. They're not lagging behind Adidas.
At present, Nike is conducting its business and manufacturing in more than 170 countries around the world. Both Adidas and Nike are legends in the footwear industry. They have a wide range of casual shoe collections and sportswear.
But a common query of Adidas and Nike lovers is about their sizing.
In the case of sizing, Adidas runs bigger than Nike. Both the length and width of Adidas are larger than Nike shoes.
I can also say Adidas is true to fit, while Nike is smaller in the typical sense.
Nike shoes offer only US sizes. On the other hand, Adidas offers UK, US, JP and EU sizes.
Size Chart of Adidas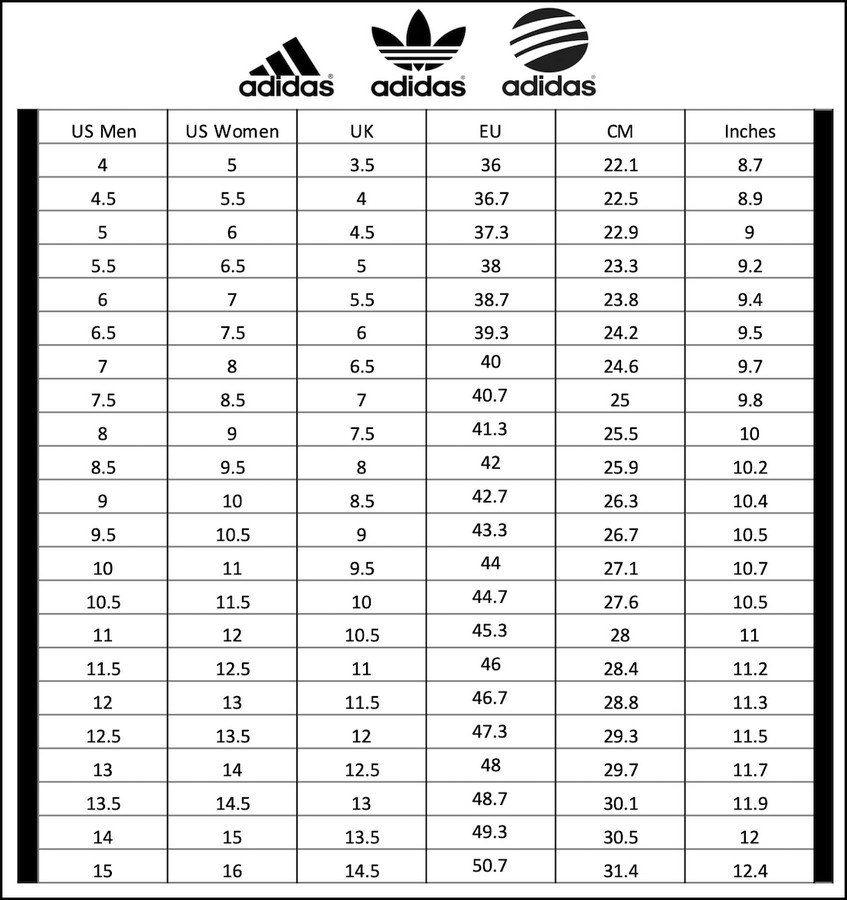 Related content you should read: Adidas Shoes Fitting Guide
How To Know Your Shoe Size?
Until now, I've told you the important facts regarding Adidas shoe sizing. I've covered which shoes run big, which are smaller and which are true to size.
So, now you know about shoe sizing, and you can buy your perfect size.
Pause a little bit, my friend.
How do you pick the right size if you don't know how to measure your shoe size?
I'm here to inform you of the accurate method of measuring your shoe size. So, don't stop and keep scrolling.
Here are some useful methods to measure your shoe size:
Take an inch of tape. Measure the length and width of your feet. You should take help from someone else while measuring the size so that you can get accurate sizing.
Place your feet on plain paper. Draw the shape of your feet with a pencil. Then measure the length and width on the spot.
While measuring or drawing the length of your foot, you should measure from the bottom of the ankle to the longest toe.
Adidas- How The Legend Was Born?
The history behind the foundation of Adidas is quite interesting.
In 1924, Adolf Dassler and his sibling Rudolf Dassler started 'Dassler Brothers Shoe Factory. Things were going well.
Around 1947, there arose a disturbance in the two brothers' relationship. And both of them decided to move in a different way.
So, the journey of the Dassler Brothers shoe factory ended.
Adolf Dassler founded his own company 'Adidas, on 18 August 1949. and on the other hand, Rudolf Dassler started his company, 'PUMA'.
At first, they were just producing running shoes, golf shoes, basketball shoes etc. They were just focused on making sportswear.
Later, Adidas decided to attract its consumers with eye-catchy and comfortable shoes.
There are more than five hundred Adidas factories around the world. They have reached the people of almost sixty countries with their stylish and cozy footwear.
Adidas is strictly focused on dealing with sustainable and eco-friendly materials. They used cotton, TENCEL, liquid polyurethane, recycled enduring rubber, recycled polyester, recycled nylon, thermoplastic PU, and EVA to make their shoes.
Before You Buy: Tips You Should Follow
You already know important information regarding Adidas shoe sizing and ways of measuring your shoe size.
Now, I've some crisp tips for you before you buy. These tips are applicable to the footwear of Adidas and other leading brands.
You should follow these tips if you want the best-suited shoe for yourself.
Here're the tips to follow before spending your valuable money on shoes:
Always try to buy from an authentic outlet. If you prefer online shopping, then be aware of fraud resellers. You should buy from a high-rated and well-reputed marketplace.
Otherwise, fraud sellers will provide you with misinformation about the shoe and its sizing, and your money will be wasted.
If you prefer loose-fitting shoes, go with Adidas shoes, which run bigger.
Orthopedic surgeons strictly forbade wearing tight-fitting shoes, and tight-fitting shoes are the cause of fatal foot disease. So, always try to skip tight shoes.
Check the comfort level, arch support and fitting before making a purchase of your favorite shoe.
Never use the previous measurement for buying a new pair of shoes. The shape of tendons and ligaments varies with time. So, always buy shoes with updated foot measurements.
If your foot is a little bit narrower than ordinary people's foot size, then you should pick a half-size smaller shoe.
You may also like to read: Adidas Pure Boost VS Ultra Boost
Conclusion
Proper fitting of shoes is a must for comfort at the bottom of your leg. That's why I gathered everything you need to know about Adidas shoe sizing.
No one can make you a fool by narrating false information while you've got this authentic sizing guide of Adidas.
So, treat yourself with a pair of the proper size Adidas footwear.
Don't forget to share your thoughts with me in the comment section!