When it comes to a well-made, good quality shoe, it's hard to leave Adidas behind as well as Reebok sneakers.
But, before getting any shoe, knowing the sizing is crucial as it differs due to the material and purpose your shoes going to serve.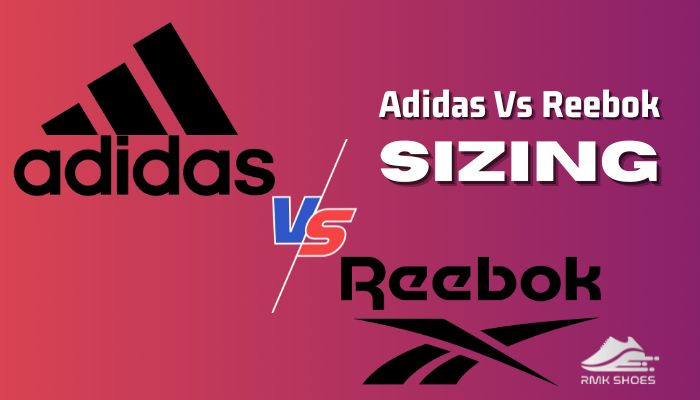 In this context, I will clear your confusion about the sizing issues of Adidas sneakers and compare how their sizes relate to Reebok.
So, stay put.
Adidas Vs Reebok Sizing Guide
Though Reebok was a subsidiary of Adidas, yet their sizing is a bit different. Reebok is almost half a size larger than Adidas. This number varies, thus, men's shoes can be half to a full size larger while women's sneakers are only a half size bigger.
That means you need to go at least a half size down in Reebok than your US Adidas size.
The best way to compare any two shoe models is to check the length in cm. I wear a US 10 Adidas Grand Court(26.4 cm) so I thought Reebok US 10 will be my exact fit, but it was (26.9cm) almost a half size bigger.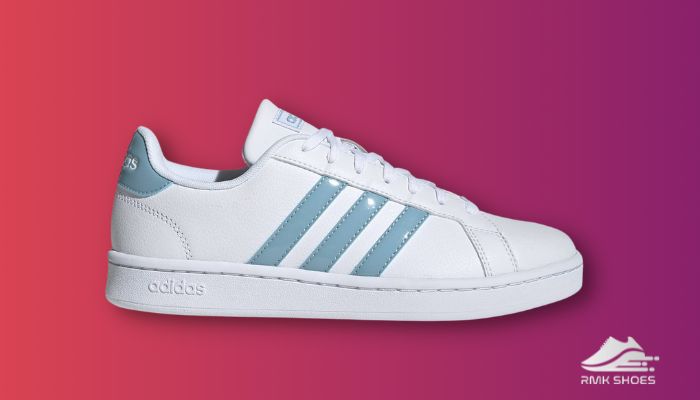 Meanwhile, the Nano X3 light lavender US 9.5 fit me like a glove so, I sized down and so far there are no issues regarding the fit and performance.
Sizing variation is notable in the men's section too. My brother has both models, and his Reebok sneakers are half a size bigger than his Adidas Swift Run 22.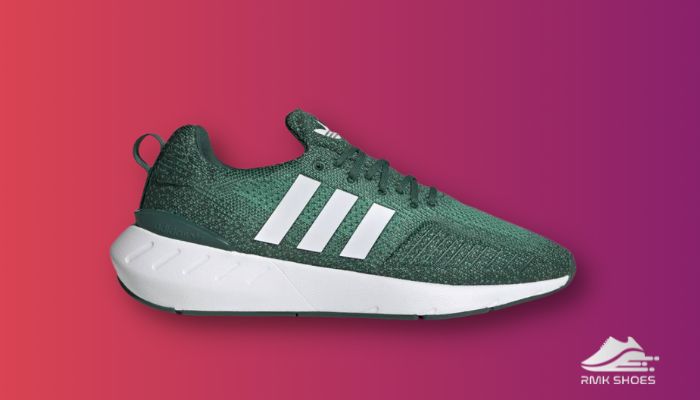 One thing he mentioned, with various designs this sizing difference changes. His colleague has wider feet and also wears the same size as his. But as the model is different, my brother found his colleague's sneakers were loosely fitted.
So, one thing is clear, it's important to know if there is a big difference in half-shoe size.
Reebok and Adidas Men's Size Chart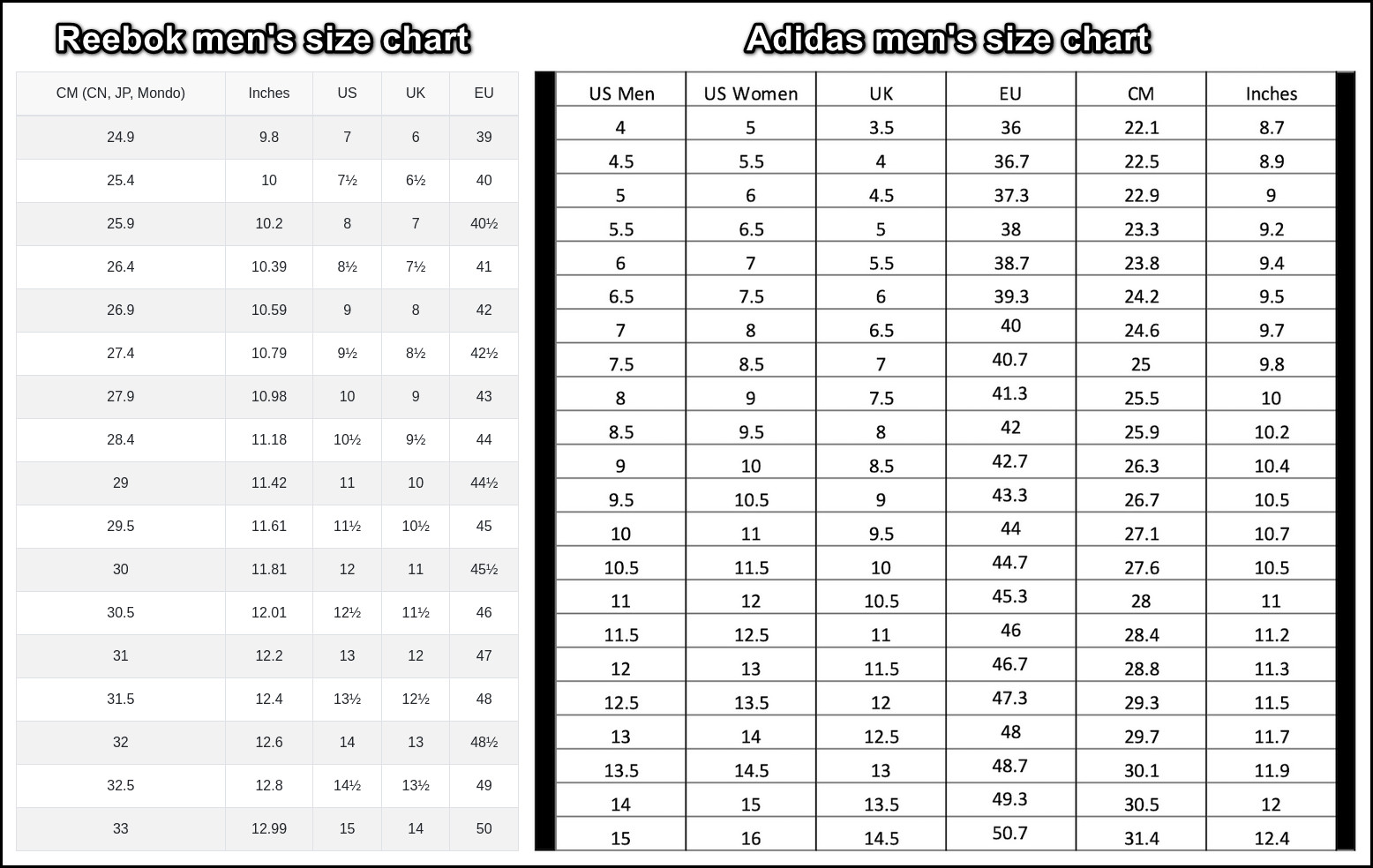 Reebok & Adidas Women's Size Chart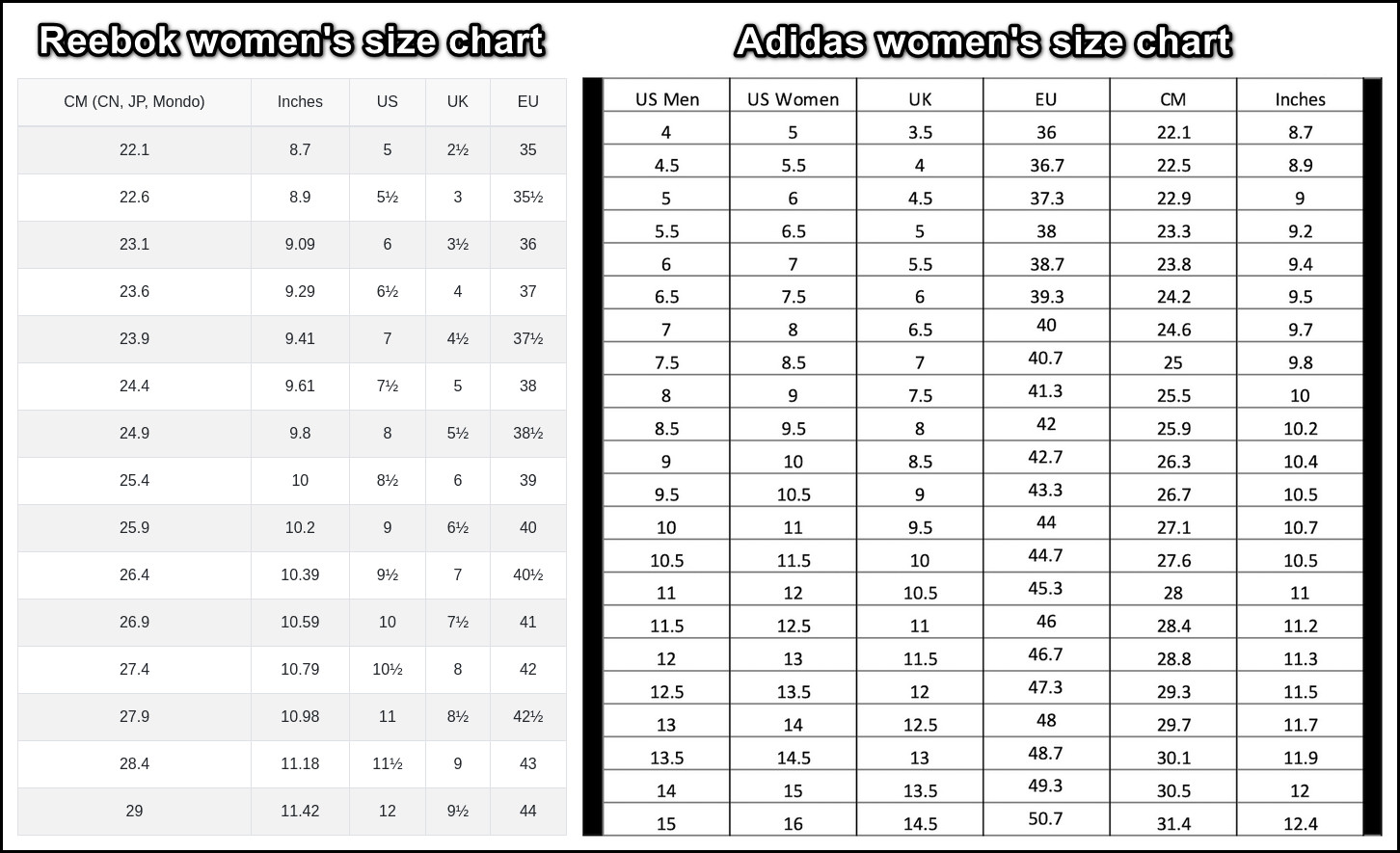 Except for checking the sizing chart, you also need to know the Adidas shoe fitting guide to buy the right size sneaker.
How Does Reebok Fit?
Reebok sneakers fit true to size. But compared to different Adidas models, it can be one to half size larger. This is why to achieve a proper fit, you must try on your shoes, whether you buy them directly from the store or through online delivery.
There are various models Whether it's Reebok Pump, Club C 85, Classics, or Reebok Zig the fitting will be different.
The leather models will be stiff at first, but after a few uses, they will be comfy.
If you prefer loose shoes or have wider feet, Reebok Nano CrossFit with its roomy toe box is ideal for active movements like going to the gym or weight lifting.
Check the details of every pair before buying, as the materials and features vary due to their use. If you don't, you may have to look for ways to make big shoes fit in case your sizing is wrong and there is no returning option.
Is Adidas Good for Wide Feet?
The main reason you need to know the size of your footwear is that they will hug your feet to the right places positively. That being said, not everyone has the same foot shape and size.
Adidas is actually not the best option for wide feet customers.
Most sneakers are narrow-shaped thus these fit quite snugly if you have wide feet. However, 3% of Adidas have wide options along with 1% extra wide. The number is even lower than Sketchers.
So, to get the right pair for your broad feet, buy the wide options such as Adidas Superstar, or go half to one size up.
This is exactly what my friend did, he wears a US 7 and Adidas US 8 fitted him properly. He said the broad midsole his running shoes have, provides his large feet a comfy base to rest on.
Another way to know if a certain boot will serve your wide feet well is to know if they stretch like Timberland boots.
Moreover, popular models Yeezy and NMD can feel unusually tight or loose depending on their category and shoe model.
So be cautious while purchasing your Adidas.
FAQs
Is Reebok Bigger Than Adidas?
Yes, Reebok shoes run a half to a full size larger in the men's section and half size bigger when it comes to women's sneakers.
Are Adidas and Reebok the Same?
No, Adidas and Reebok are not the same anymore. On March 2022, Adidas sold Reebok to the Authentic Brands Group.
Final Words
Only the wearer knows where the shoe pinches. Just like that, without trying on, you can't determine which pair of shoes will fit you.
The same goes for Adidas and Reebok. As they have countless models, their sizing changes. Yet, Reebok sneakers are half to a full size bigger compared to Adidas.
This is all the information about the sizing confusion between Adidas and Reebok.
Thanks for engaging!