Adidas Cloudfoam is a shoe that looks super chic with any outfit and feels comfy like hell. But as a runner, your quest is for a good-looking trendy sneaker that supports you well on the running field, right?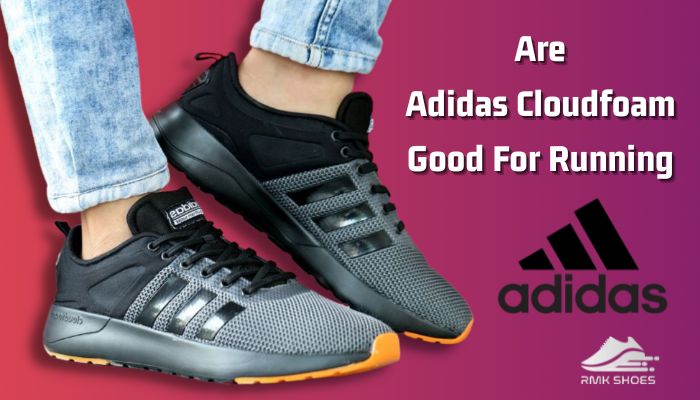 Let's know how good Cloudfoam shoes are for running along with their features, durability, pricing, and all you should know before buying.
Tag along!
Which Kind of Shoe is Adidas Cloudfoam?
Adidas is famous for making sports shoes. Cloudfoam is Adidas' special sports line that was designed for dual-purpose. It provides excellent traction during sports and also can be used as casual wear. The design aesthetic is super cool and supportive during physical work.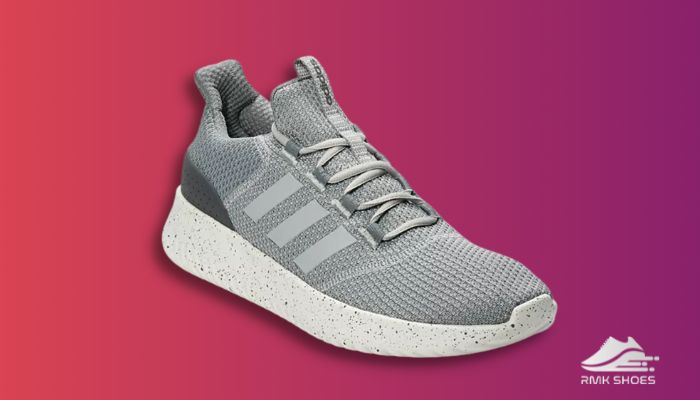 This shoe is made with environment-friendly materials like EVA compound that is rubbery and comfy. Cloudfoam midsole has a supportive arch that provides ultimate support to your feet. For the best result, pair it with Cloudfoam shocks.
Go through our epic guide on why do Russians love Adidas?
Are Adidas Cloudfoam Good For Running?
Yes, Adidas Cloudfoam is dedicated to runners. For making a shoe that provides fashion and support at the same time, Adidas includes ultra-soft cushioning. This stylish sports shoe offers comfort when you walk or run on the pavement.
Let's know which feathers make this shoe special, as in the running shoe world.
4 Features that make Adidas Cloudfoam a running shoe:
1. Soles
A perfect running shoe should be lightweight and soft. Rubber soles have been used as a sports shoe's sole material for a long time because they make the shoe light and provide comfort. The sole of Cloudfoam shoes is made by using EVA technology.
The sole is made with rubber, which makes Cloudfoam shoes very lightweight and soft. The rubber sole has a good grip too, which provides pretty good stability during the walk.
2. Upper Materials
Flexibility is essential for a runner. If the shoes are so stiff, sometimes it hurts the user's legs. Here, Adidas Cloudfoam uses flexible mesh material, which offers maximum flexibility during running.
3. Comfort
Adidas Cloudfoam shoe is very comfortable. As a user, I consider this shoe a comfy beast. When I wear this pair, I feel nothing. I walk a long day effortlessly by wearing these shoes. When I pair it with my Cloudfoam shock, I really feel that I am walking over a cloud.
4. Breathability
The upper body of Cloudfoam is made with a breathable material like mesh and textile. This type of material is more breathable than other materials. I use it regularly during hot summer days for morning jogging. It's so breathable that I got almost sweat-free running for hours long.
So it's clear that a perfect running shoe comes with comfortable, stable, lightweight, and breathable material. And Adidas Cloudfoam has all the quality that makes it a proper running shoe.
Also, related to this guide on how much does it Cost to Make Adidas Shoes.
Pros & Cons of Adidas Cloudfoam
Adidas Cloudfoam is one of the best running & regular day-use shoes that I have used. But nothing is entirely perfect. There are some lacking too. After a long time using the shoe, I am sharing the pros and cons below.
Pros
»

Adidas Cloudfoam is incredibly comfortable.

»

Shoe material is environment-friendly and cruelty-free.

»

The washing process is more accessible than any other shoe.

»

This shoe is not only functional, but also it's so fashionable.

»

The upper portion of the shoe is made with breathable material.

»

It's a very affordable running shoe by Adidas.
Cons
»

The longevity of this shoe is less than other Adidas running shoes.

»

Adidas Cloudfoam tends to run narrow.

»

The tongue is stitched to the sides, which creates difficulties to put on the shoe sometimes.
Besides longevity, this shoe has other qualities that make the shoe Adidas one of the most hyped shoes, and This shoe line deserves the hype.
Are Adidas Cloudfoam Good For Feet?
Yes, Adidas Cloudfoam is good for feet. Because it's super soft and the shoe keeps your feet comfortable and stable on an uneven surface. As Cloudfoam is an Adidas running line shoe, so it's super light that keeps your feet stress-free and the EVA technology midsole provides comfort all day long.
As the shoe's name is cloud foam, so it's really offering foam-like ultra-softness.
And another notable feature I have already said is that Cloudfoam has a good supportive arch, which is very healthy for feet.
The breathable shoe is best for our feet and Cloudfoam has that amazing breathability which also helps to keep away your shoe from bad odor.
So it's obvious that all the features Cloudfoam offers are best for our foot health.
Read more on how to clean Adidas Alphabounce.
Are Adidas Cloudfoam Only For Women?
No, Adidas Cloudfoam has covered both male and female options. But Cloudfoam is basically famous for its women's section. Adidas Cloudfoam women have an extensive collection. Because of its multitasking design, this shoe has a great women's fanbase.
This shoe is the best choice for working women like me.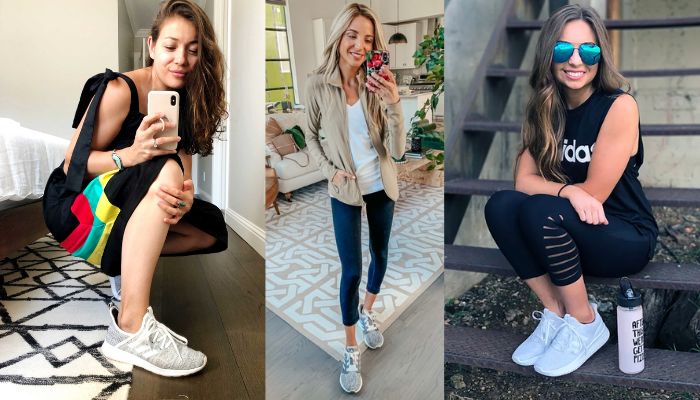 For Cloudfoams women's vast popularity, peoples think that Cloudfoam lines are dedicated only to women.
But that's not right, Cloudfoam is a line of Adidas, and they have both men's and women's versions. Don't think so much, Cloudfoam is really a fantastic pair, grab it fast.
Check out our separate post on are Adidas Superstars good for Skating?
Pricing of Adidas Cloudfoam
The price range of Adidas Cloudfoam starts from $40 to $70. According to this shoe's features and pricing, it's really a good deal. I am much satisfied with its pricing and I will buy another design from this line.
Adidas is a world-famous shoe brand. So most of their famous lines are expensive. Though the Cloudfoam line is one of the most trendy and hyped shoes nowadays, its price is surprisingly lower than others.
If you are eager, you can consider it as there is nothing to lose with this beautiful pair.
Conclusion
After all the discussion about the Adidas Cloudfoam shoe, I can say in one line that it is a good running and working shoe.
You can barely find a perfect shoe in this price range. Its quality, comfort, and design will surprise you with how a shoe can be that perfect!
I can assure you from my user experience—this Adidas Cloudfoam shoe is a must-have shoe for all who are searching for a complete pair for the workplace to track field.
For any queries, leave a comment below.