Facing difficulties finding the perfect size Dan Post boots?
Let me put a full stop to your worries, as I have spent the last few days researching and checking thousands of customer reviews about Dan Post boots sizing.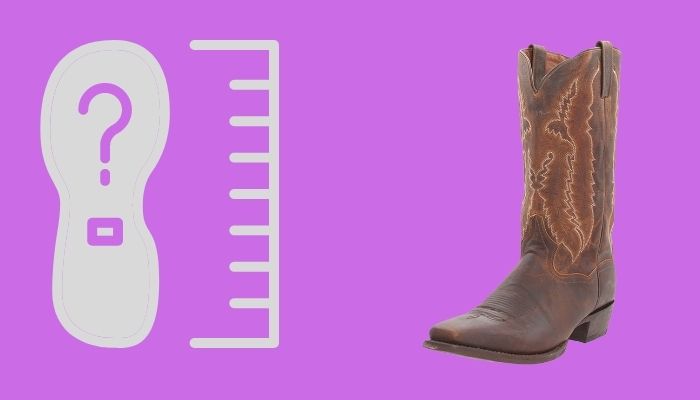 Want a complete guide on Dan Post boots sizing? Then, continue scrolling.
Dan Post Size Chart
While looking for your correct boots size, the size chart plays the most important role.
That's why I have listed the size chart of Dan Post boots for both men and women.
Let's have a look below:
For Men
                       Foot Size(Inches)                  Boot Size
| 8 5/8″    | 4 |
| --- | --- |
| 8 3/4″  | 4.5 |
| 8 15/16″  | 5 |
| 9 1/8″ | 5.5 |
| 9 1/4″ | 6 |
| 9 1/2″  | 6.5 |
| 9 5/8″  | 7 |
| 9 3/4″ | 7.5 |
| 9 15/16″  | 8 |
| 10 1/8″ | 8.5 |
| 10 1/4″ | 9 |
| 10 7/16″ | 9.5 |
| 10 5/8″  | 10 |
| 10 13/16″  | 10.5 |
| 10 7/8″ | 11 |
| 11 1/8″ | 11.5 |
| 11 5/16″  | 12 |
| 11 5/8″  | 13 |
| 12″ | 14 |
| 12 3/16″  | 15 |
For Women
                        Foot Size(Inches)           Boot Size
| | |
| --- | --- |
| 8 3/8″  | 4 |
| 8 1/2″ | 4.5 |
| 8 11/16″ | 5 |
| 8 7/8″  | 5.5 |
| 9″  | 6 |
| 9 3/16″  | 6.5 |
| 9 3/8″  | 7 |
| 9 1/2″  | 7.5 |
| 9 11/16″ | 8 |
| 9 7/8″ | 8.5 |
| 10″  | 9 |
| 10 3/16″  | 9.5 |
| 10 3/8″  | 10 |
Dan Post Boots Sizing Guide
Your feet are an asset and keeping them healthy is your responsibility. Why am I saying this? That's because wearing ill-sized boots will directly affect your feet.
And that's why after scouring the internet for hours, I have come up with a detailed guide reading which will help you purchase the correct size of Dan post boots.
You may also like to read about are Pirarucu Boots Illegal?
So, here are the few tips and tricks that you should follow to get the right fit of Dan Post boots:
First, decide what type of socks you want to wear with the boots. Because the thickness of the socks alters the boot size.
Let me give you a clear understanding.
Suppose, while trialing the Dan Post boots, you wore thin socks and choose the boot's size according to it. But when you wear the same size boots with a pair of thick socks, they won't fit you anymore.
So, pick a specific thickness of socks to achieve the correct fit of Dan Post.
The next question that might pop into your head is, how to choose the correct size from the size chart.
It's as clear as water!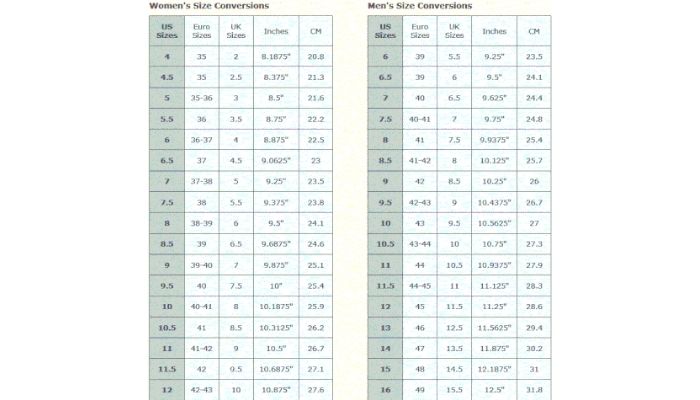 For this, you need to know your feet size first. Don't worry, I have explained the steps of measuring your feet in the later part of the writing.
My foot length is 9 ½'' and I am a woman. According to the size chart, my foot length directs a boot size of 7.5.
But what if your feet size is in between two different numbers in the size chart? No worries, go for the larger size.
Suppose, if your feet length is somewhere between 11 ⅝" and 12", choose 12"(the larger one).
Got it?
Dan Post usually doesn't provide any width chart, that's why below I have stated the general width sizes for both men and women. You can choose according to your feet width.
But before that, go through our epic guide Are Doc Martens Considered Work Boots.
For men
B= Narrow
D= Average to Medium
EE=Wide
For Women
A= Narrow
B= Average to Medium
C=Wide
How To Measure Your Feet In The Right Way?
It is very important to get the accurate length of your feet in order to get the ideal size of boots. You can easily measure your feet at home with some simple tools or you can take help from experts.
So, let's see how you can measure your feet:
Place a piece of paper on the surface of the floor. Avoid carpet, mat, or any textured surface.

Tape down the paper on the floor so that it doesn't move.

Keep your feet straight on the paper. You can do this either by standing or sitting in a chair.

Trace the outline of your feet with a pen/pencil.

With a ruler measure the distance between the longest toe and the heel in inches.

Repeat the same steps with the other foot. Both your feet may have different lengths, choose the larger feet length while selecting your boot size.
Follow our other guide to know How Much Do Work Boots Weigh.
Do Dan Post Boots Run True To Size?
The debate is still going on whether Dan Post boots run true to their size.
Though Dan Post claims all their boots are true to size. But, after going through hundreds of customers' opinions about Dan Post sizing, I cannot agree with their statement.
I always try to provide my readers with legit information so that they don't face any difficulties.
That's why I bought different styles of Dan Post boots from both male and female sections and tried them out myself for a few days.
After many trials and errors, I can conclude that Dan Post Boots are not true to size and run larger.
Choose half an inch smaller than your actual boot size for the perfect fitting.
Do Dan Post Boots Requires Break In Period?
Yes, Dan Post boots require break-in time. Initially, the boot's leather remains very stiff, and the liner of the shaft stays very hard. And that's when your boots need to break in. Wear the boots and walk in them until they mold to your feet' shape.
Dan Post boots are made from premium full-grain leathers that are very uncomfortable to wear as they remain rigid.
However, once you wear them frequently, the leather becomes softer and adapts the shape of your feet.
It may take around 7-10 days for your Dan Post to break in. And trust me, the comfort after the boots break-in is on another level.
Are Dan Post Boots Comfortable?
Yes, Dan Post boots are comfortable to wear. It's because of their immense arch support, roomy toe area, and maximum cushioning. Dan Post incorporated moisture-wicking features in their boot's sole that keep the feet cool and dry in extreme temperatures.
However, the only drawback that makes Dan Post quite uncomfortable is, their boot opening is too small. The small diameter of the boots makes them very difficult to wear for those with large calves.
A customer also stated Dan Post should cover the stitch line of side seams inside the shaft as this pinches a lot.
If these problems are solved, the comfort of Dan Post boots will be unbeatable.
Are Dan Post Boots Long-Lasting?
The materials used in Dan Post boots themselves are very durable. High-quality leather, sturdy outsole, and the touch of best craftsmanship do make the Dan Post boots long-lasting.
However, how frequently you wear the boots also affect the lifespan of the boots. Also, lack of cleaning and not taking care deteriorates the boot's quality.
Not to mention, a group of customers said the soles of Dan Post get holes very easily, the sides get torn and the glue came apart of the heels. Thus, most of the boots ripped apart in 6 months and some even in a few weeks.
Follow our guide to know Why Do Ironworkers Wear Wedge Boots.
Summing Up
Dan Post boots are on the pricier side, so it's better to place your bet in the correct size.
And did I say, Dan Post boots are absolutely gorgeous?
Just remember the sizing guidelines while selecting your boots and rock the floor with this beauty.
Found this article useful? Then, feel free to share your opinion in the comment box.