Are you planning to buy the Doc Martens boots for work but aren't sure whether they will withstand the rigors of the construction site?
Congrats! You have landed on the correct article.
Here, I have talked about all the details of how and why Doc Martens make good work boots.
Let's start with the most important question, are Doc Martens considered work boots?
Yes, Doc Martens are considered work boots since they have almost all the features of a good work boot. Such as, Doc Martens have toe protection, air-cushioned sole, puncture-resistant, welted construction, and verifies all the ASTM safety boot requirements.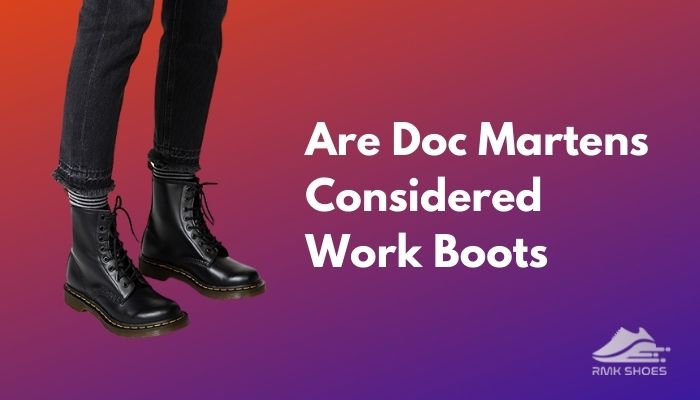 So, let's dig deeper into the writing to learn more about Doc Martens work boots.
Are Doc Martens Good Work Boots?
 Work boots are the best safety gear for people who work in a hazardous environment. For a work boot to be good enough, it needs to have certain features and also the verification of ASTM(American Society for Testing and Materials).
Doc Martens boots are a complete package as work boots. From durability to traction and well-structured to ASTM approved, Doc Martens are a perfect example for good work boots.
Doc Martens boots are puncture-resistant, have a well-cushioned sole, are electrically insulated, and with robust welt construction. All the features are enough to protect your feet from any injuries.
So yeah, Doc Martens boots score a ten on ten for being a good pair of work boots.
Check out our guide on how to Dry Wet Work Boots.
What Type of Work Boots Doc Martens Make?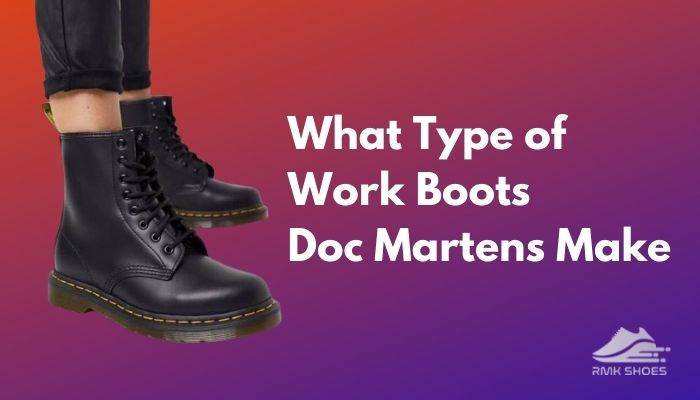 The collection of Doc Martens work boots are enormous. They have a variety of work boots for men, women, and kids. Other than work boots, Doc Martens also design boots that are used in different work fields.
But before that, check out what is a Steel Shank In A Work Boot.
Below I have explained the types of Doc Martens boots along with their feature:
Orthopedic boots: If you have injuries in your lower leg, ankle, or feet or you are searching for boots that will protect your broken bones, then without a doubt, go for the Orthopedic boots of Doc Martens.
Combat boots: Doc Martens has a wide range of combat boots. Their combat boots are well-stitched and air-cushioned, so your feet will be relaxed for a long time. Also, Doc Martens combat boots protect the feet from environmental threats.
Anti-static boots: These boots are great to protect your feet from electrical shock. The electric charges are passed onto the ground, so the chance of electrocution is eliminated.
Work boots: Doc Martens work boots are a must if you want to save your feet from all sorts of threats. The sturdy construction, durability, air-cushioned soles are commendable.
Non-metallic toe boots: Doc Martens has a vast collection of composite toe boots that keeps your feet safe from risky climatic conditions.
Slip-resistant boots: These boots from Docs Martens are designed with a deep tread pattern of rubber soles which offers excellent traction on slippery surfaces.
Also, follow our guide on How Long Do Work Boots Last.
Are Doc Martens Suitable For Work?
Yes, Doc Martens are suitable for work. Since Doc Marten has various types of boots, you can choose the perfect boot according to your work. Doc Martens boots are so comfortable and well constructed that they have gained popularity worldwide.
Doc Martens boots are suitable for work because their soles are air-cushioned, which absorb the force of an impact and let you stand on the boots comfortably all day long.   
Not to mention, soft leather is used to make the Doc Martens boots which not only makes the boots sturdy but also keeps the feet relaxed.
Due to the usage of advanced technology, Doc Martens boots have been the most demanding boots for the work environment. 
Check out our separate post: What Work Boots Are Made In The USA.
Do Doc Martens Count As Safety Boots?
Yes, Doc Martens are counted as safety boots. Doc Martens boots meet all the safety standards of ASTM, which makes them ideal safety boots. Their comfort level, durability, traction, welted construction makes them a perfect combination of safety boots.
Doc Martens boots are specially made with some resistant leather that can withstand even the most strenuous job. They also feature steel toes which protect the feet from compression.
Doc Martens boot's priority is to save the feet from environmental hazards and keep them comfortable so that you can work for a long time.
Are Doc Martens Comfortable for Work? 
Yes, Doc Martens are very comfortable for work once they break-in. Thanks to the air-cushioned sole that molds to the contour of the feet and makes them very comfy. Additionally, they are made with soft and smooth leather with well-stitching. Therefore, there is no chance of chafing.
Once you break in the Doc Martens boots, the comfort level is unmatchable. For breaking in, they typically take around 4-6 weeks.
Doc Martens boots have the perfect amount of space in the toe box to move your toes comfortably.
If you have wide feet, the Doc Martens boots will still be comfortable because they run a size larger. The roomy design and cushioned sole make them an ideal boot for wide feet.
How Long Do Doc Martens Last? 
Doc Martens can last up to two decades if properly cared for. Doc Martens are built to resist wear and tear. The Docs' overall construction, which includes premium leather and sturdy insoles, boosts their lifetime. However, if you don't maintain your Doc Martens, they will hardly last a year.
To make your Doc Martens boots long-lasting, you have to take proper care of them. For this, always clean your boots after every use. This will prevent the build-up of dirt. After cleaning, apply a leather conditioner to keep the boots moisturized and supple.
Are Doc Martens Work Boots Waterproof?
Doc Martens work boots are not waterproof; instead, they are water-resistant. You can walk through drizzle in your Doc martens, but walking through rivers will wet your feet and damage the leather. How much water-resistant your Docs are, depends on the material of the boots.
For a pair of boots to be waterproof, they need to have a breathable membrane built in the material itself. Unfortunately, Docs doesn't have one for which they are not waterproof.
Are Doc Martens Work Boots Good For Standing All Day?
Yes, Doc Martens work boots are good for standing all day. They are designed with a plush cushioned insole, springy outsole to improve the arch support and lets you stand on the boots all day long. Docs take longer to break in; once they break in, their comfort level is unbeatable.
Doc Martens boots are made with tough leather; initially, they will hurt your feet. But once the leather gets softer, the pain fades away and makes the boot so comfy that you can efficiently work for hours in them.
Are Doc Martens Good for Your Feet?
Yes. Doc Martens are good for your feet as they are designed with "AirWair." This built pattern keeps the feet supportive and comfortable in long-distance walking. After the break-in period that can take up to 4-6 weeks, the smooth leather mold to the contour of the feet ensures outstanding comfort.
Doc Martens were initially made for therapeutic wear. This original concept has been transferred to their current style, where comfort is the utmost priority in their design.
Docs are a savior to people who stand for prolonged hours on their feet. They are healthy for the feet because of the immense support and comfort they provide throughout the day.
Wrap Up!
No doubt, Doc Martens work boots are a worthy investment to your feet. Their comfort, durability, and traction are indeed matchless!
If you haven't tried the Doc Marten work boots yet, please give them a go. I can assure, you will become a fan of Docs.
Found this article helpful? If yes, then don't forget to share your opinion in the comment area.