Pirarucu boots are the ideal option for you if you're seeking unique, expensive boots that will stick out in any crowd. Exotic cowboy boots are very popular in American heritage and pirarucu boots are exceptional.
Pirarucu is famous for their size and looks, it's the largest fish in the Amazon river. This fish is remarkable for their diamond shaped fish scale.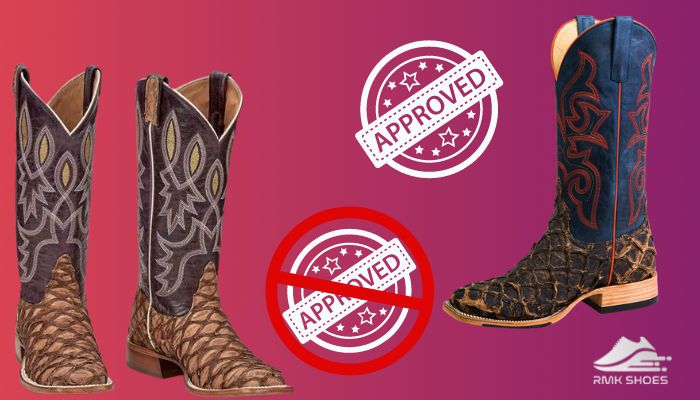 Considering how rare and expensive pirarucu fish leather is, it might be a little delicate.
However, are pirarucu boots Illegal? If you are looking for the answer then I must say you have come to the right place. As I discovered after spending 8 hours online.
If you want all of your questions to be answered then read till the end..
What are Pirarucu Boots?
The famous pirarucu boots are made by using the pirarucu fish skin. The Pirarucu fish, which is found in South American lakes and rivers throughout the Amazon, is used to make Pirarucu boots.
Adult pirarucus are unable to breathe underwater. They need a surface to breathe like whales. They perform it every five to fifteen minutes. When they are out of the water, the fisherman catches them easily.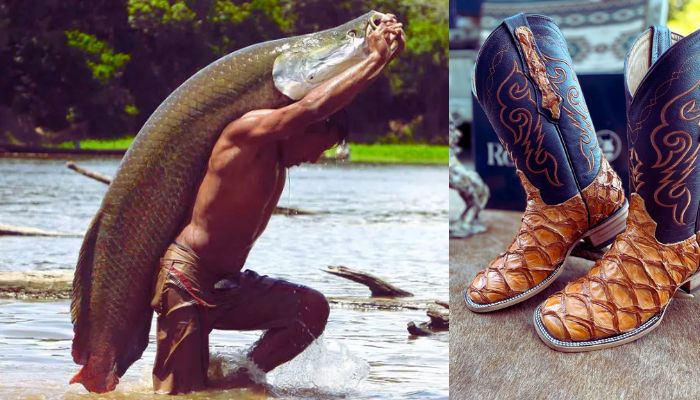 Pirarucu boots have a stunning design and a classic appearance. They have a full grain leather upper and a Pirarucu leather foot.
Rubber covers the majority of the foot and heel of this hybrid boots sole, while Pirarucu leather covers the toe and borders.
They have Pirarucu leather overlays on the pull tabs and western stitching along the upper.
Because of their different characteristic scales, which are made up of two layers, Pirarucu or Arapaima leather boots are among the best-looking and most luxurious cowboy boots.
While the shield-like outer layer contributes to durability and toughness, the soft inner layer offers comfort and absorption.
It charges extra from other cowboy boots for their exceptional looks and durability.
Are Pirarucu Boots Illegal?
The sale of pirarucu leather is not illegal in the US.  Brazil has some restrictions on pirarucu fish harvesting and pirarucu skin is frequently used by boot makers.
The rumour that pirarucu boots are forbidden in the US is unreal.
The largest freshwater fish in the Amazon River basin has different shaped scales that give it a distinctive appearance.
These boots are popular due to their comfort and chic appearance. Additionally, the scales come in a range of hues because they can be colored.
Brazil has some regulations on pirarucu fish harvesting. Pirarucu skin is frequently used by boot makers. The idea that pirarucu boots are forbidden is not true.
Pirarucu leather is extremely difficult to produce and also quite uncommon. Thus it makes sense that pirarucu skin cowboy boots are among the most expensive.
This illegal statement came when the US banned the Pangolin skin boots. But after that incident Pirarucu fish became a more demanding fish.
However, Pirarucu or arapaima are being harvested dangerously, which could probably result in their elimination.
For those reasons, some people think that boots should also be banned. Brazilians follow some rules to produce the fish leather and give their best to increase its durability.
Why are people mixing up Pirarucu with Pangolin Leather?
You may be thinking why i'm talking about the pangolin leather in these article but you have to know the whole story to understand that rumours.
If you find some exotic leather boots and find an exceptional ones then you know about the famous pangolin cowboy boots. These boots are remarkable for their different and unique look.
Pangolins have the diamond shaped scale which is best for shoe leather. When the demand for pangolin leather increases, the native mammal is brutally hunted. Every year 2 million of pangolins are killed for their skin.
After their drastic change and demand, the United States banned the whole pangolin leather in 2000. But the black market doesn't stop so easily, so the law is more strict for pangolin leather.
And the misconception starts from here. Pirarucu or Arapaima leather is quite similar to pangolin leather. It also offers the diamond shaped scale for that reason some people are confused between pirarucu and pangolin boots.
However, the largest Brazilian Piraruku fish skin is not illegal. It is also expensive like pangolin leather.
The demand for iconic diamond shaped leather is fulfilled by the arapaima fish leather. Instead of pangolin leather, producers have recently started hunting for that pirarucu fish.
What types of Leather are Illegal in the United States?
The US is constantly on the lookout for products like bags, belts, and shoes made with forbidden and restricted materials.
It is not surprising that some illegal exotic leathers have entered the United States. Some creatures are at increased risk of extinction due to the ongoing high demand.
The expensive leathers and boots that are prohibited in some states are listed in the following brief list.
Sea Turtle
Sea turtles seldom survive to adulthood, Due to their late maturation and slow growth. Just 1% of the young survive to adulthood. So reproductive sea turtles are more leading in the ecosystem.
For their rare skin and shel the sea turtle is famous. If you talk about the exotic boots, the leather sea turtle's skin and shell is the best material for those.
But after their frequent use, the sea turtle's existence is in danger, so the US totally bans turtle leather.
According to recent improvements, the US strictly follows that law.
Pangolin
Pangolins have a rare skin type which is different and remarkable. Shoe manufacturers use the diamond shaped, rough, horny scale for making premium leather boots.
After the revolution of Pangolin leather the black market produced that leather in an illegal way. Pangolin leather is used to make protected shoes and cowboy boots.
Pangolin leather is used for handbags, belts, purses. Pangolins are found in Asia and Africa, but the trade of pangolin leather is famous in worldwide.
But US states banned that leather to protect that crucial anemia.
Kangaroo
Kangaroo is only found in Australia and their nearest island. These indigenous animals are famous for their meat and skin in black market.
The United States strictly forbade illegal hunting and California banned all their products.
Wild Elephant
Elephant leather is the most valuable leather used for boots.
While you talk about the cowboy which is made of elephant skin, it's not actually illegal. But when producers are hunting for making the leather that's actually quite rude.
After that US states strict the law in International Trade of Endangered Species.
If you want to buy something which is made of elephant leather you have to find an authentic imported company.
Is Pirarucu Leather Durable?
Pirarucu is the biggest freshwater fish which is 2 meter long and 220 pound. The name of a redfish that means Pirarucu probably refers to the red dots near its tail. It's not an ordinary fish, it is different in appearance and size.
Pirarucu offers an extraordinary scale with their durability and flexibility. After the US banned the pangolin leather, Arapaima fish skin is the most expensive and demandable one.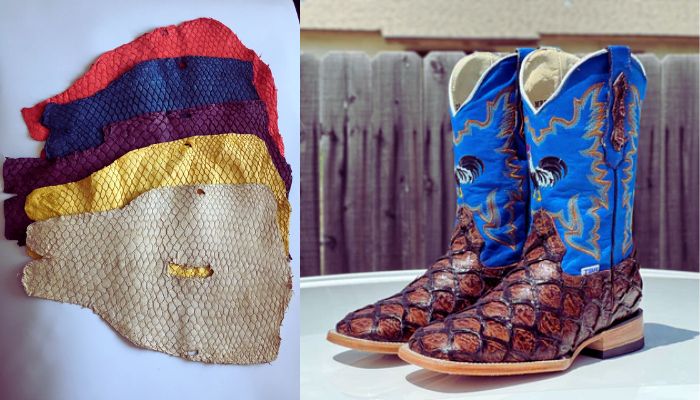 The makers of pirarucu leather claim its a eco friendly leather with long lasting features. After producing the pirarucu leather bags and jacket they decided to produce cowboy boots.
The manufacturers claim its durability and flexibility is better than the cow's skin. Pirarucu fish skin is much lighter than any other original leather, for this reason it's comfortable to use.
Pirarucu skin is so robust and comfortable. These boots are made with traditional patchwork rubber and neoprene. Pirarucu leather is only used on the top of the footbed or body.
Arapaima scale is generally two layered skin which is natural armor for them. That's the reason behind their life long durability. But you must keep them moisturized for long lasting leather.
As one of the most precious materials, pirarucu is exceptional.
Should You Purchase Pirarucu Boots?
Pirarucu leather is quite expensive. Whatever you spend will be far more than what you would pay for a typical leather footwear.
I'm rather certain that my preferred footwear style won't go with yours.There are several different styles of pirarucu boots you may purchase, including traditional and western.
Additionally, there are many designs, types of heels, toe shapes, and so forth.
These boots are for you if you want quality, comfort, style, and maybe some conversation.
If you think these boots are made by the fish scale so it might be waterproof it's totally wrong. You have to take extra care of your pirarucu boots, keep them dry anyhow.
However, if you want a exotic and different look you should buy a pair of pirarucu boots.
Pirarucu boots are very lightweight and easy to carry for your destination so you wear them easily everywhere.
These boots are not illegal to buy or use but for their leather the pirarucu fish is still framed by the leather manufacturer.
So you have to decide sincerely what you want and what you should do.
Why are Pirarucu Boots so Expensive?
If you love to wear cowboy boots then you know about the famous Pirarucu boots. Pirarucu or Arapaima fish is the largest fish in south amazon.
It is also renowned for their high price; everyone can't afford the boots. For their excessive price the manufacturer collects the scale from the local fisherman by paying little amount of money.
Pirarucu Boots is expensive for these reasons:
These boots are fully handmade with their exotic looks.
It uses full grain and Premium Pirarucu leather.
Rich Brown finished color enhances looks.
Traditional Embroidery on the upper sole and Marfa Cording.
Expensive leather outsole with rubber up heel.
Shipping cost to Collect from the Amazon river in South America.
Final Verdict
Are Pirarucu boots illegal? No, After a long conversation you know that the pirarucu boots are not illegal, it's a rumor.
If you want exceptional and exotic leather boots then pirarucu is the best choice. Although the pirarucu's current situation is not as bad as the pangolin.
This fact will not protect the fish from further dangers in the future. Maybe as a result of the drastic demand of exotic leather trade, pirarucu fish are in danger.
It's getting more demand in the leather market day by day after pangolin leather was banned.
I think this article will help you to make an appropriate decision.
If you want to know more please, Let me know in the comment section.