To survive in the monsoon, a pair of Hunter boots is more or less all of our coveted footwear.
Its sleek appearance with a matte or glossy finish inspires people to grab a set at any cost. However, the price range of this boot is pretty expensive i.e. original tall boots retail for $120 to $295.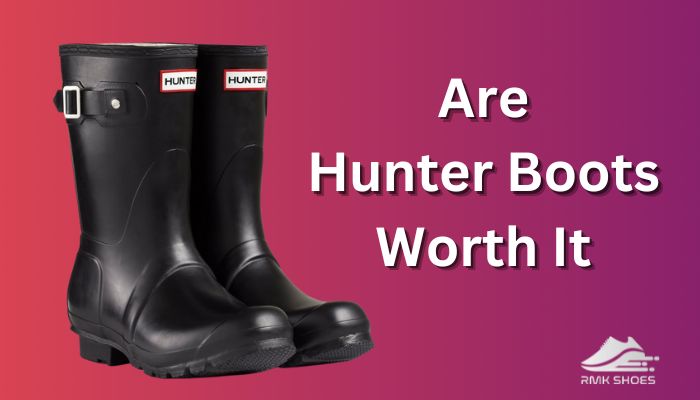 Prior to investing, you must know if the Hunter boots are worth such a price or not.
So stay tuned & get the answer to this query.
Are Hunter Boots Worth the Price?
Absolutely, Hunter boots which are rich in history and quality are worth the extravagant price. I know that you expect more details and explanations for this answer.
Thus, I will present arguments for my opinion by describing the answers to some small yet important questions.
Let's start with the first one –
What Are Hunter Boots Made of?
Hunter boots are handcrafted with premium quality natural rubber. Vietnam, Indonesia, and Thailand are the main source of this shoe material.
During the processing, the manufacturers vulcanized the natural rubber for superior protection such as waterproofing and durability. This kind of Wellington boots which are completely free from any animal-derived ingredients are usually vegan-certified.
But some boots have insulated leather on the upper and polished leather-made curved tops to tone up the style, therefore, they are non-vegan.
Are Hunters Comfortable to Walk in?
Yes, Hunter boots provide utilitarian comfort for walking around no matter how the terrain is. To make the shoes comfier, the manufacturers use polyester insole, Ortholite footbed, antibacterial fabric lining, and padded collars.
Hence, even the army officers of Cavalry regiments also pair up with this boot as they get adequate support and comfort here.
There are also negative sides associated with walking in this boot.
Being made of rubber, you cannot avoid the chance of getting blisters. So, it's recommended to always wear socks with these rain boots.
Doing this will prevent the skin from rubbing on the heel, bottom, and toe areas. On top of that, it will simplify putting off the shoes. Wearing socks is also favorable on rainy workdays.
Because there's no scope of getting wet in this waterproof pair, but squeaky sounds may occur. Thus, it's better to learn how to stop rubber rain boots from squeaking.
Moreover, Hunter's cushion and support are not meant for long periods of walking. This boot is inappropriate for foot issues like plantar fasciitis, hammertoes, bunions, etc but it suits well to normal feet.
Are Hunter Boots True to Size?
Generally, runs true to size for most editions. Yet Hunter boots sizing varies as per the model in some phases.
For example, men's original tall boots are true to size and offer a regular fit. On the other hand, Commando Chelsea Boots provide a slim fit. Insulated Short Snow Boots and Ankle Boots run smaller.
Hence, it is suggested to size up when you are in-between sizes or want to cover your feet with thick socks. Additionally, you have the option to choose a fit that suits your calf width.
Half sizes are unavailable in the Wellies collection. So, if you're in between sizes, take the smaller one for Original and Field styles. And in the case of Refined versions, go for a size up i.e regular wearer of size 7.5 should pick 8 in the Refined boot.
Some styles like the Balmoral Adjustable 3mm Neoprene Rain Boots have removable molded insoles and adjustable gussets to customize the fit.
But you won't get this advantage in all boots, so selecting the exact size is always suggested.
How Long Does Hunter Boots Last?
Hunter boots easily last up to 4 years depending on your usage and maintenance. Its rubber compound is sustainable enough to tackle challenging environments such as muddy roads, slippery terrains, and rockery surfaces.
The material is also waterproof, so you can fearlessly wear them in any season. As Ugg boots get ruined in the rain, this is not the case with Hunters.
Hunter applies 2 years of warranty on most of their footwear items. Their shoes are long lasting so they have the confidence to offer this long warranty. But make sure to buy from an authorized stockist to enjoy this benefit.
You may panic seeing the white powdery film (known as blooming) on your boots. But no worries as it is a common thing for rubber materials.
If necessary, use boot care kits to remove the noticeable blooms. Though some users claim the old Scottish-made Hunter boots never crack or Bloom.
Are Hunter Boots Good for Snow?
Yes, Hunter boots that come with insulation are really good for snow. For example, I am sharing my experience with the Insulated Short Snow Boots that I bought last winter.
This nylon upper build footwear splendidly performs in frosty temperatures, even below -20°C. This advantage comes from the insulated fleece lining at the interior and drawstring toplines, which work to retain warmth in extremely cold weather.
The set is waterproof and contains multi-patterned tread for excellent traction on the ice.
The only downside of this shoe is its width. Unfortunately, you won't be able to enjoy these snow boots' features if you have wide feet. Because its toe box does not accommodate wide feet.
So, the findings include – although the support in this rubber rainboot is a bit low but if you consider the material, comfort, durability, and performance, Hunter boots are undoubtedly worth the money.
Hunter Boots: Pros and Cons
When buying any product, if you have a clear idea about its pros and cons, then it is easier to decide whether to buy that thing or just leave it. That's why, the positive and negative sides of Hunter boots are mentioned below.
Here are the pros and cons of Hunter boots:
Pros
»

Sustainable materials.

»

Meticulously handcrafted.

»

Comfortable interior.

»

The rubber outsole has a good grip.

»

Contains Hydroguard Waterproof membrane.

»

Snow-suitable & vegan designs are available.

»

Durable for up to 5-6 years if properly handled.
Cons
»

Somewhat heavier.

»

All aren't true to size.

»

Lack of arch and heel support.

»

Not a good choice for miles of walking.

»

Encourages wearing socks to avoid blisters.

»

Sometimes peeling and blooming are seen.
FAQs
Can You Wear Hunter Boots Every Day?
Yes, you can daily wear Hunter boots during the rainy season and in shivering cold. Pairing with them delivers an elegant and bold outlook.
Can You Walk Long Distances in Hunter Boots?
No, it's better to skip Hunter boots for long distances walking. Because they are comfortable but top-notch support is missing in this set.
Why Are Hunter Boots Called Wellies?
Hunter boots are known as Wellies or Wellington boots because the boot was made according to the instruction of the first Duke of Wellington, Arthur Wellesley. He demanded a mid-calf boot ideal for a warm climate and good-looking in social gatherings.
Before You Go
By the end of this article, you must have realized that Hunter is worth the hefty price tag. So if you can afford it, add this item to your closet.
This can be your best friend in the wintry weather or in rainy times. Even if you want to go on an excursion at this time, don't forget to take a pair of wellies.
For any additional queries, reach out in the comment section below.
Have a nice day!