What could be better than a pair of Hunter boots that will give protection to your feet from inclement weather! Well, Hunter has been providing a knee-length water-resistant rubber boot since 1856, with a vast range of colors and designs.
Nevertheless, getting a pair of Hunter boots that fit like a glove is a hard nut to crack. Due to improper knowledge about Hunter boots sizing, people tend to invest both time and money in the wrong pair of boots.
I can assure you this article will be worth reading because it contains all the guidelines that will give you a clear idea of Hunter boots sizing.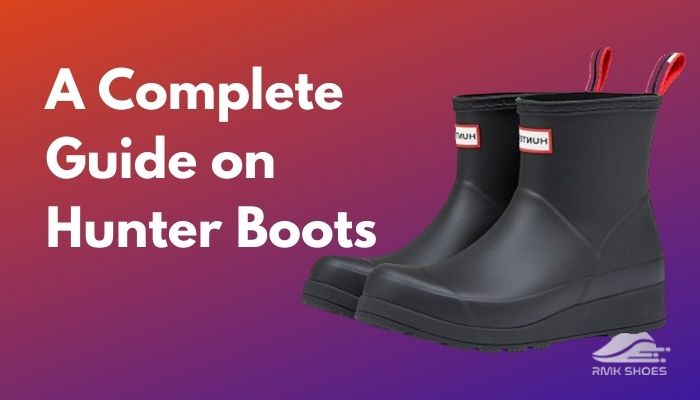 This article is a package of:
Sizing chart of Hunter boots
The proper way of measuring your feet
Fitting of different styles of Hunter boots
Suggestion for perfect sizing
Fitting of children's boots
Hunter Boots Sizing Guide
Hunter boots have a wide range of collections, starting from toddlers to males and females. With varying designs, the Hunter boot changes, like the size for Refined slim boots, will not be the same for tall boots. Other factors like, if your boot size is small, then the shaft size will also be smaller and vice-versa.
Hunter provides a boot sizing chart on their website, which includes the US, UK, EU, and JP sizes, so whichever country's boot size you are used to wearing can choose that size. It also provides the size of the insole, calf area, and the height of the leg. There are also sizes for a wide fit; you can check that too if you have a broad foot.
Here are the boots sizes that measure in inches:
| US Size | Uk Size | EU Size | JP Size | Insole | Max Calf Area | Leg Height |
| --- | --- | --- | --- | --- | --- | --- |
| 5 | 3 | 36 | 22 | 9.1 | 14.4 | 14.8 |
| 6 | 4 | 37 | 23 | 9.6 | 14.3 | 14.8 |
| 7 | 5 | 38 | 24 | 9.9 | 14.9 | 14.8 |
| 8 | 6 | 39 | 25 | 10.0 | 15.2 | 15.9 |
| 9 | 7 | 40/41 | 26 | 10.6 | 15.5 | 15.9 |
| 10 | 8 | 42 | 27 | 10.8 | 15.8 | 15.9 |
| 11 | 9 | 43 | 28 | 11.2 | 16.1 | 15.9 |
Here are the boot sizes that measure in cm:
| US Size | Uk Size | EU Size | JP Size | Insole | Max Calf Area | Leg Height |
| --- | --- | --- | --- | --- | --- | --- |
| 5 | 3 | 36 | 22 | 23.2 | 36.5 | 37.5 |
| 6 | 4 | 37 | 23 | 24.3 | 36.3 | 37.5 |
| 7 | 5 | 38 | 24 | 25.2 | 37.8 | 37.5 |
| 8 | 6 | 39 | 25 | 25.5 | 38.6 | 40.5 |
| 9 | 7 | 40/41 | 26 | 26.8 | 39.4 | 40.5 |
| 10 | 8 | 42 | 27 | 27.5 | 40.2 | 40.5 |
| 11 | 9 | 43 | 28 | 28.5 | 40.1 | 40.5 |
As I said earlier, the size of the boots varies with design. Make sure you check the product's details before purchasing it.
Also read, Do Hunter Rain Boots Run Big.
Measure Your Feet At Home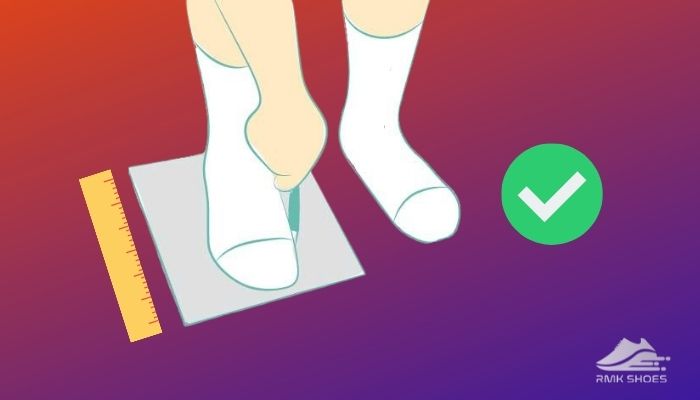 Place your foot on a piece of paper leaning your heel against the wall; make sure you put the sheet on an even surface.
Trace the area where the longest part of your feet is (most of the time, it is the longest toe) on the paper with a pen. You can ask a friend or your sibling to do this for you.
From your heel's backside to your most extended toe, measure the length in cm or inches using a ruler. For males, add 8mm, and for females, add 6mm to the measured value; this will ensure that your feet have enough room for movement.
The extra added millimeter to the measured value is the length of the insole.
Repeat the same process with the other foot. Both foot sizes may vary slightly.
There you go, you have measured your feet successfully. Now match your feet size to the sizing chart and get your perfect fit of Hunter boots.
You may also like to read: Do Crocs Come In Half Sizes.
Perfect Fitting For Best Designs Of Hunter Boots
Hunter boots come in different styles, like- tall knee-length rain boots, short gloss boots, Chelsea boots, and many more. All of the boot's fitting vary from each other. Also, each boot is designed for specific feet size or height.
Some of the different style of boots and how they fit is discussed briefly below: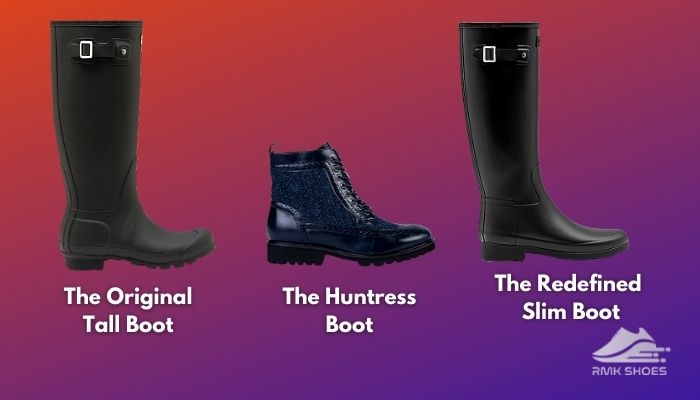 The Original Tall Boot
This knee-length boot is very much snug; the insoles' space allows room for wearing thick socks. The tall boots are specially designed for people with less or average height. The shaft's size is 15.9 inches, and the calf has a maximum measurement of 15.2 inches.
The Huntress Boot
For people with broad ankles, this boot style is the best. The huntress boot has a loosened fit with a short shaft and wide leg.
The Redefined Slim Boot
This boot is for slimmer legs with a measurement of 15.2 inches of the shaft and 14.2 inches of calf measurement.
Guidelines To Get Ideal Size Of Hunter Boots
Hunter boots offer only whole sizes, so if you are in-between size, try to choose a half-size down. For example, if you are a size 9.5, you should go for size 9. As Hunter boots are heavy, it is better to get half size down rather than big. But if you wear thick socks with the shoes, you should go up a size.
Wear socks with your Hunter boots. Socks make sure your feet are in place, giving you a secure fitting.
Your boots should not slide easily into the boot; if it does you have to understand you have bought big boots.
Also, drawing your foot out of the boot should take a slight pressure.
Don't put extra pressure while putting the boots on.
Make sure there is space around your toes for movement. If the boot is too tight, you will end up having blisters.
Try to measure your feet in the afternoon, because our feet size changes slightly along with the daylight. Our feet tend to swell in the day, and in the evening or at night, our feet are at the largest size. The best time is in the afternoon to take a foot measurement.
Every time you purchase new shoes, take unique measurements of your feet. Don't use the previous measure because our feet' ligaments and tendons tend to slack a bit over time, resulting in longer and wider feet.
When measuring your feet size, try to be as accurate as possible. Because if there is any up and down in the inches, you will get the wrong size shoes. So it's better to measure at least 2-3 times.
Hunter boots do not stretch over-time. So if you are thinking to buy small size boots will stretch over time and loosen up, you are wrong.
Before buying Hunter boots, keep all these tips in mind; I can guarantee you will get your perfect sizing boots.
Fitting For Children's Hunter Boot
Hunter boots have vast collections for adults, but they have a variety of designs and different color boots for children.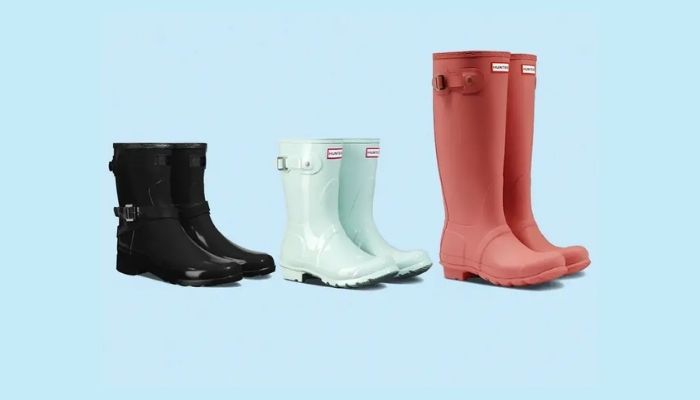 The sizing chart for children is like- from size 5 through to extent two are for toddlers, from size 8 through to size 12 are for small kids and from size 13 through to size five are for older kids.
With variation in boot design, the size varies, so check the individual boot's calf and height size before buying.
Frequently Asking Questions
Do Hunter boots run big or small?
Hunter boots claim most of their shoes run pretty much true to size, whether you wear them with thin or thick socks. But sometimes you might find the calf might be small while the insole fits perfectly. Hunter also recommends if you are in-between size, you should go a half size down.
For more details about Hunter boot sizing, check the link that I have mentioned earlier. You will find the US, UK, EU, and JP sizes; you can choose any of your desired one.
Should Hunter's boots be tight or loose?
As boots don't come with laces, proper fitting is all about the instep. Boots should not be too tight or too loose; rather, it should be snug and comfortable. Go for a more comprehensive or bigger size if the instep is way too compact. And if the instep is too slack, the boot will slide too much, which means that you need boots that are tapered or smaller in size.
How do you make Hunter boots wider?
Hunter boots do not stretch over-time like any other boots, but there are some techniques by which you can extend your Hunter boots slightly. First, tart wearing and walking on your boots daily; what it will do is change the boot's shape slightly. Take a bag of water and put it inside the shoes and keep them in the freezer. Freezing expands the water and forces the boots to hold the shape and stretch. Spraying shoe stretching liquid on your boots will help it to alter the shape of your foot. Cobbler to the rescue. Take your shoes to the cobbler; as they are professional, they can correctly stretch your Hunter boots.
Conclusion
Hunter boots are the ultimate safety gear that will protect your feet from rain, mud, snow, and so on. For its classic designs and eye-catching colors, everyone likes Hunter boots the most. You can wear them for your feet protection and match with any of your skirts or pant and still look trendy.
Hunter boots have a wide range of sizes for adults and kids. Now that you know how to get your exact boot sizing, choose any of your desired style of Hunter boots and keep your feet wet and dirt-free.
This article contains all the necessary information that will help you to achieve your exact boot fitting. We are eager to know your opinion about our writing and how it helped you get your desired Hunter boots. We love to know our reader's thoughts.