Have you ever looked at a pair of beautiful Hunter boots and tried them on only to realize that you were unsure about the size you wanted to buy?
Well, you are not the only one. 
Since Hunter boots only come in whole sizes, choosing the perfect size can be somewhat confusing.
So, Do they run small? How should you decide the size?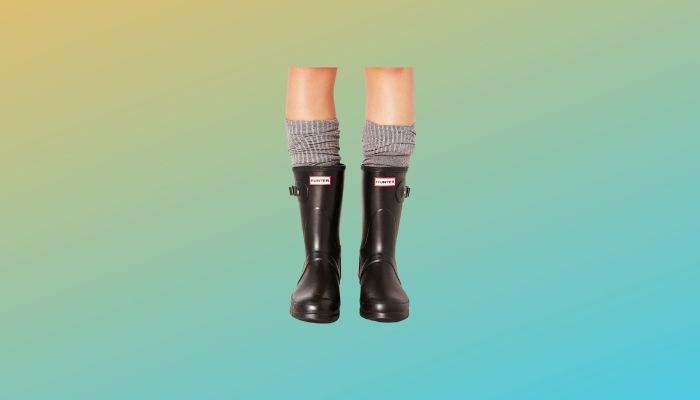 Do Hunter rain boots run big?
Yes, in my opinion, Hunter rain boots do run big. Hunter rain boots are only available in whole sizes such as 6, 7, and such; intermediate sizes are not available. If your size is in between the integers, you might want to go half a size smaller, so if you wear size 8.5, you should opt for size 8.
You might ask why it is better to buy half a size smaller or if buying hunter rain boots is worth it at all.
Don't worry. All you have to do is keep reading as I answer all your questions regarding Hunter's rain boots. So, read till the end.
How To Choose The Size Of Your Hunter Rain Boots?
Selecting the correct size when it comes to hunter rain boots may be a bit tricky considering the fact that they are only made in whole sizes.
As a general guide, I would suggest that you go half a size down when purchasing a pair of hunter boots. This means, if you usually wear size 7.5, I would recommend you buy a pair that's size 7.
This is because since the boots are already quite chunky, wearing a bigger size might feel uncomfortable. 
Moreover, wearing a bigger size may look too big. Instead, opting for the nearest downsize is a better option since it will provide a better, snug fit.
Also, once you start wearing them frequently, they will break in, like all other rubber boots. So, then the fit might be even more comfortable.
To make things easier, you can visit Hunter's website. 
On the website, they provide a guide that will help you choose the size that is best for you. They take all the factors into account – including measurements for your calf and your feet, both.
If you are buying the boots from their website, they provide free shipping as well as free returns. So, in case that the size you decide to buy does not work out well for you, you can always return them and get yourself a different size instead.
Read more on how to Stop Rubber Rain Boots From Squeaking.
Are Hunter Boots Worth It?
If you have browsed for hunter rain boots lately, you must have noticed that the price tags are not very budget-friendly. 
So, what's the reason behind the price? Are Hunter boots worth the price?
Well, you do not buy boots like these regularly. Once you buy a pair of hunter rain boots, chances are you will be wearing them for years to come.
Hence, it is very important that they are durable. And hunter boots are precisely that – they are highly durable. In fact, their longevity is one of the prime reasons people buy them in the first place.
So, even though the price is a bit on the higher side, you can use them effectively for a much longer time. 
The next major advantage of hunter boots is the material used in manufacturing them. The rubber structure employed is of high quality. It ensures that your feet are protected from all sorts of moisture, whether it is raining, snowing, or flooding. 
The material is tough and durable, so these boots are less susceptible to wear and tear damage. 
This rubber material also provides excellent grip – a feature that is very desirable in rain boots. So you can easily wear them in different terrains.
These characteristic features of Hunter rain boots sure do make them worth the price.
Follow our guide to know Are Rain Boots Slip Resistant.
How To Wear Hunter Rain Boots?
You might have guessed from the looks for it that despite the classic outlook, hunter rain boots are not the most comfortable pair of boots.
In fact, they are quite stiff, and if you buy the ones that are up to the calves, it limits the movement of the feet even further. So, if you find walking in them difficult, you might want to choose the shorter versions, the Chelsea boot-sized ones.
Even though they generally have slight cushioning at the bottom, there is still a question of comfort, so I would highly suggest that whenever you wear your Hunter rain boots, you wear a pair of socks with them.
Wearing the socks would provide more comfort, as well as it will be much easier for you to slide these rubber boots on and off. 
Especially if you are allergic to latex or rubber, wearing socks is important.
One important thing you need to keep in mind about wearing your hunter boots in winter is that they are not essentially designed to be worn in the snow.
As a result, you must always wear thick socks with your hunter rain boots. This will ensure that your feet remain warm and cozy, as well as dry.
Also, read Do Rain Boots Stretch? Guide And Tips.
What Are The Different Varieties In Hunter Rain Boots?
Hunter rain boots have evolved over the years. Now, if yure willing to buy a pair, you will find many different types of Hunter Rain Boots.
First and format, when it comes to the design, a refined, tailored version of the hunter rain boots is very commonly available in the market. They are different in the sense that the silhouette created is much different. 
The refined versions are a bit taller than the originals and a bit less bulky – providing a sleeker look.
Their lengths also vary. You will find that besides the tall hunter rain boots, they are also available in shorter sizes, which are much more convenient for those who travel a lot.
Both the sizes have their perks.
The tall ones are more stylish and provide better protection from mud, rain, and snow. 
However, the shorter ones are more practical as they are more compact and can be carried around if you are traveling. 
The exterior of the boots also varies, as you can find them in both glossy and matte outlooks.
I would say that whether you should buy a glossy or matte pair of hunter rain boots is totally up to you, as it is a matter of preference. So, feel free to choose whichever looks best to you.
Pro-tip: Whether you choose glossy or matte hunter rain boots, to maintain the look and feel of the boots you must take care of them – make sure that you are regularly cleaning and shining your hunter boots and store them somewhere suitable (i.e., cool, dry storage conditions with enough space so that the boots do not fold).
Check out our separate post: Do You Wear Socks with Rain Boots.
Conclusion
Hunter rain boots do run big, and guessing the size may seem tricky, but it is not all that difficult. Try downsizing – and if it does not fit well, you can always get them exchanged if the store allows so.
I hope this article has been helpful for you and answers all your hunter boot-related questions.
If you have any queries or feedback, please leave them in the comment section below.