Uggs boots are in trend in today's fashion. It looks classy with shorts and skirts as Uggs are made of sheepskin. They are not fully waterproof.
In humidity, Uggs turn their color drastically.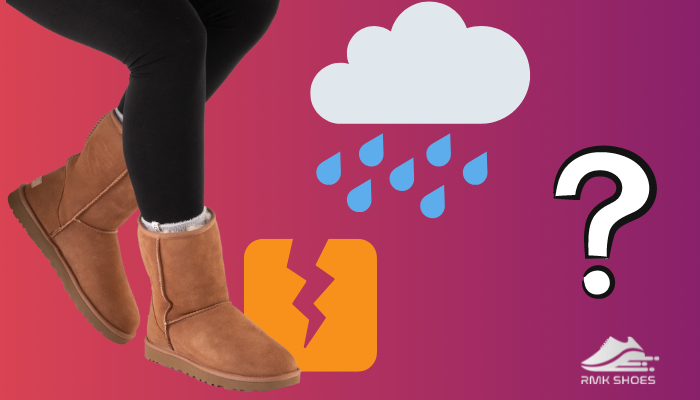 But what would happen to your Uggs if you caught rain in the middle of your journey? This will be the concern about your Uggs.
So I researched for a long time to find the answer to 'will my Uggs get ruined in the rain?' Now I will explain the facts. Hope you will be able to take care of your Uggs ideally after reading this article.
Keep reading and know the facts!
Can You Wear Uggs In Rain?
Uggs are a particular winter pair that is perfect for winter. It will keep your feet warm. Moreover, in the snowy areas of the world, Uggs have become a fashion complement.
It seems that Uggs will keep your feet warm in the rainy season.
But before going out, you should know whether your Uggs are waterproof or not. It is true that in the rain, if you wear Uggs, your feet will feel heated. But the material of Ugg is not water resistant.
So the answer is no. You can't wear Uggs in the rain.
But after following some cautious steps, you can make your Ugg waterproof and wear it in the drizzle. In heavy rain, your Uggs boot will be a misfit because Uggs will get wet in the shower and even with a rain splash.
The same things can happen in the snow too, when the snow starts to melt. So it is not clear what is the purpose of Uggs fashion then. They have limitations.
Related content you should read about wash Uggs in washing machine easily.
What Happens If You Wear Uggs In Rain?
When your Uggs get into the water and rain, the sheepskin material is soaked with water. This boot will change its color and get damaged if you wear it.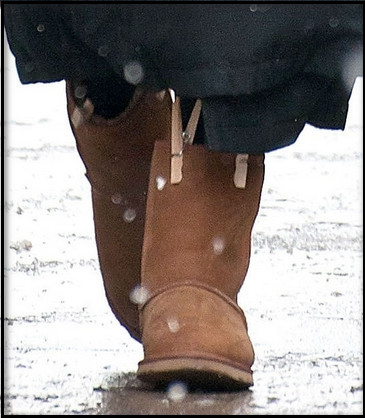 Some raindrops will make Uggs wet; your feet can get wet if it rains. The water of heavy rain can flood your feet thoroughly. The far material of Uggs will get damp and heavy when it meets water.
But if you have fake Uggs, they will not be damaged in the rain because the fake one is made of cotton. So they can dry quickly.
So if you wear Uggs in the rain, they will get spotted and floppy. And it will waste your money on this rain damage.
But there is good news for you as a Uggs lover; waterproof Uggs are available on the market. You can purchase them for your particular rainy day use. Waterproof Uggs are plastic or rubber coated overly.
Some more guides on do Uggs make your feet sweat?
Are Uggs Waterproof?
Uggs are not waterproof. And they were left behind in this category just because of their material: Sheepskin and suede.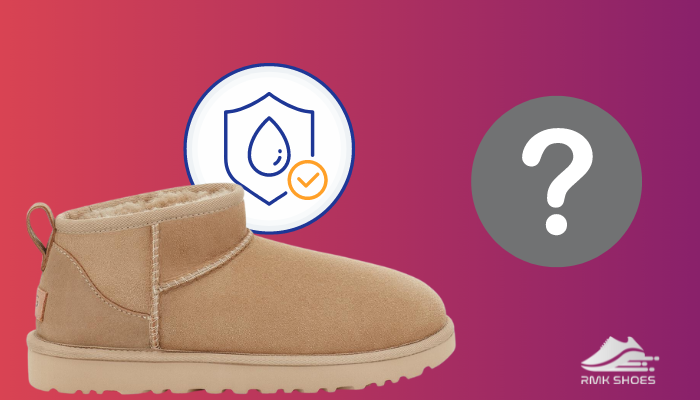 In muddy or watery areas, the Uggs get destroyed and start stinking.
The appearance of Uggs is contradictory to its work method. They are made for winter wear, and they are not waterproof. So in watery snow, they do not perform equally well as in dry snow.
For this contradiction of Uggs, some countries ban this brand.
Check out the easiest way how to clean black Uggs easily?
How To Clean And Dry Uggs?
Cleaning and drying Uggs is a matter of riddle to many people. Some people think removing the Strain of water from Uggs is impossible. But it is somehow possible.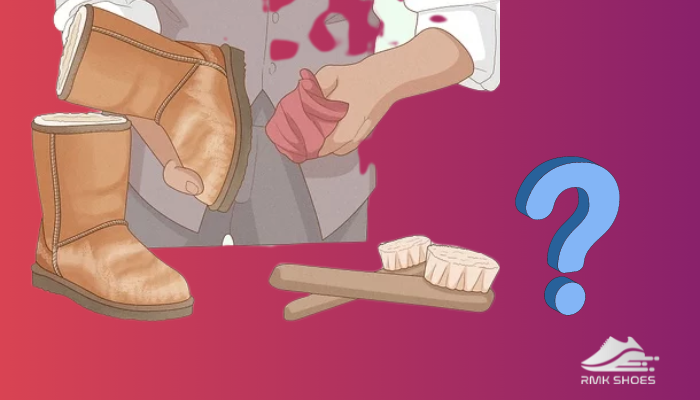 There are 5 most popular and effective methods of drying your Uggs. I will explain them.
Here are the steps described below:
Step 1:
For clean water, you should dry your boots immediately. Dirty water can make a permanent mark on your boot.
You can use sunlight for drying Ugg. But keep in mind that you need straight sunlight for quick drying. Otherwise, your Uggs will change their shape gradually.
Step 2:
If your Uggs soak in water thoroughly, you must cast off all extra water. Rinse until the Uggs get out of the excessive moisture.
After that, you need to dry them. For dirty water strains, you can wash them. Uggs says that you can put your Boot into the washing machine and have a mild spin to clean them. But my opinion is not to keep them in machines.
Wash them gently by hand and with mild soap. Never squeeze your Uggs to get out the extra water.
Step 3:
For washing, you should keep in mind that Uggs are not for washing. So you have to wash them as tenderly as you can. While drying, you should not keep them directly under the heat source.
The best solution is an airy, sunny place to make them dry.
Step 4:
A roll of paper that is not printed can be a solution to dry Uggs. The towel and the rolled-up paper towel will help preserve Uggs's actual shape while drying.
You can fill your boots with a towel or paper and then hand them in an airy place. It will sweep the drying process.
Step 5:
Last but not least, you must have patience. Drying Uggs boots is a long and not-so-quick process. After keeping them outside, you must wait a long time.
If you follow the exact drying process, it will take a couple of days to get properly dry. Allow them time; otherwise, they will get ruined permanently. Or you can feel the foul odor coming from your shoes.
But not to make your Uggs 100% dry. If you do so, your uggs can become stiff and crispy.
There are some special dryers available in the market for Uggs. You can use them. They are very effective and good at performance. Among them, the Peet dryer is the most popular.
You can use the Uggs Cleaning kit to clean them properly.
Follow our guide to know about Emus Vs Uggs.
How to waterproof Uggs?
No matter what, Uggs are cozy and a great option for winter. Somehow they are fashionable too. So it is pretty ok that you want to wear them in the snow.
But before wearing them in the wet area, you need to follow some steps to make Uggs waterproof.
Here are the steps to make Uggs waterproof:
Buy a waterproof spray.
Use the spray all over the Uggs.
Wait for 30 minutes.
Apply another coat of waterproof spray.
Rely on the trusted brand while choosing sprays. You can try spray from Uggs.
Above all, the ultimate solution to wearing Uggs in water is buying waterproof Uggs. And this is available in the market.
Go through our epic guide on how to make the inside of Uggs fluffy again.
Can I Wear Uggs In Snow?
Uggs are meant to wear in the snow. But this is not waterproof. So wearing Uggs in slightly snowy weather is ok.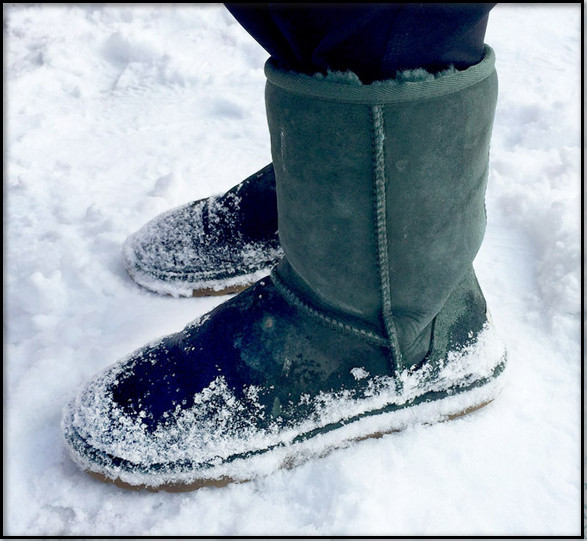 This is a perfect pair to wear if you go with a car into a snowy area. But planning a walk in the snow can destroy your Uggs because Uggs soak water. The sheepskin is not totally water-repellent.
Your feet will get wet if you wear them for a long time in the snow. For a sweet little snowfall, Uggs can go out. But in a blizzard, there is a big no for Uggs.
Moreover, if you come into your house from a snowy place, you should clean your Uggs immediately with a piece of soft cotton cloth.
Verdict
Overall, Uggs are not water resistant. So they are not perfect for rainy or snowy areas.
But in the fashion industry, they create a signature with their look. Many people love to wear Uggs. If you are one of them, you should wear your Uggs in winter but not in the snow.
As being caught by rain or snow is unearthly, you should follow the protection process before going out with Uggs. Or go for the easiest solution, which is buying waterproof uggs.
Comment below and let me know about your experience with Uggs.