Are you confused about how to wash uggs in the washing machine?
Don't worry! I've got your back. After careful experimentation backed up by solid research, I've compiled this exhilarating article to answer your question.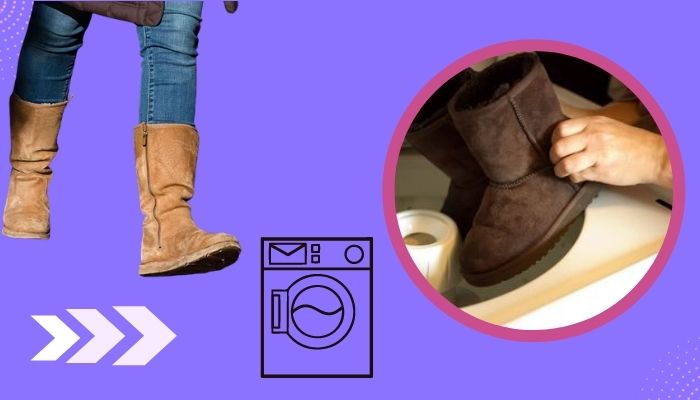 Take your time and read each line carefully so that you get all the information properly. And, I can assure you it'll be worth it.
Can You Wash Uggs In The Washing Machine?
Yes, you can wash your ugg boots in the washing machine. But, there are precautions you must take before you put them in the washer. You need to clean the outsoles, excess mud off the upper, vacuum the inside, etc. Also, you need to use detergent meant specifically for sheepskin.
Before we dive deep into the topic, allow me to clear some popular misconceptions regarding ugg boots and the washing machine.
You'll find lots of arguments that say you shouldn't put your uggs in the washer in the first place. So, are they completely false or true? The answer is neither! You can put your uggs in the washing machine, but there're some precautions you must take.
This is because uggs are made using sheepskin, and it's relatively fragile compared to other forms of leather. So, you need to be extra careful.
Check out our separate post: Can You Use Suede and Nubuck Protector on UGGs
Putting them in the washer and giving them the regular wash can lead to unwanted outcomes, especially if your uggs are full of dirt and debris. So, the first thing you need to do is, clean off excess dirt of the outsoles and inner.
In short, your uggs need to be as clean as possible before you put them in the washer. As odd as it sounds, it is what it is.
You should also keep in mind, the detergent you'll be using! Sheepskin won't be able to bear the harsh chemicals that are in the regular detergents. Therefore, you need to use detergent, which is meant specifically for sheepskin/suede.
And last but not least, you need to put your uggs in a mesh bag before you put them in the washer.
But keep in mind, don't make a habit of cleaning uggs in the washer; it'll do more damage in the long run. Put them in the washer if you've nowhere else to go, that too
Read more on how to Make the Inside of Uggs Fluffy Again
How To Wash Uggs In Washing Machine| Answered
Now that you know you can wash uggs in the washing machine, I'm sure you have a big smile on your face, and rightly so!  The washing machine is a huge time saver. But, you need to be careful and follow some rules. I've listed down all the steps for you.
Here are the steps to wash uggs in the washing machine:
Step-1: Clean Them With Your Hands
The first thing you need to do is clean off excess dust, mud, and other accumulated dirt from the upper, inner, and outsoles. Use the vacuum cleaner to clean the insides.
Clean mud from the outsoles in the basin with lukewarm water. And last but not the least, wash off any kind of dirt from the upper with the help of a damp microfiber.
Step-2: Rinse Your Boots Thoroughly
Once you're done cleaning all the different parts of the boots, run water through them gently and rinse them so that any remaining dirt is washed away. You don't want dirty ugg boots in the washing machine, trust me!
Step-3: Stuff Clothes/Rags In Your Boots
Now that your boots are all clean, it's time to stuff some clean clothes/rags inside your boots. Why so? So that your precious uggs do not lose their shape.
Also, read Can You Wear Ugg Boots in The Snow
Step-4: Put Your Uggs Inside A Mesh Laundry Bag
After you've stuffed your boots, it's time to put them in a mesh laundry bag. It gives your boots a layer of protection and traps any excess fleece.
Step-5: Put Your Uggs In The Washing Machine
So, you've completed all the steps of preparing your uggs for the machine. Now, it's time to put them in the washing machine!
Remember to put them into a front-loading washing machine. Don't put them in a top-loading washing machine, the results could be catastrophic. And yes, don't use regular detergents!
Always use detergents that are meant for suede. Also, avoid any kind of fabric-softener, bleach, conditioning agent, etc. And yes, use 4 tablespoons of detergent approximately.
Step-6: Set The Cycle To Delicate
Set the cycle to delicate mode with cold water. And, start the wash! If you want to add another layer of protection, you can throw in some old towels and sheets. They'll further cushion the impacts on your uggs and keep them intact.
Follow our guide on how to Clean Black Uggs
Step-7: Allow Them To Dry
Once you've taken them out of the washing machine, allow them to dry in a well-ventilated area. Avoid direct contact with the sun, only air-dry them!
Step-8 Use A Shoe Protectant Spray (Optional)
Now that your precious ugg boots are all clean and dry, spray them with a shoe-protecting spray that's meant for suede. To avoid any kind of risk, you can use the UGG® water and stain repellent.
You can use any brand you want, just make sure the spray is suitable for the material. Of course, it's an optional step, but I'd recommend you do it. It's a game-changer!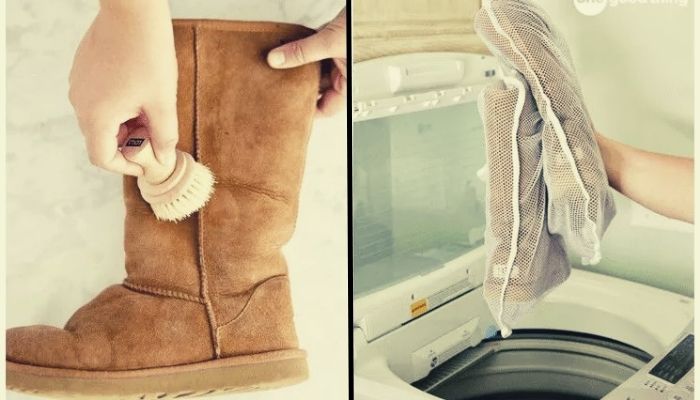 Related guide: 6 Simple Ways To Waterproof Ugg Boots
Does the Color Fade out When You Wash Your Ugg Boots?
Yes, the color of your ugg boots will start to fade (to a little extent) after every wash. So that means, you'll lose a tiny portion of your ugg's dye after every wash. Therefore, it's always recommended to wash your ugg boots (in the washer) when it's really necessary.
I'm sure you must be thinking twice about washing your uggs (in the washer) right about now, I'd say don't! The reason?
Well, the dye of ugg boots will fade away eventually whether you wash them or don't. It's true, the process will be a tad bit faster after every wash. Does that mean you shouldn't wash them at all?
Well, that's your call. But if you ask me, it's much better than wearing uggs full of dust, dirt, mud, etc.
If you're someone who likes to wear clean uggs, then you'll be happy to know that you can dye your ugg boots and restore their original color.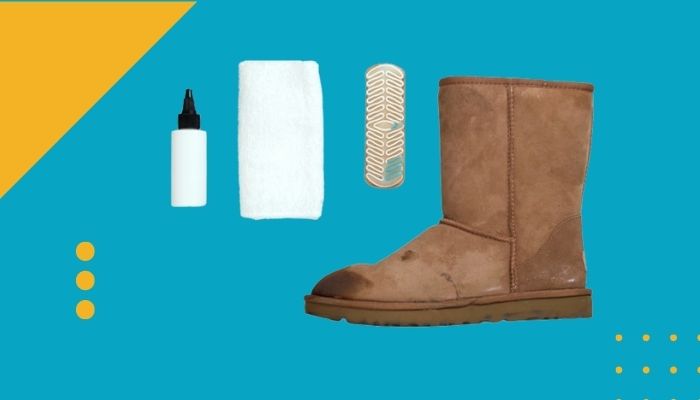 So, if you were having second thoughts about washing uggs in the washer then don't! You can easily wash them in the machine, provided that you do it in a certain manner and follow some guidelines.
Related content you should read Ugg Boots Sizing Guide
Precautions To Take While Washing Uggs in the Washer
At this point in the post, you already know some of them. And, you've forgotten some of them. I'd say, it's cool. For your convenience, I've listed them specifically just for you. You're welcome! It's my duty.
Here are the precautions to take while washing uggs in the  washer:
Don't put your dirty uggs right from the get-go! Clean excess mud from the outsoles, brush off excess dust from the upper. And last but not least, vacuum the inside as well, before you put your uggs in the washer.
Don't use regular detergents while washing uggs. It is always recommended to use detergents meant specifically for sheepskin/suede.
Set the washer to "delicate wash" mode. As you know ugg boots are softer compared to other boots. So, delicate wash mode is what you should choose to wash them. Also, you'll need to set off the spinning as well in the washer.
Put your uggs in zippered net bags before you put them in the washer. The net bags will protect your boots during the cleaning process and keep them intact.
You may also like to read: Do Koolaburra Uggs Run Big
Parting Thoughts
You can easily wash your beloved ugg boots in the washing machine. You just have to be a bit careful and follow some ground rules. I've listed each and every step for your utmost convenience. All the steps are tried and tested.
Do let me know about your experience down in the comment section below. And yes, if you find any kind of lacking; feel free to let me know. I'd love to hear from you too.
It's a wrap for today. Stay safe, stay clean, and take care.