Unfortunately, counterfeit products are a common problem in the fashion industry, and Ugg boots are no exception.
Likewise, sometimes you purchase what you thought was a pair of genuine Ugg boots, only to realize later that they were actually fake, right? This is very common as the market is flooded with counterfeit Uggs.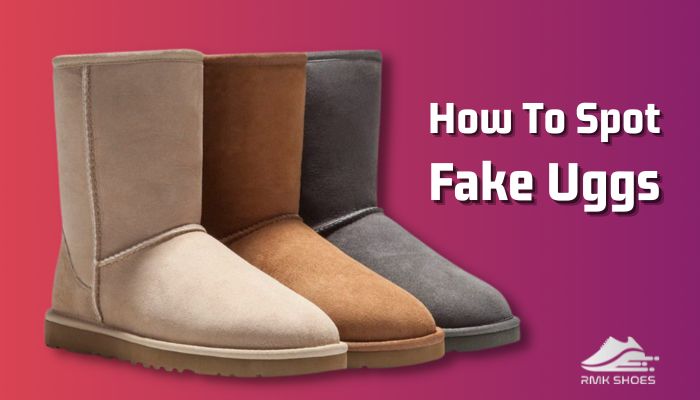 But don't worry! In this article, I'll share some easy ways to help you spot fake Uggs and avoid getting scammed.
So, let's find out the fake Uggs like a pro!
How To Spot Fake Uggs?
Ugg boots are a popular choice for their warm and comfortable design, especially in colder months. However, with their rising popularity, counterfeit products are all too common in the market. And, it's pretty difficult to distinguish fake Uggs from the real thing.
Yet, with a little knowledge and attention to detail, you can spot them before making a purchase.
And to help you with that, here are 10 easy ways to differentiate real Uggs from fake ones:
1. Inspect the Packaging
The packaging can also provide clues about whether Uggs are authentic or not. Carefully inspect the box in which your boots came in, and look for the following things:
Real Uggs are typically packaged in a sturdy cardboard box, some with removable lids. Also, in the real boxes, you will find the iconic sun logo with a small Ⓡ letter written under it.
The packaging also usually includes a dust bag, care instructions, and a label with the product details. They are written clearly using high-quality ink, and with black and bold fonts. You'll also find a picture of the product and a barcode with a colored top half.
The real Ugg products also come in wrapped with thick paper and both their name and logo are printed on it.
If any of these elements are missing or the packaging looks cheap or poorly made, then the Uggs could be fake.
2. Check the Security Features
As the fashion world was flooded with fake Ugg boots, the iconic brand took a bold step in 2010 by adding security labels to its products. Meanwhile, setting a new standard in the never-ending battle against counterfeit products.
Hence, checking these labels is the most reliable way to find out whether the UGGs are real or not.
Now, let's take a look at the things to observe in the UGGs security labels for authenticity:
Look for a sewed-in security label behind the size and material foil strip in the left shoe.
The security label features a holographic UGG name with the sun logo. If you rotate the boot for 90 degrees, the logo will change color from black to white.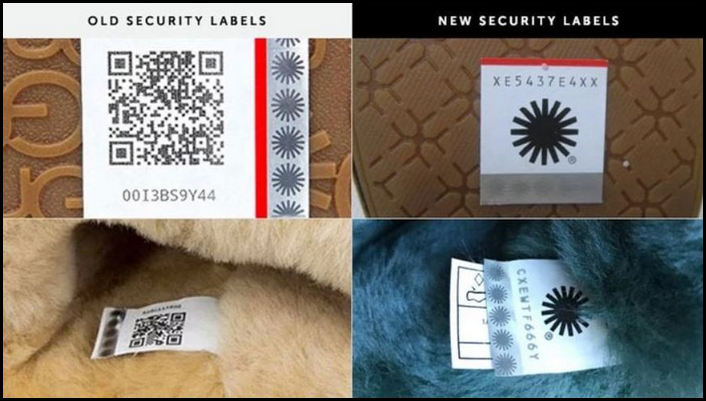 If you can't find any sew-in label, there should be a security sticker instead, both on the left shoe sole and the shoe box.
Additionally, in some of their old models, you will find a QR code attached to the security label, which, if scanned, will redirect you to their website showing the product's details.
Note: keep in mind that, real UGGs don't come with hanging security tags.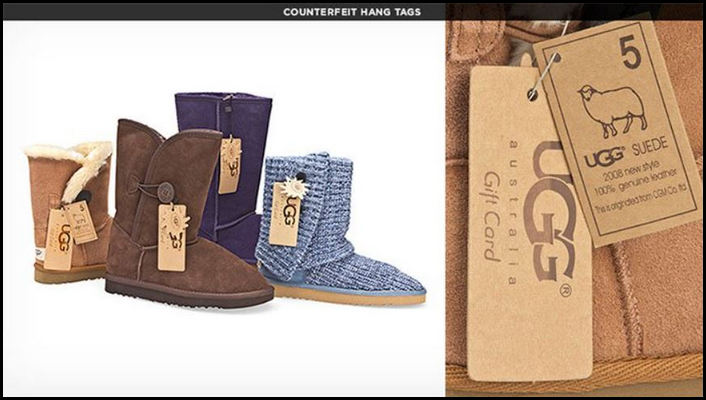 However, some UGG models don't have the holographic sun logo. In that case, you can just scan the QR code label to verify its authenticity.
3. Check the Manufacturing Location
Since 2007, Decker has been using their outdoor locations in China, Vietnam, the Philippines, Cambodia, and the Dominican Republic to manufacture UGG products.
So, if your UGGs have made-in labels other than these countries, they are the knockoffs.
4. Check the Heel Label
Fake UGGs can be spotted through a quick inspection of the heel labels. Because the heel label of real UGGs will feature the following-
The label should be made of leather and sewn on with precision.
The label on genuine Uggs should have the word "Ugg" in capital letters. Also, the font used should be clean and sharp.
The text "UGG Australia" should not be there.
However, if you notice any spelling errors or the font is blurry, with clumsy stitching, and off-shade colors, then the boots are most likely fake.
5. Check the Soles
Real UGGs come with flexible, thicker, and cushioned soles, making them easy to bend and comfortable to walk on.
So, you can easily find out if your UGGs are real or not by bending their soles, just as shown in the picture.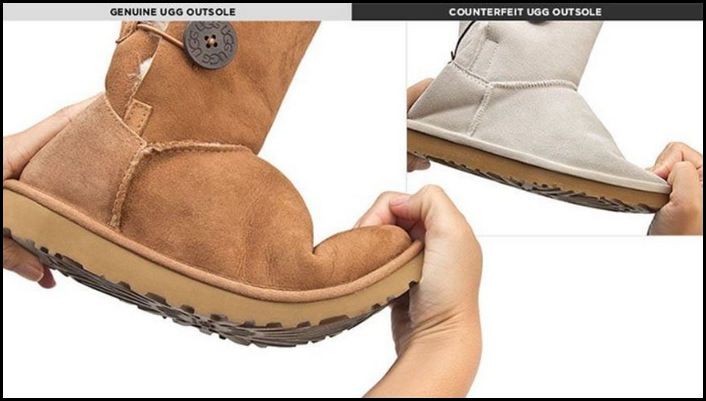 While trying to bend, if you find the soles hard to bend with a rigid sole, they definitely are the fake ones.
Also, you will find the following distinctive features in the real UGG outsoles:
The brand's unique sun logo is engraved at the top of the sole bottom.
The word "UGG" along with a circled R is present in the middle of the outsole with clean, crisp lettering.
The shoe's serial number is stamped on the outsole.
Well, the real Ugg boots soles are anti-slip as well, which you won't find in the knockoffs. Also, no matter how cleverly the fake ones are made, they will miss at least one of these signature UGG outsole facets.
So, through a cautious outsole observation, you can easily spot the fake UGGs.
6. Check the Fur
UGG boots are wildly famous because of their high-quality sheepskin fur lining. As you will see in real UGGs, the fur lining is soft, and fluffy, and feels a bit rougher to the touch because of its thick texture.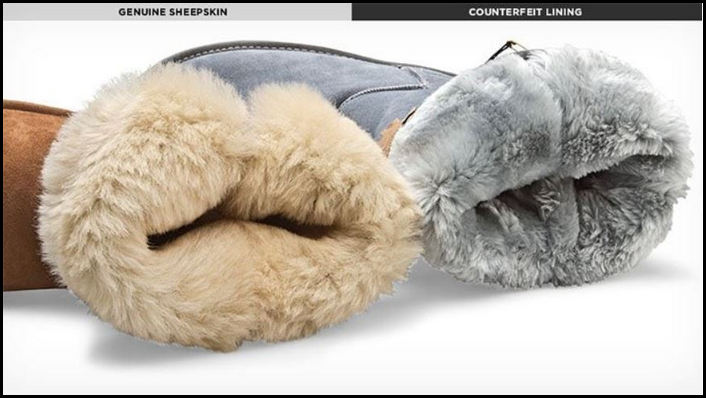 Run your fingers through the fur to see how it feels. If the fur feels coarse or fake, then the boots may be fake. Additionally, check the color of the fur. The fur in real Uggs is usually a uniform color, while the fur in fake Uggs may have uneven or discolored patches.
Besides, the fur lining of genuine sheepskin naturally remains adhered to the suede leather, doesn't matter how hard you try to separate them.
But as fake UGGs don't use original sheepskin, you will be able to separate the fur lining from the leather very easily. Just like shown in the picture below.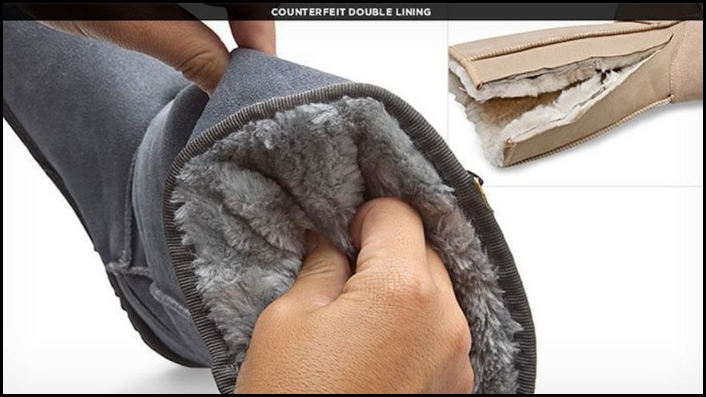 In addition to that, when you look at the boots from a short distance, the inner fur lining should be visible from both the top and side openings.
However, the fur lining used in Ugg boots gradually loses its fluffiness when worn for a long time. And it's only possible to make the inside of Uggs fluffy again if they are the real ones.
7. Check the Stitching
While looking at the stitching pattern of real UGGs, you will find them pretty distinctive from the fake ones.
Because the stitching on genuine Uggs is precise, even, and consistent throughout the boots. You won't find any loose threads or uneven edges as well.
On the other hand, fake Uggs tend to have sloppy stitching, with loose threads and uneven edges.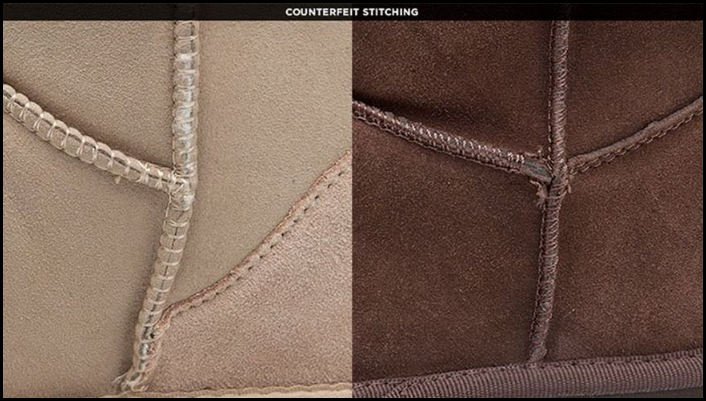 8. Check the Size
One of the most basic ways to identify fake Uggs is by checking the size, as the sizing of Ugg boots is kinda tricky.
However, real Uggs are typically made to fit snugly and comfortably, with a little room to wiggle your toes. If your UGG boots are too tight, too loose, or don't fit right despite getting the right size, then they may be fake.
Often the height of the fake boots is taller than the real UGGs– up to 2 inches. So, check the height specifications for each model before making a purchase.
In addition to that, inspect the boot's label to ensure that the size is accurate. Fake Uggs often have incorrect sizing labels.
Also, make sure to take a close look at the opening of the boot as well. Authentic UGGs are designed with a wide opening that allows you to fold them down.
In contrast, fake UGGs often have a narrower opening that is rigid and doesn't fold down as smoothly as the real ones.
So, If you find yourself struggling to fold down the opening of your UGG boots, then chances are they are the knockoffs.
9. Check the Overall Quality
Real Uggs are known for their superior quality and replaceable slipper insoles. Besides, they are made of high-quality materials and crafted with precision and attention to detail, which will be missing in fake ones.
So, while purchasing a pair of UGGs, look for the following features to get the real deal:
The suede or leather materials should be smooth, high-quality, and free from any unnecessary markings or blemishes that would detract from their overall appearance. Fake Uggs, on the other hand, use cheaper and lower-quality materials that may feel rough or hard to the touch.
The heel of the boot should taper gently towards the rest of the shoe and be free from any kind of torsion.
Pay attention to the tip of the boot. Genuine UGGs features a gradual slope downward, while fake ones often have a pointier toe.
Genuine UGGs will have a high-quality, polished bailey button with clear, distinct markings, while counterfeit boots typically have a cheap-looking button with unclear markings or no markings at all.
Hence, to avoid scamming by counterfeit UGG boots, keep these things in mind while examining their quality.
10. Check the Price and Seller
UGG boots are not cheap, and if you see a pair being sold at a price that's significantly lower than what you've seen elsewhere, then it's likely to be a fake.
Counterfeiters are known for their low prices and large discounts which are so good to be true. All UGG products are made of high-quality materials, which makes them pretty expensive.
Also, they seldom offer discounts or go on sale. So, to ensure buying the real ones, be prepared to pay a fair price.
Another way to ensure that you're buying genuine UGGs is to purchase them from an authorized retailer. UGG has a list of authorized retailers on its website.
So, be sure to check this list before making your purchase. If the store you're considering is not on the list, then it's likely they're selling fake UGGs.
Meanwhile, be wary of online marketplaces like eBay or Amazon, where many counterfeiters sell their fake boots. These marketplaces do not have the same level of control over their sellers as authorized retailers do, so the risk of buying a fake pair of UGGs is much higher.
However, if you still wanna buy from an online marketplace, make sure to check the seller's ratings and reviews before buying.
Verdict
UGG boots have become a fashion staple, with many people willing to shell out hundreds of dollars to get their hands on a genuine pair.
However, as the fake UGGs are very similar to the real ones, you may get troubled while differentiating them.
But, I hope, all the ways I have mentioned earlier will help you to get authentic UGG boots.
So, shop smart and enjoy your cozy and stylish UGG boots all winter long!