Who doesn't love the warm, soft touch of winter boots in the cold mornings?
When you think of getting cute but sophisticated boots for the upcoming winter UGGs and LAMO boots are the most trendy picks.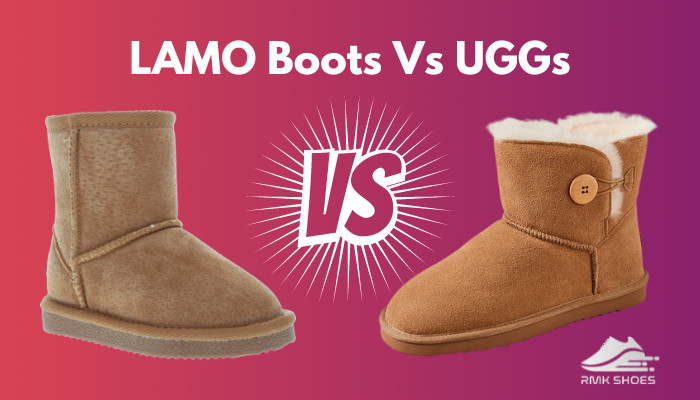 But, from such hard-to-resist shoes, choosing one is a real challenge.
I get where you stand; trust me, I know the struggle.
Recently I was in search of a fussy, comfy, versatile boot. And during that hunt, I found some unknown facts and hidden information about these two boots that will help you to pick your desired boots.
So, keep reading till the end to know which is the better option for you, LAMO or UGGs.
LAMO Boots Vs UGGs: A Quick Overview
UGGs and LAMO, both of these brands, have their signature boots. And these are by far super soft and provide the coziness you want on colder days.
Let's take a closer look at the boots from UGGs and LAMO:
UGGs Boots
This Australian brand makes unisex boots out of sheepskin and is still maintaining its hype successfully.
Celebrities and fashion-conscious people choose UGGs repeatedly to get the comfy casual feeling while wearing a fluffy-looking boot. Each pair of boots provide you with the ultimate simplicity along with style.
The double-sided sheepskin made these boots acceptable all over the world.
LAMO Boots
This 27-year-old shoe brand makes the most unique and cute-looking boots.
For each age category, they have mastered the best quality boots possible. I loved their children's collections, these boots are hard to resist, and the color options are killer.
I wanted to buy those colorful sheepskin boots for myself, but they were only for kids. Sad though.
LAMO promised to manufacture every type of footwear to your comfort, from boots to slippers to casual shoes; they kept that promise.
Follow our guide to know Are UGG Boots Anti Slip?
What Are The Key Differences Between LAMO And UGGs Boots?
Two boots can look exactly alike, but they will still have significant details that would differentiate them from each other.
With UGGs and LAMO, it's no different.
Though they are maintaining the same category, if you look carefully, you will be surprised to see all the precise variations.
Here are the key differences between UGGs and LAMO Boots: 
Material
While UGGs boots are only made out of sheepskin, LAMO boots are constructed with suede and leather along with sheepskin.
As you can see, sheepskin is the key material for both of these boots. But the type of sheepskin is different for both of them. In UGGs, the material is two-faced sheepskin which is pretty rare.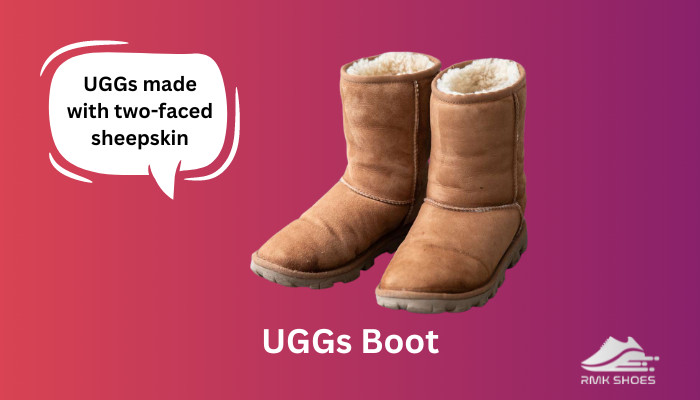 And the best part of sheepskin materials is they keep your feet warm in winter and cold on warmer days.
The two-faced sheepskin is very strong and tanned on both sides.
Support And Comfort
LAMO boots are made with softer and more flexible material. So they provide less support than UGGs boots.
People with ankle problems and foot pains won't be able to enjoy LAMO boots as they are not the perfect fit for such foot conditions. Meanwhile, UGGs are super supportive.
UGGs protect your feet while hiking and snow sports, but they are not so ideal for long walks.
Check out our separate post: Can UGG Slipper Insoles Be Replaced?
The Grip And Traction
In terms of grip, LAMO boots are the winners.
The outsoles of LAMO boots are made of durable rubber materials specifically designed to provide more grip. On the other hand, you won't see the same kind of gripping qualities in UGGs boots.
For smooth surfaces, the grip of UGGs is ok, but not for more rough places.
Size
What I found, both of these boots offer a variety of sizes for everyone.
However, LAMO boots are slightly smaller than UGGs. So, in this regard, I suggest ordering a size bigger for LAMO boots.
Other than that, the width of LAMO boots is more than UGGs, and this is quite an advantage, don't you think?
Fit
Some users have stated that UGGs boots slip from their legs while LAMO boots tend to stay in place, making them more fitted.
Both shoes are comfortable and give you a snug fit. But if you can't hold onto your boot when you walk, consider LAMO boots.
Weather Resistance
The splash-resistant technology and waterproof materials of LAMO boots keep your feet dry in every weather, but UGGs are more stylish than water repellant.
I tried LAMO boots once on a rainy day and didn't have many issues.
If you are looking for a stylish look rather than features, go for UGGs. LAMO boots are more functional in this sector.
Price Range
UGGs come with a higher price range than LAMO boots.
Most UGGs boots' price starts from 100$, and even the kid's section is not cheap. These cute pairs start from 55$.
Both of these brands offer their boots in various styles and designs.
While UGGs are expensive and LAMO boots are not. This price range can vary from design to design, so you need to keep that in mind.
You may also like to read: Will UGGs Get Ruined In The Rain?
Similarities Of UGGs Boots And LAMO
Along with different features, both of these famous brands manufacture boots that can offer you similar advantages.
You can choose whichever boot to your liking.
Let's see the similarities between UGGs boots and LAMO boots:
Outlook
Some models of LAMO and UGGs boots are almost identical at first glance.
Let me tell you why it is advantageous. As LAMO boots are less pricey, you can buy them, and people won't even notice if they are not UGGs.
Color Option
One common thing for both of these boots is they come with so many color options for you to choose from.
And this factor fascinates me the most as I can match them with my outfits.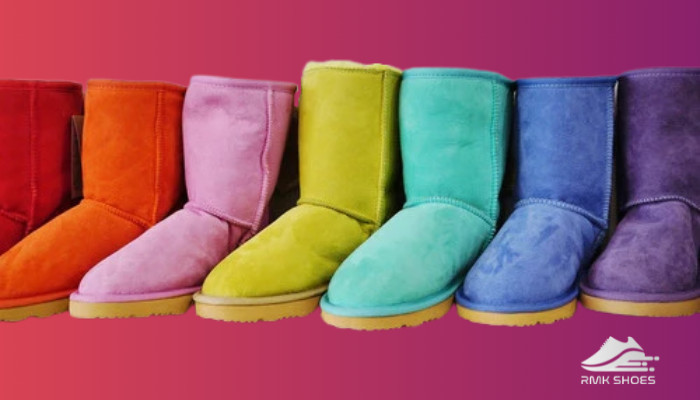 There are even the same colored boots from both of these brands. And if you want to buy a specific color, you don't have to compromise anything. You can do that with both of these boots.
Durability
In terms of durability, UGGs boots last almost 1.5 to 2.5 years if you take care of them. The main reason behind it is the sheepskin materials.
At the same time, LAMO boots are also made with materials that tend to last longer, like suede, leather and sheepskin, if you take good care of them.
So, if you are looking for a pair that will last for a while, give them a try.
Pros And Cons Of LAMO Boots And UGGs Boots
As the most comfortable boot brand, both UGGs and LAMO have specific qualities that have made them as famous as they are now.
To buy among these boots, you should know every tiny detail about them. This will ease up your decision.
Let's find out the pros and cons of these outstanding boots:
LAMO Boots
Pros
»

Super comfortable.

»

Provides durability.

»

Weather friendly.

»

Affordable for everyone.
Cons
»

Doesn't come with waterproof features.

»

Not suitable to wash in dripping water.

»

Leather and suede materials are difficult to maintain.
UGGs Boots
Pros
»

Easy to use in all seasons.

»

Various color options.

»

Comes with all types of sizing.

»

Provides durability.
Cons
»

Not waterproof.

»

High price range

»

Serves more as a fashionable boot.
Which is The Better Pick UGGs Boots Or LAMO?
Well, these boots serve their specific purposes and which one you wanna pick depends on your preference.
LAMO is a great option to wear regularly if you are looking for more durable and super comfy boots. Meanwhile, UGGs boots serve fashion purposes more than functionality. You can choose UGGs if that matches your preferences.
No matter what you choose, you will surely get a variety of sizes, designs and color options from both of these brands.
Read more on How To Protect Ugg Boots Easily.
FAQ
Are LAMO Boots Made From Sheepskin?
Yes, LAMO Boots are designed with sheepskin. What's more, these boots are sturdy to wear in the harsh winter season. If you want, you can use the slides around the house too.
Do Uggs Hurt Your Feet?
Though UGGs are incredibly soft and warm, they can hurt your feet. These boots are not made for walking around all day. By doing that, you can cause muscle pain, strained ligaments and so on.
Are All LAMO Boots Waterproof?
Most of the LAMO shoes are treated to be water resistant. The upper suede materials are known for their water-repellent feature. Even if your shoes are a bit wet, there's nothing to worry about.
Can You Wash LAMO Boots?
Yes, you can clean LAMO Boots but getting them all wet is not a smart choice. Too much water can damage the sheepskin's upper. You can damp old cloth into a water and vinegar mixture to wash up the stains from the boots.
Parting Thoughts
UGGs and LAMO are sitting on the highest peak in the comfy-looking boots sector.
Both manufacturers are offering high-quality sheepskin uppers with soft, warm and super comfortable inside for your feet to rest on.
All you have to do is buy one or both if you feel the necessity.
I hope you got all the information you were looking for to pick the better version of boots that will cover all the needs you might have.
If you have any further queries, write that down in the comment section below, and I'll get back to you.