UGGs are the pure definition of a warm hug for your feet. The soft fluffy, cozy feeling is what makes them so adorable.
For harsh winters, UGGs are the perfect choice if you are into it. But, when you wear them regularly, there is a chance that the insole gets worn out and needs a replacement.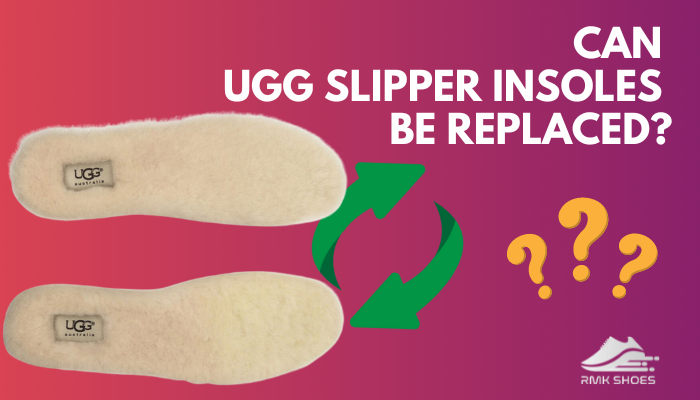 I have researched thoroughly, and last year I bought a pair of UGGs slippers myself.
I understand how it is when you feel slight discomfort wearing your most comfy slippers. I am here to help you out.
In this article, you will get all your answers regarding the replacement of UGG slipper insoles and how that will impact on your daily activity and the health of your feet.
So, sit tight and read till the end.
Can You Replace UGG Slippers Insole?
Yes, you can definitely replace UGG Slippers Insole.
It is evident that when you own comfortable slippers like UGGs, you will often opt for them, and as a result, you have to change the old insole they came with.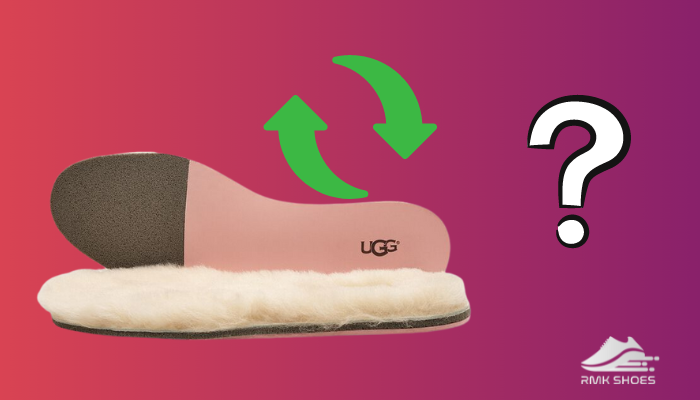 I own a pair of UGGs slippers, and recently I replaced the insoles. It was easy, and didn't take long to complete the process.
I bought the insoles from the UGGs website, and I suggest buying at least two sets. The new insole replacement was far easier than I thought and was less time-consuming.
If you are thinking of doing it on your own, go for it.
Related content you should read about Emus Vs Uggs.
How To Replace UGG Slippers Insole?
Not everyone is a fan of fluffy footwear, but UGGs do have a huge fanbase. And even managed to win the hearts of celebrities.
You can purchase the insoles from Amazon instead of UGG's official website. They may not look like the original ones, but they work fine, and that's what matters, right?
If you are replacing the insoles because they got wet or sweaty, air dry them for a few hours. Sprinkle some baking soda to remove any odor.
Here is the replacement process fro Uggs slippers:
Remove the old ragged insoles.
Make a place for new insoles to put.
Make sure the new insole is in an accurate shape.
Place the new ones fresh out of the package.
Insert the toe first into the slippers.
Slowly work your way through.
Wear your slippers to adjust the new insole.
Cut them to fit your slipper size if necessary.
I glued down the new ones so that it doesn't move from their place. I just felt more comfortable and secure that way. It's totally up to you.
Finally, I let them dry for a day, and they were brand new. And worked as fine as they used to be.
Some more guide on how to protect Ugg boots easily?
Are UGG Insoles Washable?
Yes, you can wash UGG slippers insoles. The best way to clean them is by hand.
It is an advantage and life saver for UGGs lovers that they can replace the insole. It's not necessary to replace them randomly if you can wash the insoles and use them again before purchasing a new one.
I mentioned before that I bought two pairs of insoles recently.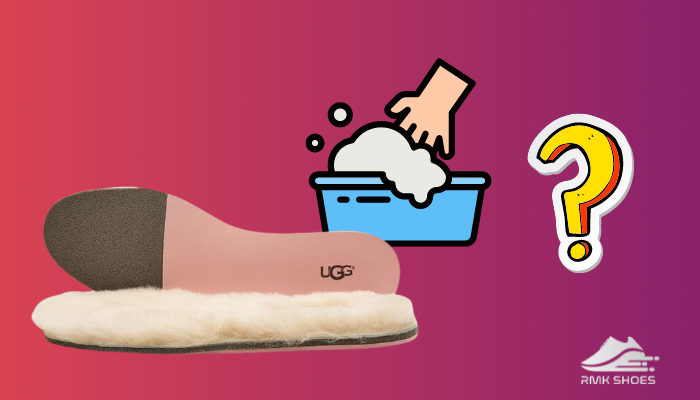 But let me tell you, I washed them several times before thinking of getting new ones, and they didn't get ruined or change their shape and texture.
The process is straightforward; you can do it at home, even if you are traveling.
All you need is cold water and a detergent mix. Soak them in the mixer overnight; in the morning, they will need a gentle brush and rinse; that's it. Easy peasy.
You can follow or guide on our website about  How To Clean Mold From Ugg Boots.
Can UGG Slippers Be Repaired?
Unfortunately, these comfy slippers are not 100% repairable. So, you need to take good care of them to last long.
When I bought them, I thought of repairing them after several years as I looked into the matter, got disappointed just how you are now. But that won't stop me from using them.
You can't repair them because of how they are constructed.
UGGs slippers lack a Goodyear welt. This layer separates the upper from the sole. And as these slippers dont have them, you can't take them to specialists to repair them.
Check out the easiest way to know how to shrink Uggs easily?
How To Clean UGG Slippers?
Washing any delicate items properly is very important to maintain their quality and longevity.
With materials like UGGs, it's no different. No doubt these comfy slippers keep your feet warm. At the same time, they are expensive. It can keep them last longer with a little bit of time to maintain.
Let's see how you can clean UGGs slippers:
Cleaning Stains
To clean outside stains, you can use a large-sized eraser. Just outline the area and gently scrub the area. That should do the work.
You can use an equal amount of vinegar and warm water to clean the stain.
Take a towel and soak it in the water mixer. Remember the cloth should be damp, not soaking wet, or it can damage the sheepskin. Then gently rub the stain off.
Chalk, powder or cornstarch can absorb oil or grease stain and thus very useful.
Sprinkle some on the spot and leave them overnight to soak all the oil, and the in the morning, brush them off to get brand new slippers.
Routine Cleaning
Cleaning your UGGs with a microfiber cloth on a regular basis is a good practice.
You can use a suede brush to clean your UGGs once a week. Brushing your slippers regularly helps to keep them dust free. Using cleaning spray is also a good option. Just spray on a sponge to dab gently and clean the surface.
Protecting Your Slippers
The sensitive suede material of tour UGGs slippers should be protected with a protectant seal. It is available in UGGs, and other sheepskin protectants are helpful too. Just spray them and leave them for a day to use again.
Can  You Clean UGG Slippers In Washing Machines?
UGGs footwear is mainly made of leather or sheepskin, which tends to get ruined by water.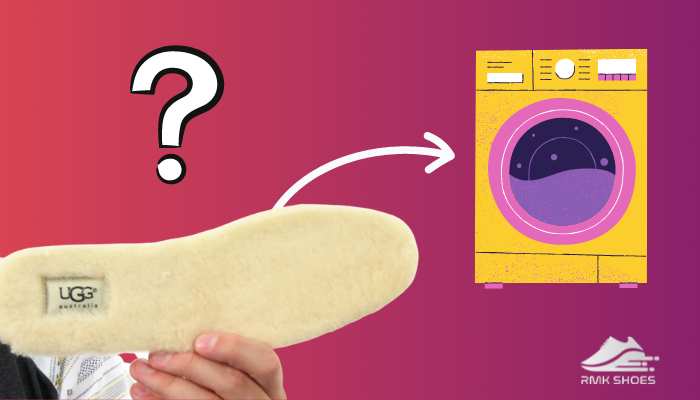 Usually, you shouldn't clean these slippers in a washing machine as they are too delicate to bear the cleaning process. To wash them, you need to follow specific steps and products to maintain the quality of their material.
When cleaned and kept in a proper way, these slippers last long and provide you with the ultimate coziness you want.
Can You Dry Clean UGG Slippers?
Dry cleaning UGGs slippers can be harmful. The fragile upper is meant to be cleaned more delicately.
After I bought mine my best friend tried my slippers on and guess what! She fell in love, so she also got a pair for herself. She wore them almost every day, and soon they needed a wash.
However, she didn't go by the rules and sent them to dry clean.
The result was a disaster, and her UGGs slippers were almost ruined. The materials couldn't take the harsh process. She was so upset.
The moral of the story is, try to clean them more gently.
The Ultra Mini Platform
If you are a UGGs lover, you know what The Ultra Mini Platform is. Yes, you guessed right, it's the leg-lengthening  2″ platform.
It has the same delicate suede material with a bold look; they also have UGGs signature wool blend softness. This model offers three attractive color options; Forest Night, Black and Chestnut. They all look elegant and super high-fashioned.
During New York fashion week models Balla Hadid, Gigi Hadid and Elsa Hosk rocked on these slippers.
Let's see the features The Ultra Mini offers:
Suede upper.
Overlock scratch detailing.
Rear pull tab.
EVA midsole.
100% recycled polyester binding.
2″ platform height.
Check out our article Do UGGs Make Your Feet Sweat? for more information about UGGs.
You may also like to read about Will UGGs get ruined in the rain?
The Verdict
UGGs slippers are a significant upgrade to fluffy footwear. They are comfy, easy to slide on and enjoyable for a long time.
As an expensive slipper, It is a concern to replace the actual insole and replacing them with new ones. But it's pretty easy and lifesaving too. You can have a brand new feeling just by changing the insole.
So, with all this information, I hope all your confusion has cleared and you got all your answers about the insole replacement process.
If you have any further queries, please leave them in the comment section below.