To survive in extreme winter, owning a boot that covers and protects our feet is a must. Emus and Uggs are especially renowned for wearing in cold weather. Both the boots offer safety, comfort, and a trendy look.
So, you must be wondering about which boot you should add to your cart for the upcoming winter.
No worries, buddy!
I used Uggs and Emus for a couple of months. Based on my own trial and experience, I've listed everything you should know to make a proper buy for yourself. Because I don't wish your hard-earned money goes in vain.
So, read till the end of this article to select the best pair of boots.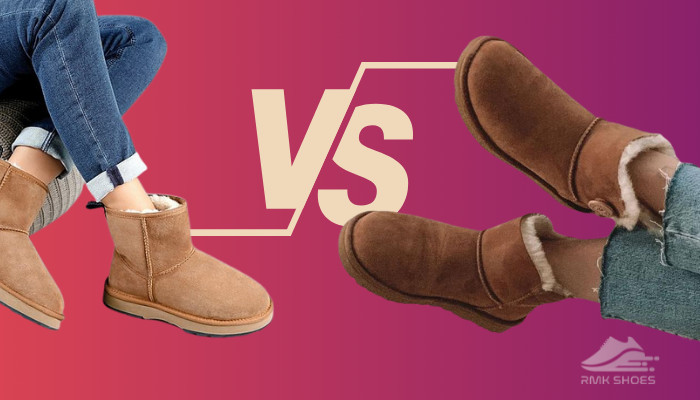 Emus vs Uggs: A Brief Overview
Emu is one of the well-known brands in the world for its incredible boots. It originated in Australia. Deluxe sheepskin and merino wool are the materials to make Emu boots.
The pair of boots gained popularity as suitable winter wear. The original boots feature superior quality, comfort, and stability.
The good features of Emus created a different fan base. The flexible rubber outsole and EVA cushioning midsole made the boots user-friendly.
Furthermore, these boots are shock absorbent and water resistant because of their supreme rubber outsole.
When it comes to Uggs, they are super comfy boots.
It is a genuine brand from Australia. The tanned leather and sheepskin comprise the upper. The United Kingdom, Australia, and Ireland are the main sources of tanned leather. The boots are flame-resistant.
Since Uggs are an authentic brand, they are much more expensive compared to Emus.
Some versions of Uggs are not water-resistant as they only contain single-face sheepskin in the sole, which is one of the major drawbacks.
Follow our guide on How To Shrink Uggs Easily.
What are the differences between Emus and Uggs?
Although Emu and Ugg boots' outlook is quite similar, they are distinct from each other.
Well, I want to inform you about the major dissimilarities between Emus and Uggs. Doing this will help you to know each feature nicely and pick the right one.
So, let's move on to the differences.
Different outsole
The Emus boots are constructed from merino wool. Enduring rubber material acts as the outsole, preventing the boots from being damp.
Moreover, the rubber membrane around the outsole offers more flexibility and water resistance. Due to this feature, Emus are one of the best-selling boots in winter.
The sole of the Uggs boots is a little bit thicker than that of the Emus boot.
They don't exhibit any flexible rubber material in the outsole. Rather, they possess a Treadlite outsole.
The midsole contains different EVA Layers
EVA is one of the most significant materials to form a comfortable and stable midsole. EVA denotes ethyl vinyl acetate. It is a man-made polymer that possesses thermoplastic properties as well as waterproof properties.
Almost all of the famous brands that are ranked at the top around the world make use of this polymer to provide superior comfort.
EVA doesn't only offer softness. Rather, it protects your feet from sharp and penetrating objects.
The twofold EVA layer of Emus ensures the ultimate cushion and so comfort.
On the other hand, Uggs midsole consists of a single-layer EVA polymer. Hence, It is slightly comfortable and unreliable in comparison with Emus.
So, you might be thinking about how Uggs are so beloved.
They stand out from their counterparts thanks to their sophisticated and stylish appearance.
The interlocking stitch of Emus is better
While Emus boots feature a double interlocking stitch, Uggs only include a single interlocking stitch.
However, Emus is a generic brand. I found the stitch quality of Emus boots outstanding.
In spite of being a renowned and authentic brand from Australia, Uggs often failed to provide premium interlocking stitching.
I think the manufacturers of Uggs must pay attention to this side and take the necessary steps for retaining their loyal customers.
Otherwise, their devotees will move on to other brands. Isn't it?
Emus offer more ankle support than Uggs
You will be glad to know that Uggs are super fluffy and cozy.
Wooly sheepskins with fleece intact are used to make the classic Australian Ugg boots.
But I want to inform you that traditional UGG boots offer negligible support for the arch.
According to Dr. Rock Positano, Physician of the Hospital for Special Surgery in New York City, "UGGs might feel comfy, but they don't ensure the required arch support that a foot requires to function well."
So, it's not suited to people with flat feet.
Emus boots' midsole is spongy enough to attenuate shocks caused by motion. Furthermore, the flexible rubber outsole is also shock absorbent. As a result, They are able to provide enough ankle support.
So my friend, if you're a flat-footed person like my cousin. You should either simply avoid Uggs or replace the midsole.
Read more on How To Wash Uggs In Washing Machine.
The durability of Emus is higher
Both of these brands are highly rated and widely preferred because of their great quality.
Sheep that are raised on the flat lands of Australia are utilized to make Emu boots.
On the other hand, Uggs are crafted from sheep whose wool is abundant in mountainous regions.
The rubber outsole dual-faced sheepskin at the upper side and double-layered EVA at the midsole of Emu boots outperform Ugg boots in terms of durability.
Uggs are more pricey
It is strange that Uggs are more expensive than Emus even if the qualities of some Uggs don't meet users' requirements.
You've to spend at least $170 to buy a pair of authentic Uggs.
The Emus are stylish, more comfortable, and extra cushioned. They always stand first in case of durability, appearance, and coloring. But they are not overpriced as Uggs.
You can get a pair of standard and elite Emu boots for $90 to $170.
More Color variations in Uggs
You will find several color options for Ugg boots. Uggs are available in Navy, Gray, Chocolate, chestnut, Black, Mustard seed, samba red, and starry night colors.
Emu boots gained widespread popularity as the boots are less expensive with more features.
But you won't find numerous color varieties here!
Only four to five colors of Emu boots, such as solid black, brown, gray and blue, are available for trading.
Both Emu and Ugg produce colorful and printed boots only for kids.
So if you know a cute baby boy or girl whom you want to surprise with catchy winter boots, you can choose any brand between these two.
Emus are water resistant Uggs aren't
Due to the use of double-layered EVA cushioning and rubber membrane at the outsole, Emus are water resistant.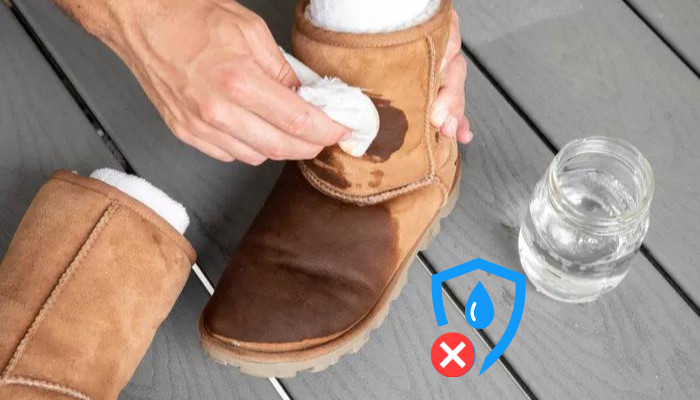 In the case of Uggs boots, I found some versions of Uggs being wet on the snow. It happened because those boots don't hold the rubber layer outsole.
Besides, the single-layer cushioning is also responsible for making the boots soaked in water.
You may also like to read: Do Uggs Make Your Feet Sweat.
What are the similarities between Emus and Uggs?
Both of the boots look almost similar because of their upper style, height and size. You've to notice the logo at the ankle area to identify the brand.
Apart from outlook, there are other similarities that you should know.
Both are Australian Brand
Emus and Uggs are best known for their splendid unisex boots. Original sheepskin boots evolved in Australia and were termed Uggs.
Ugg Australia started its journey in 1974 with 100% Australian sheepskin and an Australian skilled workforce.
In 1978, the production of Ugg boots started in California. The design of Uggs acquired popularity in southern California's surf communities during the 1980s and 1990s.
Ugg boots became a fashion trend for males and females in the early 2000s.
Emus is named after the Emu bird that is featured on the Australian Coat of Arms.
Emus started its glorious journey in 1948 from South Geelon, Australia. It was then named Jackson's Tannery.
In 2014, 'EMU Australia' was derived from Emu with an attractive logo and motto.
From the start, Emus fulfilled its customers' demands by producing iconic style footwear with superb comfort.
Both are comfortable in winter
I found Uggs and Emus at the top of the line of winter boots. Their principal raw material is pure sheepskin from Australia, which is biodegradable.
The sustainable materials and EVA cushioning at the midsole ensure full-on comfort and overwhelming support.
For additional support and traction, a sturdier and more flexible rubber sole is attached in Emus.
Both of the boots are ideal for surviving in chilly weather.
Emus vs Uggs: Which boot is better to use in the snow?
As you know, both Emu and Ugg boots are supportive in cold, freezing weather.
But the big question is, are they able to provide safety in Snowfall?
When it comes to Emus boots, are suitable to wear in the snow. Snow releases water, but the rubber shield will prevent the boots and your valuable foot from absorbing water.
So you can obviously wear Emus boots in winter and snow as well as in the monsoon.
Another negative word I will mention about classic suede-based Uggs is that they don't possess water preventive properties.
It gave me a disgusting feeling when I went outside in the snow and my feet became damp in bitter cold weather.
So, when you walk into the snow, your boots will soak water from it.
As a result, your feet will get wet. How irritating it feels when you desire to enjoy snowfall, but your boots become the barrier to your enjoyment.
Not only that, the soaked water from snow will leave water stains on the boots.
And so, you've to waste extra time while cleaning the boots to remove the stains and fix them.
Some vendors claimed that uggs are water-proof. Yet, I will suggest you not to wear these boots either in the snow or rainy season as I am the sufferer.
It's possible that buying a pair of Uggs will make you regret your purchase.
Emus vs Uggs: Which one should you pick?
It depends on your zest which one you will get to wear in winter. But, you were with me until now.
So, it's my warm responsibility to suggest to you the appropriate one.
If you're looking for an affordable, warm and coziness provider, including water-resistant characteristics in boots, then you should decide on Emus.
On the other side, You should pick Uggs if you're passionate about wearing colorful and fluffy boots.
Check out our separate post: Do Koolaburra Uggs Run Big.
FAQ
Do Uggs make the foot feel sweaty?
Absolutely. Australian Uggs are made from pure sheepskin. The sheepskin catches heat which passes into the feet. In summer, excessive warmth inside the boots will turn into sweat.
Can you spray the suede protector on Uggs?
Yes. Following the proper method suede protector can be used because the texture and consistency of suede and uggs are equivalent.
How to clean Emu boots?
It is recommended not to clean sheepskin boots in the washing machine. It should be cleaned manually with a damp cloth and suede cleaner. To prevent staining and dirt, stain repellent should be spritzed before wearing the boots.
The Final Words
Emus are categorized as a generic brand, and it is widely preferred due to its budget-friendly price, coziness and stability.
Uggs are labeled as a genuine brand and also comfortable. But they are more expensive.
If you are passionate about wearing leading branded winter boots, you should go along with Uggs if you can afford them.
Otherwise, if you want comfort at a reasonable price, Emus are the best for you.
Don't forget to let me know your opinion about Uggs and Emus.
Let's take a coffee break now!