When purchasing Koolaburra uggs, many people are often skeptical about their sizing due to mixed reviews online. They don't know if they should size up, down, or just stay true to size.
If you are one of them, then you are in the right place because I have done thorough research and tried Koolaburras for myself to get you the most authentic answer to the question: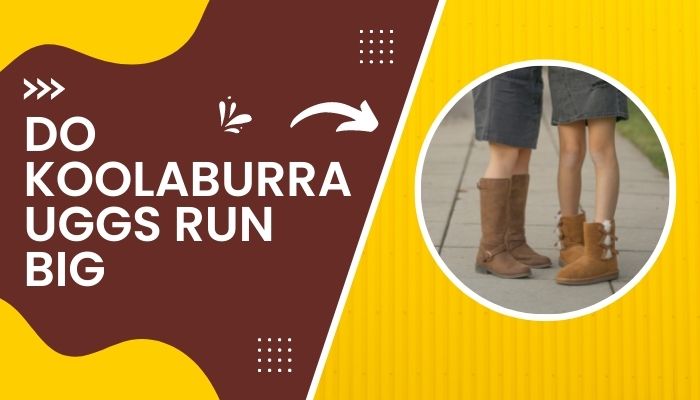 Do Koolaburra Uggs run big or small?
Koolaburra Uggs run small, so they are not true to size. However, the difference in sizing is not that much, so if you get a pair that's your size, they will fit well. But to get the most comfortable, snug, and perfect fit, I would recommend you size up to about half a size.
I am a size 6, but the size 6.5 works best for me when it comes to Koolaburra Uggs.
To know all about Koolaburra Uggs and their sizing, keep reading till the end.
What Are Koolaburra Uggs?
Koolaburra by Uggs is a collection of casual footwear that has the special feature of calf suede material, sheepskin lining, and faux fur foot cushion that provides the ultimate warmth and comfort.
The journey of Koolaburra started initially as an independent Koolaburra brand in 1991, where they produced authentic sheepskin footwear.
Later on, Koolaburra was acquired by Decker's Brand who also owns Uggs. As a result, they became Koolaburra by Uggs.
Their footwear is cheaper despite having real animal leather, suede, and fur being used in the manufacturing process.
The insides of these boots have a fuzzy layer of fluffy faux fur while the exterior of the upper parts is made using calf suede that is soft and supple.
They have incorporated EVA foam to make the midsoles and outsoles of these boots, lining them out with fur for extra warmth. The EVA provides a lightweight feel and adds comfort to these shoes, so they can be worn for longer periods.
The Koolaburra boots are designed keeping the cold weather in mind, the features of the shoe ensures warmth, comfort, and coziness for the wearer.
Follow our guide on how to Clean Black Uggs.
Do Koolaburra Uggs Run Big Or Small?
Koolaburra Uggs are the ultimate comfy footwear, but getting yourself the right size is very important to make the most out of a pair of shoes.
Koolaburra boots run small, they do not run big and are not true to size. The fitting that you want is a comfortable, snug fit, that will keep your feet warm and cozy.
The fitting should not be too tight or too roomy as that will take away from the experience of wearing these shoes.
However, some people have very narrow feet. So, if your feet are exceptionally narrow, then you do not have to size up.
Instead, you can get a pair that is your own size and the fitting is supposed to be good enough.
But for people with feet that are on the wider side, sizing up is the best option because if they are too tight, the fitting is going to be awful and unwearable.
Initially, when Koolaburra was an independent brand, it only produced footwear for women.
But now Koolaburra by Uggs manufactures shoes for men, women, kids, and toddlers.
They also provide a wide range of sizes for all these categories and you can easily find the size chart for all categories on their website.
Check out our separate post: Do Uggs Make Your Feet Sweat.
Should You Get Yourself Koolaburra Uggs?
Now that you know all about sizing Koolaburras, what about their features? Should you get yourself a pair of Koolaburra uggs?
Well, I would say that you should totally get yourself a pair of Koolaburra Uggs because they are excellent value for the price. Especially if you live in colder regions, they are a must-have.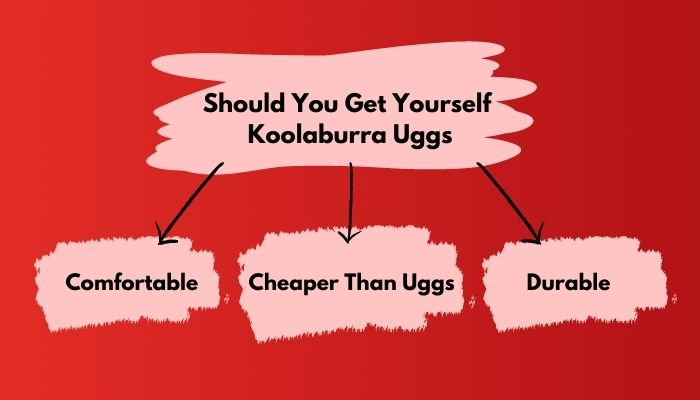 Why should you get yourself a pair of Koolaburra boots?
They Are Comfortable
Nothing feels as comfortable as warm feet do in cold, chilly winters. That is where these Koolaburra boots are absolutely vital!
Koolaburra boots by Uggs are super comfortable, warm, and cozy. So, they are a must-have, especially if you live somewhere cold.
As opposed to shoes that do not have a lining, the cushion wool sock liner of Koolaburra Uggs is exceptionally gentle on the skin and provides a cushioning effect for the foot.
These are much lighter than other shoes, so you won't even notice you're wearing them. The fact that the sole is so lightweight makes it incredibly easy to move, which adds even more comfort.
The pull-on style also makes it incredibly simple to put on and take off. When you are on the go, you will find that putting it on and taking it off is made easier by this feature.
Read more on How To Shrink Uggs.
They Are Durable
Let's face it, when buying shoes, we want something that will last us a while – and Koolaburra boots do not disappoint here either. They are durable footwear, in fact, they are more durable than Uggs!
This is owing to the EVA foam used in them. The EVA foam does not only add comfort and is lightweight but also increases the durability of the Koolaburra.
EVA is resistant to heat and has the potential to last for a very long time without showing any signs of wear and tear. Plus, the Koolaburra Uggs are not only highly durable but also simple to clean and maintain.
So, when you buy Koolaburra Uggs you don't just get comfortable boots, you get comfortable boots that will last you a long time.
They Are Cheaper Than Uggs
Price is a big factor whenever you are making a purchase, and the better quality you can get at a cheaper price is definitely a win.
That is very much the case for the Koolaburra boots. They are comfortable and plush, but they are much cheaper than their Uggs counterparts. So, you can get them at much lower prices than you would get the Uggs for.
Despite the fact that Uggs appear to be everyone's favorite footwear, the brand of boots is priced significantly higher than what many people's pockets can comfortably accommodate.
The Koolaburra by Ugg boots are practically identical in look to the legendary Uggs, but they are available at a price that is more favorable to one's wallet.
This means they are the best alternative to the Uggs that you can get on the market.
So, if you buy the Koolaburras instead of the Uggs, you are getting what you want but at a much lower price, how amazing is that!
Also, follow our epic guide on How To Remove Mold From Ugg Boots.
FAQs
Are Koolaburra Uggs Waterproof?
Koolaburra Uggs are not waterproof, and should only be used in dry conditions. In fact, it says on their website that they are "not intended to be used in rain, snow or other inclement weather". So, if you do get yourselves a pair, make sure you do not use them in wet conditions.
Are Koolaburra Uggs Vegan?
No, Koolaburra Uggs are not vegan. They are made using calf skin, sheep skin, and faux fur. So, if you are vegan and want to refrain from using animal products, then I'm afraid Koolaburra Uggs are not for you.
Conclusion
Koolaburra by Uggs are great for your feet, they provide the warmth, comfort, and coziness that we long for on cold winter days.
But to get the best feeling, you should get the right fitting – and they run small, so you should size up when getting yourself a pair.
If you have relatively narrow feet, then you can stay true to size, but if your feet are on the wider side, I would recommend sizing up.
I hope this article was helpful for you, don't forget to drop all your queries and feedback in the comments below