The damped uggs are good for nothing. Especially in the cold freezing winter.
Don't worry buddy. After sleepless nights of research, I finally found the best ways to fluff up your uggs.
Yes, you heard me right. You can try the methods right now! So, keep on reading to find them out.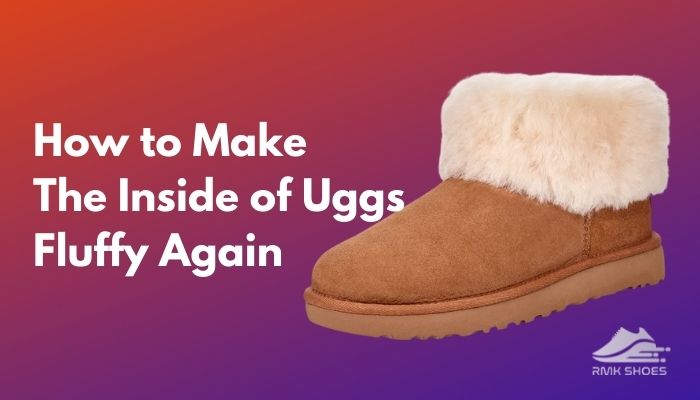 2 Best Ways Ways to Fluff Your Uggs?
The freezing winter keeps us shying away from taking long walks.
Unless and until the super fluffy Uggs arrive on the market. Our lives turned way easier and more comfortable.
But not when the Uggs fiber is worn out. The warmth and the coziness all disappear in the process.
This is why it's important for you to know the right methods to revive your shoes back. Make them fluffy, warm, and soft once again.
How? Good question. After trying out a bunch of ways, I have sorted 2 mind-blasting ways to outshine other methods.
Not only do they work effectively but also work pretty fast as well.
You may also like to read: Do Koolaburra Uggs Run Big
Who doesn't want to know such great techniques?
Here are the 2 best ways you can fluff your Uggs inside.
1. Using a Slicker Brush
Surprised to find the word "slicker" and not "suede" here. Don't be confused. It is the same slicker brush. The one with which you must have brushed your pet a billion times.
What if you have no pet in the first place? Does that mean no slicker brush? So no fluffing up?
No worries. I shortlisted the 5 best slicker brushes that are best for the job.
Here are the 5 best slicker brushes:
Chris Christensen – Big G Slicker Brush – Large
The Big G brush got a larger surface area with 40% more pins than the previous version that can brush off better.
This brush not just works well on dogs' long curly hair but also on Uggs inside as well. The pins are specially designed to transform any type of fur fluffy, pretty easily.
Follow our guide on how to Clean Black Uggs
Chris Christensen Oval Pin Brush, 27mm
The oval-shaped pin brush, with its smaller body, has a bigger advantage in brushing the inner side of UGGS better.
It can easily slide in through the small opening and can reach all places inside for a fluffy-up business.
Miracle Coat Slicker Dog Brush
The complete black color makes the brush very attractive. Along with it comes the ultra-thin pins that can brush worn-out fibers with no effort given at all.
The handle is cushioned and easy to grab as well. Unlike other brushes, it won't slip through your hand at all nor will it cause wrist pain during the whole time of use.
KW SMART Slicker Brush, Small
KW Smart Brush aka the pocket brush. The "pocket" title is given due to its size being small enough to reach every corner of your Uggs shoe.
The size isn't all. The micro pins comb any rough and worn-out hair into nice and fluffy hair again. The handle is designed so you can firmly grip the brush to do a neat and pain-free job.
Ryan's Pet Supplies Paw Brothers Soft Pin Triangle Slicker Brush
The shape of the brush may not be a big deal when brushing your dog. But if you notice carefully, the shape of the inner shoe is slightly triangular.
And so is the brush. Due to its unique shape, it can brush and make every unreached Uggs fiber fluffy to the fullest.
Check out our separate post: Do Uggs Make Your Feet Sweat
How to use the brush?
Using the brush is super simple. All you have to do is follow 3 easy steps:
Just slightly dab the inside with a clean wet towel.
Brush the Uggs fiber thoroughly, just like how we comb our hair.
Use your hair dryer to dry the inside for the final look.
2. To Clean and dry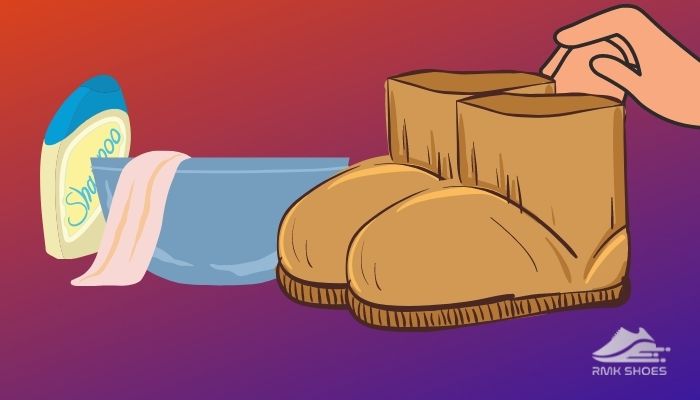 Read more on How To Shrink Uggs
Cleaning the upper with sheer dedication is used almost anywhere. However, when it's about cleaning inside Uggs shoes, you and I have ignored it in most cases.
This ignorance is what makes the Uggs look matted and hard. Pretty similar to when we forget to shampoo our hair for a long period of time.
Not my case though. I wash my hair every day. Which is why mine is still smooth, silky, and fluffy.
For Uggs' case, all you have to do is follow 5 super easy steps. To bring the same effect as my hair.
Here are the 5 easy tips:
Add a few drops of shampoo to a small bowl of water.
Wet a clean towel in that solution and dab the inside of the Uggs.
After multiple times dabbing, stuff the shoe with newspapers to suck the excess water.
Now brush the inner hair using a slicker brush.
Dry the inside using a hairdryer.
Follow our guide on How To Wash Uggs In Washing Machine
How to Clean Uggs Upper (5 simple steps)
Cleaning the inside is done. Now it's time to clean the upper too.
Although it's best to keep in mind how sensitive Uggs upper is. This means cleaning shouldn't be fast but precise and gentle.
So recently, I found and tested an amazing 5 step method. That has worked pretty well on my Uggs shoe.
Below is the detailed 5 step-by-step cleaning method.
Use a suede brush to gently brush the dust and mud as much as possible.
Add a few drops of Uggs/Suede cleaning solution to a bowl of lukewarm water.
Use a clean towel to dab in all exposed places on the upper.
Then, repeat the brushing process one more time. And spray the protector on every area of the shoe(including the inside)
Finally, keep the shoe in a dry and cool place to dry overnight.
Also, follow our epic guide on How To Remove Mold From Ugg Boots
Bonus Tips to keep your Uggs odor-free(Approved by Experts)
Knowing various methods to clean and dry to get the fluffy features is surely important.
But what's even more important is to know how to care for Uggs on a regular basis.
That can protect them from smelling bad and will allow Uggs to live a longer life in general.
The few most important tips you should follow are stated below.
Spray the protector inside the Uggs as well for an odor-free experience.
Better not keep the shoe anywhere near extreme heat sources like the stove, direct fire, or bright sunlight. The heat may ruin Uggs skin.
Each night, use a suede brush to roughly brush the upper layer gently.
Clean and dry twice a month for better durability of Uggs
Protect your eyes while spraying thoroughly.
Store Uggs material in a cool and dry place instead of a closed place.
Never clean Uggs using a washing machine.
Do not soak your Uggs boots in deep water for cleaning. It will not only ruin the upper but also allow the shoe to stretch uncontrollably.
Check out our epic guide to know Can You Wear Uggs In The Snow
Stay warm
Now that you have all the ideas you need. You can start prepping to apply the fluffy methods.
Also, be careful as you apply the methods. Since ugg material is highly sensitive, any wrong step might worsen the condition of your shoe.
So as long as you follow the steps correctly, you would be surprised to find your uggs fluffy again.
Do let us know your experience with my fluffy methods and add your ideas in the comments below. Also, don't forget to share with others.