Confused about whether to use suede protectors or not?
Especially when you buy a Uggs pair for the very first time?
Happens. I was confused too. So, I ended up researching for sleepless nights until I typed the question one last time.
Can I use a Suede Protector on my Ugg boots?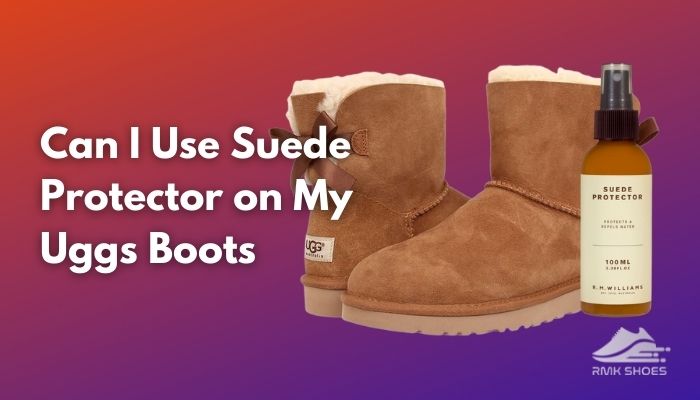 Yes, definitely you can use suede(or even nubuck) protectors on your Uggs Boots. It's because both Uggs and Suede have the same texture. So, all you have to do is know the right methods and some tips to use suede protectors any time you want.
Want to know how to use them? Keep reading to know them all.
Can a Suede Protector protect UGGS?
Yes, suede protectors and even the nubuck ones can protect Uggs, the same way it protects suede or nubuck upper.
Suede Protectors are commonly found everywhere.
On the contrary, you would rarely find a protector exclusively made for Uggs material(except for UGG brand protectors).
So if a Suede protector can do the same job as great as any uggs protector, then there is no need to worry about protecting Uggs separately.
Now, you might ask, how well suede protectors work on uggs?
Since Uggs are also a suede material, the suede protectors work pretty well on the upper.
The protector does not just protect your shoes from water or heat, but also from the permanent settlement of dust or stains.
Awesome right? Now with just one protector, you can clean all your suede shoes at home. Including your precious Uggs Shoes as well.
Can You Use a Waterproof Spray on Uggs?
Yes, you can definitely use a waterproof spray on uggs.
Waterproof sprays have varieties. Some are specifically made for Uggs and some are for all-purpose use.
If your boots are from the UGGS brand, you might already have a ready-made cleaning kit that includes a waterproofing spray.
So it clearly indicates that you can use a waterproof spray. In fact, almost all experts recommend using waterproofing sprays after cleaning.
Since spraying helps your boots stay waterproofed all the time. With which you would find no issues going out in the rain or snow.
Though the durability or the effect of the sprays varies from brand to brand. The better the brand, the better the quality.
Also, read more on How To Protect Ugg Boots.
After all, the quality is what ensures your boot's protection for a long period of time.
But how do I use the spray?
Good question! If you thought of simply spraying on it, then let me stop you there.
Here are some precautions to using a waterproof spray on uggs:
Make sure to dry clean the shoes with a clean towel.
Wear goggles to avoid spray burning your eyes.
After spraying thoroughly, allow the Uggs to dry in a cool and clean place.
Do not keep your Uggs near the stove or under direct sunlight. Otherwise, the sensitive skin might have its color fade soon.
You may also like to read: How To Dye Ugg Boots.
Use Your Protector: 3 Simple Steps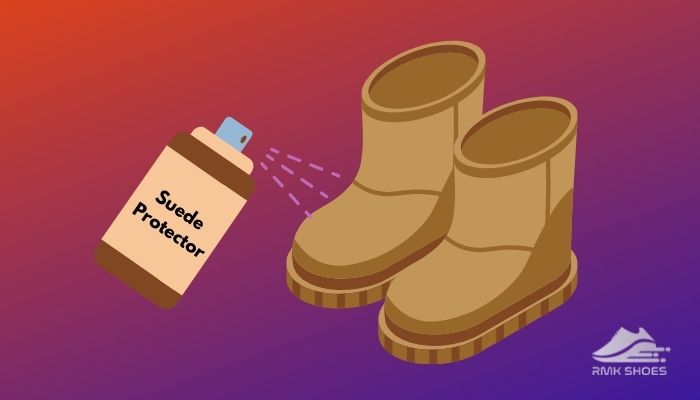 Spraying is easy. After all, what else would you do, anyway?
You are right, there is nothing much to do.
However, if you take a look at their ingredients, you would be surprised. Any amount of intake of the spray will harm your body.
Surprised? I felt that too. This is why I found 3 simple steps to use the protector without harming yourself at all.
First, you need to clean your uggs in a clean and dry place.
Then wear goggles and gloves for protection against the spray.
Hold the spray close and spray all over the shoe, including the inner side as well(for odor control). After you are done spraying, allow the shoes to dry overnight in a cool and dry place.
Read more on how to Make the Inside of Uggs Fluffy Again.
How to Clean Uggs? 5 Simple Steps
Compared to the conditioning process, cleaning Uggs is quite lengthy. After all, Uggs upper is very sensitive, so it requires more attention while cleaning.
No matter which expert you go to, they would always recommend you to clean slowly rather than cleaning super fast which would end up ruining your shoe.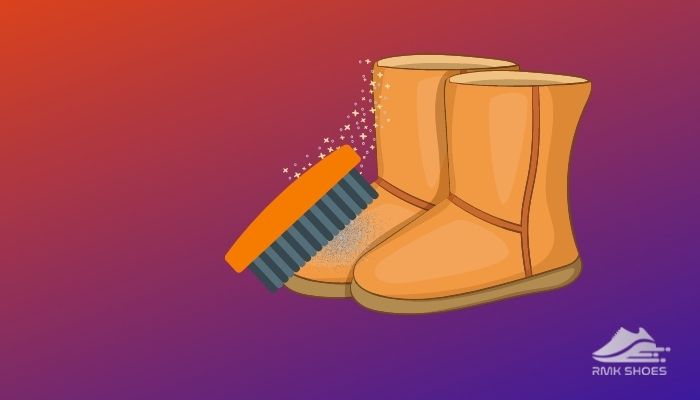 But don't worry. The word "lengthy" doesn't imply that the entire process would take your entire day.
It will take a maximum of 20 mins for a thorough cleaning.
So do I have awesome and effective methods in my pocket? Yes. I found a very simple 5 step cleaning hack that works every time.
Also, read Can You Wear Ugg Boots in The Snow.
Things you need for the 5-step cleaning method:
A bowl of lukewarm water
Hair Dryer
Suede brush
A clean towel or a cloth
Suede cleaning solution
A bunch of newspapers or tissue papers
Now, It's time to start cleaning:
Fill the shoe completely with pieces of newspaper or tissue paper.
Now use the suede brush to gently scrub off the mud or excess fibers from the upper.
Add a few drops of cleaning solution to the bowl of water. Dip the dry cloth in the water and dab softly on the shoe. Until most of the stains disappear.
Use the hairdryer to apply medium heat to the brush. Then use the brush to scrub off the upper once again.
Finally, follow the above 3-step conditioning process to apply the suede/nubuck protector on your Uggs shoe.
Related guide: 6 Simple Ways To Waterproof Ugg Boots.
Bonus Tips to save Uggs from further damage
The cleaning is done. So is conditioning. But if that makes you feel like your shoe is untouchable, then better erase that feeling fast.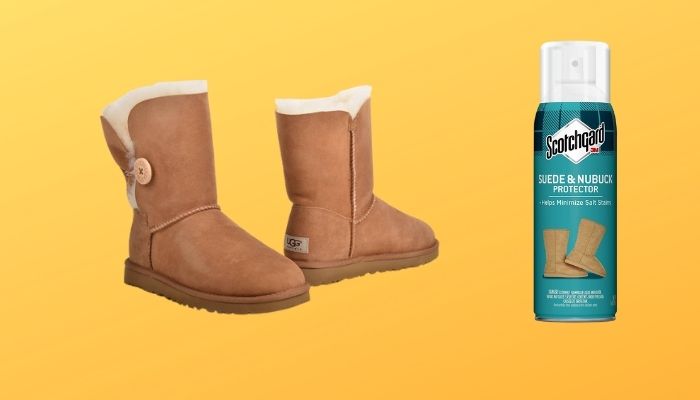 I admit both methods play a big role in protecting Ugg from getting damaged.
However, not following a few dos and don'ts may cause more damage. In fact, in some places, the tips are told to prioritize more than cleaning on weekends.
After all, what's the point of cleaning when ugg shoes are getting damaged anyways.
So, after listing a countless number of recommended tips. I shortlisted the 10 most important tips that you must know while using suede material.
Here are the 10 Most Effective Tips are to save Uggs from further damage:
Always keep your Ugg shoes in a cool and dry area.
Do not dry using direct heat from your hairdryer
Better to keep it in an open space than in an enclosed closet. To allow Uggs a chance to breathe.
Never soak your shoes in deep water. Else your shoe would end up stretching without control.
Always protect your eyes while spraying your shoe. Otherwise, the spray may spread all around and harm your eyes.
After every wear, use the brush to dust off the mud and clouds of dust before they get harder to remove.
Follow the simple steps mentioned above twice a month for a better experience.
Always gently dust off the upper while using the brush.
Use the cleaning towel to dab the shoe instead of rubbing it hard for cleaning.
Avoid drying the shoe under bright sunlight. That might cause a severe color fade.
Let's get ready for the war
Now you are all equipped with answers, methods, and tips for your Uggs. So without worries, use the suede protector as much as you want to protect your shoe.
And by any chance, if you can't recall the methods to condition or clean, you can always come back and go through the steps again.
So what are you waiting for? Grab your protector and shield your Uggs with all your might.
Let me know in the comments below about your experience while using the protector. Also, don't forget to share among your suede-lover friends and family.