As winter knocks on the door, the first thing we do is take out the Ugg boots from the cupboard. And why not? Because Uggs are an absolute treat to your feet in cold weather. To keep the feet warm and cozy, there are no other boots that can beat the comforts of Ugg boots.
We often make the mistake of wearing Ugg boots in wet weather, which results in the Uggs being a soggy mess because not all Ugg boots are designed to be waterproof. But there are ways following which you can make your non-waterproof Ugg boots fully waterproof.
This article is all about waterproof Ugg boots all by you; continue reading the article and get to know the most uncomplicated steps of waterproofing your shoes.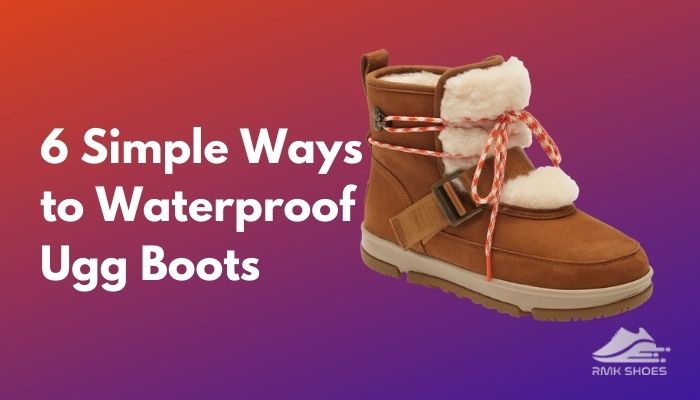 Are Ugg Boots Preferable For Rain Or Snow?
Uggs has made its place firmly in the footwear industry because of its comfortable wear and a well-built sole. The plush sheepskin liner with the wool inside the boots and the synthetic sole makes a perfect combination for protecting your feet from chilly weather and reducing slipping chances.
Check out our epic guide to know Can You Wear Uggs In The Snow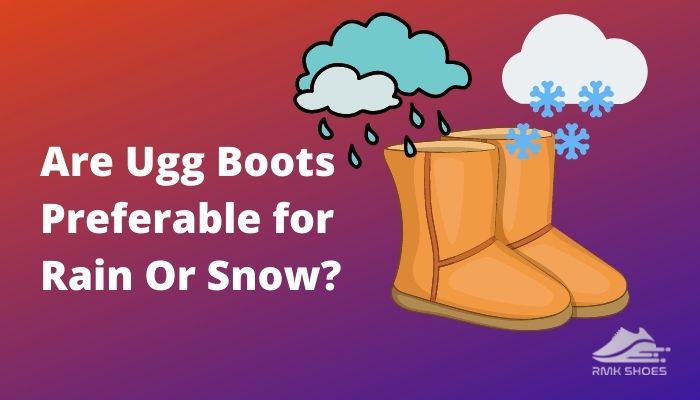 But unfortunately, you cannot swash in the rain nor go sledding in the snow wearing Ugg boots. As not all Ugg boots are waterproof, wearing your suede Uggs in rain or snow will leave watermarks and stain the boot's surface permanently. And within a few wear your Ugg boots will look dirty, shabby as if you have been wearing them for decades. So make sure to check the manufacturer's instructions to confirm whether your Ugg boots are waterproof or not.
However, Uggs also produces boots like the Shaye rain boots, and Adirondack III boots that are waterproof and can endure heavy rain and snow.
You may also like to read: Do Koolaburra Uggs Run Big
How To Waterproof Ugg Boots Easily?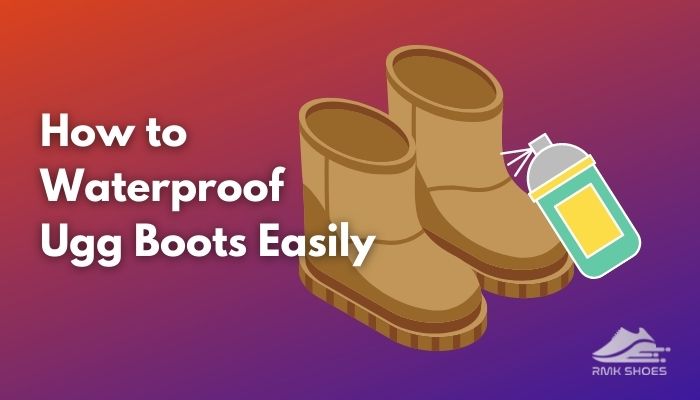 To protect your Ugg boots from stain and to increase its lifespan, waterproofing is the best solution. Once you purchase your shoes before wearing them, try to waterproof them as soon as possible. Don't wait until your boots get completely stained because the more you will delay, the dirtier your shoes will be.
To waterproof Ugg boots in a safe way, you have to undergo some processes. The first thing is cleaning the shoes because if you do the waterproofing process on dirty boots the dust and mud will be embedded in the shoes.
There is a various cleaning processes for ugg boots, among which using suede brush and suede cleaner will give you the best result.
Follow our guide on how to Clean Black Uggs
Cleaning Ugg Boots With A Suede Brush
Brushing plays an essential role in cleaning Ugg boots; brushing eliminates all the loose dirt particles.
Here are the steps that you should follow to wash Ugg boots with a suede brush:
Take a suede brush, which you can simply get in a footwear shop, and start brushing your boots when they are thoroughly dried. If you brush wet boots, you will smear all the dirt all over the shoes rather than cleaning them.
Brush the boots with a suede brush in a single route in small circular strokes.
The heavily stained areas brush the boots to and fro with a little bit of pressure.
If you can't find a suede brush, you can use your old toothbrush instead; make sure the toothbrush bristles are soft.
Check out our separate post: Do Uggs Make Your Feet Sweat
Cleaning Ugg Boots With A Suede Cleaner
A suede brush is used to remove the dirt and soil and remove any stains or discoloration from the boots; suede cleaner can be a good option.
Here are the steps that you should follow to wash Ugg boots with a suede cleaner:
Brush your boots with a suede brush, as described earlier.
Take cotton clothes, make sure it is clean, drench it in cold water, and squeeze out the extra water. Squeezing the excess water will ensure your boots are not thoroughly wet while cleaning.
Rub the entire outer surface of the boots with the wet cloth.
Take a sponge and wet it. Ensure the sponge is clean; otherwise, you will smear dirt all over the boots. Squeeze out the water from the sponge; the sponge should be damp.
Take a few drops of suede cleaner on the sponge.
Gently start rubbing the boots with the sponge. Start from the toe area to the heel's back, clean the shoes' outer surface entirely. Make sure not to leave any room; otherwise, your boots can have water spots.
After you are satisfied with removing stains, take a clean cloth soaked in cold water, and rub off the cleaner from the boots. There shouldn't be any remainder of the cleaner.
For drying the boots, fill the shoes with the newspaper, it will ensure the boots retain their shape. Keep the Ugg boots in a cool and airy place and let it sit for 48 hours or until the shoes are completely dried. Do not dry your shoes in direct sunlight.
When the boots are dried, brush them with the suede brush, brushing will raise the threads of the boots.
Read more on How To Shrink Uggs
Waterproofing The Ugg Boots
Now comes the actual part, waterproofing the Ugg boots. Ugg provides a whole kit for waterproofing boots, including a suede brush, cleaner or conditioner, protector, water-resistant spray. If you can purchase this kit, the waterproofing process will be perfect because Ugg has specially designed this kit for waterproofing boots.
Here are the steps that you should follow to make your Ugg boots water-resistant:
As usual, brush the boots with the suede brush to get rid of dirt.
Spray the waterproofing spray on the boots at a gap of 6-7 inches. Spray it all over the boots, do not leave any area before spraying cover the decorative pieces of stuff if your boots have any.
The boots should be damp rather than thoroughly drenched in water-repellent spray.
Keep the boots in an airy place for drying. Do not leave them in direct sunlight and avoid using a hairdryer or heat because using direct heat or dryers can burn the boots.
Once the boot is dried, gently brush them again to lift the fibers.
And you are done waterproofing your Ugg boots.
Tips for water-repelling Ugg boots
Though waterproofing your boots will protect them from harsh weather, try to avoid walking through mud in your Ugg boots.
Try to brush your boots once a week; this will ensure no dirt build-up.
While using a suede brush onto your boots, always be gentle. Harsh brushing can damage the fibers of the shoes.
Try to waterproof the boots before your first wear.
Frequently Asked Questions
Do Ugg boots need waterproof spray?
It is suggested to spray your sheepskin boots with a suede protector to make them waterproof while it is newly brought. Making your Ugg boots water-repellent means, if the shoes get wet in the rain or snow, you can leave them in an airy place to make them dry and rub off any dirt or debris in the next day.
Do Uggs get ruined in the rain?
You should not wear uggs when it is raining, because it's going to be muddy and wet, and uggs are not designed for this type of weather. The same thing goes for wearing your ugg boots in the snow. Uggs are made for seasons like fall and winter, for giving your feet warmth and comfort. Snow can easily ruin the ugg boots and change their color.
However, Uggs also make boots that are suitable for heavy rain or snow.
How can you fix water damaged Uggs?
If your boots get drenched in heavy rain, just leaving them to air-dry without cleaning can cause watermarks or discoloration. Take a clean cloth or sponge, soak it in cold water and wring out the excess water. Now wet the boots evenly with the wet cloth or sponge. Do not leave any. To retain the shape of the boots, pack the boots with newspaper. Leave the boots for air drying. Once the boot is completely dried, brush the shoes with an old newspaper to raise the nap.
Conclusion
Ugg boots are the ultimate pleasure to your feet. To keep the feet warm and toasty in winter, Uggs can be your best friend. To increase their longevity and to keep the boots looking good, waterproofing them is a must. Now that you know all the waterproofing steps, Ugg boots utilize them in your boots and walk through snow or rain without any tension.
I hope what you have been searching for has been answered through this article. Do follow all the methods, and don't forget to share your experience with us.