Isn't it irritating when you receive a different colored dress that you didn't order? Or when your shoes don't adjust properly on your feet.
I know it's common, especially when you order some accessories online.
Recently, I've also faced something like that. I purchased a pair of Nike Huarache City Low Black-White versions. Even though I ordered the true size, the sneakers I received were tight on my feet.
I had the opportunity to return those pairs back and got my perfect size. Now, it is nicely adjustable on my feet.
Then I thought of assisting general people with Nike Huaraches perfect size guide. So that they can make sure to get the right fit.
Without any further gossip, let's move on to the main discussion.
Does Nike Huaraches Run Big Or Small?
Before I explain Huaraches sizing, let me ask you a question, How do you feel whenever you put on socks on your feet?
You must get a snug and compact feeling, right?
You'll feel that exact vibe when you wear a pair of Nike Huaraches. They are a slightly tight-fit.
Nike Huaraches don't run either big or true to size. Most of them are simply a little bit small. Hence, it will provide you with a close but comfortable fitting.
As it's narrow in size, if you buy the true size, your toes will come to the end of the shoe. And this can cause bending and ache in your toes.
It's highly recommended to buy a half-size up of Nike Huaraches if your foot size is standard. For wide feet, go for a one size up.
I've attached the size chart of Nike Huaraches in this article. You can simply scroll down and take a closer look at that.
Check out our separate post: Nike Lunarglide Substitutes.
Why Are Huaraches So Hard To Put On?
I know you hate pushing your feet forcefully in shoes. I'm also like you. It's uncomfortable to wear shoes that don't offer enough room. I feel like throwing those shoes on the ground.
Nike Huaraches are something like that. It's so hard to adopt the true size on the first attempt.
Can you guess the reason behind this complication?
Huaraches contain exoskeletal upper and run tiny. Hence, it's difficult to wear the true size at the beginning. After wearing those pairs for the first time: you will feel uneasy, but no blisters will arise.
If you buy a half or one size up, you can easily put them on, even at the first time.
Do Nike Huaraches Stretch?
I advised you to buy a half or a size bigger Nike Huarache pair. But what to do if you already bought a true-to-size Huarache pair?
You must be thinking of exchanging the exact size with a half-size bigger one. That's a great solution. I also followed the same way.
The sneaker is made with soft leather, spandex, neoprene and thermoplastic. These materials are stretchy to a certain level with regular use.
One of my cousins received a pair of Nike Huaraches as a birthday present, But it was tight on his fit. Since it was a gift, he didn't have the option of changing those pairs.
He came to me and asked for an effective suggestion. I told him to wait for some weeks and wear the shoe for 2-3 hours on a regular basis.  Because I knew that Nike Huaraches broadens a little over time.
But my cousin was so impatient to wear the Huarache pair and asked for a quick solution.
As a footwear enthusiast, I told him to use a shoe stretcher.
With the help of a shoe stretcher, my cousin successfully expanded the sneaker within a few minutes.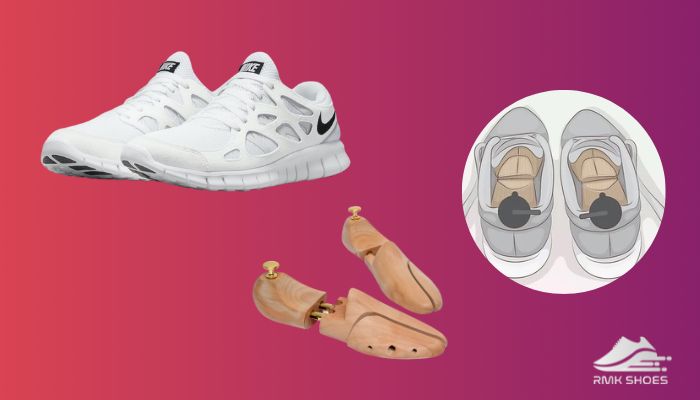 My Huarache pair also stretched a bit naturally. It expanded at the heel area. But it didn't make space at the toe area. My toes were bending inside the sneaker.
You may also like to read: Adidas vs. Nike Sizing.
Size Chart Of Nike Huaraches
If you have no idea about the available sizes of Huaraches, then you can check out the size chart that I've attached below.
Here is the genuine size chart of Nike Huaraches:
Men's Nike Huarache Size Chart
| US | UK | ER | CM |
| --- | --- | --- | --- |
| 7 | 6 | 40 | 25 |
| 8 | 7 | 41 | 26 |
| 8.5 | 7.5 | 42 | 26.5 |
| 9 | 8 | 42.5 | 27 |
| 9.5 | 8.5 | 43 | 27.5 |
| 10 | 9 | 44 | 28 |
| 11 | 10 | 45 | 29 |
| 12 | 11 | 46 | 30 |
| 13 | 12 | 47 | 31 |
Women's Nike Huarache Size Chart
| US | UK | ER | CM |
| --- | --- | --- | --- |
| 5 | 2.5 | 35.5 | 22 |
| 5.5 | 3 | 36 | 22.5 |
| 6 | 3.5 | 36.5 | 23 |
| 6.5 | 4 | 37.5 | 23.5 |
| 7 | 4.5 | 38 | 24 |
| 8 | 5.5 | 39 | 25 |
| 8.5 | 6 | 40 | 25.5 |
| 9.5 | 7 | 41 | 26.5 |
| 10 | 7.5 | 42 | 27 |
Kids Nike Huarache Size Chart
| US | UK | ER | CM |
| --- | --- | --- | --- |
| 8C | 7.5 | 25 | 15 |
| 9C | 8.5 | 26 | 16 |
| 10C | 9.5 | 27 | 17 |
| 11C | 10.5 | 28 | 18 |
| 12C | 11.5 | 29.5 | 19 |
| 13C | 12.5 | 31 | 20 |
| 1Y | 13.5 | 32 | 21 |
| 2Y | 1.5 | 33.5 | 22 |
| 3Y | 2.5 | 35 | 23 |
What Makes Huaraches So Popular?
Nike Huaraches arrived in the universe of footwear in 1991. But they're still massively popular.
What could be the reason behind it? Let's focus on that.
First of all, the sneaker has an iconic design with exoskeleton support which makes it popular. The synthetic leather with premium neoprene makes it one of the most comfortable shoes ever. The fabric is really soft.
The midsole is nicely air cushioned. I like the bouncy feel of this classic sneaker.
The neoprene at the upper adds a shiny look to the sneaker. The sole and neoprene of Huaraches offer 360-degree breathability. The material is perforated. Hence it's the best wear for summer.
The air ventilation feature will protect your feet from any kind of bad odor and sweat.
Furthermore, the outsole of this sneaker is made of high-quality rubber. It provides excellent grip on uneven surfaces. The rubber outsole, airy midsole, and neoprene at the upper make the footwear long-lasting.
I really appreciate these features of Nike Huaraches. I'll give this sneaker a five-star rating in terms of comfort, breathability, style and weight.
Nike didn't pause after producing the classy sneaker, Huarache. They strictly concentrated on its branding.
The designer Tinker Hatfield said, " It didn't need a Swoosh, because people knew that only Nike could think of this crazy idea and then pull it off"
I really liked the advertising quote of Huaraches. It was something like, "Have you hugged your foot today?"
Doesn't it sound really interesting and eye-catching?
People were curious when they saw this quote on the poster. And they thought of trying this sneaker at least once in their lifetime.
Celebrities like Michael Johnson, Andre Agassi and Jerry Seinfeld wore Huaraches in their performances. This technique really influenced young individuals. And that's how Huarache became trendy.
Also read, Does AJIO Sell Original Nike Products.
Can You Wear Socks With Nike Huaraches?
Yes, you can style Nike Huaraches with socks. But actually, it's not necessary. I dislike wearing socks with my Huarache pair.
The neoprene material of Huaraches will provide a smooth touch on your feet. And the fit of this sneaker is snug. It will offer a thick socks-like feeling.
Whenever you put on the shoes, you will feel like you're wearing your favorite pair of sleek socks.
It's unessential to wear socks with this sneaker, even in winter.
So, it's completely your choice. If you're more comfortable with socks, you should wear them.
Are Huaraches Good For Running?
Nike released Huaraches as a running sneaker. It contains all the features that people expect from a running shoe.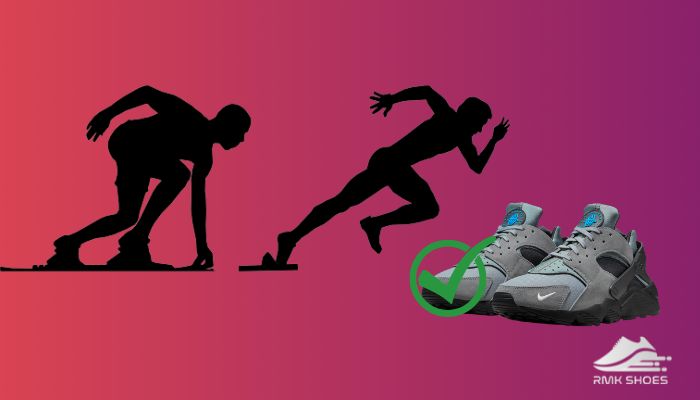 The demand for a professional runner's shoe includes prime comfort, lightweight, well-fitting, breathability and traction.
Nike Huaraches are the comfiest running shoe with their cushioned midsole. They are snug fit. So, runners will feel relaxed with actual fitting. There's no chance of loosening the shoes while running. The sneaker is full of support at the arch and ankle area.
The Huarache that I own is only 315 gm. Isn't that too lightweight as a sneaker?
When a runner performs wearing this sneaker, he/she will feel that there's a feather at his feet.
The rubber sole inserts durability and enough traction on the surface.
The shoe is a little bit bouncy. Running with a bouncy shoe is quite entertaining. If you wanna enjoy this, do run like me in the evening with your Nike Huarache pair.
You can also use Nike Huarache for athletic training purposes and on your basketball court.
Closing Thoughts
Nike Huarache is a worthy footgear if you purchase the accurate fit. To avoid hassles, I'll suggest going to the nearest outlet and trying on different sizes.
Therefore, you'll be able to pick up the perfect fit.
If you're planning to order online, you should pay for a half size up. Also, make sure that the marketplace allows a return and exchange policy.
You can freely ask in the comment section if you have any further queries regarding this topic.