Nike Air force 1 is an iconic pair in the sneakers world. AF1 took the sneaker technology to the next level. Comfort, lightweight, classy look, what Air force 1 doesn't have! After 25 years of AF1, Nike introduces us to Air Force 1'07, which looks like AF1 with some changes.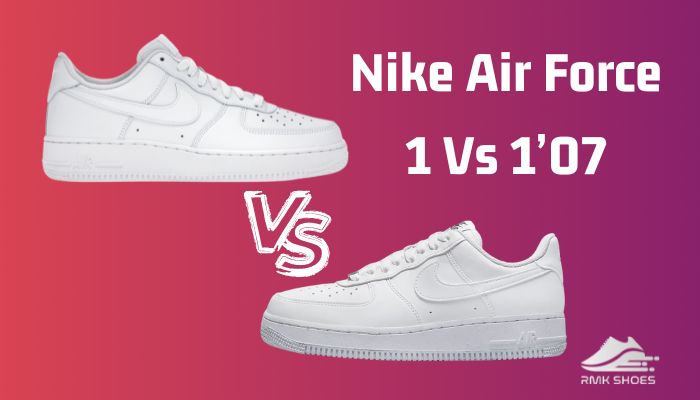 Wanna know the difference between those classic Nike pairs?
Dive into this article and disclose it.
6 Major Differences Between Air Force 1 & 1'07
AF 1 & 07 is identical twin, but these two models also have some dissimilarities.
At first glance, you could not identify the differences between them. For being the proud owner of these two models, I am sharing the differences with you after using those for an extended period.
Let's know the Differences Between Air Force 1 & 1'07:
1. History
In the 80s, Nike was the first brand to launch an air-cushioned midsole with the Air force 1, named after the USA president's travel plane. And to promote the brand-new cushioned sneakers, Nike came up with a cool catchphrase, "Air in the box."  This, skyrocketed the brand's sales, hence AF1's enormous popularity.
To celebrate this fantastic sneakers' 25th birthday, Nike launched Nike Air Force 07 in 2007. Nike uses modern technology in the classic silhouette of AF1.
2. Upper
Leather or synthetic is generally used as the upper material of AF1. From leather, Nike uses Nubuck or suede as leather upper, which is high quality, durable, and offers a super classy outlook. But AF1 has 100+ design variants, and often synthetic material gives it a different look.
Besides leather and synthetic material, the mesh is used as the upper of AF07. This Nike model also has many customized designs. So for design basis, Nike uses a slightly different material in AF07.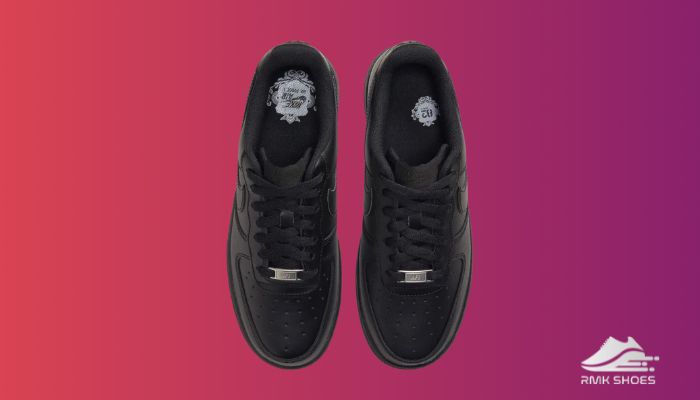 The leading difference of upper between these two models is in the deubré. Now, you will be confused about" what is deubré!" well, it is a decorative shoelace tag normally visible in sneakers. Nike AF07 has a cute metal deubré, from where their premium outlook actually comes.
3. Sole
Because it is a basketball shoe, rubber is the primary sole material of the Nike AF1. Nike uses solid rubber soles to make it durable and flexible. Using rubber soles provides good traction on surfaces also water-resistant facilities.
AF 07 sole is the same, a solid rubber, like Nike AF1. Though I am using both shoes, there is a change in the sole quality. And it is evident that AF07 is made with modern technology where products are more updated, and that's why the sole of the Nike AF 07 is more durable than the old classic AF1.
4. Variety
41-year-old Nike AF1 has 80+ variation! Even you can customize most of them by your selected materials, colors, and texture. But you have to pay a healthy amount for customization because it's Nike AF1! This shoe is still one of the world's top trending sneakers that Billie Eilish collab with recently.
On the contrary, Air force 07 has less variation than AF1. There are 40 variations of NIKE AF07, which is actually half of the AF1.
5. Durability
The durability of shoes depends on the user and usage.
Let me explain. If you use your shoe frequently and don't care properly, the shoe's life span will reduce. But if you use AF for casual wear or a regular morning walk, it will last long.
From my user experience, AF '07 is more durable than the AF1. As Air Force 1 is good for walking, I use it and 07 as my regular morning shoe. However, I bought AF07 before the AF1, but I had to repair the AF1, which made me sad.
It's basically for the building process and materials. AF07 uses newer materials and technology, which makes it more durable and sustainable than the old AF1.
6. Price
Nike AF1 price start from $110. And the most expensive one costs $180. Mainly, the sustainable model of AF1 is the most costly. But women's models are available under $140 and start at only $100.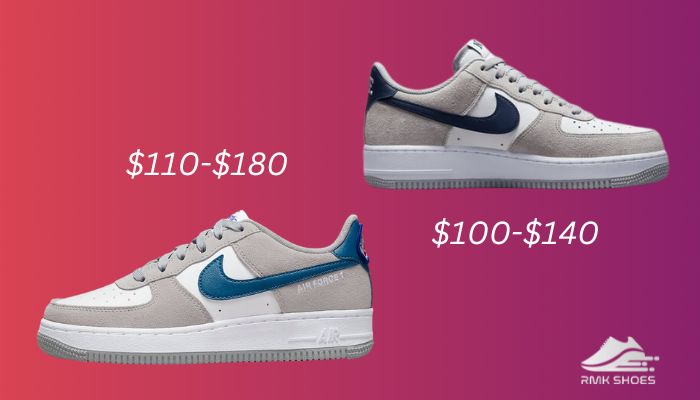 Nike AF07 is comparatively more affordable than the AF1. The price range of AF07 is $100~145, and women's models are more reasonable. You can get AF07 women's models from $100 to $110.
Similarities Between Air Force 1 & 07
Nike Air Force 07 is a modern version of the classic AF1. So it's obvious that they have maximum similarities. You hardly find dissimilarities from a distance. You can only identify the distinction from close if you are a shoe expert.
Since AF1 & AF07's designs are the same, both are made with high-quality leather and have sustainable materials options. AF1 & 07's soles are made with solid rubber and use Nike Air Technology.
If you want to customize your shoe to flex your creativity, you can do it in both AF1 & AF07. Both have colossal color and material options. So you can choose from them or make it on your own.
Both Air Force model is available in different sizes for men, women, and kids on the Nike website and stores for sky-high popularity. You can find them on the e-commerce website too.
Pros & Cons of Air Force 1 & Air Force 1'07
You already know the similarities and differences between two amazing Nike pairs, AF1 & 07. To simplify things, I am giving you the pros & cons of both models.
Air Force 1
Pros
»

Lots of variety.

»

Availability.

»

Versatile design.

»

Super comfortable.
Cons
»

The price range is high.

»

Women's models are not so comfortable.

»

Less durable than AF07.
Air Force 1'07
Pros
»

Availability.

»

Comfortable for both men and women.

»

Durable.

»

The price range is comparatively affordable.

»

Usage of modern technology.
Verdict
Both Nike models are excellent sneakers. Nike Air Force 1 is comfortable, and their versatile design matches any outfit. For being a famous model, the AF1 is a little pricey. So, If you have any budget issues, you can buy the Air Force 07. I also love this pair because they are the same in design, but AF07 is more durable.
Since I am a woman, AF07 women's models are super comfortable, whereas AF1 is basically focused on males. Though Air Force 1 have no gender dissimilarities, there are few differences between man and women's Air Force 1. But Air Force 07 men and women, both versions are incredibly comfortable.
But if you need more design variation and want a classic pair, that is undoubtedly none other than the mighty Air Force 1.
Conclusion
It's quite challenging to choose one from two amazing shoes, AF1 & AF07. In this article, I have written all the features, similarities, differences, pros & cons which will guide you in making a decision.
Both are excellent in quality and design. Just go for your preference. If you have any other queries, just leave a comment below.
Stay healthy!