Nike Air Force 1, with its Air technology, has the strongest effect on sneakerheads and shoe lovers.
And Nike Ebernon low is the new addition that is going viral due to its resemblance with AF1.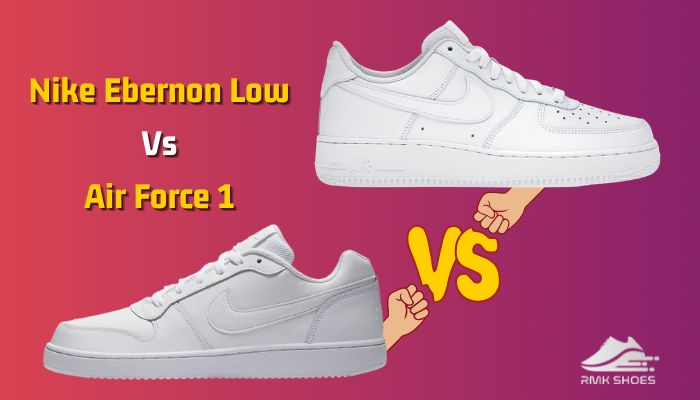 If you plan to buy Ebernon low sneakers as an alternative to Air Force 1, you must know their similarities and contrasting features. I will enlighten you with that information through this write-up.
So, keep at it!
Differences Between Nike Ebernon Low Vs Air Force 1
Variation is a must when you are on the verge of collecting different types of shoes. And sometimes we need shoes that resemble a particular chic one, as the budget is a fact.
Nike Ebernon Low is such a sneaker that it is on hype due to its mimicking the outlook of Air Force 1. Several features separate Ebernon Low from AF1.
Let's find out the dissimilarities between Nike Air Force 1 and Ebernon Low:
Comfort
Comfort is one of the most basic features indicating a shoe is good. In this sector, Air Force 1 is ahead of Ebernon Low. The toe box of AF1 provides more breathability, and the foamy midsole, along with the rubber outsole, is a perfect combination for comfort.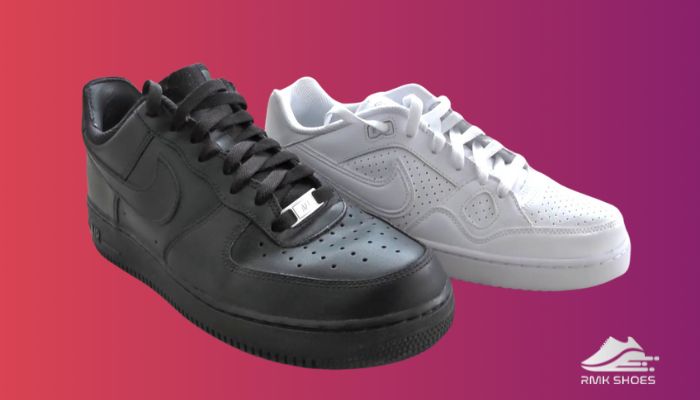 Nike Ebernon Low sneakers are more prone to creasing, especially around the toe box area, which is very uncomforting. Another reason for the discomfort of these shoes is the extended break-in period.
The differences are not only between these two; even Nike Air Jordan 1 is quite different from Air Force 1.
Price
The most notable difference between Nike Ebernon Low shoes from Air Force 1 is their price range.
The cost of a 80s basketball-inspired Ebernon Low is $39.97.
Quite affordable and budget-friendly. On the other hand, Air Force 1 starts from $50 to $130. And it varies from model to model.
So it's clear that Nike Ebernon Low sneakers win the race here.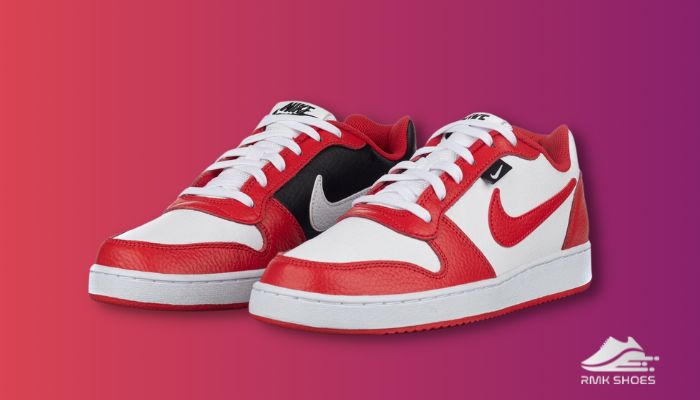 Nike's shoes are generally quite expensive, like Nike Dunks though this cost range differs.
Durability
Nike AF1 sneakers are way more durable than Ebernon. The main turn-off point of Ebernon low is that these shoes crease fast on the toe area.
Meanwhile, Air Force 1 stays fresh for up to one year without ceasing. So, it's clear that your Nike Ebernon low won't serve you long enough.
My sister faced the same situation; her sneaker started to crease badly. Then finally, she got her white AF1 to avoid such an incident.
Variety
Even in variety, Air Force 1 is way ahead of Ebernon Low. With that being said, AF1 comes in over 110+ styles, whereas Nike Ebernon has only 40+ models.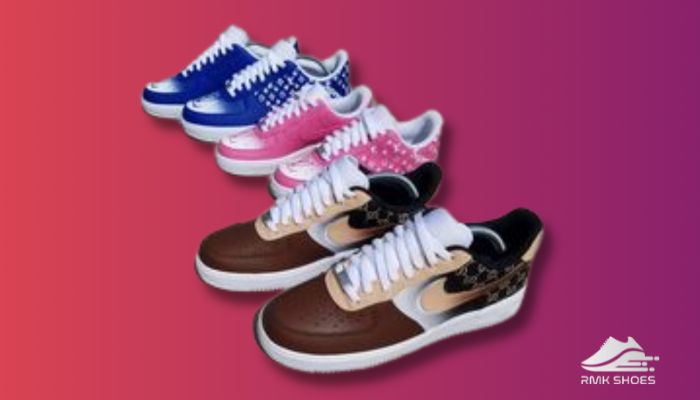 You will be amazed to know that you can customize your Air Force 1 shoes to your liking. My cousin is a bit extra; he wanted to have a unique pair of  Nike.
He ordered a custom dragon engraved AF1. And I have to admit, it was dope.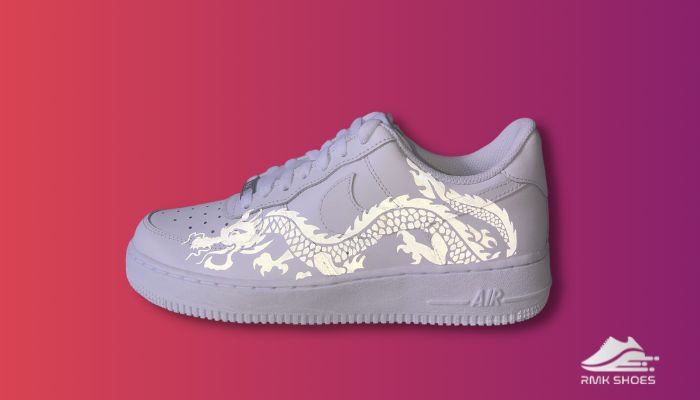 The glossy ink over the snow-white upper looked something out of the world. So, if you wanna spend a few more bucks on your AF1, go for it.
Are There Any Similar Features Among Nike Air Force 1 And Ebernon Low?
Yes, Nike AF1 and Ebernon have many similarities as they have the same mother company. Most of the building materials are similar, as well as their sizing criteria and availability. Nike Ebernon low also looks pretty similar to Air Force 1.
Here are the identical features of Nike Ebernon and Air Force 1:
Materials
Not to mention, Nike is well known for the materials of their shoes. They always make sure you are getting the best.
My Ebernon Low-top combines materials like synthetic leather, genuine leather, rubber cupsole, EVA, water-repellent upper, and rubber outsole for proper grip.
Meanwhile, Air Force 1 sneaker also comes with similar materials like leather, a suede-made upper, rubber outsole, and extra cushiony midsole for a comfy feel.
Even the laces are made of good quality synthetic fiber to last longer.
Size
How comfortable you will be wearing a shoe depends on your shoe size. If your shoe size is not correct, the brand doesn't matter. You will end up with foot issues such as arch pain, blister, and so on.
Regarding sizing, Nike Air Force 1 and Ebernon are true to size and fit perfectly.
One satisfied customer on Amazon stated," Just like the picture and actual too size."
Moreover, if your shoe is tight-fitting, find out how to stretch your Nike Air Force 1.
Availability
Another factor that both AF1 and Ebernon Low have in common is availability. If It's not possible to visit Nike stores. In this case, online is the best and most time-saving solution.
Most Air Force sneakers are available on Nike's official website and other retailing sites.
And you can always buy them from physical stores.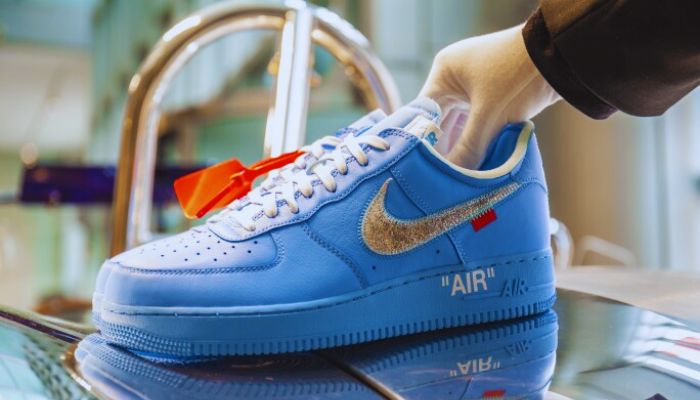 You can also purchase the Ebernon low from retailing online stores, but they are not on the official website yet. So, be mindful of the pages and do a background check on their authenticity.
Pros and Cons of Nike Ebernon Low and Air Force 1
You can choose your Nike kicks as they come with a variety of options and features to provide you an excellent service. Both Air Force 1 and Ebernon low shoes are pretty good. To select your ideal pair, you need to know the flaws and advantages of these sneakers.
Let's check out the Pros And Cons Of Nike Air Force 1 And Ebernon Low:
Nike Ebernon Low
Pros
»

Budget-friendly.

»

Versatile.

»

Lightweight.

»

Supportive.

»

Easy to clean.
Cons
»

Few variations.

»

Fewer color options.

»

Not available on official websites.

»

Extended break-in.
Nike Air Force 1
Pros
»

Durable.

»

Excellent materials.

»

Various color options.

»

Available in both stores and online.

»

 
Cons
»

Costly.

»

High maintenance.

»

 
Nike Ebernon Low Vs Nike Air Force 1: Which One Should Get?
For casual walks, dates, and working outs, Nike Ebernon is a good option. To enjoy lightweight shoes, this pair is quite ideal. But you must remember that as a cheaper shoe, it won't serve you like the Nike Air Force 1. But quite good as an affordable option.
On the other hand, AF1 sneakers are an investment and will last longer. Not to mention these kicks' high quality, durability, comfort, and versatility.
You can choose either one of them or both according to your preference. In my case, I'm going to rely on my Nike Air Force.
Check out whether Nike makes steel-toe shoes if you want more features to protect your feet because most casual kicks don't come with such a feature.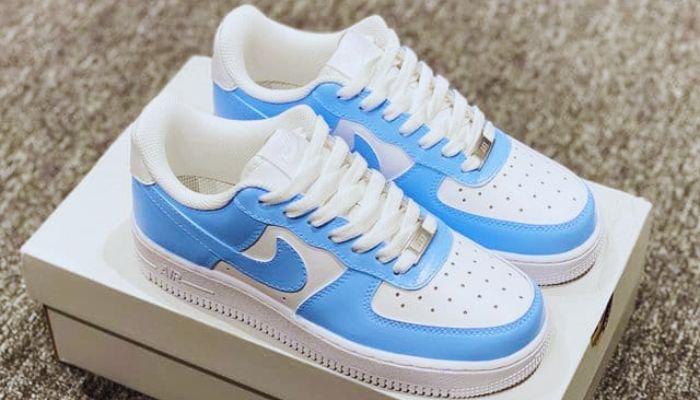 FAQs
Are Nike Ebernon Comfortable?
Yes, Ebernon low shoes are super comfortable as a casual and budget-friendly sneakers.
Are Nike Ebernon Basketball Shoes?
No, Ebernon shoes are not basketball shoes. But these sneakers have the look and feel of a classic basketball kick. And the sleek cupsole design provides durable traction.
Why Is Air Force 1 So Popular?
Nike AF1 is still popular because of its versatility, wearability, comfort, and stylish look. Another major factor is you can wear this pair with most casual outfits.
Parting Thought
Whether it's an original Air Force 1 or Ebernon low sneakers, Nike has nailed in maintaining their fame.
As a cheaper version, Ebernon shoes are pretty decent. If you want a long-lasting sneaker, AF1 is second to none.
There goes all the nook and crannies of Nike Air Force 1 and Ebernon low sneakers. Thanks for keeping up.