Though the low-top AF1 fits true to size in normal feet, its mid and high silhouette runs small.
Due to this lack of knowledge about sizing, you end up buying the wrong one which fits tightly on your feet. And when there's no way to exchange, will you throw them in the bin?
Absolutely not! Because I'm gonna show you the stretching techniques of Af1.
So read ahead and fix your Air Force 1!
4 Ways to Stretch Air Force 1
Prior to beginning the process, let me clear a general confusion regarding AF1's stretch. Since the footwear is mainly fabricated with leather which is hard to stretch, people often ask Do Air Force Stretch Out?
Indeed, AF1's materials have a bold appearance. That's why individuals think that softening and expanding them is beyond the bounds of possibility – which is wrong.
Stretching of walking-friendly AF1 is possible. But you can't expect them to expand 1 to 2cm. Rather, they will loosen at most in half size, i.e., 0.5 cm.
If you're preferring this amount of interior in your sneakers, go through the upcoming steps.
Here's how to stretch Air Force 1:
1. Shoe Stretcher
I guess a 2-way stretcher is the most convenient tool. Length and width both can be improved with this handy component.
However, a single piece is enough for the left and right shoe. But if you can afford it, buy a set to expand a pair of sneakers at the same time. Though you will get a user manual in the stretcher carrying box, I'm gonna share the steps for using this equipment.
Let's see how to use a shoe stretcher:
Keep the heel block and toe block nearby for easier insertion.
Place the stretcher inside your sneaker. Adjust metal plugs where additional stretch is required.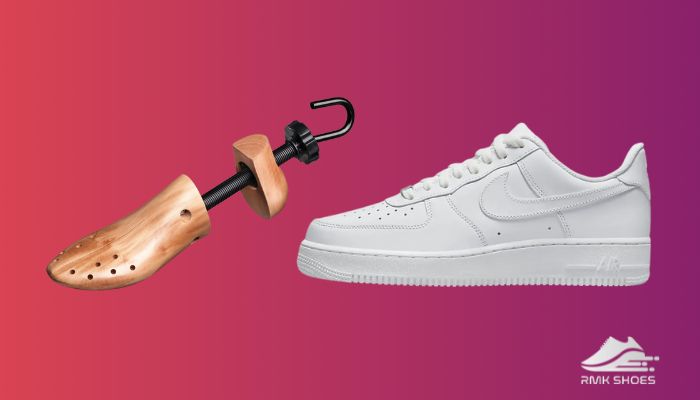 Rotate the wheel clockwise to lengthen the shoe. For widening, turn the handle clockwise.
Keep it in this condition for 6-8 hours or for a full night. During this period, the shoe stretcher will do its work.
When the waiting is over, rotate the handle and wheel anti-clockwise and take out the tool.
So, it's over. Remember to avoid overstretching your sneakers. Otherwise, there's enough chance of permanently rupturing the sneaker materials.
Now, let's see the second method which is more budget-friendly and includes some affordable stuff only.
2. Ice Method
Placing water-filled ziplock bags overnight in your shoes is actually a time-saving strategy. And this shoe stretching technique with ice doesn't require any expensive apparatus.
See how to perform the procedure effectively:
Collect two zip lock bags and start filling each of them with water. For making a roomier toe box, fill only ¼ of the bag with water. But for the whole interior expansion, take two bags for each shoe and keep at least half a portion of the bags empty.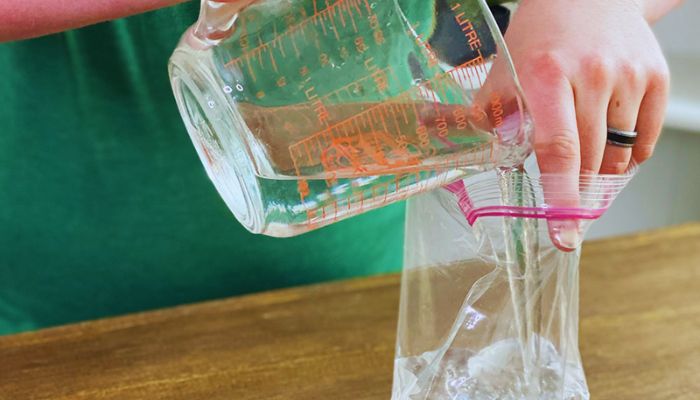 When you're done with water pouring, carefully lock the bags.
Wipe off your sneakers so that no dirt is left, especially on the exterior sole.
Place the bags inside your tight-fitted AF1, focusing on the side you wanna enhance.
Keep the sneakers in the freezer for a night or until it turns into sturdy ice.
After taking out the shoe from the refrigerator, wait for 15-20 minutes so that the ice melts into water. Finally, remove the bags and leave your shoes to air dry. You can now wear socks with sneakers and take a few steps to cope with it.
According to scientists, water volume increases by almost 9% when it freezes. Consequently, the shoe material around the water-filled ziplock container also stretches.
3. Stretching Spray
This leather conditioner softens tight-fitted shoes. It impacts a wide range of materials including leather, Suede, Canvas, Nubuck, Synthetics, and Patent leather.
As Air Force 1 is built with canvas and leather so, the spray will surely work on this sneaker.
After cleaning your shoes, spritz the liquid conditioner inside and outside of the pair. Apply a bit more on the area you wanna stretch more specifically.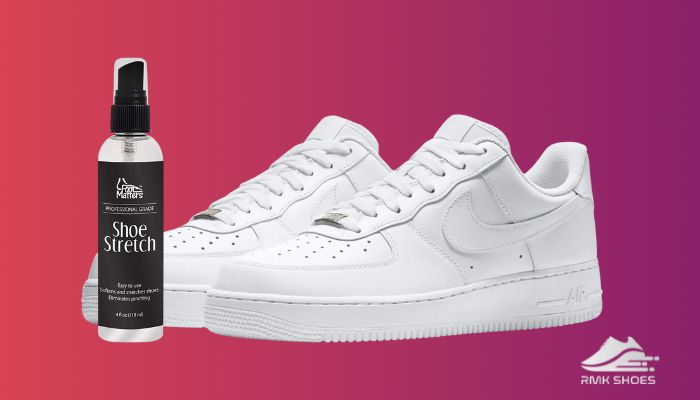 Now it's time to put on socks and walk in those pairs for some minutes (until the spray dries out naturally). But if you already have a shoe stretcher at home, no need to walk with those compact pairs on. Just place it inside the shoe for the entire night.
If you prefer more room in your sneakers, repeat the overall process. But make sure excessive repetition does not damage your classy Air Force 1.
4. Break in Properly
In general Nike Air Force One feels uncomfortable at initial attempts. Because the leather is slightly stiff at the beginning, moreover, it compactly wraps the feet.
As a result, users complain that AF1's tiny area cramps their toes. And so they relentlessly search for stretching formulas. However, this issue gets solved later in the break-in period.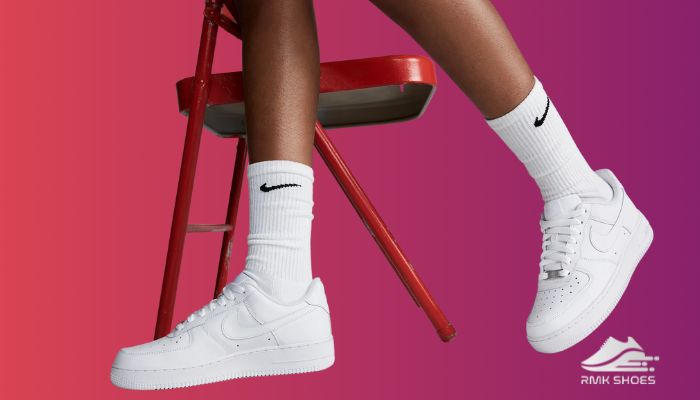 Can you guess how long it will take to break into Air Force 1?
Link
Usually, one has to wait for 3-4 weeks for the completion of this process. Over this period, a regular walk of 15-20 minutes with AF1 is mandatory.
Therefore, you can achieve a comfortable on-foot experience with Air Force 1.
Wrapping Up
Are the AF1 you bought online or received as a gift running small?
In that case, wait for 4 weeks and decently break-in them. If this tight-fitting issue is still not resolved, don't panic. Just follow any of the expanding techniques from this write-up and make your Air Force 1 well-fit.
If you require further assistance, do a comment below, and I will be there.
Until then be safe!